Putin's Troll Factory
From A Closer Look On Syria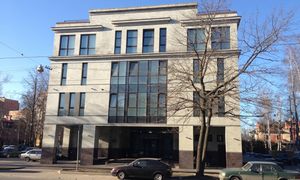 Western claims
"Nashi"
"Nashi" was a mass youth movement whose main role was, apparently, to support Putin reelection in 2012. Yakemenko is a leader, Krystina Potupchik a press secretary and a social media starlet. It appears that Surkov played some role on the Government side. A pro-Putin video illustrates the visual aspects of the approach. The movement has some success as a mass youth movement supporting reelection, and was not more than that. Opposition was critical/skeptical/ironic of the whole idea. In 2013, the movement was essentially closed in that form (as reflected in Russian Wikipedia), although there was no well-publicized announcement. Some projects, like Seliger, continued past 2013.
St. Petersburg Troll Factory
Marat Burkhard's claims
Evidence
This blog post on the flcrbqrjn (RFE/RL says flcrbgrjn) blog has been copy-pasted to some local fora.
RFE/RF lists nine: Biysk, Bryansk, Veliky Novgorod (wrong link!), Vladivostok, Volgograd (wrong link), Voronezh, Chupakabra, Chita, Cherepovets Google finds a two more: Voronezh, Kirov
Marat Mindiyarov / Burkhard
2017
See also Shaltai Boltai
Sources?
Search Engine Optimization
Sputnik exposes Putin's Troll Army
Radio Liberty did discover something, but it's quite the opposite from an ominous troll army which works around the clock to convert the entire world to a Putin-based religion. They found a search engine optimization (SEO) company, likely subcontracting for a political consultancy firm.
Considering the extremely low impact of such posting, the goal appears to be not to convert public opinion, but rather search engine optimization (SEO): search engines such as Google crawl the web for keywords and links, which are then used to give weight to certain web pages when search terms are entered.
Fake news sites
Russian opposition blogger Ruslan Leviev explains how fake internet sites created by Russian Troll factories work:
Summary here:
He points out that this site is a typical "web site in a box" made from a template using the Russian equivalent of Squarespace. We could note that its name is similar to many such instant sites mean to drive traffic to click ads and make revenue for their owners -- a bright green dollar bill sign shows up on its URL in the browser. This particular site was described as making $6 a day from Google AdSense even before their sensational publication about the death benefits.
Examples
"Russian TV stations broadcast secret nuclear torpedo plans", The Guardian, 12.11.2015
Video material. Announcer: "deployment of anti-missile shield in Europe is nothing but an attempt to neutralize nuclear potential of other countries, primarily Russia". Putin: "we have said many times that Russia will take necessary steps in response".

Guardian users contributed over 10 pages of comments, in English. (12.11.2015).
Theoretical Foundations
If every single word of that is true, still this is probably a cartoon (or somewhat inferior) version of how Western media operates anyway. Brief sketch of the argument:
The Engineering of Consent, by P.R. father Edward L. Bernays. Further expanded in Necessary Illusions, Thought Control in Democratic Societies, by Noam Chomsky South End Press, 1989.

The engineering of consent is the very essence of the democratic process, the freedom to persuade and suggest. The freedoms of speech, press, petition, and assembly, the freedoms which make the engineering of consent possible, are among the most cherished guarantees of the Constitution of the United States. With pressing crises and decisions to be faced, a leader frequently cannot wait for the people to arrive at even general understanding. In certain cases, democratic leaders must play their part in leading the public through the engineering of consent to socially constructive goals and values...

Moulding and Manipulating the News, by Sharon Beder
...Much of the news people read or watch on television is manufactured by PR firms and specialists, rather than discovered by journalists...
Analysis
See also: World Socialist Web Site vs. Google
The British military is setting up a specialist force modelled on the Chindits, the commandos who gained renown through their daring missions behind enemy...
Examples?

This is a comment of a pro-Ukrainian Russian speaker on a Ukrainian mirrored version of the recent BBC Panorama (failed) attempt:
Well, I think that any vatnik knows about this, but they perceived it quite well, on the contrary, they are proud of their king that he is so rich. Vatnik is in shit up to his ears, yet can feel the happiness of contemplating the splendor and majesty of the king! And there is no greater joy for a slave than this! (NATO psy-op committee may need to carefully study this comment )
Broadcasting Board of Governors (BBG) budget to increase by $27 million to $778 million, after 2015 increase by $30 million.
Hamilton 68 A DASHBOARD TRACKING RUSSIAN PROPAGANDA ON TWITTER , August 2017 (about)

Mission statement: In 2016, American democracy came under unprecedented attack. The government of the Russian Federation attempted to weaken the pillars of our democracy and undermine faith and confidence in our society's most fundamental right — the ability to choose our own leaders ....(etc)
Q. How does Russian influence online work? There are three types of accounts promoting Russian influence online:
Attributed accounts that clearly state they are pro-Russian or affiliated with the Russian government.
Accounts (including both bots and humans) that are run by troll factories in Russia and elsewhere.
Accounts run by people around the world who amplify pro-Russian themes either knowingly or unknowingly, after being influenced by the efforts described above.
The accounts tracked by the dashboard include a mix of such users and is the fruit of more than three years of observation and monitoring.We believe this sample network is representative of a specific Russian campaign targeting Americans.

For the FBI, this was uncomfortable territory, given the First Amendment's free speech protections even for fake news stories. "We were right on the edge of Constitutional legality," a person briefed on the investigation said. "We were monitoring news."
"Are you kidding?" that official recalled saying to others at the White House as they celebrated a successful election. "What they did worked!"
Apparently automatic monitoring (Hamilton 68 and the like) provides a fix for 'the edge of Constitutional legality'
Hollywood
NATO assault team fly choppers across the border to rescue CIA covert outpost in a pro-Russian rebels town in LPR, and commented by opolchenie member nickname 'Vatnik'
See also
Social Media War on Social Media
I don't think social media is really placed out there for the benefit of the flow of ideas. It is an advertising net run by major players, governed by profits, on one side, and a self-propelled information collector on the other. Putin will know a thing or two about the latter. So does Snowden and co. The rest of all that works in less obvious ways, as some sort of self-focusing optics to increase traffic and profit of a few players in that game at expense of others. For example, why exactly is that Anatolii Sharii is getting 20 thousand euros per month out of youtube (as he bragged in one of his videos--I did not bother to save it). He is alright, no complaint here, but somebody else may be alright or even better too, yet lucky to generate 20 pesos per year. Marketing schemes and laws (on copyright, etc) are designed by corporate giants are for their profit, not for promoting truth. As a result, content is not judged by its truth or its depth, or making anything better, but rather by some coherent noise (or groove) they are all making. One step out of there and you are in nowhere. --Resup (talk) 04:45, 29 December 2015 (UTC)
... and this is even without worse and obvious sponsorship phenomena like Bellingcat (we discussed the latter elsewhere)... 'Putin trolling', if that exists, needs to be seen in this overall context, not as an isolated 'Russian horror/Putin bad/we good' story as it is presented in Western corporate news. Not seeing that broader context and focusing on their assignment in those Putin trolling reports by itself illustrates how things work (horror stories will sell, but no corporate moneys will be made by saying and we are bad too). --Resup (talk) 13:12, 29 December 2015 (UTC)
How can a friends count jump by 5000 - 500 in a single day ? --Resup (talk) 18:56, 9 January 2016 (UTC)
Gizmodo on FB 'trending news' robo-humans, May 3, 2016
Present market capitalization (value) FB  : 340 bn USD; Gazprom: 58 bln USD (and what is it good for?)
"Putilovgate" (aka idealistic dissident?)
How the Russian opposition in exile begin to love their homeland-by Israel Shamir, KP, 27 Oct. 2016

I do not share Shamir views and (rightly or wrongly) consider him an untrustworthy author. However the gist of the article, that Russian dissidents have idealistic motivations but the reality is that they have Western support and funding for as long as what they say fits set political agenda, is IMO basically correct. Andrei Babitsky is one such example; Alexey Sakhnin and "Egor Putilov"= Tobias Lagerfeld = Alexander Fridback -the latter two persons discussed in the article--perhaps fits this framework, though real details of their cases are quite messy and I did not look into those. Israel Shamir feels that he fits the overall 'idealistic dissident' framework himself, too. (Do not have enough information to comment on that).
The story in KP briefly goes, Alexey Sakhnin had a nice job in Sweden as a Russian dissident criticizing Putin regime in Russia; but when in 2014 he became critical of Ukraine and supportive of Russia, he was replaced by "Egor Putilov". That second guy had a nice job while writing stuff as desired, but than at some point became to be against increased immigration to Sweden from places like Syria. There was not enough space in the paper for such article; but he wrote under a different name an article supporting immigration and space for that other one was found by a miracle. "Egor Putilov" than criticized (his own) article under his initial name, and allegedly had secretly taped discussion with his bosses of this whole sore affair (vindicating him and showing bosses in bad light, in Shamir version of events). Some other sources addressing the story are below. --Resup (talk) 02:23, 28 October 2016 (UTC)
"Putilovgate", by Alexey Sakhnin, liva.com.ua, Sept. 6, 2016
Alexander, 34, is SD's secret desinformator-Aftonbladet, Sept. 3. 2016
Mysterious Russian journalist or a member of the Swedish right-populist party?, Swedish news in Russian, Sept. 5, 2016
Pussy Riot for Hillary
Paid trolls in USA elections?
Social media censorship war
'Useful Idiots': the list
According to http://www.europeanvalues.net/rt/ , it includes:
Politicians: Ron Paul, Paul Ryan, Michelle Obama, John McCain, Donald Rumsfeld , Donald Trump; Boris Johnson, ....
Academics: Stephen Cohen, Freeman Dyson, ....
Journalists: Robert Parry, Paul Craig Roberts (listed among academics/experts)
....