Shaltai Boltai
Jump to navigation
Jump to search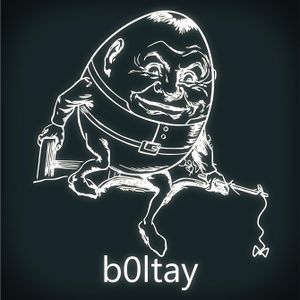 Shaltai Boltai
Meet Anonymous International, the hackers taking on the Kremlin - The Guardian, April 7, 2015

The tweeter is a member of Anonymous International, better known as Shaltai Boltai (Humpty Dumpty in Russian), arguably the most famous hacker group in the country after claiming responsibility for a series of high-profile leaks.
In the past two years, they've gained access to documents detailing the Russian state's game plan for a supposedly "grassroots" demonstration in Moscow in support of its actions in Crimea; details about how the Kremlin prepared Crimea's secessionist referendum; and private emails allegedly belonging to Igor Strelkov, who claims he played a key role in organising the pro-Russian insurgency in Donetsk, Ukraine.
The group also released documents about how Concord, a company owned by Kremlin-connected restaurant owner Evgeny Prigozhin, apparently coordinates an army of pro-Putin internet trolls through an outfit called the Internet Research Agency.

The Russian hackers taking on the Kremlin are named after Humpty Dumpty - Will Wright, Quartz, April 8, 2015

Anonymous International emerged at the end of 2013, when it published the full text of Vladimir Putin's New Year's national address a few hours before the speech was broadcast on television. Ever since, the group has busied itself with exposing the inner workings of certain political forces in Russia.
Anonymous International is widely known by the name that its "press office" goes by, Shaltai Boltai, which is the name nursery rhyme character Humpty Dumpty goes by in Russian.
The group publishes the leaks on its website, b0ltai.org. However, Russian media watchdog Roskomnadzor ordered access to the site blocked in July 2014, and it is accessible in Russia today only through a virtual private network or a mirror site. The group also tweets from the accounts @b0ltai, which is blocked in Russia, and @b0ltai2, a duplicate account that is still accessible in the country.
Intriguingly, Shaltai Boltai has been willing to speak about the group's activities with journalists, although getting a face-to-face meeting often requires elaborate security measures. Meduza's Daniil Turovsky had to travel to Thailand, for example, just to meet a Shaltai Boltai representative.
In Bangkok, one of the group's members revealed new details about their operation to Turovsky: "You understand, Anonymous International isn't my main job—it's not our main job," the member said. "We don't do it all the time. Shaltai Boltai is a byproduct of other games. We do information technology security… Our work is gaining access [to information]. … We have a small circle of regular clients. It's enough for us. Our prices start at around $30,000. I won't say how high they go. We earn enough to live comfortably and to travel."

Russian hacking group's 'last member at liberty' comes out of the shadows - Shaun Walker, The Guardian, February 9, 2017

Shaltai-Boltai, or Humpty Dumpty, terrorised Russian officials for nearly three years, combining hacking, leaking and extortion, while retaining an impenetrable cloak of anonymity. The group would post online samples of emails from officials they had hacked, and put the rest of the cache up for sale: the incriminating information could then either be bought back by the original sender, or snapped up by enemies.
But in mid-December, Shaltai-Boltai's sardonic Twitter feed suddenly went quiet, and in late January Russian media claimed the group's founder, named as Vladimir Anikeyev, had been arrested.
The case took on an extra layer of intrigue when it was reported that two of Russia's top cybersecurity agents at the FSB had also been arrested, along with an expert from Russian cybersecurity firm Kaspersky Lab. Sources briefed Russian media outlets that the FSB security officers were accused of working for the CIA, and linked the case to Shaltai-Boltai.
Arrest of FSB officers
Connection to Shaltai Boltai?
How Russian Hackers Became a Kremlin Headache - Leonid Bershidsky, Bloomberg View, January 31, 2017

Quoting an unnamed source, Rosbalt claimed that last year, Mikhailov's unit was ordered to "work on" Shaltai Boltai. The FSB team reportedly uncovered the identities of the group's members -- but, instead of arresting and indicting them, Mikhailov's team tried to run the group, apparently for profit or political gain. According to the Rosbalt source, it was deemed that they'd gone too far after a Ukrainian website published the contents of the official mailbox that belonged to Putin adviser Vladislav Surkov. The Rosbalt leak identifies Anikeev as "Lewis," Shaltai Boltai's leader, and claims he was responsible for the Surkov hack.
...
The Russian leaks could be FSB red herrings. But the different pieces of evidence together point toward the Shaltai Boltai version of the arrests. That version is in line with how security agencies generally operate in Putin's Russia: Parallel to their official duties, officers often run private security operations involving blackmail and protection. If Mikhailov ran such a business out of the FSB's Information Security Center, he wouldn't stand out among his colleagues. But in the paranoid world of Putin's third presidential term, leaks of information to Ukraine and to the U.S. would have been impermissible.

FSB conducts special operation to take Shaltay-Boltay's files from Ukraine - Crime Russia, June 28, 2017

The criminal case against Shaltay-Boltay founder Vladimir Anikeev has been sent to the Moscow City Court, reported Rosbalt
The investigators are currently working with two FSB officers: deputy head of the Information Security Center of the special service Sergey Mikhailov and his colleague, the senior operative of the 2nd department of Information Security Center and a former hacker Dmitry Dokuchaev. According to some reports, Mikhailov and Dokuchaev provided patronage for Shaltay-Boltay
Convictions
Connection to Ukraine?
U.S. indictment
See also Shadow Brokers
Mueller indictment
The Mueller indictment claims the GRU hackers used the email address dirbinsaabol@mail.com
Analysis
Alexander Glazastikov
Alexander Glazastikov is said to be the only Shaltai Boltai member not under arrest, living and giving interviews from Estonia (including interview to Sobchak, TV rain); some background also here. According to Glazastikov, the project started as political (anti-corruption, targeting goverment officials and oligarchs); however it became commercial, selling hacked information on auctions. Glazastiov earned around 100K US $ in 3 years on this project; total earnings said to be on scale of 2 millions. The project had no interests outside of Russia; however, Glazastikov is quoted saying that FSB had contacts with (presumed founder) Anikeev, telling him that they know about the group, do not plan to arrest anybody, but ask to share information before release. (Glazastikov stressed that he did not have direct contact with FSB himself). In interview to Sobchak, he cautiously suggested that perhaps their FSB contact was one of those arrested (Mikhailov?), and that perhaps this contact of theirs also did something to do with international/USA affairs, but it's just his guess based on what he read in mass media.
One of substantial leaks Glazastikov mentioned was about Prigozhin (he mentioned briefly that he had something to do with a troll factory, not really explaining; more details on their 'major scoops' were published in mass media (a bit boring, IMO) --Resup (talk) 01:12, 13 February 2017 (UTC)
Death of Oleg Erovinkin
Konstantin Kozlovskiy
If this letter is his at all (text) (and faking something like this is cheap), it looks like a petty criminal trying to get transferred from a Russian prison to the one in USA/ the West. He lists stuff highly visible in the news (WADA, MH17, DNC+ atomic/hydro/steam power stations (like stuxnet virus in those in Iran's??? --he obviously has nothing to do with it) + highly topical names, Lugovoy, Magnitskiy). Actually, he explicitly claims DNC + fake news on Gorbachev death (and that was very cheap stint, just creating a fake account---like what maybe we have here. It appears to have SBU -level quality overall, or a petty criminal level maybe. There is no hint of any technical detail showing that he has skills or information he claims, only a headline-making plot line). Read it before Carter's piece and thought it's a fake; Carter adds more doubt. (Also noted, right page of the scan on buzzfeed has more text, and mentions that he was given a psychiatric evaluation 'despite adjudged sane', FWIW. ---That side is hard to read and margins are cut off so some guessing involved in reading.) --07:40, 23 January 2018 (UTC)
Arrests in Kharkov
Igor Mosiychuk on Telegram, December 7, 2019

⚡️⚡️⚡️ One of the current cabinet ministers of Ukraine is involved in the hacking attack on the Democratic National Committee and, in fact, in the past US presidential elections.
⚡️⚡️ It became known after yesterday's arrest of the SBU on a prompt request by the NSA of a group of hackers in Kharkiv and later during yesterday's meeting of the SBU Chairman Ivan Bakanov with a delegation of the NSA.
⚡️ Late in the evening, having waited for Vladimir Zelensky's speech to Savik Shuster, Ivan Bakanov reported to the President the current situation.

SBU detained those involved in hacking US Democratic Party servers - Mosiychuk - Ukraina.ru, DEcember 6, 2019
Ukraine SBU detains several involved in hacking the DNC servers - Scott Humor, December 9, 2019
Websites