Syria news/Archive/2017-04
Jump to navigation
Jump to search
30 Apr. In heavy fights, the SDF wrestles more and more of Tabqa city out of ISIS hands.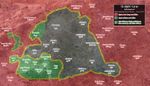 29 Apr. Around 75 militants die in the eastern Ghouta due to infighting between Al Qaeda and FSA factions on the one side and the Army of Islam group on the other side, the latter trying (again) to monopolize control in the pocket.
While a Pentagon spokesperson confirms that US forces are in the border region "monitoring" the situation, Erdogan tells Turkish industrialists how he and the US could "turn Raqqa into a graveyard for ISIS".
28 Apr. Trump delegates the decision about use of force in Iraq and Syria to defense minister Mattis. Videos emerge showing a convoy of military vehicles flying both US and YPG flags said to be from Darbasiyah in Hasakah province near the Turkish-Syrian border.
27 Apr. Assad is interviewed by teleSUR (transcript).
After a couple of Israeli missiles hit Hezbollah targets near Damascus airport, the Kremlin asks Israel to respect Syria's sovereignty.
26 Apr. The Iraqi parliament starts an investigation into the Turkish airstrikes. The spokesperson of the YPJ (female part of the Kurdish YPG, the dominant force in the SDF) calls on the US to do more than issue statements of concern to stop further Turkish attacks, or they will rethink going to Raqqa and withdraw.
25 Apr. 26 Turkish warplanes attack Kurdish targets in the north of far eastern Syria and far western Iraq. US State Department spokesperson Mark Toner claims to be very, deeply concerned about these actions done "without proper coordination". He also reaffirms "our view that military action in Iraq should respect Iraqi sovereignty" while leaving open their view about Syria.
24 Apr. A pocket cut off by the SDF north of Raqqa the days before is quickly cleared of remaining ISIS fighters. This officially concludes phase four of Wrath of Euphrates. Tabqa city and parts of the dam remain under siege but in ISIS hands, with heavy clashes going on.
23 Apr. According to media reports citing proverbial unnamed US officials, ISIS has moved its "government" from Raqqa to Deir ez-Zor.
According to SOHR, the US-led coalition has killed 7,631 people in Syria since it intervened, among them 1,256 civilians including 275 children.
Patrick Henningsen publishes part one of his reportage about his recent visit to Aleppo.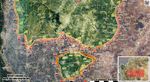 Militants flee Halfaya and a couple of villages in northern Hama countryside, leaving them for the SAA to overtake.
22 Apr. The SAA continues to advance in northern Hama countryside.
To the sound of little skirmishes on the Golan heights, the ex-Israeli defense minister Moshe Ya'alon tells a story about how ISIS apologized for hitting the IDF in November 2016.
21 Apr. Assad is interviewed by Russian news agencies (transcript)(video). On al-Baghdadi arrest: 'that's not true' (around 3:25). OPCW: they were invited to investigate Khan Sheikhoun and previous attacks, but the arrival was blocked by the West.
The first stage (evacuation of civilians) of the four towns agreement is completed.
20 Apr. Since the beginning of the fourth phase of Wrath of Euphrates, more than ten thousand civilians have fled ISIS-controlled northern Raqqa countryside towards the advancing SDF.
19 Apr. Planes of the Us-led coalition destroy all bridges in Hazimah town in northern Raqqa countryside.
The Russian Air Force destroys a Hayyat Tahrir al-Sham training camp in sothern Idlib and an underground base northern Hama. White Helmets later release footage of rescue work at what they claim was an underground hospital south of Idlib.
18 Apr. The constituent congress of the Raqqa Civil Council takes place in Ain Issa to the north of Raqqa. With over 100 attendents of important social functions, among them clan leaders, a sort of exile government is formed to which the SDF will hand over power once Raqqa is liberated from ISIS. After the congress, a statement is released.
17 Apr. A fifth batch of almost 2,000 green bus travellers leaves Al-Waer.
According to German Damascus-based correspondent Karin Leukefeld, the Saudi-sponsored Army of Islam group has claimed the attack on the buses from Fou'aa and Kafraya immediately after the event, but quickly deleted the statement from their website when it became known that the victims are mostly children.
14 Apr. Thousands of civilians take a bus out of both Madaya and Al-Zabadani and Al-Fou'aa and Kafraya. The latter are then attacked, RT reports, by a suicide bomber, wounding many and killing at least 39 (first reports), later at least 126 (Reuters, and over 150 (including 68 children) by some sources. Ahrar al-Sham at least denies responsibility, claiming it was a "regime" attack (tweet). (Red Crescent workers seen fleeing before the blast?)
13 Apr. The beginning of the fourth stage of Wrath of Euphrates is announced by SDF command. Aim is to take over the northern countryside of Raqqa and tighten the siege of the city.
The Pentagon announces that two days ago, they killed 18 SDF fighters near Tabqa in a "friendly fire" accident.
Assad is interviewed by AFP (transcript).
12 Apr. A revised version of the Western draft resolution for the investigation of the Khan Sheikhoun incident circulates in the UNSC. Unlike the first version, it contains no blame of Damascus and speaks of a "reported" CW use. Yet it still demands unlimited access to SAA sites at threat of military action and gets vetoed by Russia later that day.
Prominent Iraqi Shiite cleric Muqtada al-Sadr calls on Assad to step down, warning that otherwise he will share the fate of Gaddafi. It's the second time in recent days that Sadr makes that call.
Trump asserts that the US will not invade Syria.
According to the SAA command, a US-led coalition airstrike between 17:30 and 17:50 h in Hatla village east of Deir ez-Zor blows up an ISIS warehouse which contained toxic substances. The resulting white-yellow cloud allegedly killed "hundreds" including civilians. Reactions: US called these claims "incorrect" and Russia said it had no information, would send drones to take a look.
Russia's UN rep attacks British representative--gross. Video, Engl, Russ. (full)
11 Apr. Buses arrive to Madaya and Al-Zabadani in preparation for the execution of an unusual deal brokered by Qatar and Iran.
10 Apr. Iraqi Kurdistan: Due to a technical issue on the Turkish side, the oil flow to Ceyhan will be interrupted for three days, causing $23 million damage per day.
9 Apr. "Euphrates Shield" command orders to close all roads from Turkish-controlled Jarablus border post into SDF-controlled Manbij area.
8 Apr. In the fourth batch of proverbial green bus rides, 480 gunmen plus family members leave al-Waer, the last militant-controlled neigbourhood in Homs city.
A large market called "Silk Road Souk" with 211 shops opens in New Aleppo part of Aleppo city, temporarily replacing the historical souks in the old town that were left in different stages of destruction by the militants.
7 Apr. Russian MoD official statement -Engl. captions (footage at the end suggests low effectiveness).
TASS: frigate of the Black Sea Fleet 'Admiral Grigorovich' will enter the port of Tartus. Said to pass Bosporus(@YorukIsik); equipped with Kalibr cruise missiles, +modern naval version of 'Buk' (SA-N-7C Gollum).
After US airstrike, Russia calls it an aggression against sovereign country, suspended memorandum on safe flights in Syria, calls for an urgent -TASS (Russ.)(Engl.)
At least 6 people were killed. Military source: six MIG-23 planes undergoing repairs, decommissioned AN-26 , and several small foreign transport planes destroyed; damage estimated at 1-2 mln $, strike cost, at 90 mln $.
6 Apr. US media reports that two US warships fired 50 Tomahawk missiles at a single target - Shayrat military airbase in Homs province, "the airfield from which the United States believes the government of Syrian President Bashar al-Assad fired the banned weapons [on Khan Sheikhoun]".
Video from the airbase after the strike (an old air defense system is seen). More photos, videos 1 ,2 showing damage. Vesti.ru video claims that Russian MoD was notified and parts of airport where Russian military could be located was not hit; Herbert McMaster quoted to make similar statement; while Russian MP Vladimir Dzhabarov believes there was no notification. More photo/visuals -Cassad 1, 2.
The Turkish Health Ministry says that autopsies they conducted of victims of the alleged chemical attack on Khan Sheikhoun point to exposure to Sarin.
"US ground forces kill 'Islamic State' (IS) militant linked to Turkey nightclub attack" - occurred on 6 Apr. and announced around 21 Apr.
Assad was interviewed by Croatian newspaper Vecernji List (transcript).
5 Apr. Tabqa is under siege and the SDF are moving towards the city center. Violent clashes are taking place.
The "municipality of people" governing the regions liberated by the SDF have given out 600 licences for stores to be opened while the residents are returning.
The US army expands the runway of a military airfield near Kobane to make it capable of handling large cargo airplanes.
4 Apr. Reports of a chemical attack with many victims, including children emerge from southern Idlib province (ACLOS page).
3 Apr. Turkey announces to not attend the EU conference about the future of Syria to be held on 4-5 April. Meanwhile Erdogan promises "very good surprises for all terror groups" in new military operations under new names.
1 Apr. The third batch of militants leaves al-Waer district of Homs city in green buses to Idlib.
The "successful completion" of Euphrates Shield doesn't mean that Turkey plans to end their occupation of Syrian land anytime soon, says Turkish FM Çavuşoğlu, while also reporting about his meeting with US counterpart Tillerson which seems to have mostly consisted of C.'s complains about the YPG.
According to Al Masdar, in the late evening three Russian jets crossed into Turkey while targeting Islamist positions around the border in Idlib province.