Syria news/Archive/2020-01
Jump to navigation
Jump to search
30 Jan. Erdogan: As of now, unfortunately, Russia is not loyal to Astana or Sochi. Our friends are talking with their interlocutors. In these meetings, they said to them, "In Idlib, you have stopped these bombings and so on, if you do not stop, we are running out of patience. We will do whatever it takes from now on. " (CNN Turk, Reuters, Vershinin).
28 Jan. After further advances in recent days at the Idlib front, the SAA announces that it has liberated Ma'arat al Nu'man. The strategic city at the M5 highway has been in "rebel" hands since 2012.
23 Jan. US Special Representative for Syria Engagement James Jeffrey is quoted to say: "There were problems with preventing land incidents in Manbij that began about 14 months ago ... At some point, we intercepted a Russian major general who was driving towards the city of Manbij. But it was decided through military channels ". (question from the full briefing).
21 Jan. In north-eastern Hasakah province, US military forces block two Russian military convoys from crossing their checkpoints on the M4 highway. This follows similar incidents last week.
19 Jan. A peace conference in Berlin agrees on an arms embargo for Libya.
13 Jan. Haftar leaves Moscow without signing the Libyan ceasefire agreement
12 Jan. A new strike, apparently unguided MLRS/Katiusha on a US base near Baghdad is reported 1, 2, 3, apparently by proxy militia
It is reported that Aleppo city was hit by rebels' mortar fire, killing several civilians and wounding 12 civilians
11 Jan. Protests started in Iran after the admission of Ukrainian Boeing shootdown.
Trump interview: Souleimani, Syrian oil, Iran, Iraq, Korea.
9 Jan. After exchange of strikes with Iran, Trump offered to negotiate, which (in the public space) was rejected.
8 Jan. Two missile explosions reported by media in Baghdad's "green zone"
Iran fires ballistic missiles on US Ain al-Asad airbase in western Iraq, a large airbase of about 5 km in diameter. (Rusvena, RT). In the initial assessment, US casualties have not been reported, and there was no evening update in the USA. This happened after Zarif stated that Iran will retaliate, and not via proxies.
Trump on Twitter here.
7 Jan. Putin, Shoigu and Gerasimov meet Assad on a surprise visit to Damascus.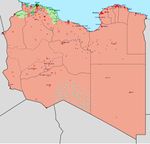 6 Jan. Libyan National Army (LNA) liberates Muammar Gaddafi's hometown Sirte. Syrian mercenaries flown in by Turkey are seen fleeing toward Misrata.
5 Jan. Report: High ranking jihadist commanders (Abu Yousef Al-Jazrawi, a Saudi, and a "Chechen commander from HTS") are assassinated in Idlib.
4 Jan. "Airstrike" and explosions are reported in Deir-iz-Zor province, Syria, near Iraq border, on the Imam Ali base of pro-Iranian Harakat al-Nujab group which is part of PMU (report and video, location, map).
ANNA News: on 2/3 Jan. SAA 25th division repelled HTS attack in southern Idlib
Reuters: Two Katyusha rockets fell inside Iraq's Balad air base, 80 km north of Baghdad, which houses US forces but caused no casualties. Other reports say that rockets landed inside the Green Zone in Baghdad 1, 2.
3/4 Jan. OIR spokesman: Coalition did NOT conduct airstrikes near Camp Taji (north of Baghdad) in recent days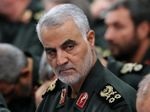 3 Jan. Iraqi State television said Qasem Soleimani, commander of Iranian "Quds (=Jerusalem) Force", and Abu Mahdi al-Muhandis (= father of Mahdi, engineer), leader of Kata'ib Hezbollah and Iraqi PMU deputy head, were among a number of people killed in a strike near Baghdad's airport ( AP, Mil. Times; BBC; Cassad).
PressTV carries Iraqi media report, then updates to confirm.
BBC: The Revolutionary Guards confirmed Soleimani's death, Iran state television reported. Pentagon confirmed.
2 Jan. Turkey's parliament has approved sending troops to Libya
1 Jan. On New Year's Eve, the Russian military base Hmeimim in Syrian Latakia was bombarded by rocket launchers from pro-Turkish militants. All 6 rockets were intercepted by "Pantsir-C1" , and launch positions (said to be near Turkish observation posts) were bombed by Russian airforce; the latter may start before all the launches, according to "a military source" of Rusvesna
Protests at the US embassy in Baghdad continued for the second day, followed by a report that protesters retreat: The retreat was instigated by the Popular Mobilization Forces, an umbrella body for dozens of militia groups including factions aligned with Iran. The PMF said protesters demanding the expulsion of American troops from Iraq had delivered their message to the U.S. (WSJ). Many photos, including aerial, here
Cassad: "Turkey built a runway right in Tripoli...It is assumed that it will be used for take-off attack and reconnaissance drones, and light attack aircraft. Regular Turkish troops expected to arrive in Libya in the coming month"