Iran protests
Jump to navigation
Jump to search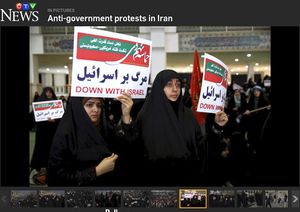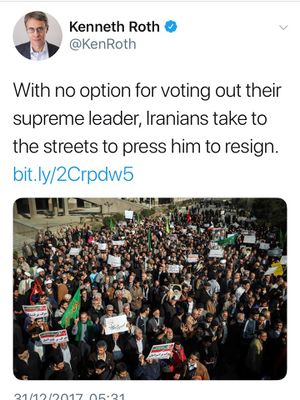 Protests
Claims about victims
Tavaana.org (about, +funding) published a document claiming names of victims and brief circumstances. One name from their list is also noticed on Twitter. Sources, reliability unknown. Notorious project backers (but it does not exclude that actual people could be wrongly killed. Not much to go by for claims verification or refutation.)
Follow-up
Fake photos
End of protests
Rouhallah Zam executed
Ukrainian Boeing protests
11 Jan. 2020 Students in Tehran said to demand to punish those responsible after Iran admitted the blame - videos 1, 2, 3 .
A twit appeared claiming a protester was killed, no victims on video, tear gas and protesters with breathing masks running away
Tear gas and bangs (stun grenades/shots/unclear). People chant, stay, at some point run (unverified)
It is said (Eng 1, 2) that British ambassador in Iran was detained/arrested during protesters in front of Amir Kabir University
A video showing US and Israeli flags painted on the pavement with most students walking past around them, some stepping on them, apparently to some booing 1, 2
12 Jan. Trump: do not kill your protesters 1, 2.
Tear gas, bangs, young people run, yell, scream, dark outside, street footage 1. A body of a victim seen, injuries unclear 1.
Apparently two women are injured amid reports that "police special unit" shot (at) them. Some blood loss seen for one of the victims.
Apparently somebody is seriously wounded or killed, quite large blood loss, victim is surrounded by a crowd and is not clearly seen 1, 2.
A video with apparently gunshots heard, some people seen far away walking in lighted street, hard to be certain what is happening. The claim is Use of live bullets to disperse the demonstrators in Tehran
Frequent poster: The internet in Iran is being cut off 1.
Twitter: "Islamic Republic security forces shooting at unarmed civilian with Winchester Model 1897 shotgun!!!anyone listening???? " "this is the only variant of PUMP SHOTGUNS which is in service in IRAN!!" 1.
Noted, user @TheTweetOfGod (unverified) changed sides
13 Jan. Iranian police denied using live ammo 1.
Several MEK's surround a plainclothed policeman, slightly rough but below Maidan levels 1.
Another US flag non-walking event 1
Twitter: "The person being beaten by protesters is a plainclothes agent who had opened fire on protesters. Other protesters curse him and chant "death to the dictator". The date and location of the video are not known." 1
Mystery snipers
2009
Shots Fired at Iranian Protesters -ABC,Jun 15, 2009
2017
'An armed terrorist cell, which was assigned to explode and kill innocent people in order to keep the recent unrest going, had infiltrated Iran,' the Ministry said in a statement.
The terrorists in a clash with Iranian security forces in the northwestern city of Piranshahr in west Azarbaijan, killed three forces, according to the statement.
One terrorist was also killed, and some other members of the cell were injured in the clash, said the Ministry.
During the operation, some weapons, including Kalashnikovs, grenades, military uniforms, and instructions to provoke unrest was confiscated, according to the statement.
Three other terrorist cells had previously been identified and dismantled in western Iran, the statement said.
2019
Footage Shows Crackdown On Iranian Protests - RFE/RL, November 24, 2019

"Protesters in Shiraz were seen running away from heavy gunfire."

Single (possibly police riot control devices) and multiple (possibly gunfire) cracking sounds heard. Protesters run. A cloud (possibly police riot control gas) follow them.

A brief video on Twitter, showing a victim, posted January 6, 2020, in Eng., by an Iranian, claiming that Western media refused to publish (as presented by the source).
Planning
CIA's Iran Mission Center
See also Michael D'Andrea on Wikipedia
Consequential Convergence Doctrine
He said that the main mastermind of the plan was an American national named Michael Andrea who was a former CIA member in charge of combatting terrorism that formed the group to create unrest in the Islamic Republic of Iran.
"Michael Andrea along with an officer affiliated to Mossad spy agency where in charge of masterminding the plot while Saudi Arabia paid for all the expenses," he said.
Montazeri said that the plot dubbed as 'Consequential Convergence Doctrine' was designed based on the data gathered throughout years, adding that they conducted various scenarios such as protesting the high cost of living, high pay of bills and financial demands of the retired people.
They had offered two models named Tunisia and Libya and finally chose the latter which was to create waves of unrest from outside to the center, he added.
They had prepared two operation rooms in Ebril of Iraq and Herat in Afghanistan to create riots in Iran, he said.
UN
Analysis