Iran protests
Jump to navigation
Jump to search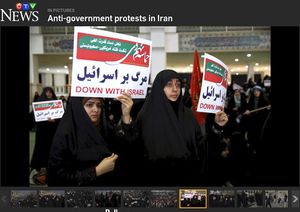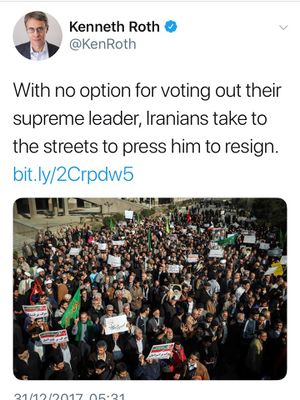 Protests
Follow-up
Fake photos
End of protests
Mystery snipers
'An armed terrorist cell, which was assigned to explode and kill innocent people in order to keep the recent unrest going, had infiltrated Iran,' the Ministry said in a statement.
The terrorists in a clash with Iranian security forces in the northwestern city of Piranshahr in west Azarbaijan, killed three forces, according to the statement.
One terrorist was also killed, and some other members of the cell were injured in the clash, said the Ministry.
During the operation, some weapons, including Kalashnikovs, grenades, military uniforms, and instructions to provoke unrest was confiscated, according to the statement.
Three other terrorist cells had previously been identified and dismantled in western Iran, the statement said.
Planning
CIA's Iran Mission Center
See also Michael D'Andrea on Wikipedia
Consequential Convergence Doctrine
He said that the main mastermind of the plan was an American national named Michael Andrea who was a former CIA member in charge of combatting terrorism that formed the group to create unrest in the Islamic Republic of Iran.
"Michael Andrea along with an officer affiliated to Mossad spy agency where in charge of masterminding the plot while Saudi Arabia paid for all the expenses," he said.
Montazeri said that the plot dubbed as 'Consequential Convergence Doctrine' was designed based on the data gathered throughout years, adding that they conducted various scenarios such as protesting the high cost of living, high pay of bills and financial demands of the retired people.
They had offered two models named Tunisia and Libya and finally chose the latter which was to create waves of unrest from outside to the center, he added.
They had prepared two operation rooms in Ebril of Iraq and Herat in Afghanistan to create riots in Iran, he said.
UN
Analysis