Syria news/Archive/2016-04
Jump to navigation
Jump to search
Apr.4, 2016 It is said that fighters, said to be 'Al-Nusra', launched a big attack to the North/North East from Aleppo. About 400 fighters, several tanks and MLRS, according to report.
Two grim photo and video reports (+ this which refers to 'Damascus online' journal) on civilian situation in Aleppo city on Rusvesna. Seems to be of unclear origin (somewhat--Rusvesna is typically sensible), some photos are present on social media, others are not. Planned as part of twitter campaign #savealeppo .
Two of Rusvesna photos appeared earlier on Kurdish twitter and apparently @ConflictNews (here is a reference) on 21 February 2016, with explanation: victims of shelling of Ahrar/Nusra on Sheikh Maqsoud Aleppo. 6 civilians died, many wounded
Another photo is apparently from April 2, location said to be Sheikh Maqsoud, Aleppo, see on the right.
This other Western source also includes photo evidence from Aleppo, apparently from social media pro Al Nusra posts
Apr. 5, 2016 Syrian army and allies made an announcement making the other side, Al Nusra, responsible for broken ceasefire and announcing plans to storm Aleppo. Asks civilians to leave in 48 hours.
Syrian army plane was shot down
Russia's proposal on Syria inclusive talks (ie including Kurds) blocked at UN Security Council — UN envoy TASS (Eng)
Apr.6, 2016 Rusvesna reports a fresh attack by about 400 al Nusra fighters in Sheikh Maqsoud area, Aleppo city; "tens" of civilians said to be brought to local hospitals. While in the past day Kurds reported (part 1) (part 2) 11 civilians killed and 38 injured

18 dead in Syrian rebel shelling on Kurdish area: monitor, France 24, Apr. 6, 2016, quoting Britain-based Syrian Observatory for Human Rights
Russian airforce strikes Al Nusra terrorists positions near Aleppo TASS (Rus)
Added: There is another Kurdish post added, addressed to the Special Coordination Team For Syria Ceasefire, dated Apr 5 at 7 p.m. It has two videos from twitter posts already linked above, and more wounded civilians photos.
Apr.7. It is said today in the afternoon Al Nusra launched an attack on SAA in a village Khandarat, near Aleppo, using 15 pickup trucks with mounted machine guns, and several tanks providing cover. Rusvesna report includes photos published on social media by the militants
al-Rai town: Syrian rebels defeat Isis to take control of main supply route to Turkey-Independent.co.uk
Kurds: Sheikh Maqsood in Aleppo is now being shelled by opposition factions, civilians killed and injured reported
Apr. 8
Rusvesna post repeats the SAA announcement from April 5, above. Translating here main part of that SAA announcment: "Al Nusra misled other factions and led them into massive violation of ceasefire, extending their actions to Northern and Western areas of Aleppo province, and ignoring interests of Syrian citizen in those areas. SAA tried to avoid resumption of bloodshed, but now it became obvious to everybody that Al Nusra and those supporting it do not understand any other language, as was expected and well known. Based on the foregoing, the Syrian army and its allies will ensure that in the very near future, fighting on all fronts in the north, west and south of the province will be resumed, and this time there is nothing which can put an obstacle in doing so. In that regard, SAA special strike forces in the coming days will start fierce fighting with anyone who has violated the ceasefire agreement". Continues with asking civilians to leave the war zone as soon as possible.
Breaking: Syrian Army launches night assault in northern Aleppo
Syrian Army, Palestinian committees enter the eastern neighborhoods of Handarat Camp
Apr.9.
Almasdarnews: Rebels reverse the Syrian Army gains in Handarat Camp
'Russian Air Force pulverizes southern Aleppo amid the coming offensive'
'Rebels seize more territory from ISIS along the Turkish border'
Hezbollah, Syrian Army launch surprise offensive to block ISIS from the Lebanese border
Rusvesna: 'Al-Nusra is storming a residential quarter in Aleppo'
Kurds: Kurdish Red Crescent appeals for help
Report of the Russian Centre for reconciliation of opposing sides in the Syrian Arab Republic (April 9, 2016). Violations, civilians killed.
another Rusvesna update tells about intensive fighting between SAA and combined rebels in Aleppo (google translated)
Apr 10
Almasdarnews: Rebel offensive in southern Aleppo fails as the Syrian Army, Hezbollah recapture Al-Khalidiyah -
'Ahrar Al-Sham's Top Aleppo Commander Killed', Fars News, Apr 10, 2016.
Apr. 19
The truce has held in most of Syria, except in the north, where it has practically collapsed. Al-Nusra Front, excluded from the agreement, is deeply rooted in the parts of northern Syria controlled by opposition forces, complicating the oversight of the truce.
Almasdarnews: Syrian Army attempts to isolate Islamist rebels in Aleppo city (contains South Front video update, in English).
According to Russian sources reports, on April 27 2016 FSA broken ceasefire and attacked Kurdish positions. At least 83 "Turkish supported terrorists" were killed in clashes, and significant quantities of weapons captured--report and photos . Meanwhile, MSM media reports that a hospital was hit
The UN says the situation in Syria's city of Aleppo is catastrophic, after dozens of people were killed in attacks on targets including a hospital. Air strikes on and around the Medecins sans Frontieres-backed al-Qud hospital killed at least 27 people, while more than 30 died in other attacks

April 28, 2016 Russian sources accused opposition in shelling of residential areas of Aleppo. Some mortar shells hit the Russian consulate in Aleppo; it is said that 30 people elsewhere in the city were killed and over 100 wounded. Videos in the report show cars damaged by shrapnel or destroyed, and blood on a staircase of a building.
Meanwhile, Russian and US military negotiated a 'day of calm' to start 00.00 on April 30. Reports on what is included and how long it will last differ, but in the Russian version, "areas in Aleppo, Damascus. Latakia" are included, and there is no termination date for the calm. Western reports say that there is nothing on Aleppo, and that this is for one day.
Updated Russian report clarifies that Aleppo was not included in the Syrian army announcement, but representatives of 16 settlements in Aleppo province contacted the Russian center to join the ceasefire.
Alleged chemical weapons use by the rebels, Apr. 7, 2016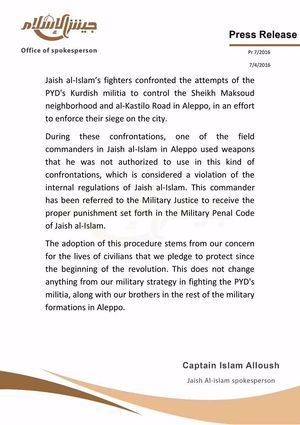 (for the timing/context, see above)
No idea is it true or not and what's really going on...--Resup (talk) 22:13, 7 April 2016 (UTC)

Me neither ... JaI used to just be in the Damascus area. Since when way up in Aleppo? Armed with chemicals, but not for this use... wtf? --Caustic Logic (talk) 00:11, 11 April 2016 (UTC)
QUESTION: What about the reports that Jaysh al-Islam was involved, who have taken responsibility for this, and they're one of the parties that have a delegation in the intra-Syrian talks?
MR TONER: Yeah, and I apologize. I just don't have any information on that at this point. I'd have to look into it.
Opinions
So far, little discussion, or any coverage at all in fact, will be entering opinions I see here.