Operation Euphrates Shield
Jump to navigation
Jump to search

At 4 am on August 24, 2016 Turkey launched a military incursion into Syria. The invasion was named Operation Euphrates Shield. Speculation about the operation had started already in February 2016. On March 29, 2017, the Turkish National Security Council declared that the operation was "successfully completed".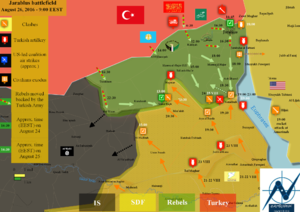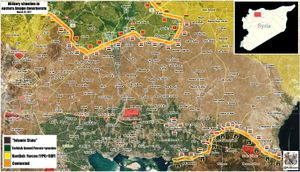 Sources
Turkish Military Begins Major Offensive Into Syria in Fight Against ISIS - New York Times, August 24, 2016

The operation, clearing the way for a force of about 500 Syrian rebels to take the border town, represented a significant escalation of Turkey's role in the fight against the Islamic State, also known as ISIS and ISIL. But it also seemed as much about containing the territorial ambitions of Syrian Kurdish militias, which Turkey sees as its primary enemy in the conflict and which were poised to move against Jarabulus.
Mr. Biden addressed those concerns at a news conference after his meeting with Mr. Erdogan, saying the Syrian Kurds, an American ally in the fight against the Islamic State militants, would have to withdraw to the eastern side of the Euphrates River.
"We have made it clear to Kurdish forces that they must move back across the river," he said. "They cannot and will not get American support if they do not keep that commitment. Period."

Hurriyet daily news, August 24, 2016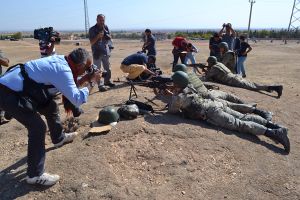 haberturk.com, August 26, 2016
Reports of civilian casualties
Turkey attacks Kurds
Reactions
Warnings
13.9.2016 Syrian Army threatens to retaliate against any unauthorized Turkish aircraft, Almasdar News.
Analysis
See also