Turkish military incursion into Syria
Jump to navigation
Jump to search
This article is about speculation and preparation for a Turkish military incursion into Syria. For the actual operation launched on August 24, 2016, see Operation Euphrates Shield. For the actual operation launched on October 9, 2019, see Operation Peace Spring.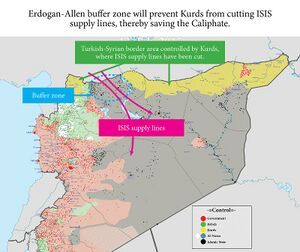 Cross-border shelling
Jarabulus
To add: shelling of Kurds near Jarabulus in 2015
Latakia
Azaz pocket
Reports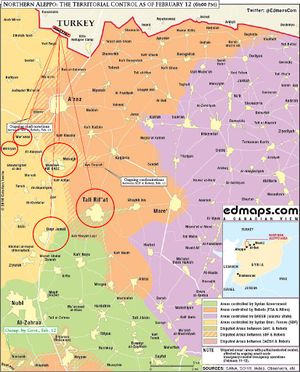 Reactions
Related
12 pickups with DShK and 14.5 mm machine guns mounted on them had their way from the Turkish land into Syrian territory across Bab al-Salameh border crossing.
Davutoğlu: Turkey will not allow Syrian town of Azaz to fall to YPG, Today's Zaman, February 15, 2016

Speaking to reporters on his plane en route to Ukraine, Davutoğlu said YPG fighters would have seized control of Azaz and the town of Tal Rifaat further south had it not been for Turkish artillery shelling them over the weekend. "YPG elements were forced away from around Azaz. If they approach again they will see the harshest reaction. We will not allow Azaz to fall," Davutoğlu said. He said Turkey would make the Syrian Menagh air base "unusable" if the YPG does not withdraw from the area, which it seized from Syrian rebels. He warned the YPG not to move east of its Afrin region or west of the Euphrates River.
Return fire?
It is reported that Syrian artillery returned fire against positions in Turkey -Rusvesna, Feb. 14, 2016
Context
"Buffer zone" plan
Morning Briefing | July 28, 2015 - Webster Griffin Tarpley

"Pushing ISIS away from the Turkish border, regardless of the semantic argument over whether it will be a buffer zone/safe zone/no-fly zone or "civilian haven" are all methods for achieving the same end. Any place along the Turkish-Syrian border put under the control of the NATO-Turkey-Saudi-Qatar Axis represented by Gen. Allen would act as a smuggling route transporting ISIS fighters, money and equipment into the country and oil or other resources out of the country."
"What we want is to create a secure strip, including Azaz, 10km deep inside Syria and this zone should be free from clashes," Akdogan said in an interview on Turkey's AHaber television station, Reuters reports.
"Turkey is not going to have a unilateral ground operation. We are asking coalition partners that there should be a ground operation. We are discussing this with allies," the official told reporters at a briefing in Istanbul, as cited by Reuters. "We want a ground operation. If there is a consensus, Turkey will take part. Without a ground operation, it is impossible to stop this war."
Stopping refugees
Erdogan at November 2015 meeting: Greece got more than 400 bn euro during euro crisis. We should have invested some of that money into a safe zone in Syria, which would have solved all problems with refugees.
Azaz corridor about to collapse
Rebels in Syria face critical defeat around Aleppo - Michael Cruickshank, Conflict News, February 4, 2016

The main consequence of this advance around Aleppo is that rebel-held territory has been split into two pieces in northern Syria. The larger piece contains the majority of Idlib province, as well as the bulk of the rebels' fighting strength. This includes large amounts of land held by Jabhat al-Nusra, Al Qaeda's Syrian affiliate. The smaller piece north of Aleppo city is hemmed-in: to the north by Turkey, to the west by the YPG/SDF in Afrin Canton, to the south by regime forces and to the east by ISIS. This puts it in an incredibly precarious position, likely to begin losing territory to all three groups.
Speculation
In Russian coverage, 'new world war' was not used. He used language like 'permanent war', 'full scale', 'long term' war; 'a ground operation is an integration of all participants into this war' , 'do we really need another, third world shake-up to understand how much cooperation rather than confrontation is needed'.
Plan
Warnings
UN
Russian resolution at UNSC has 'no future' according to USA and France representatives TASS, Feb. 19, 2016
Denials
Is "laughing at" the "propaganda" claim they were preparing an invasion; says it's Russia which is invading and responsible together with Assad for "400,000" people killed.
Turkey, Saudi Arabia to hold joint drills: Military sources - Deniz Zeyrek, Hurriyet Daily News, February 10, 2016

Turkish paper Hurriyet cites Turkish General Staff Official "Will not invade Syria without UNSC resolution":
The Turkish General Staff has two important considerations regarding the international community over sending troops to Syria. The first of these two is that the United States has not made any preparations for ground troops to be deployed to Syria, as it knows a United Nations decision cannot be met due to Russia's stance in the civil war in Syria.
The second was that the Turkish army would not set foot on Syrian soil without a U.N. Security Council resolution.
Threats
Turkey to 'defend Aleppo'?
Turkish Prime Minister Ahmet Davutoglu said that his country intends to protect the Syrian Aleppo, calling it a return of the historical debt, RIA, Feb. 9, 2016
Turkish PM warns Russia by recalling Soviet invasion of Afghanistan (this does not have 'defending Aleppo')
Saudi troops?
North Thunder exercises
Ankara suicide bombing
NATO support
NATO to decide on supporting Turkish air defense - TASS, Feb 10, 2016
Stoltenberg: Spanish Patriot missiles to stay in Turkey for another year, Feb. 9, 2016

NATO has agreed to keep Spanish Patriot missile batteries in the southern province of Adana for another year to protect Turkey from potential threats from neighboring Syria. Stoltenberg recently said that NATO allies are seeking to send aircraft and command ships to Turkey in an attempt to boost the country's defense capabilities. The U.K. will provide aircraft to Turkey's İncirlik Air Base in Adana while Germany and Denmark will supply command ships to NATO forces in the Mediterranean. Spain is also providing Patriot missile batteries in southern Turkey. While NATO has increased air defenses for Turkey for many years, Turkey's downing of the Russian warplane that violated its airspace on Nov. 24 has drummed up NATO support.
Russian troops?
Russia may be preparing to send ground troops to Syria. The operation could take the form of a "peacekeeping operation" along the Turkish border.
U.S. position?
Are Green Berets Leading The YPG In Taking The Azaz Pocket? - Moon of Alabama, February 16, 2016

Who are the professionals that are helping the YPG to take the Azaz pocket?
My first thought was of course Russian Spetsnaz. But I asked around and none of my usual sources would confirm this. The sources acknowledged that the YPG in west Syria has special force support but there was some quite unexpected silence over who these forces were. It is clear to me that these are not Syrian special forces. The YPG does not want to be seen as a adjunct to the Syrian government. No one would confirm to me that these are Russian forces even as that would be of no great surprise to anyone. This leads me to speculate that some U.S. special forces are directing the YPG in the Azaz pocket. This in coordination with the Syrian army and the Russians.
Pentagon considers air support for Kurds in Azaz, but so far there was no such support- RIA, quoting Steve Warren
Kurds' advance in Syria divides U.S. and Turkey as Russia bombs - Daren Butler, Reuters, February 17, 2016

Washington says it does not believe the Kurds are coordinating directly with Moscow. But the YPG's advance may represent a masterstroke by Russia, which could benefit from any discord between NATO allies Turkey and the United States. "Now this is the YPG's dilemma: Will it continue with America or Russia? The consequences of this strategic choice will influence Syria's future, as well as the ongoing clashes in Turkey," said Metin Gurcan, an independent security analyst and retired Turkish military officer.
The United States, which has supported the Kurdish fighters elsewhere in battle against Islamic State, has called for the YPG to stop actions that would heighten friction in northern Syria. It has also urged Ankara to stop shelling YPG positions. Washington has seen no evidence that the YPG are cooperating with the Russians, U.S. State Department spokesman Mark Toner said at a briefing this week.
Analysis
Operation Euphrates Shield
Moved to Operation Euphrates Shield.
See also