Turkish oil trade with ISIS
Jump to navigation
Jump to search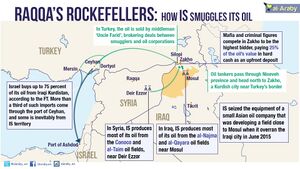 Sources
See also Turkish-Syrian border
ISIS fighters killed by Kurds were members of Turkish MIT (Intelligence Services) - The Muslim Issue, October 14, 2014

The Islamic State of Iraq and al-Sham (ISIS) has been selling smuggled Syrian oil in Turkey worth $800 million, according to Ali Ediboglu, a lawmaker for the border province of Hatay from the main opposition Republican People's Party (CHP).
Ediboglu said: "$800 million worth of oil that ISIS obtained from regions it occupied this year [the Rumeilan oil fields in northern Syria — and most recently Mosul] is being sold in Turkey. They have laid pipes from villages near the Turkish border at Hatay. Similar pipes exist also at [the Turkish border regions of] Kilis, Urfa and Gaziantep. They transfer the oil to Turkey and parlay it into cash. They take the oil from the refineries at zero cost. Using primitive means, they refine the oil in areas close to the Turkish border and then sell it via Turkey. This is worth $800 million."

Attacking ISIL's Financial Foundation, Remarks of Under Secretary for Terrorism and Financial Intelligence David S. Cohen, treasury.gov, October 23, 2014
It is difficult to get precise revenue estimates on the value to ISIL of these transactions in light of the murky nature of the market, but we estimate that beginning in mid-June, ISIL has earned approximately $1 million a day from oil sales. There are good indications, however, that recent coalition military efforts have begun to impair ISIL's ability to generate revenue from oil smuggling. Airstrikes on ISIL oil refineries are threatening ISIL's supply networks and depriving it of fuel to sell or use itself. Moreover, our partners in the region, including Turkey and the Kurdistan Regional Government, are committed to preventing ISIL-derived oil from crossing their borders.
Sources? Iranian media claimed Erdogan sons relationship and oil trade with IS, (translation, photos), July 26, 2015. Now Russian sources repeat those claims , saying it was further trafficked by son shipping company and alleging other family involvement

Apparently disproved by Ukrainian inforwar troops, claims those bearded individuals are Kemer brothers, owners of a restaurant in Istanbul.
A book written by Hürriyet's Washington correspondent in early 2015 about the (more or less legal) oil business between Turkey and KRG points to Erdogan's son-in-law Berat Albayrak, married to daughter Esra, as a key figure in getting it run in the key phase around 2011, Today's Zaman reported in March 2015. In late November 2015 he was appointed Minister of Energy.
The content of the Al Araby article has been "angrily denied" by KRG according to a news agency close to them. The presentation by the Russian MoD which contains similar information was met with angry denial as well.
Could some of the remaining oil go on BMZ Group tankers from Ceyhan via Odessa to Ukraine? Two pieces translated at Fort Russ suggest as much.
SANA video said to be from Bab al-Hawa border crossing (said to be controlled by al Nusra) (map). Shows many trucks, said to be crossing from Syria to Turkey. Oil tanker trucks are alleged to be there (e.g. Cassad). What is actually seen looks like ordinary trucks, not tankers though. Maybe smugglers do not use regular tankers to transport oil?-but no definite information here. This is a rather short footage, does not mean there are no tankers crossing. Russia claims there are lots of tankers seen from the air (Putin showed some photos at the latest G-20 meeting).
According to Wikipedia, On 7 December 2013, the Islamic Front took over the crossing from the Free Syrian Army, and as of July 2014, they were manning the Syrian side with members of the Salafist militia Ahrar ash-Sham.
RT video shows bombing raids and some oil fields footage. Rather primitive facilities, so looks plausible that oil may be smuggled by trucks, not tanker trucks. Iraqi MP and former national security adviser, Mowaffak al Rubaie interview to RT (with more truck footage illustrating the interview)

In the last eight months ISIS has managed to sell ... $800 million dollars worth of oil on the black market of Turkey. This is Iraqi oil and Syrian oil, carried by trucks from Iraq, from Syria through the borders to Turkey and sold ...[at] less than 50 percent of the international oil price Now this either get consumed inside, the crude is refined on Turkish territory by the Turkish refineries, and sold in the Turkish market. Or it goes to Jihan and then in the pipelines from Jihan to the Mediterranean and sold to the international market

Another video made of bits and pieces, trucks and tankers on it-Zvezda News
"Russian planes hit terrorist' oil tanker trucks", Rusvesna video, Dec 4, 2015 another, shorter version . Gives a good view of those trucks...
Analysis
ISIS Oil, Vijay Prashad, December 3, 2015
Such an inquiry must ask the following questions:
Who is carting the oil from Mosul to the Turkish border? Who owns those trucks?
Who is carting the oil from the Turkish border to Ceylan? Who owns those trucks?
How does ISIS oil go through Ceylan, a port owned by the Turkish government?
Who owns the ships that cart the ISIS oil out of Turkey and to ports afield?
What banks handle the transaction between the sale of ISIS oil and the foreign buyers? Should they also be implicated in the smuggling of ISIS oil?
FSA-ISIS trade
Idlib 'on the verge of a catastrophe' as regime severs vital supply route, and with it, cuts off fuel access - SYRIA:direct, February 3, 2016

Idlib province, controlled almost entirely by a coalition of Islamist rebels led by Jabhat a-Nusra, is dependent on fuel-driven generators. A fuel crisis would cause a humanitarian and military "catastrophe" in the northwestern province, opposition journalists tell Syria Direct.
Prior to the diesel-for-food agreement last June, Idlib province experienced a fuel shortage that led residents to demand that rebel factions open trade routes with IS, pro-opposition All4Syria reported in early June. Wednesday's regime gains north of Aleppo cut off these very trade routes, meaning that any fuel that reaches Idlib province will have to come through Turkey via the Bab al-Hawa crossing in northern Idlib.
Reliance on Turkey has its drawbacks, says one local journalist. "Turkey did not allow fuel to enter Idlib province during last year's fuel crisis," says Hani al-Halal, a correspondent with the opposition Shaam News Network in Idlib. The province's residents have few options other than to hope that "one of the Gulf countries supportive of the opposition will step up to provide fuel."
But if the regime continues its advance and captures Bab al-Hawa, an endgame described to Syria Direct by pro-regime correspondent al-Basha, Idlib would be totally isolated from the Turkish border. "The cutting off of fuel will obviously have a dire impact on rebel militias [in Idlib] who need to operate a large number of military vehicles," said Muhammad Najm a-Din, a correspondent with pro-opposition Smart News currently in the northern Aleppo countryside.