Ukraine news/Archive/2020-11
Jump to navigation
Jump to search
30 Nov. Shelling by Ukrainian forces is back with new incidents reported almost daily. In addition, both sides apparently make some ajustments following results of the war in Nagornyi Karabach.
First thing in the news on the pro-Western, US and Moldova educated Moldovan president Maia Sandu is that she wants pro-Russian forces withdrawn from Transnister, where things have been reasonably quiet after events in the 90's but without a shared border with Russia.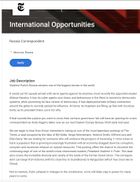 20 Nov. The New York Times is hiring a Russia Correspondent to cover Putin's agression on Ukraine.
13 Nov. DPR. Ukrainian forces shelled Trudovskaya minepit area (video report).
11 Nov. DPR. Shelling by Ukrainian forces is reported in multiple locations (report and video). DPR: Ukrainian forces fired 5 PTUR 's , Donetsk airport and Veseloe (video report).
7 Nov. Opolchenie: during the evening and night, the ukry was not fired intensively: Dolomitnoe, Kashtanovoe, Mineralnoe, Kominternovo (SPG, VOG, small arms). Yesterday morning, the first victim: Pavel N. Chepelev, born 1977. According to available information, he died from sniper fire, bullet through the chest
6 Nov. Opolchenie: Ukrainian forces shelled DPR positions near Avdeevka with SPG, BMP-2 and small arms fire (video) One DPR soldier and a battalion commander, Pankin Andrey Andreevich, DOB 21.10.1987, were killed by a sniper when he took part in trying to evacuate the soldier body.