Ukraine news/Archive/2020-01
Jump to navigation
Jump to search
30 Jan. One LPR soldier is killed and two civilians are wounded by Ukrainian shelling. Several homes and electric power lines are damaged.
28 Jan. It is said that negotiations involving generals from Iraq, USA, Britain, Czechia and Ukrainian representatives took place in Kiev on 12-14 Jan. (soon after the Ukrainian plane shoot-down) on possible participation of a Ukrainian contingent in NATO operations in Iraq/Middle East 1, 2.
24 Jan. Heavy shelling resumes in Donbass, including Donetsk suburbs, 208 mortar shells, 167 grenades, 300 BMP gun shells fired in the past week (1, 2, 3).
DPR ombudsman: One DPR soldier is killed and 2 wounded in the past week.
Peskov "did not confirm" rumors of Surkov resignation or of change of policies with respect to Ukraine. Those opinions were expressed by well-connected political scientist Alexey Chesnakov, quoting Surkov himself. In a similar vein is Ishchenko article -Minsk agreements are said to be dead.
23 Jan. Zelenskii, as the Poles, is a no-show in Israel on a made-up excuse, leaving it to Russia's Putin to mark 75's of Auschwitz.
22 Jan, DPR soldier is killed by Ukrainian fire on Dolomitnoe, northern Gorlovka. DPR says he is killed by sniper fire by arriving special operations sniper group armed with Barrett M82 12.7 mm sniper guns; calls one more time for OSCE to ensure that ceasefire is observed and violators punished.
It is said that Putin and Zelenskii may meet in Israel.
21 Jan. Impeachment trial of President Trump starts at the US Senate.
20 Jan. Aleksei "Green", deputy commander of "Piatnashka" Spetsnaz regiment of interior troops of DPR Ministry of Internal Affairs, and opolchenie member from the beginning, is killed in Donetsk. Blogger Donetsky comments and a linked video with Alexei's interview made in 2018 (he is deputy commander of "Piatnashka" battalion of the same regiment back then. "Piatnshka" commander "Abkhaz" recently led protest in Abkhazia which ended after Surkov's visit and Abkhazia leader Raul Khajimba resigning).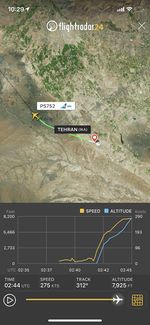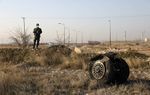 11 Jan. Iran acknowledged shooting down Ukrainian Boeing "due to human error". Ali Hajizadeh EngRus: air defense unit lost communication with higher command when it discovered a target 19 km away; it had only 10 s. to make a decision, and they made a bad one (as translated). This all but excludes Tor-M1 missile engine on at impact (=impossible with description taken literally) and suggests that the NYT video is fake or misrepresented (missile with engine off will not be seen), or that details of Iranian version are not accurate.
Iranian-version map with partial Eng. explanation is at around 0:40 here, in RFE/RL article describing follow-up protests in Iran. Full video here, with details a bit confusing in Eng translation, but apparently launch is 12 km away horizontally (not 19 km, in print in the same source), on approaching courses. This makes things trickier, but still Tor M1 engine would be off, with a narrow margin. And doubtful somebody would be there to videorecord.
Ukraine published photos and claims that the lower part of the pilots' cabin was hit by a missile; SNBO head Danilov says it was discovered before the Iranian announcement and before Western countries started to publicize (the missile version), but was kept quiet to continue the investigation. It is also said that no distress communication calls were received (consistent with the cabin hit).
10 Jan. Fars News made a preannouncement.
Ukr FM Pristaiko at his 30 min long fast-fire Ukr/Eng press conference gives no hints about the crash causes; confirms that intelligence info is received but provides no details.
Zelenskii conversed with Pompeo.
Zelenskii: The missile version is not ruled out, but it has not been confirmed yet. Iran: plane was on fire for 1.5 minutes. We estimate that it makes it on fire well before NYT video BC geolocation. However the 1.5 minutes claim was made before black boxes were analyzed, on unclear and unconfirmed basis.
9 Jan. NY Times publishes a video claiming missile hitting Ukrainian Boeing. Initial poster first said he did not have metadata, then said NY Times published video. It is not clear how the video was verified. Video, actually, may be genuine, but what does it show? It could be the plane climbing up with lights on, or having engine fire (appearing as "a missile"), and then the engine exploding, blowing a burning and visible piece back (uncertain; can't exclude either this or a missile climbing; we do not have a good scale useful to infer velocities. Roughly 11 s. for the sound to arrive, the distance to the explosion is roughly 3.8 km straight. There is residential area with look-alike houses and camera could be on either SW or NE side from the path. Video can be mirrored easily. Also the plane could be returning back to the airport while it's path on Flightradar an extrapolation. So either above is not excluded). It remains unexplained why the video author was recording on his cell phone at about 6am local, apparently expressing no emotions and then apparently abruptly stopping the recording.
Another video emerged, shot as the very first one from a car/dashboard camera. It appears to give backing to the burning engine version.
8 Jan. Ukrainian Boeing 737-8KV (Flightradar; delivered 19 Jul 2016) crashed in Tehran, said to be because of engine fire, killing all on board, including 11 Ukrainians. Putin sends condolences to Zelenskii. Pompeo sends a Twitter. Videos. Crash visualization. (Noted, engine on fire, Boeing 737, Rwanda Air, the same day).
BBC starts to peddle MH17. Pictures noted & media reported engine overheating reports quoting Western intelligence. Newsweek has proverbial unnamed officials backing missile theory. CBS News quoting US intelligence said a satellite detected infrared "blips" of two missile launches (BBC), followed by another blip of an explosion (that is more serious; but did it?). Trump got "suspicions".
4 Jan. Strelkov publishes a list of 13 soldiers killed defending DPR, 1 Dec.'19 to 1 Jan.'20.
3 Jan. Denisultanov is interviewed, quoted telling a different version of a shootout (see 1 Jun 2017) involving Okueva and Osmanov in which Denisultanov received multiple gunshot wounds. Promises more details including something to do with Nemtsov in another interview.
1 Jan. 2020 A video showing 268 soldiers killed defending L/DPR in 2019. DPR ombdudsman data, see 27 Dec. Cassad's count here. Ukrainian losses in six years may be over 40,000.