Syria news/Archive/2020-02
Jump to navigation
Jump to search
29 Feb. In the morning, Erdogan tells his audience in Istanbul that he told Putin to "get out of our way" and leave them "one on one" with the Syrian "regime". He also boasts about "thousands" of Syrian soldiers dead in revenge strikes for the 33 allegedly killed Turkish soldiers and about a number of 18,000 "migrants" already waiting at the borders to the EU that will raise to 30,000 today. Meanwhile, Greece reportedly vetos a NATO declaration in support of Turkey, insisting on a condemnation of their "opening the gates" threats, and closes the land border completely, sending the navy to protect the sea borders. Erdogan's often threatened "deadline" for the SAA to retreat from the territory it has taken from Al Qaeda ends after today - while the SAA is further advancing in the south-west of the pocket.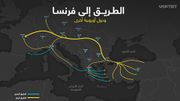 28 Feb. Turkey is to start NATO consultations after 33 of its soldiers are said to be killed in a strike in Idlib attributed to SAA. This occurred while Turkish-backed rebels were making advances on Saraqib. Media reports suggest that Turkey will allow "irregular migrants" to cross into Europe again, likely in an attempt to pressure NATO.
Turkey claims that in its revenge strikes 200 SAA targets including "five helicopters, 23 tanks, 23 artillery pieces, one SA-17 ("Buk M2") and one SA-22 ("Pantsir'") were destroyed and "309 regime soldiers neutralized"; releases a video claiming to show some successful strikes. (However, a similar-looking video was sign-posted as from Libya)
Putin - Erdogan phone call; some preparations for a possible summit in Moscow in early March reported.
27 Feb. Turkish-supported Al-Qaeda re-enters the strategic town of Saraqib, forcing the SAA to retreat. Heavy clashes are going on around the highway crossing of M4/M5.
Iranian Vice President Masoumeh Ebtekar is diagnosed with coronavirus after at least 26 people have died from an outbreak in the holy city of Qom. No link with the outbreak and China has been found leading to speculation that the virus was intentionally planted.
23 Feb. Video (1,2): "Militants' APC ACV-15 / M113 drives past the tank of the Syrian army. When they noticed each other, the APC began to ride around it and ram the tank, apparently so that it could not aim. In the end, both parted" (video ends at this point).
22 Feb. It is said that US military blocked Russian convoy on M4 highway near Amuda. Video appears to show US armored vehicles stationed on access roads. More videos
20 Feb. It is said (SANA; Rus. sources 1, 2, 3, 4) that rebels supported by Turkey launched an offensive on An Nayrab, supported by artillery and armored vehicles; that SAA requested Russian help; that Russian SU -24 planes, as well as Syrian forces, performed strikes on rebel positions, which helped SAA to repel the attack. (SANA: Syrian Arab Army's air force directed several precise strikes against the mechanisms and armored vehicles of the terrorists on the axes of the attack, especially from the direction and destruction of the town of Sarmin, and failed their progress). Several Syrian soldiers are wounded, and Turkish casualties are reported 1, 2, 3. Turkey did not show up for regular joint patrol with the Russians.
A video emerged claiming to show a Russian SU-24 escaping a MANPADS missile. More visuals and commentary here (1, 2, 3): "2. In figure No. 2 and No. 3 we see how people in uniforms similar to the Turkish military launch the ROKETSAN FIM-92 MANPADS (analogue of the Stinger FIM-92, assembled in Turkey under a US license)." (as per the source).
Lenta: The culprit for the death of two Turkish troops during an airstrike in Idlib is the Syrian Air Force. This was stated by the head of the communications department of the Turkish Presidential Administration Recep Tayyip Erdogan Fahrettin Altun, CNN Turk reports.
16 Feb. SAA made significant gains west of Aleppo, on the eve of the Russian-Turkish negotiations in Moscow.
14 Feb. The SAA continues to advance at the eastern front of the Idlib pocket, west of Aleppo city, virtually without resistance as the "rebels" retreat.
Turkey continues to threaten with direct involvement not bound by the agreements.
12 Feb. A clash occurred between US military patrol and residents of Harbat-Hamo settlement in Hasakah province in which a 14 year old boy Faisal Khalid Muhammad was killed and another resident wounded. Shots were then fired by residents (apparently Kurdish) in the direction of the patrol. It is said that the US patrol was rescued by (an unnamed) Russian general who arrived with the Russian patrol and provided personal guarantees. (more videos)
11 Feb. Danny Makki summarizes the "hectic" day as follows:
Syrian Helicopter shot down-all crew killed (video)
SAA effectively secure Aleppo-Damascus Highway after lightning-quick advances around Aleppo
SAA attack on Turkish position in Qaminas
Russian jets hitting Idlib city
Militant offensive around Nayrab
10 Feb. Early in the day, al Qaeda starts a large counter-offensive west of Saraqib which "rebel" sources claim is directly supported by Turkish soldiers and artillery. Later, with no apparent gains, it is reported that several Turkish soldiers were killed when the SAA targeted the sources of Turkish artillery fire near Taftanaz airbase. Turkish government sources claim that the strikes were an unprovoked, "heinous attack" and were retaliated against. In the evening the Turkish ministry of defense releases a statement claiming that they hit 115 SAA targets and "neutralized" 101 soldiers, 3 tanks, 2 atrillery positions and a helicopter. Al Masdar cites an SAA source saying the Turkish claim is "untrue". Meanwhile the SAA continues to liberate villages along the M5 highway in direction of Aleppo.
9 Feb. Large Turkish military convoy enters Idlib (TASS Rus., Eng.; Sky News Arabia).
8 Feb. The SAA captures Al-Eis.
6 Feb. The SAA captures Saraqib.
In a statement, the Russian foreign ministry declares that the actions by the SAA on their own soil are fully justified in the fight against terrorism, which has increased in recent months not least because of the changed balance in Idlib due to Turkish proxies being sent to Libya, leaving HTS in charge of the place and unchecked. Both Turkish and Russian "military experts" have died in these terrorist attacks, the statement reads, and reminds Turkey of its obligations in the Astana agreements.
5 Feb. Erdogan, after a phone call with Putin, says that Turkey may start a military operation if Assad does not withdraw troops from the border following deescalation zone agreement
3 Feb. The SAA breaks through from the M5 to the M4 highway and stands west of Saraqib. According to Russian reports, the Turks have not shown up to a joint Russian-Turkish patrol scheduled for today in Rojava.
2 Feb. Turkish military reinforcements try to stop the SAA from advancing on the M5 towards Saraqib. Several Turkish forces die in the ensuing artillery fire (background).
1 Feb. While the SAA continues to advance at the southern Idlib front and has cleared the M5 between Khan Sheikhoun and Maarat al-Numan, Al-Qaeda with several thousand fighters under personal leadership of Al-Jolani starts a surprise attack on Aleppo city.
Four Russian FSB officers (forming two sniper pairs) were killed by artillery and mortar cross fire during rebels advance near Aleppo