Turkey-Greece Border Crisis (2020)
Jump to navigation
Jump to search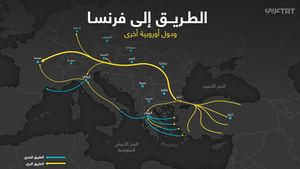 The early days of March, 2020 witnessed a concerted effort by purported refugees, facilitated if not engineered by the Turkish state of Tayyip Erdogan, to breach the border with Greece and force thei mass entry to Europe. The surrounding developments are interesting and astounding, and deserve a better introduction.
Sources, General
Greek, Turkish Police Fire Tear Gas as Migrant Border Crisis Deepens March 4, 2020, at 4:13 a.m. https://www.usnews.com/news/world/articles/2020-03-04/greek-troops-fire-tear-gas-at-migrants-gathering-again-at-turkish-border Greek and Turkish riot police deployed on their shared border fired tear gas on Wednesday as hundreds of migrants tried again to cross into Greece, amid an escalating war of words between Athens and Ankara about what was happening. Turkey accused Greek forces of shooting dead one migrant and wounding five others, a charge strongly denied by Greece, which said Turkish police were using tear gas to help the migrants illegally cross onto its territory.
Greece and the EU accuse Turkey of deliberately goading the migrants to cross the border as a way of pressuring Brussels into offering more money or supporting Ankara's geopolitical aims in the Syrian conflict. Turkey, which already hosts 3.6 million Syrian refugees and faces another influx from an upsurge in fighting in northwest Syria, says it cannot take in any more and complains that EU aid falls well short of what is needed for the refugees.
Turkey: Elite police going to stop Greece's migrant pushback Suzan Fraser, The Boston Globe (via MSN news) March 6, 2020 https://www.msn.com/en-us/news/world/turkey-elite-police-going-to-stop-greece-e2-80-99s-migrant-pushback/ar-BB10O0QY Turkey is sending elite special operations police to the border to stop Greek officers from driving back people who try to cross over to Europe, Turkish authorities said Thursday.
Some 4-5,000 would-be border-cossers were massed at the Pazarkule border crossing, opposite the Greek village of Kastanies. Turkish Interior Minister Suleyman Soylu visited this scene on the 5th and said 1,000 officers from the tactical units of the Police Special Operation Department would be deployed to the Turkey-Greece border to counter the Greek officers working to repel migrants and refugees. "As of this morning... we are bringing 1,000 fully equipped special forces police (along) the Meric river system to prevent the pushbacks," Soylu said. "With the help of Zodiac boats, they will [stop] those who mistreat people." Soylu asserted that Greece violated international conventions by using force to stop about 4,900 migrants from getting across the border. Soylu said: "It is a border gate. They are obliged to take them in. They are obliged to take in asylum-seekers," the minister said. But he added the migrants were not obliged to use the official border crossing and could cross anywhere along the roughly 125-mile-long border.
Greek authorities said that from Saturday morning until Thursday evening, they had thwarted 36,649 attempts to enter Greece and made 252 arrests.
"The news about the alleged openness (of the Greek-Turkish border) is false and people should not try to move there," the EU's top diplomat Josep Borrell told a news conference in Zagreb. "If we want to avoid critical situations, we have to know the truth. Let's stop this game."
The Council of EU governments concurs: ""The Council calls on the Turkish government and all actors and organizations on the ground to relay this message and counter the dissemination of false information."
Do Not Go to the Turkey-Greece Border, EU Urges MigrantsU.S. News and World Report, March 6, 2020, at 3:13 a.m.
Photos, videos
Erdogan's second front - Cassad, March 2, 2020
Assault on Greek wall: Turkish Hizir Ates trying to pull the border fence down , via Cassad, March 7, 2020
The Greek police officers may not have been the only ones armed with gas grenades, however. Police showed journalists Turkish-made devices which they say landed on the Greek side of the border after being tossed by people in the crowd.
RT Feb. 29, 2020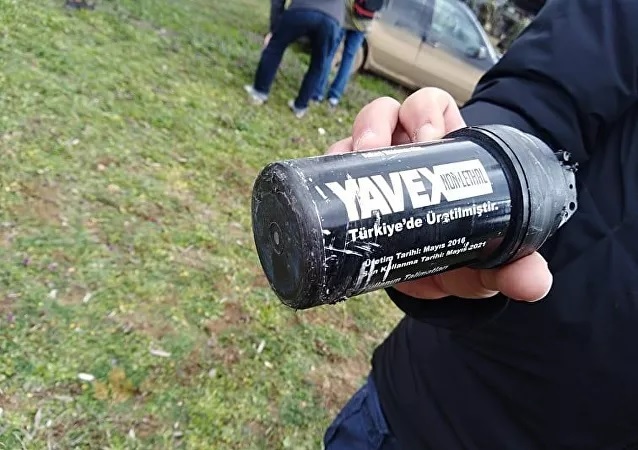 Forced Migration
"Around 300 migrants at Ankara's Akyurt Repatriation Center were transported to the border against their will on the night of Feb. 29"
Ankara Bar Association's Migrant Rights Center Chair Sadık Onur Gelbal said "We were informed by colleagues who witnessed it first hand that on the night of February 29, migrants were forced onto buses and involuntarily transported to the border." "The migration management officials emptied out the repatriation center with six buses," Gelbal said. The force used apparently wasn't absolute - a reported seven somehow resisted and were still at the center. But the effort to clear the center apparently was total; only those few resisted, none were left without resistance, and the total number removed and presumably sent to the Greek border was given broadly as 250-300. Several attorney report the story from their client's end. A photo shows several busses lined up outside what's said to be the Akyurt Repatriation Center at night.
This is a fascinating video we're grateful for and curious about, and we hope the videographer is safe. My guess is these few resisted a bit like the 7 back at Aykurt center and were finally given up on and taken back, where they were able to post this video and stay safe after that and forever.
https://twitter.com/ManotoNews/status/1235196271180177408?s=20 March 5 Turkish police military beat and force refugees to cross Greek border at gun point https://www.youtube.com/watch?v=NpnB4fg56Fc March 4 Turkish police threaten with weapons #پناهجویان To the Greek border (translated from Persian)
A young man in black with sunglasses (labeled "policeman"), given yellow quotes, urges "Go on, get off the bus! You are going to the other side!" Another man in black-red sweater described as "military officer" urges the people to disembark, explaining: "the Turkish military will take you to the Greek side by boat." Some don't want to go, protest that they have children who shouldn't be forced to go on this dangerous crossing. They don't want to go to Greece, a man says. The officer asks "why did you come here then?" That's either not clearly answered OR answered with "unjust! Police lie!"
The military officer waves the driver off the bus, then loudly insists "everyone is going to get out now. I will beat up the ones who don't," pulling out his pistol as if to make the point. "Out! Get out!" he shouts, smacking their backs like cattle. When they still don't all leave after a few seconds, he shouts louder and cocks his pistol near a boy's head, as if to shift the message. "There is no going back from here on. Get out! Get out!" That boy and some others rush off, but others, including the person filming, remain. An apparent clock at the font of the bus had said 17:42, and the sunlight appears fairly low, later afternoon, of whatever exact day this happened.
The "military officer" has the a pistol with a Turkish flag decal on the handle's butt. The "police officer" holds (a taser?) and has a police nightstick on his side, the word POLIS on his trousers, and "Turk" on one shoulder of his black jacket, a "Grey Wolves" insignia on the other. Both officers appear quite young, probably under 30. They may be part of the new wave of military and police Erdogan has rushed into the field to fill the massive vacancies created in his frequent purges of the security sector for suspected "Gulenists."
Denials of Forced Migration
Gulnur Aybet, an adviser to President Erdogan is quoted as saying on or before March 2 (before the above accusations and video were public, but after the Aykurt center incident): "we have said people who wish to leave can do so on their free will, we are not sort of transporting them, we are not forcing them to go. They're leaving on their free will. It's exactly and entirely up to the European Union as to how they want to deal with people who are arriving on their doorstep on their free will. It's absolutely rubbish to be blaming Turkey for this when Turkey has actually done so much for refugees." (emphasis added)
The Killing of Muhammad al-Arab
Forensic Architecture, March 5, 2020: Joint statement on the ongoing violence at the Greece-Turkey border https://forensic-architecture.org/programme/news/joint-statement-on-the-ongoing-violence-at-the-greece-turkey-border The Killing of Muhammad al-Arab video included - stand-alone page: https://vimeo.com/395567226 "We will hold Greece and the EU accountable for the violations of the rights of migrants and refugees fleeing Turkey" "video footage – labelled as "fake news" by the Greek authorities [3] but now verified by Forensic Architecture – shows a Syrian refugee being shot dead." It doesn't show him being shot, and just what it does show is worth some consideration.