Talk:Syria news/Current
From A Closer Look On Syria
There is a dynamic situation with fighting and accusations rapidly appearing. How and when this appears on mainpage can use some discussion. I do not plan to realy follow in real time, due to time constraints; may do occasionally if I spot something and it appears important.
But this hospital report for example, BBC (I think it was first posted yesterday). We see a guy telling about multiple strikes, showing us something which my quick guess is mortar tail fragment, and shows a building not particularly wrecked and holes on sides rather than on tops, etc. So I do not particularly believe this report , on the first look at it (also nothing can be prevented as it is a report on what happened already). --Resup (talk) 10:32, 2 October 2016 (UTC)
The propaganda war is ultra hot at the moment. Can't hurt to wait a day or two before something turns out to be real news (or not). No need to cluster our news line with fakes and misreporting. I doubt anyone will use it as their "latest rumor" breaking news ticker. --CE (talk) 11:31, 2 October 2016 (UTC)
This cannot be seen anywhere else...
4 Oct. According to Rusvesna report and photos, at 15.50 UN headquarters team site in Хайй-эш-Шахба district (Hay-ash-Shahba, robot translated as Hayy al-Hussain) of Aleppo city came under mortar shelling. 7 people were killed and 16 wounded. The aftermath, mortar shell fragments are shown.
It may be a UN team site, and somebody can be killed. Though probably no UN personnel is left in Aleppo, so it may be UN cars damaged and some unknown people killed. But still curious why is there total silence, not even discussion of whether or not it is reliable/newsworthy --Resup (talk) 07:57, 7 October 2016 (UTC)
"Hay" is district/neighborhood. Shabha is Here on Wikimapia Just north of the University, which was just shelled, killing five. I saw something with the damaged cars as part of that attack. Al Alam report mentions the 7 dead, in different areas (only 2 at the university at first, so the total went up). That was searching twitter ... it's not talked about much, in English. Nothing else about UN involvement. --Caustic Logic (talk) 08:24, 7 October 2016 (UTC)
UN staff arrived in one of the districts in Aleppo, to begin the process of withdrawal of militants armed groups in the eastern part of the city, a source at the scene told Sputnik agency
Debka/el Murid got a partition (zones) map ... (Somebody is learning how to do graphics, or what?)--Resup (talk) 17:00, 28 January 2017 (UTC)
Discussion
A group of ex-U.S. intelligence officials is warning President Obama to defuse growing tensions with Russia over Syria...
This may be more important than it looks. At some point, differences between Russia and Turkey looked very bad and hopeless; but the two leaders met, and a way forward was found by a miracle. In Syria, Russia is out of its depth, if solving crisis is the goal. It is caught in the midst of Middle Easter warfare, which is not one of its vital interests. While in the conflict in Ukraine, it is of vital importance to Russia, and, apart from opposing Russia for the sake of opposing it, there is no vital US interest in Ukraine. --Resup (talk) 20:36, 12 October 2016 (UTC)
17 Nov. 2016. Russian blogger El-Murid (pro-Strelkov circle) : "Russian mighty strike on Aleppo clearly stalled. Russia has assembled almost all its all combat-capable fleet, added aircrafts at Hmeymim airbase, possibly again agreed with the Iranians, although behind the scenes (after a sharp Iranian demarche when angry Iranian generals openly demanded that the Russian partners shut up and not shout to the whole world about using Iranian airfield). In general, everything is ready - there is no decision.
The Kremlin was fully confident of Clinton winning and was preparing for the strike on Aleppo, trying to create a better configuration for the future painful bargaining. But Trump won - and what to do now, the Kremlin does not understand. To bomb Aleppo - to let Trump down and create problems for him talking to Putin. Therefore, for the time being it was decided to slow down, and in order to not just stand idle - to "iron" Idlib. And that is being done, but without fanaticism - field munition storages are not made of rubber , and if you still have to level Aleppo to the ground, they should be kept filled". --Resup (talk) 19:26, 18 November 2016 (UTC)
KIA
Animation by "Patriot" video studio (published 14 Nov 2016, and seen on Cassad on 18-th), dedicated to heroic death of Marine sergeant Andrey Leonidovich Timoshenkov, 15 June 2016. He was based at a camp near Palmyra. According to the animation, he was assisting delivering humanitarian aid to Homs province. 3 jihad mobiles attacked their convoy; 2 were stopped by anti-aircraft gun mounted on a convoy vehicle, but one attacking car kept moving. In the animation, Timoshenkov runs towards attacking vehicle with a grenade launcher and hits it before the vehicle impacts the convoy. He was gravely wounded and despite all efforts to save him died in a hospital
(see also: Russian deployment in Syria-reported deaths, 19 June 2016 entry.) --Resup (talk) 19:26, 18 November 2016 (UTC)
Russian national news service: two Russian female military medics killed in Aleppo will be buried in their home town of Birobidzhan. No genuine memorial photos of the ladies were seen so far, only fakes in some user comments. --Resup (talk) 18:38, 6 December 2016 (UTC)
Russian MoD TU 154 crash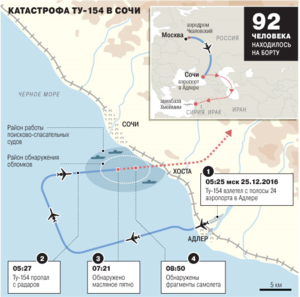 MOD announcement. Musicians from the Alexandrov's ("Red Army") Choir, reporters, a celebrity doctor Elizaveta Glinka (Dr. Lisa), several military personnel. on the plane. Crashed shortly after take-off near Sochi, Russia (and en route to Latakia, Syria). User comments point out wide spread of fragments, some quoting interfax say it is over an area of 15 km, repeated here on BBC service in Russian at 2:27. BBC Engl. report includes a photo with some fragments. Wide spread of fragments, if true, is significant, as it indicates mid-air explosion or disintegration. Official reports seem to favor technical problem or pilot error. TASS running updates; 10 bodies found at this point. Videos from crash at sea show many small fragments (debris spread area uncertain from those videos).--Resup (talk) 11:33, 25 December 2016 (UTC)
Tributes
Mireille Mathieu & Les Choeurs De L' Armee Rouge : " Le Temps Du Muguet ", Oct 11, 2014
User Евгений Волков said на видео хор ВВ МВД..., но хору Александрова вечная память....
Packed stadium in Serbia, around 20K, sings in commemoration of the Alexandrov ensemble, before the start of a basketball game
Members of the NYC Schiller Institute Community Chorus sing the Russian National Anthem outside the Russian Consulate in New York in honor of the passengers, many of them members of the Alexandrov Ensemble, who died when their plane crashed enroute to Syria. Helga Zepp-LaRouche, Chairwoman, International Schiller Institute, Sunday, December 25, 2016
What's next?
April, 2017
Some observations. (1) The West very coherent line (USA=UK=France=...): Russia! You MUST drop support of Assad. Then you may be permitted to be part of civilized world (like a small part, maybe). The 'only problem with that', it is not going to happen like that (as unaffordable loss of face and manhood, basically--it went way too far for such a turn around). It does not help 'the Western cause' that there is no irrefutable proof of 'Assad the butcher', and what's on the table has too much 'brown-nosing' sort of smell to it for a successful sale to pretty shrewd Russian people. (2) Likewise, the Russian line is not too bright either. They did not plan to own the Syrian mess when moving in, but signs are, they may be getting deeper into it by the day, having no better chessgame plan available (like, no prospect of the US Congress to vote overwhelmingly that Crimea and Donbass are Russian, etc). OK, so deeper they go; and if that becomes another Afghanistan for them (as hoped by some, perhaps), it is not going to solve anything and will be just a much bigger mess. It is not the late 1980's and patriotic and anti-Western sentiments in Russia are much stronger. There is also more information (and understanding of real value) which cannot be easily 'voice-Americaned' one more time. Is more mess in Russia/Syria going to be good for MAGA? --Probably not, not at this time in history (more trade-disrupting regional conflicts, more extremism, less people to sell to, money spent on weapons cannot be also spent on something else, etc.).--Resup (talk) 18:42, 16 April 2017 (UTC)

Some Russian media claims that some Arab media claims that al-Bagdadi is arrested escaping from Mosul, crossing from Iraq to Syria (Engl)(Life.ru)(Rusvesna). Unsure what to make of it, almost like too good to be true feel, do not see in Western media.
Officially, "Putin congratulated Assad with 71 anniversary of independence of Syria" . (There is quite some tradition in nondemocracies for things to happen exactly on anniversaries --but may be some sort of spirit-raising gossip too).
The Information Office of the Secretary General of the DESI European Department of Security and Information announced that:
"the office had received accurate information indicating that the leader of al-Qaeda "Abu Bakr al-Baghdadi" may have been arrested in the north of Syria through a monitoring by the Syrian-Russian joint intelligence. This came after Baghdadi forcibly left Mosul as a result of the pursuit of his popular mobilization forces on April 2, 2017 and his entry to the Syrian border. The media office indicated that it will refrain from accurate information of the details of the operation pending confirmation of some of them and information still coming as a result of the accuracy of the stage and the consequences that may result from it. He pointed out that the interconnectedness of the units that resulted in the airport of hairs and the use of the chemical in Khan Shaykhun, Which is not to be attended by any Syrian team and will be limited to America, Russia and the UN delegate only may be to discuss a political settlement may be in part due to the Russian President Vladimir Putin About al-Baghdadi, which could undermine America's credibility and shake credibility with its claims in international forums, may be relevant. Dr. Abu Said said that after contacting the head of the department Luciano Consorti and the Executive Council, who expressed great satisfaction to arrest al-Baghdadi, this helps to clarify the many things that happened in the past"
No real clarity, neither withdrawn nor confirmed at this point as far as I can tell. Some reports came yesterday, RUDAW quoting Russian FM, and some Pentagon presser; those basically were saying that they do not have any information--Resup (talk) 12:10, 19 April 2017 (UTC)
May, 2017
Interesting to see whether Lavrov trip to Washington and other such moves will bring about any common ground (does not look too promising). There is a speculation in the air along the lines anticipating competition of RussiaSyriaIran vs the Western team over control of Syria-Iraq border. That in part was fueled by military exercises in Jordan; Jordan denied invasion plans. It is actually quite doubtful that one of the two main players involved will go for single-handily owning the problem. We will see. --Resup (talk) 12:01, 15 May 2017 (UTC)
June, 2017
With defeat of cities- controlling state-like IS in sight, pro-government allies and Russia explore stabilization force. The danger is that after IS defeat, it may turn into fight of Western-backed insurgency against pro-government forces and allies, never really ending, or ending by exhaustion of one of the sides (end result of this will be differently named militant Islamist entity) --Resup (talk) 07:28, 23 June 2017 (UTC)
Sources
'Syrian Army strike group prepares for an attack on Raqqa' - Rusvesna, 20 Apr. 2017 --Resup (talk) 12:13, 20 April 2017 (UTC)
Putin-Erdogan
The meeting on 3 May 2017 (see the mainpage) appeared to show some convergence of positions on Syria, or was phrased that way at least. At the meeting, restoration of trade (formerly at 100 bln per year) was discussed, and it was announced that Russian sanctions will be lifted. (Russian patriotic opposition comments on Crimean Tatars/un-recognition of Crimea issue; no changes here, apparently). Russian sanctions were introduced after Russian military plane was shot down (talk)) by Turkey.--Resup (talk) 12:23, 4 May 2017 (UTC)
I can't believe that it was very harmonic behind the scenes, given what has happened the previous week and how the US and Russia both backed the YPG in their respective zones of influence. I imagine Erdogan had to at least verbally abandon his wacky plans to conquer Raqqa to get such a nice surface meeting with Putin. And today we see the Turks playing nice with both Iran and Russia at Astana. Erdogan seems to know that the alternative is the no-fly zones he long begged for, only that it is him that isn't allowed to fly. I'm quite confident that we will see less Turkish troublemaking in the near future, but the guy just isn't a rational actor. --CE (talk) 18:48, 4 May 2017 (UTC)
Flynn
Re Turkey & Kurds operation, Would be nice to have his version of events but there won't be public comments because of the investigation(s). Can be less than what it looks like, he had some lobbying or consulting business in the past. For a military operation of any sort, they needed to review all available information, including intelligence --which they likely did not have fully at that point, diplomatic implications, etc, review all that and do planning, etc. Quite likely, they were not ready to approve, and so they did not. That could be the reason, not a monetary incentive (which could be for past and completed work). --Resup (talk) 12:28, 18 May 2017 (UTC)
Raqqa airstrike
'Daesh leader al-Baghdadi was killed', A pro-Daesh online portal claims terror group leader has been killed by airstrike on Raqqa, Yeni Safak, 13 June, 2016
Has ISIS leader Abu Bakr al-Baghdadi been killed in US air strike? Reports say he has died in Raqqa but no confirmation from coalition, Daily Mail, 14 June, 2016
BREAKING NEWS: ISIS leader Al-Baghdadi may have been killed in a targeted airstrike of a meeting in Raqqa according to Russian defence, Daily Mail, 16 June, 2017
US shoots down Syrian plane, June 18, 2017
Ja Din is near Resafa, road intersection on SAA way to Raqqa, in competition with the Kurds (warfare over there is by roads, they say...). Can go to Der iz-Zur via that intersection too.--Resup (talk) 02:17, 19 June 2017 (UTC)
Twitter roundup: Jadin was reported captured by SAA - implicitly from ISIS - in the hours before the incident, as well as the village Al-Easawii, almost up to the Resafa crossroad. It was this pinnacle of alarming advances in just a few days that the US coincidentally was forced, absolutely forced, to cause them some pain, and maybe signal that they need to slow down. tweet with map of advances vs. JaDin) However, http://syriancivilwarmap.com/ shows both SDF and SAA expanding past what Peto Lucem shows - generally pushing east along the deconfliction line. [tweet While Ja'Din is roughly on that line, by this it should be in SDF's expasion area. So maybe there were crossed wires as the SDF tried to cut the SAA advance, and the SAA wound up liberating it from them, thinking it was ISIS? Prior reports of SDF capture of any clashes may be around, but not located yet. --Caustic Logic (talk) 04:19, 19 June 2017 (UTC)
But this is not the same issue as the bombs dropped later, around 6:45 pm. Clearly, any bombs dropped "near SDF forces" would also be somewhat "near" ISIS forces, and SAA. The important question is who were the bombs dropped ON? The statements so far remain unclear about this. --Caustic Logic (talk) 04:19, 19 June 2017 (UTC)
The anti-government SOHR agrees with pro-government sources - the jet was hit over "al-Resafa" south of the deconfliction line, and not targeting SDF forces, but ISIS ones, and the pilot's fate remains unclear. (cited in"Mistakes" Behind 4 US Attacks on Syrian Forces, which includes this incident with three others.) --Caustic Logic (talk) 10:15, 19 June 2017 (UTC)
Media Troopers?
'A convoy of Russian special forces arrived in the western countryside of Palmyra on Saturday evening after traveling from the coastal city of Jableh, ...etc....--a military source in east Homs told Al-Masdar News' These soldiers from the Russian special forces will be tasked with advising the newly formed 5th Legion of the Syrian Arab Army...
'Farewell speech'?
More provocations planned?
This article quotes a Syrian mukhabarat source, to tell that they intercepted communications about further near future provocation plans, attacking UN humanitarian convoys, and using prepared artillery or shell fragments to blame Syrian goverment side, and to draw USA into the conflict. (How much is this for real, hard to say; advance warnings of such sort posted on Russian sources are not particularly unusual; warnings of course are given to prevent it from happening, not as a prophecy ) --Resup (talk) 08:36, 11 April 2017 (UTC)
Alleged false-flag event filmed by Aljazeera: -- Petri Krohn (talk) 04:37, 5 May 2017 (UTC)
This report in the Guardian indicates that a "Whitehall source" expects "Assad" to launch another chemical attack after the UK general election on 8 June, when it is expected that an increased Conservative majority will ensure that a vote for war with Syria will pass the House of Commons.
Ambassador Yakovlenko understands the situation perfectly:- It has to be borne in mind that the British Foreign Secretary recently hypothesized on joining another US action in Syria in response to another chemical incident, which means that an order for it has already been placed. Pmr9 (talk) 11:26, 5 May 2017 (UTC)
Tony Blair: I'll be back. --Resup (talk) 11:42, 5 May 2017 (UTC)
Another/renewed warning, real CW kept in a building in Arih, Idlib , "Assad" threatened to attack on May 1, "Putin", right behind, "specialists consider 12 May most likely day for provocation" (top of the section comment applies as usual, -no prophecies in here pls; this all is getting too often, crying wolf sort, as if it is not insane out there already) --Resup (talk) 19:16, 11 May 2017 (UTC)
Sources
Interview starts with Lavrov blaming US failure to separate Nusra and 'moderates', and US failure to have rebels follow their side of the agreement on the withdrawal from the Castello road , for the diplomacy now being 'on the pause'
I think you're looking at three people, four people in the administration who have all argued for use of force, and I lost the argument.

Noted: The leak audio appears to place the blame on lack of use of force on the Republican-controlled congress eg McCain-Graham
Recently captured buildings (including 'Mercedes', called so for its shape), fighters firing positions, rebel tunnels, hell cannon, etc. Interviews with soldiers (some from National Guard, some are former civilians, drafted in the Army awhile back and still fighting. Address the camera with promises of victory and going home after that, etc. Superb singing in the end.
Quoted in: 'How the US Armed-up Syrian Jihadists', Alastair Crooke, Consortium News, 29 Sept. 2016
A group of ex-U.S. intelligence officials is warning President Obama to defuse growing tensions with Russia over Syria...
Rusvesna: Iranian-backed Hezobollah claims that northern half of Eastern Aleppo was liberated, Sheikh Khader and Sheikh Faris districts taken by SAA and allies, posts updated map. This is not seen reported elsewhere though; image search of map does not give something useful --Resup (talk) 11:34, 28 November 2016 (UTC)
As things are going atm, advances in Aleppo are more likely true than not. PetoLucem is quite conservative with his map update so gains shown there are most likely true. I didn't copy his comment on the latest one "#Syria's 2nd largest city will most likely be fully secured before 2017", although I hope it comes true. Curious item just out on Firat News Agency: Many Turkish soldiers dead after intensive airstrikes "of unknown origin" north of Al-Bab. They are, while partisan, usually not making stuff up. We'll see how this develops. --CE (talk) 10:42, 7 December 2016 (UTC)
Western
'Syria government 'producing chemical weapons at research facilities' - BBC, May 4, 2017.

Syria's government is continuing to make chemical weapons in violation of a 2013 deal to eliminate them, a Western intelligence agency has told the BBC. A document says chemical and biological munitions are produced at three main sites near Damascus and Hama. It alleges that both Iran and Russia, the government's allies, are aware.
Videos
Channel 4 Aleppo, Up Close with the Rebels, Oct 9, 2016
Vanessa Beeley: Channel 4 removed this video after complaints regarding their terrorism apologism and promotion of Nour Al Din Zinki, terrorists responsible for the beheading of 12 year old Palestinian child, Abdullah Issa.
'Fierce fights in historic Aleppo', report and video, 1 Oct. 2016, Kurdistan-Insider.com and ANNA news.
City fighting near ancient Citadel video, 'Old Aleppo. Fight in Azazi', ANNA news, 29 Sept. 2016; (English captions).
Хандарат. Нелегкий путь домой / Handarat. The hard way home, ANNA news, 24 Sept. 2016
Блокада боевиков в Алеппо восстановлена /The blockade of terrorists in Aleppo restored, ANNA news, 4 Sept. 2016
Подвиг героев Аль Кинди / Heroes of Al Kindi Hospital, Anna News, 11 Oct. 2016
Photos
Work of the "Syrian Express". The second half of December 2016 - the beginning of 2017. The ports of the Black Sea - Tartous. Roundtrips. Cassad, Jan. 3, 2017.
Losses
Strelkov contact is with a Russian private military company (PMC) in Syria (Wagner is one such company, sufficiently publicized). Contact tells about their (and Hezbollah) significant role in fighting and significant casualties, in wounded and killed. Numbers not provided. Talks about deteriorating supplies and recruitment standards. Post was intended to discourage opolchenie from joining Syrian PMC. The contact is returning to Syria after being wounded, regardless. --Resup (talk) 17:13, 24 May 2017 (UTC)