Mozgovoi
Jump to navigation
Jump to search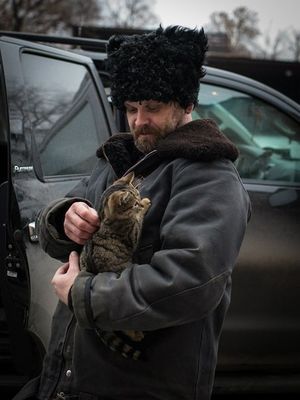 Mozgovoi returned to Donetsk after Maidan, to defend his homeland.
He was a military commander of the 'Ghost' brigade based in Alchevsk, -and a local "father figure" there. On 2.04.15 his brigade joined LPR people's militia as 4 territorial brigade.
Ideas
Truth, Justice
His most important message and appeal was based on truth and justice, of natural justice sort.
(Not everything run smoothly in practice-criticism was raised regarding 'public courts').
Council of Military Commanders
He tried to set up a council of military commanders. (That did not materialize ).
Anti-'System'
He was critical of bureaucratic/corrupt ways of governance in general, and of (some) LPR ways and means in particular [1] [2]
Solidarity and Self-determination
He organised an international conference of solidarity with Novorossia, held in Alchevsk [3] . Self-determination, justice themes stressed in his talk at the conference.
Self-sufficiency
During ceasefire, had meetings with locals to resume agricultural activities, not counting on external help.
War and Peace
Minsk agreements. He was in favor of saving lives when possible, but often critical of specific details of Minsk agreements. He felt that an agreement have to be reached among people doing the fighting, not between bureaucrats on top. He tried to reach out and talk to the other side in the conflict, and made a couple of long discussion videos between himself and some Ukrainian military. He felt that war will be over when there is enough consensus of the warring sides. He considered the war to be fratricidal war, fighting with themselves. (In particular, Maidan, as well as himself, had strong anti-oligarchy theme; he called for this to be a unifying issue).
Nationalism
He joined in an appeal to the Russian Federation Council for a stronger support of the Russian national ideas. (He was quite moderate and not overdoing on this topic--there are considerably more radical voices here). [4]
Mozgovoi brigade published their guiding principles. Briefly, they are: solidarity (collectivism), honor, peoples friendship, people's rule, people's opolchenie/ militia (the right to bear arms sort, not aiming to built a regular army; opolchenie is to oppose state or corporate dictatorship) , volunteer service, antifashism, guiding and educating youth, discipline, freedom of conscience, Russian world.
History
Many factual details about Mozgovoi and his relationship with LPR can be found in this Cassad post.
Character
"The main thing for him was Honor and Conscience" (честь и совесть)--Yurii Shevchenko, current acting commander of the 'Ghost' brigade.
Sincere, honest, reliable, idealistic are words most often used to describe his character.
Videos
Documentaries=
Mozgovoi, documentary film by Yuri Goroshko, May 23, 2020

Film is featuring Mozgovoi's friends-in-arms, Strelkov. Mozgovoi is portrayed as an energetic, passionary and highly respected commander defending his people. Anti-oligarchy standing, efforts to reach out to Ukrainian side to stop the senseless war, straightforward and independent attitudes, complicated relations with LPR leadership are shown. His murder is described as a classic military-style ambush. His comrades express doubts that Ukrainian RSG is responsible, say that it was not properly investigated, but that they do not have proofs of who is responsible.
Assassination
Opinions
Brief summary: by Spring 2015, Mozgovoi brigade was outside LPR corps (militia), did not have funding or clear prospects for the future. Fighters started to leave, and his brigade reduced from over 3000 to some 300 or so. According to Skomorokhov, there was no conflict with Plotniskii, or with Alchevsk mining owners. However, Mozgovoi decided to embark on a political career, and with the help of Andrey Kozlov (on the photo), who had a law degree, registered in Ukraine proper a public organization "National Revival". A way was found to do it essentially by notification without a complicated approval process. Approval was received on May 8, 2015. This public organization was the only one in LPR registered by Ukraine. Mozgovoi also had contacts with international human rights and leftist groups and convened a conference in Alchevsk on 8 May, 2015. According to the author, political activity of Mozgovoi could alarm LPR power structures and could lead to his assassination. Andrey Kozlov was arrested shortly after, and his fate remains unknown.
References