Category:Donbass
Jump to navigation
Jump to search
DPR
DPR head Zakharchenko website.
DPR Council of Ministers.
News: DAN news, Russian and English.
Ombudsman
Main page. Regular reports on numbers of killed, wounded, buildings destroyed, etc.
Ministry of Education
Larisa Polyakova report, 16 December, 2016
Pre-schoolers: 54 009; school pupils: 137 660; professional/technical colleges students: 30705. Higher ed: 43086 students and 10716 staff.
54 'objects' (buildings) of professional education and 54 of higher education destroyed. There are 106 professional education establishments, and 55 are 'realizing programs of preparing qualified workers'. While exact meaning of this language is unclear, it appears that possibly as many as half (106 total, 54 destroyed) of those professional education establishments are not functioning or had to relocate. Wish they use plainer language to describe the situation. --Resup (talk) 12:11, 18 December 2016 (UTC)
LPR
LPR head Plotniskii
More official links
Donbass Events, 2014
Donetsk

03.03. 2014 Donetsk city council vote approved a referendum 'on the future of the region'.
City administration was stormed by 'several hundred' of (pro-Russian) protesters after the vote. Police did not interfere.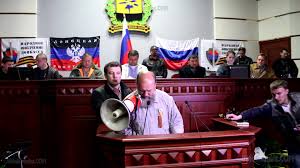 7 April, 2014. Donetsk People's Republic (DPR) is proclaimed.
7 May, 2014, Kremlin. Press conference following the meeting with Didier Burkhalter
11 May, 2014. Referendum in the Donbass.
25 May, 2014. Presidential elections in Ukraine. Porosheko's win announced 29 May.
26 May, 2014. First attempt to storm Donetsk airport, by Khodakovskii "Vostok" battalion". Opolchenie commander Staryi (a participant) recalls the events on video. There was an agreement between Khodakovskii and Kirovograd spetznaz (Ukrainian GRU) in the old terminal, that there will be no shooting; opolchenie also had map/knowledge of airport facilities. Operation was not well-planned, and opolchenie had little functioning heavy weapons (no functioning MANPADS, mortar shells without fuses) Initially it was according to plan, and airport was closed. However, later Ukrainian aviation made unexpected strike (that killed 4 opolchenie); and other Ukrainian units and right sector arrived, not committed to nonvolience; in addition to lots of confusion. Towards the evening it was decided to withdraw from the airport. One of the commanders decided to withdraw on Kamaz vehicles. Near Donetsk, 2 Kamazes came under friendly fire with many opolchenie killed. Total losses in operation, 38 opolchenie killed. Khodakovskiy version of events is not too different, does not dispute friendly fire.

Khrustalik, case 26.05.2014.
Khrustalik, The first and last battle of the Iskra group. Abdullah and Stary about the battle 26.05. 2014, YouTube, May 26, 2020.

Gorlovka

Bezler introduces himself to police who joined in, gives first instructions, to lead police safely out of the building, maintain order, prevent marauding. Published Apr. 14, 2014 (by a pro-Ukrainian youtube user).

July 21, 2014. First battle, report and two videos, published on the 4-th anniversary, 2018. UAF tried to take Gorlovka. 4 UAF tanks ambushed opolchenie armed with RPG 26. 1 PTUR, and Kalashnikovs only, and traveling in passenger cars (seen destroyed on the video), near settlement '6/7'. Opolchenie managed to repel the attack. At least 3 opolchenie ('Yak', 'Gudwin', 'Val') were killed, at a spot now marked by a wreath, and more wounded. It is said that UAF remained at established back then positions ever since.
July 27, 2014. Bloody Sunday, Gorlovka's Madonna.
Slaviansk.

Komsomolsjaya Pravda report with photo of Strelkov, 26 April 2014-first interview without mask, Alexandrer Kots, Dmitrii Steshin
Nalivaichenko interview, 18 May, 2018. Nalivaichenko and Alpha prepared to attack SBU building in Lugansk, held by protesters. He received an order from Turchinov not to do it. Eventually he and some Alpha launched an attack in Slavyansk. It was on the initiative of Nalivaichenko that a clash occurred on the night of April 13, 2014, which is believed to have started a bloody war in the Donbass.
Thugs with automatic weapons, pistols and truncheons are brutally beating and shooting civilians who have gathered for a picket against the introduction of Ukrainian military equipment to Donbass. After those bloody events on 22 May 2014, several residents of Starobelsk (Lugansk region, presently controlled by Ukraine) disappeared.
Referendum in Krasnoarmeisk was dispersed by armed men calling themselves Dnepr battalion. Video, published 11 May 2014.
June 2, 2014. Explosion next to the building of Luhansk city administration, 8 people were killed. Said to be air bombing by Ukraine. Explosion video, around (1:33). There is another flash, in the flag-post area, right before the bigger explosion (so some users think it is a strike by grenade launcher). More details collected on another video, several craters and explosions, remains of a rocket in one of the craters, said to be S8 COM, unguided air-to-ground missile. Ukrainian version of MANPAD homing on air conditioner is discussed and rejected (multiple craters, no air conditioners and locking on it is not going to occur according to expert interviewed). Tree tops are cut, supporting aerial bombardment version.
1 July, 2014. Media reports appeared claiming that Bezler captured MOI building in Donetsk. DPR accused him of an attempt to seize power.
28 July, 2014. Battle for the Saur-Mogila.
Aug.-Sept., Nizhniaya Krynka
16 Aug. 2014. Ukraine occupied Zhdanovka, Kommunar, Nizhniaya Krynka. In 20-th of September they were driven back. Video shows what was left after them.
Sources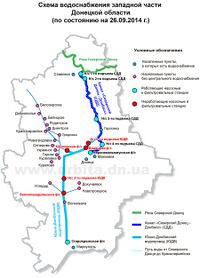 Videos
Tsarev speaking at Rada, November 2013 (noted, attempted obstruction to deliver his speech) (video, coverage).
"Про#бали ДНР". И такое бывает на войне. August, 2014. Ukrainian checkpoint in Peski near Donetsk overlooks 3 cars convoy proceeding towards Donetsk, curses 'those DPR members' and wonder how that happened. Convoy stops at DPR side, some shots fired between convoy and DPR checkpoint. Convoy returns back, driving to avoid many landmines placed on the road, and waving Ukrainian flag, back to the checkpoint. All dialogs are in Russian.

Why is the older guy seen playing around with the optical device wearing dark sunglasses and a CIA cap? -- Petri Krohn (talk) 11:32, 7 February 2018 (UTC)

good catch, no idea, they speak to him in Russian and he follows instruction, responds with 'aha" (yes, OK). There is also a TV crew helmet man at around 8:09 --Resup (talk) 12:47, 7 February 2018 (UTC)
Video author, Rostislav Shaposhnikov, is a look-alike and is here in CIA cap in person. He is a Ukrainian journo here attending US congress meeting on 'US help to Ukraine in the context of war in Donbass'. He says something about filming 'Russian invasion' yet as a 'fighter with corruption' positions himself as an opposition or independent Ukrainian journalist --13:28, 7 February 2018 (UTC)
Полонені та полон. Війна 2014-2017 Ukrainian documentary, with Vladimir Ruban (famous Ukrainian exchange negotiator), Vasyl Budik (Georgian officer who was held by Bezler and was featured in famous staged execution--and visiting Bezler after release), a Kiborg and his wife, and a strange shaven head man with nickname 'Angry'). Former prisoners and Ruban tell their stories, which, as presented, have details which are not pretty at all, and describe some instances of serious abuse or torture (Budik describes abuse by some young locals; and some abuse apparently before Bezler; 'Angry' describes some instances too, and fists occasionally). Yet, they were released and are in quite good shape, while for prisoners on the other side, there were obvious signs and accounts of gross mistreatment and abuse, beatings with broken bones, etc; those accounts from the other side are not presented or even mentioned in the film. So it appears to show an ugly unknown side, --but only one side of it, from the Ukrainian perspective. --Resup (talk) 11:14, 8 February 2018 (UTC)
Minsk agreements and diplomacy updates
Subcategories
This category has the following 2 subcategories, out of 2 total.
Pages in category "Donbass"
The following 16 pages are in this category, out of 16 total.
Media in category "Donbass"
The following 32 files are in this category, out of 32 total.