Ukrainian Armed Forces
Jump to navigation
Jump to search
This historical article records the status of the Ukrainian Armed Forces on September 19, 2014.
This article catalogs the status of the Armed Forces of Ukraine (AFU, ВСУ) at the time of the Minsk ceasefire on September 19th, 2014. This information may be useful in estimating Ukraine war casualties. On July 10, 2014, a week before Ukraine's first decisive defeat in the Southern Cauldron Business Insider ranked the Ukrainian Armed Forces as the 21st most powerful military in the world.[1]
Destroyed units
24th Mechanized Brigade
Yavoriv, Lviv oblast
One battalion destroyed in Southern Cauldron 1.0. The other two battalions destroyed 12-14 August in battles in Saur Mogila. The remnants of the brigade have been declared "deserters," and are waiting judgment in Melitopol.
30th Mechanized Brigade
Novohrad-Volynskyi, Zhytomyr oblast
1st and 3rd battalions were beaten in Southern Cauldron 2.0 in Krasny Luts region in the first half of August. 2nd battalion was destroyed in Stepanovka outside the cauldron between August 12th and 14th.[2] Out of 4000 soldiers only 83 survive. (Some 500 non-combat troops remain.)[2][3][4] Other units withdrew from the "ATO" territory on August 27.[5]
51st Mechanized Brigade
Vladimir-Volyn in Volyn region
Partially destroyed in Southern Cauldron 1.0 at the beginning of August. Third battalion destroyed in Ilovaisk in late August.[6] Remnants of the unit, some 500 men teamed up with the 92nd Brigade, but were destroyed in the Amvrosievka pocket by August 30th.[7][8] Evidently the whole unit was disbanded later in 2014, parts of it becoming the new 14th Mechanized Brigade.[9][10]
72nd Mechanized Brigade
Bila Tserkva, Kyiv region
Destroyed completely in Southern Cauldron 1.0 near Zelenopole at the beginning of August.[11] Approximately 400 men remaining have been declared "deserters" and the fugitive placed in different locations. Some parts were destroyed in the Amvrosievka pocket at the end of August.[12]
79th Airmobile Brigade
Nikolayev and Bolgrad, Odessa region
Destroyed in Southern Cauldron 1.0 at the beginning of August.[13] The remaining 400 men have been returned to their base.
92nd Mechanized Brigade
Klugie-Maskirovka, Kharkov region
At the Lugansk front. One battalion in the area of Kharkov. Same issue with ideological attitude (pre-team).
A supply convoy on the way to ATO was ambushed by partisans on August 29, destroying several vehicles and killing two soldiers.[14]
A tactical group of 2,500 men, 16 tanks, self-propelled artillery, armored personnel carriers and trucks - about a hundred pieces of equipment in total was sent to the Ilovaisk front on August 23rd. All were destroyed in the Amvrosievka pocket by August 30th.[7][15]
Units with heavy losses
The following units have suffered large losses in recent battles:
1st Armoured Brigade
Honcharivske, Chernihiv Raion
The only Ukrainian unit to host the modernized T-64BM "Bulat" variant. (76 units as of October 2011). The unit made a breakthrough to the encircled Lugansk airport in July 13th. the first column of 40 T-64 Bulat tanks and 10 other armored vehicles was destroyed, most likely at the intersection of the Lugansk ring road and the airport road west and south of the intersection. From a second column of 30 tanks some 5 tanks were destroyed.[16][17][18][19][20] The rest of the unit was destroyed at the end of August in Novosvetlovka and when the airport was finally stormed at the start of September.
One battalion served on the Russian border in Kharkov region, but was evidently moved to the northern Lugansk front in August. The blogger novy chitatel on August 30th listed this battalion as the only battleworthy Ukrainian unit.[21][22] Suffered heavy losses in personnel when the army group headquarters in Popeda, some 50 km north of the Lugansk front was destroyed in a BM-30 Smersh attack on September 3rd and 4th.
25th Airborne Brigade
Gvardeiskoya village in Dnepropetrovsk region
Can be seen in Dobropolie, Donetsk region, deploying towards Donetsk in this Apr 9, 2014 video
Tried to enter Kramatorsk in April. Six BMD tanks with crew deserted to Slavyansk. Whole unit was "disbanded" on orders of acting president Oleksandr Turchynov. IL-76 was shot down above Lugansk airport, resulting in 49 KIA. One battalion destroyed in Shakhtersk battles in the beginning of August. Another battalion destroyed a few days ago in Marinovka-Koževni area.
95th Airmobile Brigade
Zhytomyr
Participated in the battles against the operation from the beginning, and suffered a loss all the time. This brigade is currently all the most experienced and efficient on the Ukrainian ground forces unit. One of the battalion took part in the breakthrough Krasny Luts direction and was able to retreat experiencing significant losses. Other battalions are fighting at the moment Debaltsevo Donetsk region, forming the main infantry attack fist.
Trapped in Amvrosievka pocket on August 24th.
17th Tank Brigade
Enbedded with other units. Large number of tanks destroyed or captured. Some units eliminated in Ilovaisk [23]
128th Mechanized Brigade
Mukachevo, Zakarpattia region (mountain infantry)
Served at the Lugansk front. Lost all its equipment in the Southern Cauldron. One battalion was transferred back to Transcarpathia to quell the uprising there. More dead than alive.[21]
26th Berdichev Artillery Brigade
In March 2015 the unit is said to have only four Msta-S howitzers left. About one thousand soldiers were demobilized.[24]
Encircled units
As of September 4th these encirclement have been defeated. The units no longer exist.
28th Mechanized Brigade
Chernomorskoe, Odessa region
Still relatively fresh. Though she was considered a "backup". How she is now capable technical question. Given the fact that mobilization part was completed by the Odessa ideological motivation of the units in question (maybe because of this kept in reserve).
Trapped in Amvrosievka pocket on August 24th. Completely destroyed near Ilovaisk on August 26th.[25]
80th Airmobile Brigade
Lviv, Chernivtsi;
Boxed in in the cauldron at Lutugino-Lugansk airport.
93rd Mechanized Brigade
Cherkasy Dnipropetrovsk region
Suffered significant losses in Slavyansk and during the fighting on the outskirts of Donetsk. Now the backbone of the group junta on the Northern and Western FAS Donetsk front. The combat in consequence of the losses incurred partially reduced.
Encircled in Kuteynikova in the Amvrosievka pocket on August 24th. Of one group of 150 soldiers who tried to break out of the pocket only 17 survived.[26]
2015
The commander of the brigade, colonel Oleg Mikats was captured in a failed Ukrainian counterattack to retake the Donetsk Airport.[27] At the time of his capture he was leading an attack force of two tanks and 16 riflemen.[28]
This is not Oleg Mikats, according to (1) Petrovskii (2) Alexander Kots @sashkakots , and found at 20:32 on Cassad ) (3) visual comparison--e.g. look at ears . Oleg Mikats is in top ten of the Right Sector and 93 brigade commander. His other photo is here
Battleworthy units
As of September 5th there are no known battleworthy units of the Ukrainian Armed Forces.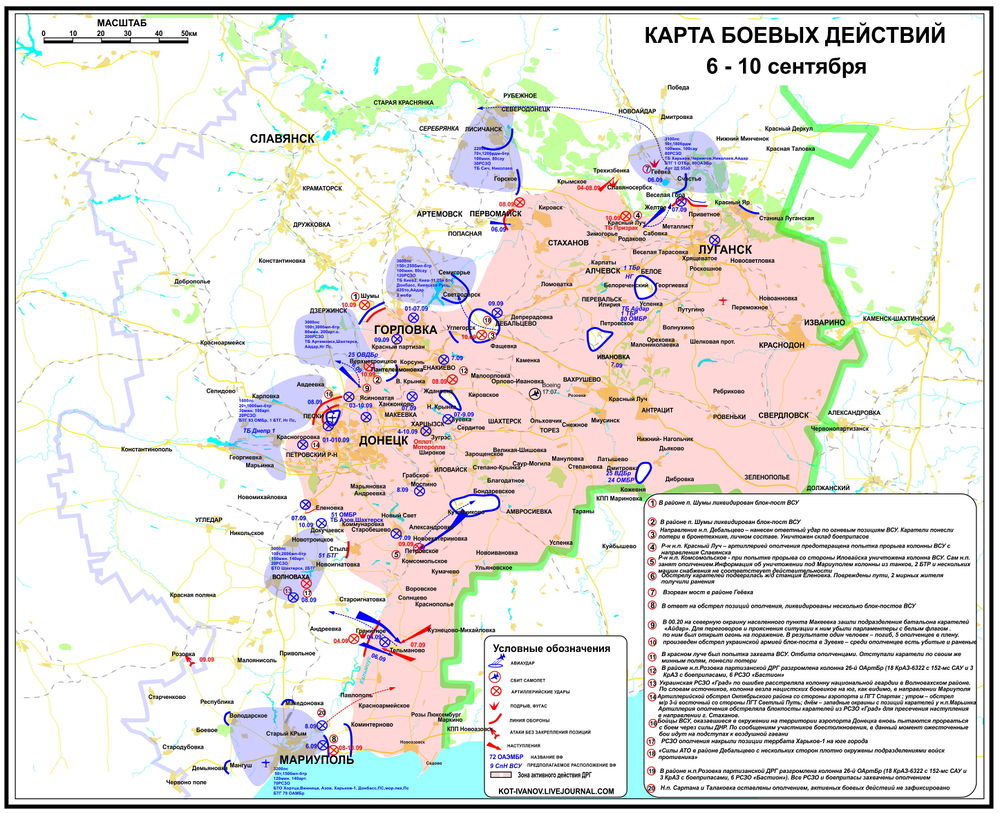 Map by Kot Ivanov showing the Ukrainian units as of September 10th. Note, that the only units of the regular Ukrainian Army on the map and not encircled in cauldrons is one battalion of the 1st Armored Brigade and parts of the 80th Brigade north of Lugansk.
Territorial battalions and National Guard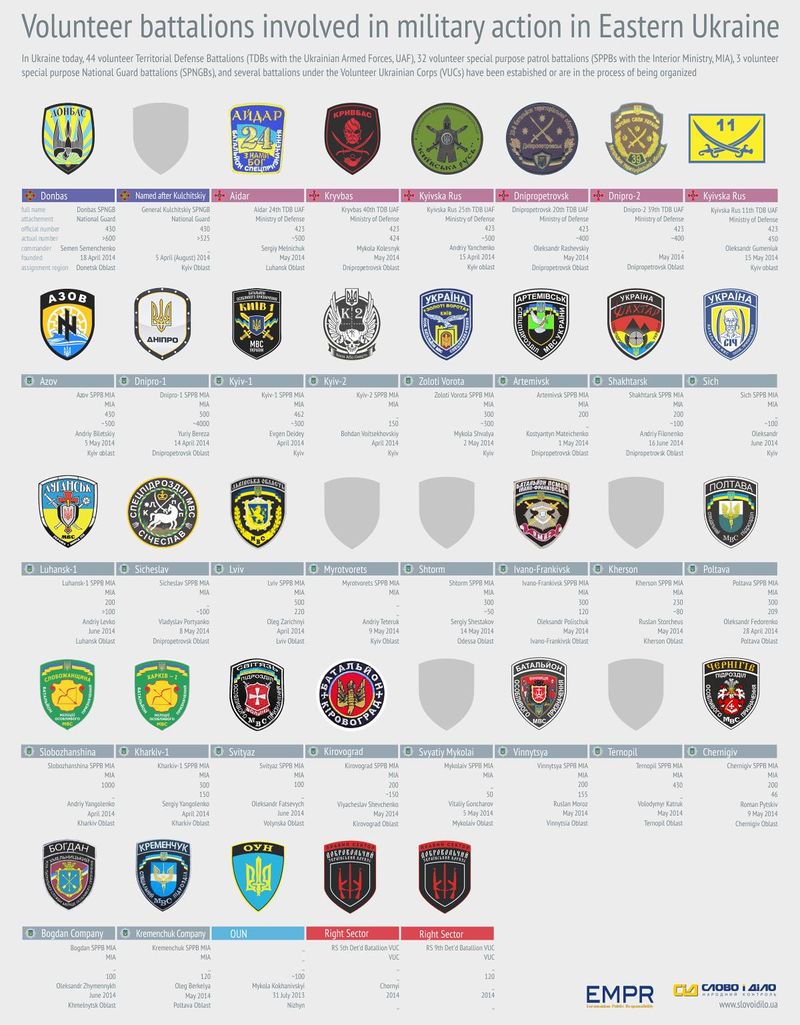 In Ukraine, there are four kinds of volunteer military units formed mainly of volunteers: territorial defense battalions; special battalion of the Ministry of Internal Affairs; reserve battalions of the National Guard; Right Sector volunteer corps.[29]
The Wikipedia articles fail to explain the different between the National Guard and the newer Territorial battalions (the articles do not even link to each other). The National Guard does not operate as individual units except for the Praviy Sector Nazi battallions.
Regional battalions
As of August 27 the Territorial battalions are fleeing: The 5th Territorial Battalion from Ivano-Frankivsk left ATO on August 27 with 400 men and went home. No one in Ukraine could stop them on the way. The sources are not clear on what happened. The battalion stationed at Amvrosievka, but decided to leave. One article suggest they went through Russia, but that would be impossible with their weapons. I suggest NAF simply let them out on a promise they would pack up and drive home. NAF could not take their weapons because without them the junta would have arrested them half-way.[30][31][32][33][34] The battalion commander was later arrested on charges of desertion.[35]
The 40th Territorial Defence Battalion Krivbass from Krivoy Rog left the ATO territory on or prior to August 29, refusing to "carry out mindless orders".[5]
On September 9th the 14th Territorial Battalion from Cherkasy deserted and left Volnovakha with 450 men.[36][37][38][39] On October 6th, Novorossiyan sources claimed that the battalion, still stationed in Volnovakha, had "broken free" of nationalist battalions blocking them and defected to the side of the Novorossiyan militia.[40][41][42]
On October 10, Kiev-2 battalion was said the said to have deserted.[43]
Rumors claim some battalions are planing to side with Novorossiya against "oligarchs" and Kiev.[44][45][46]
Praviy Sector Volunteer Battalions
Main article: Aidar Battalion
Controlled by Praviy Sector and Kolomoisky from same Dnepropetrovsk office. Officially part of "Territorial battalions".
Azov
Donbass
Aidar
Dniper-1
Dniper-2
Shahtersk
Crimea
As of August 25, forces of all of these are trapped in pockets.[47][48]
On August 29th 200-300 members of the 1st and 2nd company of Donbass battalion surrendered after retreating from Ilovaisk.[49][50][51] Life News however reports that of the original 300-350 men only 108 survived to be taken prisoner.[52][53]
The Crimea Battalion informs on Facebook that the "ATO" lost 500 men in total in the battle for Ilovaisk.[54][55]
According to information from an Azov Battalion leader and others emerging out of Mariupol, in the late days of August Kolomoiski has withdrawn Dnipr-1, aka his "private army", from the loosely surrounded city.[56]
According to Amnesty International briefing, abuses and war crimes by the Aidar Volunteer Battalion took place in the north Luhansk region [57]
According to Yarosh statement made in January 2015, Right Sector has about 10 thousand people, spread all over Ukraine. Nobody knows exact amounts of weapons they have. [58]
Euromaidan Battalions
Today, 100 Battalion "Sich" took the oath on Instytutska street in Kiev, then went into a zone of ATU, reports of "Svoboda" on its website. Soldiers who have served in the East, have been studying for more than two months. The ranks of the battalion came all volunteers. The vast majority of "Sich" - members of "Svoboda", the press service of the party.[59]
National Guard
1st Operational Brigade trained in urban combat was sent to Mariupol.[60] May have suffered heavy casualties in the battle for the Donetsk Airport at the beginning of October.[61][62]
Special MoI Battalions
Special MoI Battalions: according to Russian FM, created by Avakov (referring to his Facebook posting dated 13 April 2014). privately funded, and said to be not under Government regulations. Another source (korrespondent.net) refers to MoI order dated 14 April.
"Vostok" ("East"). Mentioned on May 3 in relation to Odessa events, little further information.
"Storm" (mentioned in Russian FM 'white book' as participating in May 2 events (such reference was made on May 3). Also on May 3, it was announced that it is being 'formed' from volunteers, under control by Lutsiuk (MoI regional chief). (more on talk page).
"Dnepr"
"Saint Nicholas"
"Kharkiv"
"Sloboda"
Organization of Ukrainian Nationalists (OUN)
Foreign Fighters
Dudaev battalion
Dudaev battalion was announced 03.03.14. It consists of pro-Kiev/anti-'Russian' volunteers from Chechnya and the outside world, and said to have over 500 volunteers in the linked publication by Isa Munaev, the battalion commander. Battalion was mentioned on this Ukrainian web site on 27.04.14
Eastern Europe
Belorussian and Slovak fighters -Source, 15 October 2016
Air force
Some 60 to 70 airplanes and helicopters destroyed.[63][64]
Equipment (according to wikipedia):
attack plane/'hedge-hopper' SU 25 (on the books 31, including 14 modernized), 5 shot down, 2 damaged.
fighter aircraft/interceptor Mig 29 (124 planes on paper, several dozens may fly, 2 shot down (?)); SU 27 (24 planes)
bomber SU-24М (21, 1 shot down, 1 damaged), SU-24MR ('scouting') (12)
Buk M1 (60)
С-300 PC (30)
Tanks
10.11.2014 Opolchenie captured (rusvesna) several modern Ukrainian tanks "Bulat". They are now repairing them. "Bulat" (Т-64БМ) is a deep modernization of T 64, and includes additional active and passive defense (extra 3.5 tons of it), automatic firefighting system, modern night vision, targeting, stabilization, guided missile launch capability.
Before ATO, estimate was 680 tanks on the books, around 200 actually working. Estimated 150 tanks may be produced per year (2-3 times that many if just repaired). Novorossia reports around 200 tanks destroyed in total.
6.12.2014 Poroshenko conveys equipment and armament to the Armed Forces, video Judging by what can be seen on photos, 20 or 30 new tanks (older T64 based Bulat in front, T72 based Oplot in the back) + ten 2S1 "Gvozdika" self-propelled artillery, + some number of BTR; 20 BTR4 Ladya are seen. The numbers seem close to an estimate of what they can refit in 1-2 month or so. Also, a few helicopters were delivered (most likely repaired), 3+2=5 are seen on the video. Total number of pieces given is said to be a 100, so then slightly over a half of the total is seen on the video. Tanks in sufficient quantities can be used to break through front line defenses.
8.01.2015 According to MoD chief Stepan Poltorak 450 pieces of equipment are given to UAF in 1 month (no details of types provided). A 'charitable aid' of 390 mln Hryvna received.
Desertions
As of September 3, officers are said to be leaving their units.[65][66]
3rd and 4th round of mobilizations
According to MoD chief Stepan Poltorak, and SNBO decisions, in January-April 2015, 50 thousands will be drafted. By the end of the year, "if needed", another 54 thousands. Another January 2015 report claimed 200 thousands to be drafted.
Sources
Losses
It appears that the 24th, 28th, 30th, 51st, 72nd, 92nd, 93rd mechanized brigade and the 128th mountain infantry brigade are actually destroyed, or at least do not exist as fighting units. The same can be said about the four airmobile brigades. What remains of the 17th Tank Brigade is faulty equipment stored at the base. So far the only battleworthy unit is the 1st Tank Brigade, which had at the beginning of the so-called "ATO" about 80 tanks and is currently stationed in the former Lugansk region.
Territorial Battalions
National Guard
Right Sector
November 2014
September 2015
Mobilization
References