Attack on Donetsk Airport
Jump to navigation
Jump to search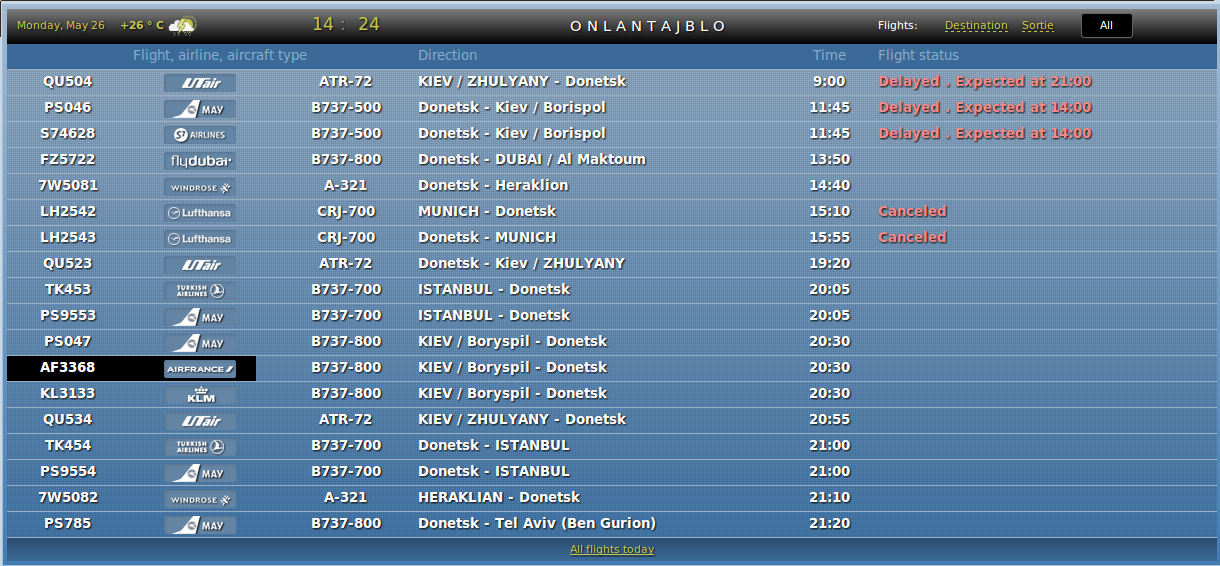 Sources
Donetsk airport has been temporarily suspended. An up to date information regarding the status of flights is available on the official website Online Timetable.]
From the 26th of May an anti-terrorist operation is being carried on the territory of Donetsk airport, due to which airport operation had to be temporarily suspended. Information regarding the renewal of flights from Donetsk airport will be provided additionally.
According to Alexander Khodakovsky the militias did not anticipate that Ukrainian troops will bomb the Donetsk airport. Use of combat aircraft means that Kiev considers the region lost and it is not going to be protected, he said.
Artur Gasparyan
In an interview with US-State sponsored Radio Free Europe/Radio Liberty published on July 13, an alleged 24-year old Armenian named Artur Gasparyan recalls his trip to Donetsk as a volunteer fighter recruited in Moscow. Among other details he describes his participation in the events at Donetsk airport. He accuses his commander Alexander Khodakovsky of miscalculating the situation believing that the Ukrainian Military wouldn't attack the airport (as he has admitted himself, see links above) and general incompetence. He says he was in the second of the two trucks fleeing the airport, and while all but three fighters in the first one died in an ambush, his group was luckier and while that truck was hit as well, he survived uninjured. The next days it turned out that it had been an incident of friendly fire due to apparently deliberate misinformation about approaching Right Sektor fighters. This incident made him return to Russia, with a stop in Horlivka.
Execution of wounded militiamen
The current spin on the Donetsk airport attack is:
Truce for evacuation wounded.
2 Kamaz trucks sent, flying Red Cross flags.
Trucks stopped in ambush.
Pravy Sector killed passengers with head shots, no survivors. Removed Red Cross flags.
Russian investigation on war crimes
"The Investigative Committee of the Russian Federation has created a special management to investigate international crimes against civilians committed in the territory of Ukraine", - said in a statement.
Friendly fire
(Updated, 2017)
Opolchenie commander Staryi (a participant) recalls the events on video. There was an agreement between Khodakovskii and Kirovograd spetznaz (Ukrainian GRU) in the old terminal, that there will be no shooting; opolchenie also had map/knowledge of airport facilities. Operation was not well-planned, and opolchenie had little functioning heavy weapons (no functioning MANPADS, mortar shells without fuses) Initially it was according to plan, and airport functioning was stopped. However, later Ukrainian aviation made unexpected strikes (that killed 4 opolchenie); and other Ukrainian units and right sector arrived, not committed to nonvolience; in addition to lots of confusion. Towards the evening it was decided to withdraw from the airport. One of the commanders decided to withdraw on Kamaz vehicles. Near Donetsk, 2 Kamazes came under friendly fire with many opolchenie killed. Total losses in operation, 38 opolchenie killed. Khodakovskiy version of events is not too different, does not dispute friendly fire.