Ukraine news/Archive/2019-04
Jump to navigation
Jump to search
27 Apr. Putin comments on meeting Zelenski at a press conference following his visit to China (Eng. , highlighted)
24 Apr. Putin signed a decree on simplified procedure of receiving Russian passports for Donbass residents
22 Apr. Zelensky promised to 'reset' Minsk process (despite that some of his recent comments raise doubt on whether he has read the agreement -Talk). He also said (Rus. text, video) that his number one task is return of the prisoners (indeed very pressing yet doable matter; treatment of pro-Russia prisoners has been very bad; and this is never a good situation to be in, in any case). He also said that he plans an info-offensive to stop the war in Donbass, and has some creative ideas, asking for journalists to help, and mentioning that his comedy show was once prevented from visiting Mariupol. It remains to be seen whether and how severe problems in Donbass can be resolved by talk-showmanship, but intentions/momentum are so far somewhat more promising than seen on the ground in the 5 years under Poroshenko.
21 Apr. Poroshenko accepted elections loss, with exit polls 73 to 25 in favor of Zelenskii.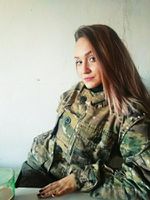 19 Apr. At 18:00, two Ukrainian RSG groups attempted to penetrate DPR defence lines near Oktaibrskoe. They were discovered. Part of the group detonated on a minefield, killing 3 and wounding two. It is said that (overall?) 4 Ukrainian soldiers killed and 5 wounded. DPR losses, 3 killed. A female medic, Lilia Egamberdieva, tried to rescue two heavily wounded DPR soldiers; eventually she called fire on herself firing from a machine gun at a distance from wounded soldiers. All 3 were killed after a massive Ukrainian strike.
Live stream presidential debates, Olimpiisky stadium, Kiev, starting at 19:00 in Kiev (video with Russ. transl.), (Rus. text). Another debate was scheduled at a TV station, 21:00; but Zelensky did not confirmed attendance, and eventually Poroshenko debated himself.
18 Apr. Zelensky interview to RBK Ukraine, discussed in Talk.
Court in Kiev ruled that nationalization of Kolomoiskyi's "PrivatBank" was illegal. Bank of Ukraine disagrees and will appeal.
17 Apr. Ukrainian MP Rybchinsky: "Poroshenko is preparing a coup."
Lutsenko provided details of the meeting with US Amb. Marie Yovanovitch, which he earlier described as receiving a 'do not prosecute list'. In his new detailed version, they had a heated verbal exchange with Yovanovitch, after her comments that prosecution of a certain anti-corruption activist undermines public trust in such activists.
15 Apr. Nadezhda Savchenko and respected Ukrainian negotiator Vladimir Ruban, accused of plotting against the Ukrainian authorities and arrested in March 2018, have been freed by a court decision in Kiev-reports + videos 1, 2, 3.
14 Apr. Poroshenko "debates" himself at the 'Olympiiskii" stadium, as he and Zelensky could not agree on the debate time + venue (stream).
9 Apr. DPR MoD: a soldier was killed by Ukrainian mortar fire. DPR returned fire using 'non-prohibited weapons', destroying firing positions of the adversary. Reportedly 4 UAF soldiers were killed and 3 wounded. It is said that 'Azov' regiment and 'Aidar' assault battalion arrived to Donbass, to the zone of responsibility of 53 mechanized brigade, UAF, near Gorlovka. Those nationalist forces are said to be responsible for the shelling of Golmovsky settlement from BMP which resulted in loss of electric power for 3000 civilians, and damaged a house; a civilian woman was wounded earlier in Zaitsevo.
DPR returned fire and "destroyed the BMP"; it is said that one man called Mikola Nezhivyi is killed and 2 heavily wounded. In Ukrainian version of events (video, TSN.ua), Mikola Nezhivyi was killed near Avdeevka. They were firing on DPR positions from easel anti-tank grenade launcher; DPR responded with anti-tank missile, killing him and wounding two others. Also reported: near Zaitsevo, during de-mining of the area near the water supply of the pump station Seversky Donets - Donbass, one Ukrainian sapper was killed when a mine exploded, two others were wounded.
Poroshenko speaks Russian, Bulgarian, Romanian, Polish, trying to get reelected (but it is 'too little too late').
8 Apr. DPR MoD: as a result of Ukrainian forces shelling of Zaitsevo and Staromikhailovka, two civilian women are wounded. DPR returned fire using 'non-prohibited weapons'; reportedly 3 UAF soldiers were killed and 1 wounded.
7 Apr. DPR MoD accused Poroshenko and 79 separate paratroopers assault brigade, UAF, of an attempted provocation, aimed to raise Poroshenko's reelection chances. At 8:30, two reconnaissance and sabotage groups, 15-20 men each, advanced in the direction Pishevik-Oktaibr'. One group was tasked in provoking DPR to return fire, while the other group task was to 'ensure' civilian casualties at 'Oktiabr' check-point , with DPR blamed for those deaths. The RSG groups were discovered early and fired on. Losses are being verified.
5 Apr. Ukrainian forces shelled Donetsk, Volvo center area, "Trudovskaya" mine-pit, Veseloe settlement. Mortars, AGS, firearms were used. Donetsk city hospital 21 is damaged. A civilian man is wounded,
4 Apr. After floating several excuses not to do it, Poroshenko eventually responded in kind and accepted Zelensky's strongly-presented challenge to debate at a stadium, in a carefully staged video of his own. Drugs/substances test is expected, with details negotiated.
3 Apr. Yesterday Ukraine cut water supply to Dokuchaevsk and Yelenovka, affecting 25,00 people, despite the fact that targeting civilian infrastructure or utilities is a war crime.
Noted, according to a later report, water supply to Dokuchaevsk was restored, at 7 p.m.
NATO sends ships on a visit to Odessa, discuss accompanying Ukrainian ships to stage another provocation in Kerch straights, which may be seen as a fruitless attempt to lift fortunes of the failing Poroshenko reelection campaign with this demonstrative Western backing.
2 Apr. Timoshenko says (1, 2, video) that "Poroshenko falsified elections regarding his result", but she will not challenge the results in courts, as she does not have trust in Ukrainian courts, as they are. With this, Zelensky and Poroshenko advance to the second round. Timoshenko won't back either of them (earlier Zelensky denied reports that negotiations giving Timoshenko a significant role in the government are on-going).
1 Apr. On April's fool day, Ukraine's decision not to renew friendship treaty with Russia comes into force.