Ukraine news/Archive/2018-03
Jump to navigation
Jump to search
31 Mar. DPR war correspondent Mikhail Adronik reports from Kominternovo: in just under 9.5 hours from the start of the 'Easter ceasefire', it was broken by Ukraine. 4 mortar shells were fired on the village at 9:35 a.m, followed by automatic grenade launchers fire
It is reported that Ukrainian forces kidnapped a DPR soldier who was returning to his unit on 26 Mar. DPR MoD states that he did not cooperate with his kidnappers and was tortured and killed.
30 Mar. DPR ombudsman: in the past week, 5 people were killed, 4 soldiers a woman killed by Ukrainian shelling of Gorlovka (report and photos, Mar. 25); 3 soldiers were wounded. Since Jan.1, 30 soldiers and 2 civilians were killed, 47 people (37 soldiers, 6 civilian men, 4 civilian women) were wounded. There have been ceasefires, one after another, with the Easter ceasefire the latest one, but despite that, shelling and deaths never really stopped.
Ex UAF instructor in Sniper Training Vladimyr Smaga, who switched sides and joined LPR, tells that foreign instructors from England, France and the United States have been training Ukrainian fighters since 2015. Servicemen are trained in Yavoriv and Zhitomir proving grounds not for strengthening the defense capability of Ukraine, but for direct participation in hostilities and conducting subversive and terrorist activities in the Donbass. Groups of up to 30 people formed after the training courses were sent to the Donbass for practical training using knowledge and skills obtained under the guidance of foreign instructors. According to Smaga, in real military operations, units suffered significant losses - up to half killed or wounded. Losses were carefully concealed by the command, according to Smaga.

29 Mar. Joint Statement by the leadership of the Normandy format countries, identical up to minor translation differences (Kiev), (Moscow). Reaffirm commitment to implementing all aspects of the Minsk Agreements; Easter ceasefire announced from Mar. 30.
26 Mar. The "Ukrainian People's Tribunal" against eight representatives of the Ukrainian authorities begins in Donetsk.
23 Mar. Basurin: Ukrainian reports of DPR shelling Avdeevka are fake, apparently made to justify 'response' shelling overnight by Ukraine.
Basurin: UAF fired on Sakhanka for 2 days; Ukrainian fire correcting drone ('Fly eye' model, according to Basurin) was shot down (photos).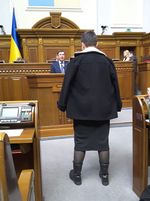 Savchenko in court, out of the cage, in arraignment and detention conditions hearing (text livestream); (live stream recording). Starts a hungerstrike. By court decision, locked up for 2 months without bail.
22 Mar. UAF fired mortars on Sakhanka, DPR, in the morning when children were walking to school, and despite the 'absolute ceasefire'. Two houses were damaged.
SAVCHENKO is detained in UKRAINE, after her MP immunity was withdrawn by the Rada. She faces 10-15 years to life in prison, accused of 'plotting violent overthrow of the constitutional order and seizure of state power.' Moskal' unloads: she was taken prisoner (by L/DPR forces) 'because she fell off BTR being drunk'; '15 people were killed'; she is 'a Russian agent', and 'prepares a coup' too. -Meanwhile, the European Parliament may take up her case. SBU video; Savchenko's own bizarre mock video. Answers Lutsenko video-doing a one woman's Maidan
Yulia Tymoshenko doubts that the non-factional people's deputy Nadezhda Sachenko could organize a coup d'etat in Ukraine, but declares that the fraction will vote for depriving her of her immunity. Savchenko was on Timoshenko's 'Batkovshina' party list in 2014, but broke off and is a non-affiliated Rada MP.
18 Mar. UAF fired mortars on Northern Donentsk from Peski. Last evening, Sakhanka village in DPR south was hit, a house was damaged.
Vladislav Voloshin a 29-year-old 'Hero of the ATO' pilot accused of a role in MH17 shoot-down, reportedly committed suicide by a gunshot in Nikolaev, Ukraine. In the last few months he was head of a regional utility company "Nikolaev International Airport".
16 Mar. Poroshenko announced replacing of 'ATO' by a new 'reintegration of Donbass' format, appointed gen-lt. Sergey Naev to the commander of 'unified forces', gave a task to have armed forces 'capable of liberating' rebel territories, 'with priority and no alternative' way to do it by political-diplomatic means. (The real meaning of all that remains to be seen).
15 Mar. DPR ombudsman: in the period from 2 to 15 March, 5 DPR soldiers were killed, 2 soldiers were wounded.
Nadezhda Savchenko: I saw how Parubiy Pashinsky brought snipers to the 'Ukraina' hotel Conservatory building (statement on video),(correction). Appeals to Putin to release detained ('in Russia' and L/DPR) Ukrainians and to have '20 Russian citizens' held by Ukraine freed (beginning of the video).
14 Mar. Basurin: UAF fire hit vehicles of utility workers coming to Donetsk filtering station, vehicles were damaged, luckily no-one was hurt. Utility workers are now afraid to go to the filtering station (Ukrainian positions are close to the entrance). This and numerous earlier violations places water supply to some 100 thousand people in jeopardy.
Basurin also states (again) that incoming Sec. Stat. Pompeo has recently visited ATO zone in Avdeevka, on invitation of SBU chief Gritsak. SBU press secretary comments that she 'does not have information'.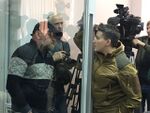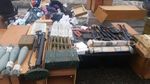 8 Mar. Ukrainian authorities arrested famous Ukrainian negotiator Vladimir Ruban, accused him of illegal weapons trade, with some ammunition photos to support the charge. Vladimir Ruban negotiated many prisoners of war exchanges and is well regarded. More details in talk.
6 Mar. Ukrainian helicopter was spotted 800 m from the separation line, and a powerful explosion was reported 20 min prior. DPR protests, asks OSCE and JCCC to investigate.
5 Mar. After the start of the latest so-called 'absolute ceasefire', Russian MP Zhurvalev visiting Donetsk came under Ukrainian small arms and mortar fire, said to survive. In another report, Ukrainian sniper fired on utility workers in Gorlovka. No one was hurt.
3 Mar. Tent camp of Saakashvilli supporters on 'Mikho'-Maidan is taken down by police. Cassad intermingles dramatic today's photos with Western media quotations condemning human rights violations at 2013/2014 pro-Western 'Euro'-Maidan.
2 Mar. Kurt Volker: LPR and DPR need to be dismantled, Ukrainian sovereignty and border control restored --all but dooming his mission and undermining the Minsk agreements, which require that key elements (special status, constitutional changes, elections, etc) has to be agreed with Donetsk and Lugansk representatives, i.e L/DPR. (Added: MP Alexey Pushkov, with a similar comment. He also states, 'without L/DPR agreement there will be no peacekeepers in Donbass').
Le Temps: Hundreds of American and Canadian soldiers have been training the future officers of the Kiev Army for two years at Yavoriv training ground, Western Ukraine.
Ukrainian reconnaissance-in-force group of about 15 people attacked DPR positions near Oktiabrskoe settlement, Mariupol area. One DPR soldier was wounded and another captured. Reinforcement arrived and repelled the attack. It is said that 2 Ukrainian soldiers were killed and at least 2 wounded.
1 Mar. 'Gazprom' returned March payments back to Ukrainian 'Naftogaz' and intends to stop deliveries over a contract dispute.