Crash of Malaysia Airlines flight MH17/Cyber Berkut leak
Jump to navigation
Jump to search
Sources
Svyatoslav Oleynik and Yury Bereza
Facebook chat between Svyatoslav Oleynik and Yury Bereza (Юрій Береза), commander of the Dnipro Battalion, also known as Dnipro-1 (Ukrainian: Батальйон «Дніпро»)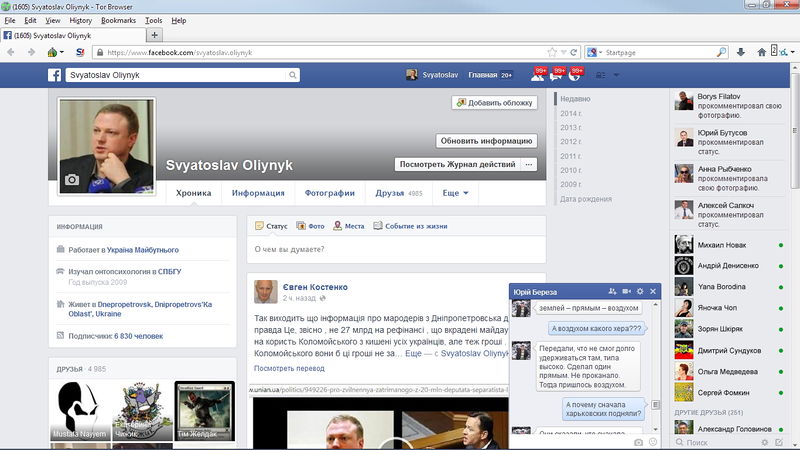 July 7, 2014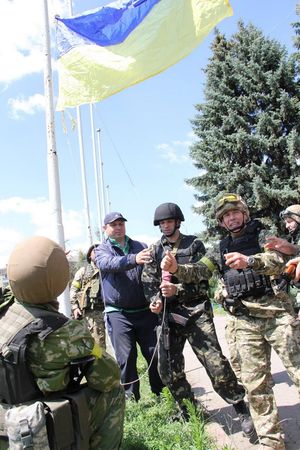 Svyatoslav Oliynyk 09:56
I need you tonight! We should present the final version of the materials. Take the expert and come after 18:00.
Yury Bereza 10:07
I remember! We'll come
July 17, 2014
Svyatoslav Oliynyk 21:21
What's with the archive? The password isn't right. In brief - what's there? What's finally?
Yury Bereza 21:22
The password is normal! Check the layout and Caps.
Svyatoslav Oliynyk 21:22
Forget it. What's there? And how?
Yury Bereza 21:23
land - direct - air
Svyatoslav Oliynyk 21:24
What the fucking air???
Yury Bereza 21:26
They reported that he couldn't hold there for long, as if it was high. Made one direct. Failed. Had to make air.
Svyatoslav Oliynyk 21:27
Why have they risen Kharkiv ones first?
Yury Bereza 21:30
They said that the command came from Kiev firstly to the Kharkiv desk, and as it began to turn, then the others were connected.
Svyatoslav Oliynyk 21:32
clear, tell me later in detail. Are you without layover?
Yury Bereza 21:34
Yes, I'll be soon at place. Just finished with journalists.
Svyatoslav Oleynik and Valeriy Geletey
Facebook chat between Svyatoslav Oleynik and Valeriy Geletey (Валерий Гелетей), Minister of Defense of Ukraine
July 12, 2014
Valeriy Geletey 23:01
It's my profile. Don't ask per phone or Skype! And here - everything only in notional phrases. Got it?
Svyatoslav Oliynyk 23:03
OK. Although I don't really share your troubles about phone. We've got everything arranged.
Valeriy Geletey 23:06
On traffic controllers it's all decided with your boss. He said control is on you. I'll send my person to you tomorrow and you'll have to report me through him of the condition of all planned stages of preparation you are responsible for!
Svyatoslav Oliynyk 23:07
Valeriy Victorovich, what the person for? Or you have decided that I'll flee and leave my family in God knows whose hands?
Valeriy Geletey 23:09
You have a short memory. Have you forgotten how you received instructions? The same person to guarantee security and confidentiality of your reports will come tomorrow.
Svyatoslav Oliynyk 23:09
Ok, waiting!
July 14
Valeriy Geletey 20:43
Remind of your boss's promise: I haven't received the shooting scripts! Tomorrow morning, passing the report, send me the scripts and video you made.
Svyatoslav Oliynyk 20:47
Valery Victorovich, boss gave the task to the channel director a week ago! This jerk is past lost to shame - he held back on terms! Today though they finished all. Sketched more than 10 scripts, for different versions of course of events, for the first two days. Now they are working under the next three days. I'll send you tomorrow.
Valeriy Geletey 20:48
And don't forget video - Petr Alexeyevich asked me of it.
Svyatoslav Oliynyk 20:48
Understood. Everything will be done. TTUL.
July 16
Valeriy Geletey 08:46
The connection later only via our channel. The person will be with you until I need this. And ask your boss why I can't reach him as usual, and then he calls me and begins to tell everything in plain language?
Svyatoslav Oliynyk 08:48
Ok! No problem.
Svyatoslav Oliynyk 08:49
I'll tell the boss, but his telephone has an encryptor, it can't be monitored and decoded. He'll call anyway!
Valeriy Geletey 08:51
Yes, but his phone has an encryptor, and mine (to which he is constantly calling) hasn't. So remind him of my request about safe channel. At least till the end of operation.
Svyatoslav Oliynyk 08:51
Yes, certainly. I'll tell him tonight.
Svyatoslav Oleynik and Anatoly Gritsenko
Facebook chat between Svyatoslav Oleynik and Anatoly Gritsenko, leader of "Citizenship" party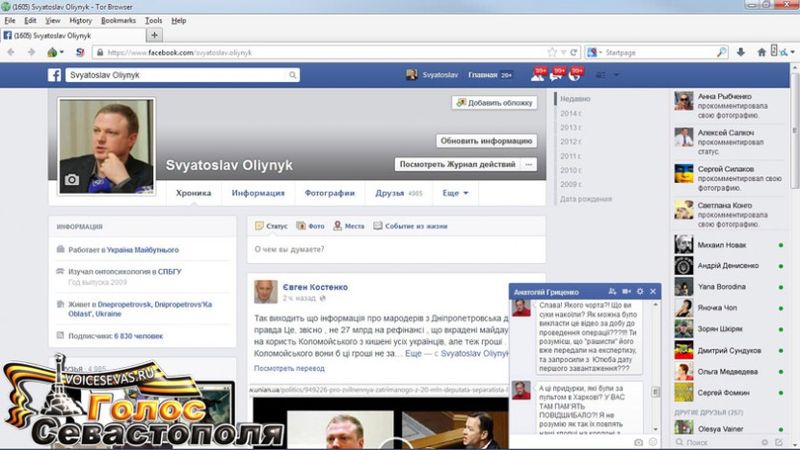 July 19, 2014
Anatoliy Gritsenko 09:15
Slava! What the hell?! What have you bitches done? How could you upload that video the day before the operation???!!! Do you understand that the «Russists» have already given it for the expert review and requested Youtube for the date of its very first upload???
Anatoliy Gritsenko 09:17
And those idiots who were at the desk in Kharkiv? HAVE YOUR MEMORY FAILED?! I don't get how they are caught by our guys on the board with Crimea, while that were your people who had to detain them??? As I can see you and your boss are completely fucking brazen in your Dniprojewivsk!!! Pedro will tear you into pieces!!!! I WILL TEAR YOU BY MYSELF!!!
AND TAKE THE PHONE WHEN I CALL!!!
Svyatoslav Oliynyk 09:25
Anatoliy Stepanovich, I'll redial you now! I went out and left the phone in the cabinet, on the internet from the tablet. I'll call you immediately, one minute.
July 23
Anatoliy Gritsenko 17:38
If the boss is now around - give him the phone! I know that you are having a meeting at the moment - so just hand the phone to him! QUICKLY! I'll call you now.
Svyatoslav Oliynyk 17:40
come on