Ukraine news/Archive/2017-04
Jump to navigation
Jump to search
30 Apr. Ukraine erected a new dam to block the flow of water to Crimea. That was going on since 2014, water is supplied from artesian wells. In north Crimea, there is some shortage of water for agriculture, compensated by produce delivered from Russia. No shortage of water for people, just brings peoples further apart.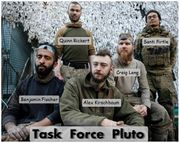 29 Apr. Poland arrests an Austrian man suspected of war crimes while fighting in Donbass of the side of the Kiev government. An European arrest warrant had been issued a few weeks earlier. Online researchers discover his identity.
28 Apr. DPR MOD: 287 (Rus.) ceasefire violations by Ukraine in the past week, 1097 shells from banned weapons (artillery, mortars, tank fire) fired (Rus.)(Eng.). 3 DPR soldiers were killed; (MOD); ombudsman lists 2 soldiers killed, and a civilian man, 1981 DOB, wounded on 30 January, died in hospital. 18 people (11 soldiers, 1 civilian woman, 6 civilian men including a child were wounded (ombudsman).
26 Apr. DPR. Ukrainian shelling continues, artillery, mortars, BMP and BTR, grenade launchers, small firearms used. In the past day, 1 DPR soldier was killed, 2 soldiers and 4 civilians wounded (Rus.)
In Chernobyl, Poroshenko announced that one further step in approving visa-free travel to Europe was cleared
25 Apr. Ukraine cut its electricity supply to LPR. It is said that electric power will be supplied from Russia, after Ukraine cut supply. LPR announced that it (mostly) restored power within 1 hour.
DPR: in the past day, 2 civilians were wounded by Ukrainian shelling (Rus.)(Eng.).
23 Apr. A civilian was wounded by Ukrainian shelling in Zaitsevo near Gorlovka, DPR.
LPR. OSCE observer was killed when OSCE marked car was hit by IED explosion on a road from Slavyanoserbsk to Sokolniki near village of Prishib (map). Another observer was wounded. LPR blamed Ukrainian RSG, stated that they recently warned about provocations planned against international observers. LPR leader expressed condolences.
OSCE SMM report. (Driving on a secondary road previously used by the SMM).
LPR claimed that they discovered a reconnaissance and sabotage group hideout nearby ("лежка"); found and defused two more landmines and a trip wire. LPR also provided names of Ukrainian suspects (without really explaining how it was determined).
Poroshenko at the US State Department, 9 July, 2017: You may well know that recently the representative of the United States of America died in the occupied territory. He was murdered by the members of the pro-Russia warlords. I decided to award him with the high Ukrainian award to mark that important and noble mission fulfilled by the OSCE to ensure the true information for the whole world so that the world could have the actual information about the events and developments of Russia in the occupied territory.
21 Apr. DPR weekly update: in the past week, 235 ceasefire violations by Ukraine, 1445 banned shells and mortar shells were fired (Rus.)(Eng.) DPR ombudsman: in the past week, 8 DPR soldiers were killed, 15 soldiers were wounded (no civilian casualties mentioned for this week).
LPR: in the past week, Ukraine fired 320 banned shells and mortar shells.
Fort Russ publishes an English language translation of a long interview with post-putsch interim president Oleksandr Turchynov conducted by BBC Russian Service a week earlier.
20 Apr. Basurin: "As it became known from the source in the command of the military unit A0456 (Odessa city), on the eve of the May holidays, the Ukrainian Armed Forces, specifically the Ukrainian Navy units as part of one combined brigade of marines, are preparing a plan for active military operations in the Volnovakhsky and the Novoazovsky districts " ... "According to the (Kiev's) command's plan, on April 23-24, two mobile subversive groups are planned to be deployed to the area of the village of Shirokino..." (Eng.)
DPR: in the past day, 25 ceasefire violations by Ukraine- mortars, grenade launchers, small firearms used. One DPR soldier was killed.
Almost nothing is written about it - but during this "armistice" the funerals of DPR soldiers are held almost every second day ... Yesterday there was a funeral of an officer, who was killed three days ago in the Avdeevskaya industrial zone, Alexander Zhizhka. He was just appointed platoon commander after the death of the officer who held this post ... Alexander had a wife and daughter ... He was buried with honors, as he should be... (opolchenie VK post, with photos by Alexander Khodakovsky).
18 Apr. Normandy-4 leaders had a phone conversation, with another call to follow Minsk agreements, implement all-for-all prisoners exchange. Joint press-release was issued (Poroshenko);(Kremlin).
14 Apr. Zakharchenko: We expect another round of attacks (lit. 'sharpening') in the very near future. Let's put it like that, softly. Our intelligence reports that the opposite side is fully prepared to move to full-scale combat operations.
DPR: In the past week, 380 violations, 2672 banned shells and mortar rounds fired by Ukraine, 27 houses wer damaged or destroyed. (Russ.)(Engl). Ombudsman: 10 DPR soldiers were killed, 12 people ( 2 civilian women, 2 civilian men, 8 soldiers) were wounded.
LPR: in the past week, 25 violations, 464 banned shells and mortar shells fired by Ukraine. 1 civilian was wounded, 3 houses damaged.
13 Apr. Ukrainian branch of the Russian Alfa Bank (wiki): :Alfa-Bank Ukraine has nothing to do with the placement of advertising with images of ORDLO militants and sharply condemns the dirty provocations that unidentified persons resort to in an attempt to undermine the credibility of the international bank in Ukraine. Alfa-Bank was one of the first international banks to stop working in the occupied territories in full accordance with the legislation of Ukraine: both in the Crimea and in the Donbas. Strelkov/patriotic opposition: this is a cause of serious concern... Alpha bank structures are very close to the authorities... It is symptomatic that it appears shortly after (Sec. State) Tillerson visit to Moscow.
9 Apr. HUGE crater, 10 m. diameter and 3 m deep, from Ukrainian shelling by Uragan MLRS hitting 300 m short of Dzerzhinkloe settlement.
8 Apr. One DPR soldier was killed and 1 wounded today; two civilian women wounded yesterday in Donetsk.
7 Apr. DPR MOD weekly report (Russ.), (Engl). 277 violations by Ukraine, 2,292 shells and mortar shells banned by Minsk agreements fired (despite ceasefire agreement to start on 1 Apr.) 36 houses were damaged Reservists called for training. there are 27 thousand reservists in total.
DPR ombudsman: 4 soldiers and 1 civilian was killed, 21 people (7 civilian women, 4 civilian men, and 10 soldiers) were wounded (ombudsman figures are different, and typically higher, than MOD).
LPR MOD weekly report (Engl.) (Russ.-video). 82 shells and mortar shells fired. 1 soldier was wounded.
Third year anniversary of DPR declaring independence; historic photos videos -Cassad.
6 Apr. DPR MoD: reservists with military experience will be given weapons to keep.
DPR. It is supposed to be ceasefire, however 55 violations by Ukraine incidents were reported, including mortars and tank fire in Petrovskii, Kirovskii regions of Donetsk. One house was damaged.
European parliament voted for visa-free regime with Ukraine-- Poroshenko celebration video.
Remarks of Ambassador Marie Yovanovitch at the 2017 Kyiv Security Forum.
2 Apr. According to DPR MOD report, Ukraine used white phosphorous munitions (video).
1 Apr. Repair crews working at Donetsk water filtering station came under Ukrainian fire from 120 mm mortars. Is is said that Russian JCCC representatives are at the station, and evacuation of personnel is under way.
In the past day, 1 DPR soldier was killed and 1 wounded. 8 violations were reported after midnight when a new ceasefire was supposed to start. (Russ.), (Engl.) 30 Mar. Another ceasefire agreed from Apr. 1, prior to approaching Easter. Poroshenko: I gave all the necessary instructions to the main headquarters and the MOD.
Basurin: prior to ceasefire, security situation sharply deteriorated. In the past day, 1 DPR soldier was wounded. 18 houses were damaged. (Russ.)(Engl). Later report: 2 civilians in Yasinovataya were killed by Ukrainian shelling (Engl). 90 years old woman suffered shrapnel wounds in Petrovskiy district of Donetsk.
Video report: a house on Sako and Vantseti street , Donetsk (map) was hit by Ukrainian shelling from Peski around midnight, civilian woman was killed.