Ukraine news/Archive/2015-07
Jump to navigation
Jump to search
July, 2015
31.7.15 OSCE: ' "We are seeing a significant build-up of military hardware on both sides of the line of contact, near it. We see the military preparations on both sides "TASS, quoting OSCE SMM assistant head Alexander Hug. Some social media commentators note the danger of fighting resumed in fall after freezing temperature sets in and back roads are easier to travel.
Georgii Tuka is appointed new governor of the Kievan Lugansk region. Formerly running a small IT company. Maidan supporter and volunteer helping supplies for ATO. Said to be one of those who created the widow-maker web site. He is a new person with nonstandard thinking and intolerance for corruption " according to Poroshenko.
29.7 Ukraine continues shelling Gorlovka. Incoming reports tell about civilians wounded, deaths not reported at this time.
Former Ukrainian prime minister Azarov is said to be planning a government in exile; will include Rada ex-deputies Markov, Oleinik, Tsarev. Announcement is expected tomorrow.
28.7 Basurin weekly update, 3 civilians and one opolchenie killed, and lots of shelling: 'Occupants shelled DPR 366 times over the past week; over 488 heavy artillery rounds were fired only considering rounds which were fired into residential settlements across the country. The intensity of the attacks on the Ukrainian side for the past week amounted to 366 ceasefire violations . On the territory of Donbass, 488 artillery shells caliber 152 and 122 mm, 293 tank shells, 862 mortar rounds of 82 and 120 mm caliber. For the period from 20 to 27 July, settlements which suffered the most includes Gorlovka, Logvinovo, Shirokaia Balka, Zaitsevo, Zhabichevo, Kalinovka, Nikolaevka, Lozovoe, and Kiev, Kuibyshev, and Petrovsky districts of Donetsk and the international airport. Ukrainian attacks this week claimed the lives of three civilians and six were wounded. In addition, in the line of duty one opolchenie member was killed, nine DPR soldiers were injured. Thus, Ukrainian occupants continue to grossly violate the Minsk agreement, shelling settlements, using artillery and mortars of a caliber over 100 mm, constantly provoking AF units of DPR to conduct combat operations. " Today, Pion heavy artillery 203 mm shells were fired into a factory in Donetsk
27.7 Alexandrov and Erofeev (Russians captured by Ukraine, 18.05.15 news item) are said to be exchanged for Ukrainian POWs gazeta.ru, quoting anonymous security sources . Attorney for the two, Oksana Sokolovskaia (Оксана Соколовская) previously talked about attempts in that direction, but was not available to comment on the latest reports.
SBU denied exchange. Earlier, MoD of Ukraine denied that exchange happened, but it appeared that some negotiations are still ongoing.
25.7 Scastie (Счастье =Happiness) in Luhansk region is surrounded by opolchenie, who gave Aidar and ultimatum to leave- report. Some said to leave, but some remain. There is a power station in Scastie, Aidar is threatening to blow it up,-that would affect large area of Lugansk and Ukraine. Under Minsk agreements, Scastie is supposed to be demilitarized.
26.7 The OSCE delegation headed by the coordinator of the subgroup of Humanitarian Affairs of the Contact Group Toni Frisch today came under mortar attack by Ukrainian security forces near the city of Schastie, when delegation tried to return to Ukraine. This was reported by a source familiar with the situation. "After the UAF fire stopped Frisch decided to return to Lugansk." Had to seek cover, assisted by opolchenie, for about 2 hours despite making phone calls, according to reports

OSCE twit -google translated: "SMM has confirmed that mortar fire hit near 2 OSCE cars today in the south side of the bridge to Lugansk. SMM condemns incident" (so, once again, unable to determine direction?)
23.7 Ukraine made 120 mln $ eurobond payment avoiding default (at this time)
22.7 Poroshenko instructed (English) (Ukrainian) the members of the Contact Group from Ukraine to initiate signing the Agreement for establishing the 30-kilometer buffer zone along the contact line, which would include the removal of artillery, the remaining tanks, and mortars. "Thus, constant shelling in Severodonetsk, Rubizhne, Lysychansk, and Popasnaya will be impossible and cannonade will no longer be heard" "The countdown will start in a few days and all heavy weapons will be withdrawn under the control of the OSCE."
Reports suggest little change as of 22.7
According to reports, UAF launched two tactical missiles, believed to be Tochka U, in the direction of Makeevka. It is reported that missiles were shot down by Novorossia air defense.
As of 24.7, those missile reports were not confirmed or denied officially. (Also: on 23.7, Russian humanitarian aid arrived to Makeevka).
Artillery shelling near Gorlovka reported. Also, chlorine smell-water treatment plant said to run into some problem -report
21.7 TASS quoting OSCE: withdrawal of under-100 mm weapons was agreed by contact group'. Shirokino demilitarization was another anticipated agenda item.
20.7 Opolchenie is in process of unilateral withdrawal of under-100 mm artillery and armored vehicles from separation line; in DP, 41 tanks and 84 BMPs were withdrawn on the first day, and 5 tanks and 77 BMP on the second; more is promised tomorrow. Withdrawals will be reversed if there are attempts to break their lines. In LPR, such weapons are withdrawn except at Scastie where situation remains tense.
Appears to be an attempt to make Minsk happen, with some signs of increased international backing (including US). Recently, Rada set in motion a law on special status for Donbas, with Nuland and US ambassador present for the event. However, the law was not discussed with DPR/LPR; and on that occasion just forwarded to the constitutional court of Ukraine for their recommendation. Pushilin noted that in his statements, Poroshenko rearranged the sequence of steps agreed in Minsk; -border control comes after all other steps, not the other way around.
OSCE is not entirely happy, as it is not known where exactly weapons are going and where they will be stored
No sign that Ukraine will do the same, at this point in time. Negotiations in Minsk about withdrawal details stalled, and opolchenie decided to try this unilaterally.
Right Sector (112.ua-source): "On July 21 at 19:00 at the Independence Square will be held Popular Assembly" Down with the traitors power! ". "Oligarchic power in the blood of the fighters came Maidan. Poroshenko promised a quick victory in the war in the Donbas, reform, fight against corruption and more. Instead we have the shameful agreement with the terrorists and the repression of the nationalists who seek to restore order in the state. The system requires revolutionary changes - and the rules of operation, and functionaries, and ideas for the sake of which the state acts. But the main thing - the will to change the entire system must have a majority of the population! Otherwise it will not work "- say the organizers.
18.7 (1) Donetsk shelled-Cassad, with maps, photos, videos; 21:40 updae lists about 11 houses hit, including cardiology center -a doctor and patients said to be wounded. Rusvesna: 3 houses destroyed, civilian wounded, a hospital hit. (2) Avdeevka-second displayed video: residential multi-flat building is hit repeatedly by tank/self propelled artillery fire and this is filmed from a close distance. Filming crew makes crude jokes about the situation; are concerned not to have their faces shown as 'punishers' in pro-Russian press; and make comments suggesting it is 'our' fire (which they may be helping to direct). (3) Interview with a doctor at a cardiology center, 23 city hospital in Donetsk. Shelling started at 8:45 (she waves a hand to show from where). She was helping taking patience away from windows and into a corridor. Shortly after, a shell hit a roof, shattering glass. She was wounded in the leg. Bomb shelter exists but not near and evacuating cardiology patients was too risky.
DPR/LPR proposed to withdraw the under-100 mm weapons by 3 kilometers, except the problem areas; and proposed to negotiate on problem areas, but with those representatives who have real power and authorization.
15.7 Pushilin denied reports on MoD of DPR being disbanded, and denied that Zakharchenko is to step down.
Moskal appointed Transcarpatia regional head? - report . It is said that Moskal was contacted and neither confirmed nor denied, referring back to president office. Mukachevo, place of recent deadly clash of Right Sector and police, is in Transcarpatia, explaining sudden appointment plans
14.7 Intense shelling of Donetsk, Gorlovka reported (report and videos); also Debaltsevo suburbs shelled by UAF artillery.
Two laws signed by Zakharchenko, on social and state support of miners and mining; and on auctions for rights to use natural resources-decided by the largest amount of one-time payment (rights are not transferable, cannot be inherited)
It is reported that MoD of DPR was disbanded, what remains is people's militia (like in LPR). Said to be of little practical significance as military activities are directed by militia corps anyway; political background, if any, remains to be seen.
Two failed assassination attempts in Donetsk: on a secretary of Zakharchenko ( Elena Philopova; she survived) , and Yurii Sivokonenko, --at one point a candidate for the post of DPR head and now a union of veterans leader (he was wounded). Ukrainian RSG were blamed by 'Svobodnyi Donbas' party; possible internal strife was discussed in social media and by bloggers
DPR deputy minister of taxation Mikhailov was arrested in Rostov-on-Don, Russia. Intelligence Division of the Republican Guard of DPR was briefly cordoned off; that was removed in about an hour.
-Roundup NewsFront, English subs, video: Lvov: Rights Sector is said to have de-facto control of the city; two explosions occurred near police stations, two people were wounded-- RS denied responsibility. Avakov stated MoI us preparing documents to strip Yarosh of deputy immunity because of his role in Mukachevo events. Not all Right Sector forces are prepared to joint UAF, although some did.
13.7 It was said that Ukrainian journalist Margarita Valenko was shot and killed] in Kiev; however later the news were denied. Facebook announcement was amended to reflect this.
Tor (SA-15 'Gauntlet') missile warhead fired by Ukraine was discovered near railroad station in Donetsk, after Ukrainian shelling -DAN news report. (Lighter than Buk, still allows to hit a plane at 10 km height. Ukraine is known to have it, although Russian wikipedia lists is as being in disrepair. Some were reportedly sold by Ukraine to USA and re-assembled for training purposes). (Tor launch video)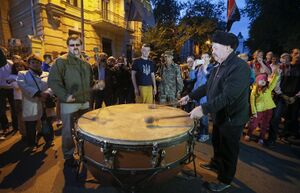 12.7.15 Standoff between administration and Right Sector continues, following confrontation at Mukachevo. It is reported that Right Sector battalions withdrew from ATO area, and were placed on stand-by at their bases; and that over 10,000 activists were mobilized- TASS, Cassad, mukachevo.net/ua updates, photos, videos
UAF artillery shelled Donetsk from Peski; fighting in Spartak -artillery and mortars used. Firefights in Gorlovka, artillery sound heard from the West.
11.7.15 In the past 24 hours, UAF violated ceasefire 35 times, including heavy artillery use. 80 Grad missiles were fired into Donetsk suburbs from the positions of Ukrainian battalion 'Kievan Rus' (territorial defense battalion under the operative control by UAF, Alexey Savich is the commander). More UAF MLRS movement towards separation line, in violation of Minsk agreements, was detected by DPR reconnaissance.
A clash between police and Right Sector in Mukachevo, Trancarpatian region, Ukraine. 8 policemen reported wounded, 3 militants killed, 5 wounded. Right Sector announced demonstrations/pickets in several regional centers
10.7.15 10 x 10 prisoners exchange with LPR, said to be the first since February. Ukraine soldiers were healthy, say they were treated well. Some were captured in Fall; some later, in Debaltsevo. Do not plan to take part in civil war in the future; did not realize the nature of the war initially-thought they are defending. LPR prisoners were able to walk themselves-which was not always the case in the past. One was wounded and needed medical attention.
Kiev region of Donetsk is under intense fire by UAF, in the airport area and Peski there is an intense battle, with artillery used. After 19:30, UAF fired heavy artillery from Novosёlovki hitting the Kiev district of Donetsk. Around ​​17:00 Ukrainian invaders began shelling the area of ​​the airport of Donetsk and Putilovka with heavy artillery, from the direction of the Vodianoe. At the same time under Gorlovka, near Shirokaia Balkas firefights began with mortars, automatic grenade launchers and heavy machine guns. "Vostok" brigade of DPR counter-attacked under Spartak and Peski, using captured armored vehicles.
9.7.15 Russian Investigative Committee opened 54 criminal cases, gathered 2500 volumes of evidence. It is ready to transfer these materials to any international court. But it will continue its investigation. (Translated from Russian)
Russian Ministry of Justice: The arbitrage claim of the PrivatBank controlled by Ukrainian billionaire Igor Kolomoisky to Russia "for the Protection of the lost investments in Crimea" is unfounded and Russia does not recognize the jurisdiction of international arbitration in the consideration of the dispute - google translation. More details on the claim-google translate (Permanent Court of Arbitration in Hague is the one which recently awarded 50 bln $ to Yukos shareholders. Russia does not recognize its jurisdiction; may appeal).
Bloomberg news: Ukraine risks not having enough natural gas in storage to last it through the winter after reducing imports from the European Union and suspending purchases from Russia. "The country is most likely waiting for international aid in financing, as well as for more favorable gas prices and exchange rates " (some gas prices history)
8.7.15 Zakharchenko and Plotniskii issues an appeal to UN to establish a tribunal to prosecute war crimes committed in ATO operation in Donbass -report and video (Russian) (TASS-English) Appeal was supported by the Russian parliament.
OSCE PA adopted anti-Russian resolution, introduced by Ukraine and Canada. Russian delegation was not present (Naryshkin and 5 others were refused entry visas)
7.7.Two civilians, a mother and a on, killed by UAF shelling in a village of Svobodnoe -report, video
6.7 Saakashvilli: American policemen from California will train new Odessa police. Also, in the framework of anti-corruption surge, American government agreed to provide funds for salaries of the new Saakashvilli team Facebook post, -Rusvesna translation to Russian , photos with US ambassador to Ukraine. (Other reports quote US ambassador Pyatt saying that Odessa will be 'a laboratory for US support of core anti -corruption reforms). According to Saakashvilli (reported by TASS) his previous salary in the US was 200 K US $ -presumably this is said now so that such level of funding is matched; not a volunteer job at any rate.
25.6 Reports apparently show a copy of a letter from a US senator to Yatseniuk, describing discussions, recommendations of Ukrainian government appointments by US senators. Unverified; no official confirmation, or otherwise, of authenticity of the letter. Posted by former Yanukovich administration FOM of Ukraine head Leonid Kozhar.
5.7 Trade Union House in Odessa, the site of the massacre, in which dozens of anti-maidan activist were murdered, will be used as headquarters of the Ukrainian Navy.
4.7 Kiev in violation of heavy weaponry clause in E. Ukraine - OSCE "In the last few weeks, our observers as well as drones recorded the presence of heavy weapons in areas controlled by the government, which is a violation of the demarcation line terms regarding the withdrawal of heavy weaponry," OSCE Deputy Chief Monitor Alexander Hug said at a briefing in Mariupol. At the same time, he noted that there has been an uptick in military equipment around Komsomolskoe, which is controlled by DPR.
From latest SMM report: "SMM did not observe any DPR presence in Shyrokino" (confirming unilateral withdrawal).
Two senior traffic police officers (Donetsk natives) defected from Ukrainian-controlled Mariupol to DPR
3.7 Right Sector protest march in Kiev, tires burned on Grushevskaia Street. Accuse current leadership in betraying Maidan (earlier it was said protest is against Minsk agreements) (rusvesna), Sharii-with photos from Twitter.
2.7.15 DPR, LPR announced decentralization, local elections, in unilateral fulfillment of Minsk, in parallel -but without a coordination- with Kiev.
Alexander Zakharchenko has officially announced the date of the local elections in DPR. They will take place on 18 October. "Pursuant to paragraphs. 4 and 12 of the Minsk package of measures (to implement the agreement in Minsk on February 12, 2015) local elections throughout the DPR to be held on October 18 of this year, "- said the head of the DPR. According to him, the elections, as required by paragraphs. 4 and 12 of the set of measures will be "on the basis of the Law of Ukraine" On temporary order of local government in some regions of Donetsk and Lugansk regions, "to the extent not inconsistent with the Constitution and laws of the DPR" ...
The elections will be organized with the fundamental provisions of the draft law of Ukraine on elections developed by the DPR and LPR and sent to Minsk Contact Group within the "dialogue on the modalities of the local elections" in accordance with para. 4 of Minsk set of measures, summarized Zakharchenko. 'The President of DPR expressed confidence that these measures will "not only preserve the Minsk peace process, but also to give it the proper dynamics." Representatives of Ukraine participated in the discussion and coordination of all the above decisions' (The latter is similar to Poroshenko claiming that Donbas representatives were consulted in developing constitutional amendments).
LPR is coordinating similar unilateral Minsk implementation steps with DPR.
Decentralization was announced by LPR and DPR.
Decentralization was also recently independently announced by Kiev.
1.7.15 Leadership of Donetsk People's Republic has decided to declare the village Shirokino of Novoazovskiy district a demilitarized zone, according to deputy chairman of the People's Council Denis Pushilin. This will be further discussed at Minsk working groups meetings. At present civilians are evacuated from Shirokino because of constant shelling; many houses are destroyed. It is said that civilians would like to return back.
Basurin: DPR withdrew troops from Shirokino. Earlier announced discussions on implementation of this step with OSCE.