Guccifer 2.0
Jump to navigation
Jump to search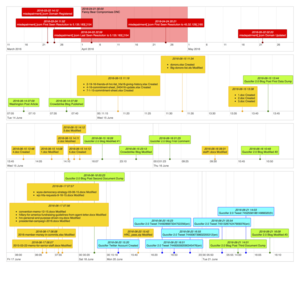 Sources
Was Guccifer 2.0 a cover-up?
Private communications
Robbin Young
Wikileaks Bombshell: Guccifer 2.0 Admits "Seth" Rich Was DNC Leaker - Jim Hoft, The Gateway Pundit, Apr 8th, 2017
BREAKING: Wikileaks And Bond Girl Confirm Seth Rich Leaked Emails To Guccifer 2.0 - Verydicey, April 8, 2017
Guccifer 2.0 - The Hack/Leak Contradiction - Adam Carter, April 8th, 2017

Material originally comes from Robin Young's site https://robbinyoung.info/
(@Robbin_Young is one of 110 people @GUCCIFER_2 follows on Twitter.)

Direct Messages from U.S. alleged Russian spy @GUCCIFER_2 to actress-model @robbin_young (according to the latter) http://g-2.space/sr/dms.html

— @Wikileaks on Twitter - April 8th, 2017

Hi @verified @Support All my DM's before May 15, 2017 are gone. I didn't delete them. Where did they go? May I please have them back? TY! 😊

— @Robbin_Young on Twitter - May 26, 2017
Marcy Wheeler
Who is Guccifer 2.0?
Warren Flood?
Michael L. Adams?
Charges