Economy of the DPR and LPR
Jump to navigation
Jump to search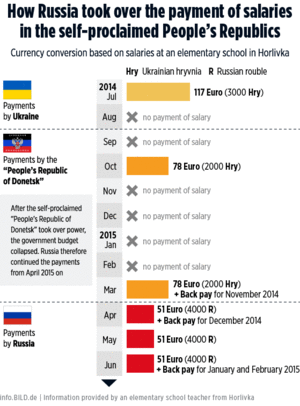 Putin moves to direct rule in the Donbass - Anders Åslund, The Atlantic Council, January 4, 2016 (Reprinted on [Newsweek])

In the second half of 2014, the occupied Donbas went through terrible destruction. Russian engineering troops blew up bridges and factories were subject to extensive artillery fire. All banks and ATM machines were looted and banking ceased. Most shops closed, leaving little but grocery stores. Rebels plundered or seized small, medium-sized and state enterprises, while big private enterprises, largely owned by Rinat Akhmetov's DTEK and Metinvest, were protected by the Kremlin. They continue to operate according to Ukrainian law in Ukrainian currency and pay Ukrainian taxes. Their workers have to go to ATM machines in free Ukraine to collect their salaries. Roughly 2-2.5 million people have fled the Donbas and about as many remain; 1.4 million moved to free Ukraine. Within the DNR and LNR territories, the population has moved, from small towns close to the fighting to the main cities, Donetsk and Luhansk. The economy has been devastated. This territory that produced 10 percent of Ukraine's GDP now works at about 30 percent capacity. The border from Ukraine to the DNR is relatively open, while the LNR allows much less transborder traffic.
Salaries and pensions
How Russia finances the Ukrainian rebel territories - Julian Röpcke, BILD, January 17, 2016

Although separatists in the regions of Donetsk and Luhansk already declared their independence from Ukraine in April 2014, the government in Kiev maintained most state services until June and partly July of the same year. The salaries for public servants continued to be paid; citizens could still use their accounts with Ukrainian banks.
It was only in the summer, when it became obvious that the regions could not be brought back under its control, that Ukraine adapted to the situation and ended most payments – except pensions and benefits.

Russia and the Separatists in Eastern Ukraine - Crisis Group Europe and Central Asia Briefing N°79, 5 February 2016

It is politically and socially significant that the entities can now at last pay pensions, government salaries and social benefits with some degree of regularity. In December, the DNR reported that over 640,000 were receiving monthly pensions and that the number of recipients of child and family allowances and similar payments had reached 110,000.
The money for salaries and social payments came from Moscow. Previously, it had been loath to spend much on the entities, which it clearly viewed as dispensable instruments. Separatist officials had been told that Russia would intervene in the event of a mortal military threat to them or a major humanitarian crisis. Otherwise, support would be limited. The change indicates either that Moscow fears a deeply embarrassing humanitarian crisis – which has not been hinted at in media or official reporting from the region – or is preparing to consolidate its position in the entities for a significant length of time. In either case, the cost is considerable: approximately $40 million a month for DNR pensioners alone. If over 410,000 LNR pensioners are added, the total exceeds $700 million a year. Social benefit payments were due to reach some $3.5 million in December for about 110,000 DNR recipients. Government salaries are not known, but Moscow's total outlay in pensions, allowances and state salaries is likely to exceed $1 billion a year in the east.
Teachers salaries: there is no choice here, children and students have to be taught, teachers need to survive. It is normal for teachers in Russia to be paid "from Moscow", that is from the federal budget; moneys always go 'to Moscow', and .local budgets are quite small.
Salaries amounts: it makes little sense to measure in Euros. Both hryvna and ruble are worth about 1/2 of their value in summer of 2014 (with ruble exchange rate being more volatile). But payments from the budget may be be quite stable, measured in local currency. It is not a shorting by Moscow; although living conditions may be tough indeed (high inflation, collapsed exchange rate). Teachers and others may be receiving food aid from Russia in addition to salaries; some food may be locally produced or imported/received as aid from nearby areas at lower prices than official stats show. Euro to hryvna ;Euro to ruble.
Pensions: those were paid by Ukraine up to a point, with pensioners having to go to Ukraine proper to receive it. Not everybody could go, and there was constant talk of cutting pensions completely. At some point, Ukraine was saying that pensions will be 'delayed' and only paid when the areas are 'liberated'. Pensions were discussed in Minsk. Actual state of the issue: uncertain, needs more search, as well as, likely, a clarification by Ukraine.
Taxes
Banks
Major industry
Heavy Industry
Luhanskteplovoz The Lugansk Diesel Locomotive Plant (Luhanskteplovoz). 500 locomotives were to be delivered to Russia in 2015. The latest news is from February 6, 2015: Ten "diesel locomotive sections" produced in January 2015.
Rosatom
Rosatom has a subsidiary Energomashspetsstal in Kramatorsk
Chemical plants
Mineral Resources
Coal, coking coal, ore. Many mine pits, several iron and metal works (e.g Alchevsk --where late Mozgovoi was based--has both).
[T]he Alchevsk plant belongs to the Industrial Union of Donbass, 50.1% of whose stock before the Maidan belonged to a group of investors under the management of the Swiss company Carobefer - in turn controlled by the Russian entrepreneur Sergey Katunin. The second half of ownership was divided between Ukrainian oligarchs Sergeey Taruta and Oleg Mkrtchyan. Russia's Vnesheconombank imposed its heavy hand on Taruta's share since, according to the press, the former stands behind Russian investors and is the actual majority owner.
Here it is interesting that Russia's Vnesheconombank itself is under Western sanctions. This has left its assets, mildly speaking, insecure. The bank's assets are now called "toxic." One such asset is the Alchevsk plant.[1]
Some Akhmetov iron and metal works (e.g. Yenakievo)
In 2016, additional coal mining in DPR will increase production by 205,000 tones per month DAN News, Jan. 29,2016
Donbass blockade: Akhmetov is stopping the plants -Rusvesna, translated at Fort Russ, 21 Feb. 2017 (blockade refers to Ukrainian nats. battalions, Semchenko, "Donbass" and the like, blocking railroad shipments from and to L/DPR; according to Semchenko, 16 thousand railroad cars were blocked so far).
Akhmetov vs local factories
(See top of the page). Metinvest factories were better off to begin with, undergoing modernization, which needs capital and planning. Rebels did not destroy their factories on purpose, and did not shell their, or Akhmetov factories on purpose. Kremlin did not protect Akhmetov, as it has no means of doing so in Donbas. Those factories were protected by rebel 'guards' structures (Khodakovskii people in Donetsk, Plotniskii people in Luhansk). On taxes: westerners do not understand that tax avoidance is endemic, and that protecting businesses by guards come at a cost, - as normal conditions for businesses. Those typical conditions are unlikely to change by the rebellion; similar sort of people are running things before and after.
Akhmetov tried to maneuver and please both sides. He did say that he is going to follow the law of Ukraine, and pay taxes to Ukraine only (but as the rebels were in favor of nationalization, such public statements needs to be taken with a grain of salt) He also supported more rights to Donbass and showed solidarity with rebels in the early days, and later in peace negotiations. His factories sustained damage, and with this and economic factors production dropped about 1/2 or so, according to 2014 news. And he did not get a tax relief, unlike Kolomoiskii. His personal wealth was in decline as a result of all this. If violence is stopped, having a special status for Donabss within Ukraine will be a good outcome for him.
[Akhmetov] owns a number of key enterprises on the territory of the LPR among which are also such "biggies" like the Khartsyzk pipe plant, the Makeevka branch of the Enakievo metallurgical plant, the Gorlovka machine-building plant, Mospinsk, a thermal power station in Zugres, the Donbass Komsomolets mine, high voltage networks, Egergougol, Donetskblenergo, etc. As already mentioned, he also has a number of enterprises in Ukraine.
What's more, when there was the recent escalation in Avdeevka, more than a few commentators drew attention to the fact that the Avdeevka coke and chemical plant belonging to Akhmetov was never subjected to a single shelling - and not for nothing, but for the important reason that stopping it would inevitably freeze up the Mariupol Ilyich steelworks which are perhaps the heart of Akhmetov's holdings.[1]
Agriculture
Suitable land and climate
Nearby
Education
Several large universities in Donetsk and Luhansk
References