Syrian Military Maps
Jump to navigation
Jump to search
This page collects useful map material about the military situation in Syria. Click image for full size. Several of these maps are frequently updated. The most recent version is displayed here. To view older versions (if available), click on the image and scroll down to "File history".
Country maps
No longer maintained:
Regional maps
Maintained by Peto Lucem and assoc. and distributed via twitter and Syrian Perspective and/or Al-Masdar News. Order roughly from north-west clockwise.
Pocket maps
Border posts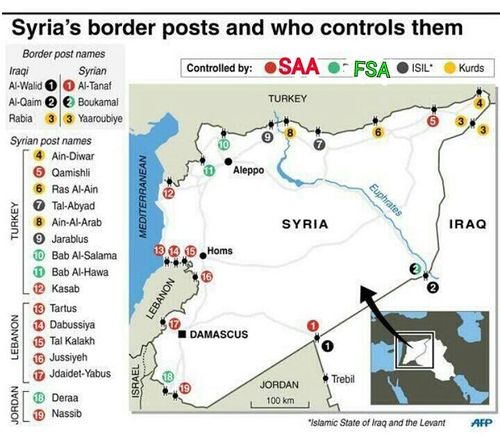 Agence France-Press, June 28, 2014
The Boukamal border crossing (2) was completely taken over by ISIS in July 2014
The Nassib border crossing (19) was taken over by FSA/Nusra in April 2015
The Al-Tanaf border crossing (1) was taken over by ISIS in May 2015
The Tal-Abyad border crossing (7) was taken over by Kurds in June 2015
The Al-Tanaf border crossing (1) was subject of heavy battles between FSA/"Southern Front" and ISIS in March 2016 which the former finally won
The Al-Walid border crossing (1) was taken over by the Iraqi army in August 2016
The Jarablus border crossing (9) (and the city of the same name) was taken over by the Turkish army in August 2016
The Bab al-Hawa border crossing (11) was handed over from Ahrar al-Sham to the Nusra Front in July 2017
The Rabia border crossing (3) was handed over from the Peshmerga to the Iraqi army in October 2017
The Al Qaim border crossing (2) was taken over by the Iraqi army in November 2017
The Nassib border crossing (19) was taken over by the SAA in July 2018
The Deraa border crossing (18) was taken over by the SAA in July 2018
The Tal-Abyad border crossing (7) was taken over by the Turkish army in October 2019
The Ain Al-Arab (aka Kobane) border crossing (8) was handed over from the SDF to the SAA in October 2019
Other countries