Syria news/Archive/2017-05
Jump to navigation
Jump to search
30 May. According to Voltaire Network, three channels of communication have been opened up between the US and Russian armies to coordinate actions in Iraq and Syria.
Ten of thousands of refugees are heading to Tabqa from both Raqqa and Maskanah, Kurdish sources report.
The PMU visit ten mass graves in the regions they have taken over from ISIS the days before. The graves had been identified by satellite imagery before but couldn't be reached out of security concerns. They are believed to contain the remains of Yezidis murdered in several massacres in late 2014.
In a TV interview, PMU leader Hadi al-Ameri announces that starting today, his forces will secure the border going south all the way to al-Qaim (where the Euphrates crosses into Iraq). He added that they won't in the long run let the US control any part of the Iraqi-Syrian border and have informed them of that intent. Syria they would only enter with Damascus' permit.
Russian 'Calibr' strike on IS targets east of Palmyra-report and video. (The US-lead coalition was informed in advance).
29 May. Iraq: With only a small ISIS pocket left in Mosul city, the Hashd al-Sha'abi (PMU) advance west and take several villages from ISIS, making contact with Singal to the north and closing-up to the Syrian border. In the afternoon they officially reach the border. During the advance significant numbers of Peshmerga, mostly Yezidis, are reported to defect to the PMU (here's why).
28 May. Syria's Foreign Ministry writes a letter to the UN asking them to ask the US-coalition to stop their randomly-seeming airstrikes that again killed 35 civilians in Deir ez-Zor province this week.
The US-led Coalition dropped leaflets warning SAA and allies to stay beyond 55 km from Al-Tanf HQ. An SAA source told Al Masdar that after back-checking with the Russians, they are going to ignore the warning and move ahead.
27 May. Advancing against crumbling ISIS defenses in eastern Aleppo province, the SAA stands at the gates of Maskanah.
A speech by Professor Michael Gunter causes controversy because he mentioned that Iraqi Kurdistan "President" Barzani, like Palestinian "President" Abbas, has long exceeded the term limits and therefore democratic legitimation he was given.
26 May. Ramadan starts on Friday evening.
The Russian Foreign Ministry again criticises the OPCW for not starting an on-the-ground investigation into the alleged chemical attack in Khan Sheikhoun, blaming resistance by the US, UK and France.
Just like a year before, PYD co-chair Salih Muslim is denied a visa for entering the USA for a Kurdish conference.
Russian air force attacked and destroyed a large column of IS vehicles - report, photos/video (map). Southfront report suggests that the convoy was part of IS preparation of counter-attack in recently liberated Damascus-Palmyra desert areas.
25 May. In a massive advance in eastern Homs province, the SAA takes back a vast area of (mostly desert) land from ISIS, leading to the reopening of all roads between Damascus and Palmyra for the first time since 2014.
The SDF issues an ultimatum until end of the month to fighters in Raqqa asking them to lay down their arms and have their situation settled.
24 May. Report on IS attack on Aleppo-Khanaser road, north of Ithriyah. Mobile groups captured several checkpoints and approached the road; the threat was contained by SAA units arriving from Aleppo and Ithriyah. Report photos are also seen here.
23 May. Syrian army moving towards Jordanian and Iraqi border, and featuring Russian/Soviet equipment: TOS-1A Solntsepyok '(Sunheat'), "Crocodile" MI-35 helicopter gunships; 152 mm howitzer Msta-B; Chinese HJ-8 ATGM
22 May. After a rapid advance against ISIS in eastern Aleppo province over the weekend, the SAA stands 10 km west of Maskanah, fighting off IS attempts to counter-attack (photos)
A massive ceasefire breach in the morning by Nusra and allies in the Deraa pocket is met with a strong response by the SAA.
21 May. Iraq: Rudaw reports that the US is supporting a project called Taqadum for the decentralization of government power not only with good words but with above $100 million. The US-appointed head is a Kurd.
19 May. Despite the illegal US bombardment, loyalist forces continue to advance in several areas in the south-east including the Damascus-Bagdad motorway towards Al-Tanf border crossing.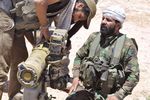 18 May. U.S. military carried out an air strike on Thursday against militia supported by the Syrian government who had moved against U.S.-backed fighters near the town of At Tanf (map, near the border with Jordan, Iraq) -Reuters
The coalition struck pro-regime forces that were advancing well inside an established de-confliction zone northwest of At Tanf, Syria, May 18, and that posed a threat to U.S. and partner forces at At Tanf. This action was taken after apparent Russian attempts to dissuade Syrian pro-regime movement south towards At Tanf were unsuccessful, a coalition aircraft show of force, and the firing of warning shots. Coalition forces have been operating in the At Tanf area for many months training and advising vetted partner forces engaged in the fight against ISIS. The agreed upon de-confliction zone agreement remains in effect. -inherentresolve.mil
ISIS forces massacre up to 52people (video) after temporarily taking control of the village of Aqarib Al-Safi in the eastern countryside of Hama.
17 May. According to a McClatchy report, actions taken in early January by the then-designated National Security Advisor to Trump, Michael Flynn, delayed the operation to take Raqqa with the YPG after he got paid by Turkish lobbyists.
15 May. Al Aan reporter Jenan Moussa publishes her documentary "Undercover In Idlib" based on three sources who went undercover to the province to see who is in control and how life is. (full video with English subtitles).
'Spetsnaz from USSR' said to be deployed in eastern Homs, near Palmyra. Report 1, 2 includes a video, said to be of a 'Kornet' launch.
14 May. Canadian media finds that the al Nusra Front has, despite the reward on its leader, so far managed to stay off the US' (and Canadian) list of terrorist organizations after its latest shapeshift into Hayyat Tahrir al-Sham.
270 thousand Basic Education students start taking their final exams.
13 May. The SAA takes full control over the Damascus suburb of al Qaboun, a long-time stronghold of militants.
12 May. Another evacuation deal is reached in the Damascus suburb of Tishreen, while in Barzeh already the second batch of militants takes a bus ride to Idlib.
After having started to advance again in eastern Aleppo province in the previous days, in the evening the SAA takes over Jirah airbase from ISIS who retreat to the Maskanah plains north-west of Tabqa.
11 May. In a NYT op-ed Sinam Mohamad, speaking for the Syrian Kurds, asks for a US pledge that, as the title reads, "Once We Beat ISIS, Don't Abandon Us", looking for protection against Erdogan's Turkey. Erdogan is scheduled to meet Trump in Washington on 16 May.
10 May. Four officers from the Russian Special Operations Forces were awarded medals for operations in Syria. A 16-strong Russian unit managed to repulse attacks by 300 jihadists while Syrian forces had withdrawn. Russian sources say the battle happened in Aleppo Province against al-Nusra Front, but the details of the battle more closely match the defense of the T4 airbase after ISIS recaptured Palmyra.
The SDF finally liberates Tabqa dam and the remaining part of the city 50 days after launching the operation. A "forced withdrawal" of the remaining 70 ISIS fighters contributes to the success.
The State Department offers a $10 million reward for information leading to the capture of Nusra-head al-Jawlani.
9 May. The US administration decides to arm the YPG directly, not only the arab parts of the SDF like they claimed to do before. Ankara is not amused.
Assad is interviewed by Belarussian State TV (transcript).
8 May. Syrian FM al-Moallem states that Syria supports the Astana memorandum and the de-escalation zones and announces that reconciliation processes like the recently finished one in al-Waer have started or are discussed in the Damascus suburbs of Barzeh, al-Qaboun and Yarmouk camp.
The Syrian ambassador to China estimates that 5,000 Chinese citizens of the Uighur ethnicity are fighting in various Islamist militant groups in Syria.
7 May. The SAA starts an operation to secure a puffer zone south-east of Damascus to prevent militant groups, the so-called Maghawir Al-Thawra who are US-supported, operate out of Jordan and have recently advanced in the desert, from coming close to the urban areas.
6 May. According to Kurdish sources, 3,485 Yezidi women and girls who were kidnapped by ISIS during their attempt to conquer Sengal are still missing.
Russian FM comments on chemical weapons reports
5 May. The de-escalation memorandum signed in Astana comes into force. Russian envoy Alexander Lavrentiev believes that those safe zones are closed to coalition aviation, however that is not explicitly spelled out in the memorandum. Russia stopped using aviation in deescalation zones from May 1. The defense ministry holds a press briefing about the "Principles of implementation of the Memorandum on Syria de-escalation zones signed in Astana". The four zones are described as
Idlib pocket with over 1 million inhabitants, controlled by 14,500 militants
Rastan pocket with 180,000 inhabitants controlled by 3,000 militants
East Ghouta pocket with 690,000 inhabitants controlled by 9,000 militants
Deraa pocket with 800,000 inhabitants cotrolled by 15,000 militants
German special police forces in Leipzig arrest a Syrian man who was as Nusra commander involved in the conquer of Tabqa in early 2013 and then joined ISIS after the schism between the groups.
4 May. Oksana Boyko interviews Alexander Shulgin, the Russian representative to the OPCW, about why no formal investigation into the Khan Sheikhoun incident has been established.
An SDF statement denies earlier reports by SOHR that ISIS has left Tabqa city and dam following a deal. They are still on the dam while fights in the northern neighbourhoods of the city have reignited. No deal has been made.
In Astana, Russia, Iran and Turkey sign the Russian memorandum on de-escalation zones (text)
TASS and RIA Novosti report that Russia has noticed that "stringers from Al Jazeera" have recently shot footage of a fake chemical attack in Jisr al-Shugour, which is planned to be released and blamed as real on the SAA before next Sunday.
First appeared 30 Apr. in Iranian sources and social media, and Rusvesna quoting a Syrian mukhabarat (security) source. Claims of dead babies taken from a morgue at that time too.
An eighth batch of bus riders from al-Waer district of Homs city finishes the reconciliation agreement.
3 May. On the day the Mhardeh power plant in northern Hama province is put into operation for the first time in seven months, Nusra shells the giant Al-Zara power plant in southern Hama province.
At the press conference following the Putin-Erdogan meeting in Sochi, Erdogan says that the perpetrators of the Khan Sheikhoun incident did it to sabotage the ceasefire, and that he and Putin agree that they have to be brought to justice. About the "de-escalation zones" unity was expressed as well. Meanwhile in Astana, the "armed opposition" delegation headed by Mohammed Alloush, the brother of Zahran, the deceased head of the Saudi-sponsored Army of Islam group currently engaged in turf wars in the eastern Ghouta, left the negotiations complaining about ceasefire violations and the involvement of Iran in the talks.
2 May. Several participants and delegations arrive in Astana ahead of the next round of "Syria Settlement" talks due May 3/4.
Trump-Putin phone call. On Syria: The conversation...included the discussion of safe, or de-escalation, zones to achieve lasting peace for humanitarian and many other reasons. The United States will be sending a representative to the cease-fire talks in Astana, Kazakhstan on May 3-4-WH readout. (Kremlin readout does not offer call details). Sputnik on the Russian "deescalation zones" proposal
SDF forces have liberated Tabqa city and the remaining ISIS forces in unknown numbers are under siege on the southern part of Tabqa dam.
Al Monitor has spoken with senior Turkish military people and reports what they said about the reasons for the recent attacks on Kurdish targets in both Syria and Iraq that angered both Russia and the US.
1 May. Similar to appearances of US forces further east, Russian military is spotted together with YPG forces near the Turkish border in Afrin canton.