Belgian terror cell
Jump to navigation
Jump to search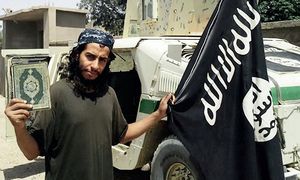 Sources
Identity of suspects
The two men killed during a firefight with Belgium's special forces in Verviers on Thursday night have been named locally as Redouane Hagaoui and Tarik Jadaoun, who had recently returned from fighting in Syria.
Hagaoui, 23, also known as Abu Khalid Al Maghribi, had been under surveillance by Belgium's secret service after returning from fighting with radical Islamists in Syria.
He left his job as a cook to travel to Syria via Turkey last January after telling his parents he was going to visit relatives in their country of origin, Morocco.
The other man killed, Jadaoun, is thought to be of Chechen origin."
Abdelhamid Abaaoud