Al-Baghiliyah massacre
Jump to navigation
Jump to search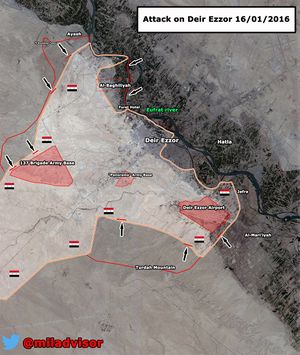 Sources
Opposition Versions
While they claim total opposition to ISIS and no reason to downplay their crimes, anti-government sources had a different story of the ISIS offensive, the causes for civilian deaths at this time, and the number and type of abductions.
Reports of mass Islamic State kidnappings 'extremely exaggerated' - Mohammed Al-Haj Ali, Syria Direct, January 18, 2015

After Islamic State fighters captured the regime-controlled neighborhood of al-Baghlia in Deir e-Zor city over the weekend, reports circulated widely in the Arabic and Western news media that they had kidnapped 400 civilians, based on information provided by the Syrian Observatory for Human Rights (SOHR).
"We've denied previously that this is true--it isn't," Abu Zeid Abdullah, a journalist with pro-opposition Sound and Picture, tells Syria Direct's Mohammed al-Haj Ali. Abdullah is currently in Idlib province, but remains in contact with his organization's correspondents in Deir e-Zor city. Twenty families who tried to escape the fighting, numbering around 60 individuals total, were captured by IS and sent to Raqqa city, Abdullah says, except the young men, sent to Sharia court. "The talk about 400 people is extremely exaggerated." Civilians still inside al-Baghlia are living "in the midst of panic," says Abdullah, not so much from IS retribution as from "the regime's indiscriminate bombing."
The source also claims the death toll was 100, not 300, and all but two were NDF fighters or soldiers. The activist does acknowledge civilian deaths; "IS executed two in al-Baghlia after charging them with working for the regime. There were around 15 civilians killed because of the Russian airstrikes, and the regime's shelling of the neighborhood, including 10 people from two families. Women and children were among the dead."
Violations Documentation Center (VDC) currently records 26 "martyrs" in Baghaliyah Jan. 16 and 17. 4 of those are ISIS members, 3 suicide bombers and one shot in clashes. Three are FSA fighters killed "during the clashes with ISIS forces in Dudian village." One is a man who died "under torture in the regime`s prisons after being arrested for four years." Only two died by field execution by ISIS: Abbas Saleh al-Saloum and his apparent son, Wael Abbas al-Saloum. The remaining 16 victims are all civilians killed by warplane shelling: 12 men, 4 women, no children.
The VDC's "regime fatalities" database (often slow to update) shows nothing yet for the two-day span. Their detainees list also does not show any abductions yet, or likely ever; VDC only seems to record abductions blamed on the Syrian government. (all detained by ISIS, all time = 0, and Islamic, FSA, Nusra, etc. also have 0 matches, while "security" yields 423)
Video