File:IdlibGasDead2.jpg
Jump to navigation
Jump to search
No higher resolution available.
Bodies of alleged gas victims Khan Sheikoun 3 April 2017
Video
The very last part of that video shows an image of green fields beyond the limestone road that is an almost exact match for the photo on or before 26 March where the WH guys are wearing fancy new Draeger suits See my upload: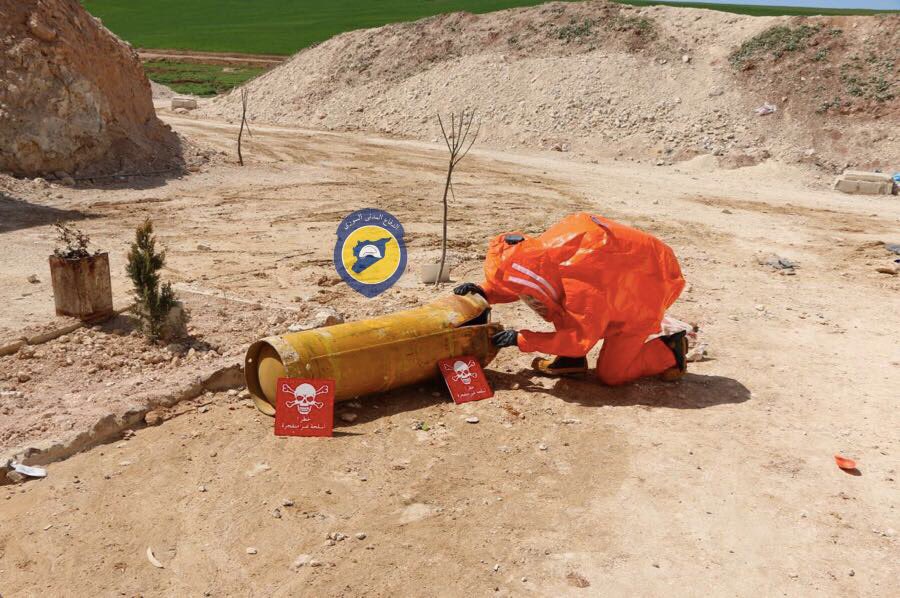 -- Charles Wood (talk) 01:02, 5 April 2017 (UTC)
Location
I think this is the Al-Lataminah cave compound just south of Al-Lataminah. It was bombed by Russia on the first day of their campaign.
Also see photo here (file). -- Petri Krohn (talk) 17:25, 4 April 2017 (UTC)
I think the image is from a video by SMART TV labelled as Sheikh Sheikhoun SMART TV Video or at least the image was taken at the same time and place as the SMART TV video. -- Charles Wood (not proper sig - no sig button on toolbar)
Charles: hey, the button's gone for me too. You can also type --~~~~ --Caustic Logic (talk) 09:43, 5 April 2017 (UTC)
It seems a likely match - Google Earth shows at least 2 small buildings at the north end, one maybe dug into the cliff (as seen in the photo used in this video - do we have a photo photo of that?). The young men laid on the raised walkway must be at the south end, if so. Both views say the sun is coming from the southwest, so it's afternoon, nearing sunset, if it's at this locale.
However this isn't necessarily the (alleged) attack location. The victims here seem trucked in to be hosed off and maybe (ostensibly) treated at the hospital inside (was this the same one said to be hit March 25? If so those views will help.) Other scenes show people arriving from somewhere in trucks, loaded into ambulances, and treated in a clinic that all seems in the city (or a city). This is south of Latamnah, which is 2 or 3 towns south of Khan Sheykhoun. It's a decent drive, but still might make sense to truck CW victims that far for treatment. So it might not prove anything in itself. --Caustic Logic (talk) 09:43, 5 April 2017 (UTC)
File history
Click on a date/time to view the file as it appeared at that time.
You cannot overwrite this file.
File usage
The following 2 pages uses this file: