Talk:Khunayfis Massacre
Jump to navigation
Jump to search
Around November 7/8, 2013, eight Alawite civilians were reportedly killed brutally in a village in Hama. Two men, two women, and four children from the same family were the reported victims, with al-Qaeda connected terrorists deemed responsible, according the Syrian Observatory for Human Rights activist network. --Caustic Logic (talk) 14:29, 11 November 2013 (UTC)
Hama province: The ISIS executed 4 children 2 women and 2 men who were picking olives in their farm in Khneifees village, near Salamiya city. they were civilians from a Muslim alewife [sic] background. Clashes took place by the villages of Taloul al-Hamr and Khneifis between rebels and ISIS against regime forces and the Popular Committees. 4 children died from an explosion from the remnants of regime bombardment on the village of Rasm al-Ahmar.
Location
Location (first try): Khunayfis on Wikimapaia, just a few km southwest of Salamiya. --Caustic Logic (talk) 14:29, 11 November 2013 (UTC)
There's a Rasm al-Ahmar actually in Idlib or Aleppo province, per Wikimpaia, but this one is specified by VDC SOHR as also being in or near Salamiya. --Caustic Logic (talk) 14:29, 11 November 2013 (UTC) and correction Caustic Logic (talk) 06:30, 16 October 2015 (UTC)
Much later update: there's ambiguity on the locale. SOHR specified "Khneifees" that's "near Salamiys" - I took that as Khunayfis, near Salamiya, and maybe so. But ISIS is blamed, and they have no solid presence that close to Salamiya, then or since. That would be alarming, putting them very close to Hama city as well. Later I noticed their frontier was around Saburah 23 km northwest of Salamiya, and this village is on the other side of Salamiya (6 km southwest). ISIS might be able to foray that far, past/around a government-held city, but it's doubtful.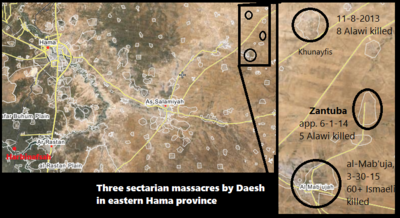 In the interim I forgot the exact placement. Later when I mapped out the Mahboudja massacre (Ismaeli, killed by ISIS) and the Zanuba massacre (Alawi, killed by ISIS) and saw them so close, I also noticed a Khanafis just north of them, took it as the same place and made this fancy map that managed to get two town names wrong but probably has the area right. Alawi, ISIS, closer name, somewhat near Salamiya but nearer to Saburah. This all makes me think this was the place they were talking about. It's about 38 km northwest of the likely wrong guess.
There are implications for accuracy of the page name, ISIS blame, or link to non-ISIS rebel attack covered below under #Shelling Khunayfis. The distance to Harbinafsah is also greater, FWIW. --Caustic Logic (talk) 06:30, 16 October 2015 (UTC)
Sorry, I made a bad mess of the locations here. There are 2 Rasm al-Ahmar villages nearby, with yet another 4 children reported killed in one on the same day... will have to re-think this whole scene. Also, the page might deserve a move, considering the goofed-up name. For now I'm for being lazy and keeping it here. But if anyone disagrees, we'll see. --Caustic Logic (talk) 06:32, 19 May 2016 (UTC)
Harbinafsah Parallel
Interestingly, the CDV may record these deaths, on the 7th as from "Huribnefseh" instead of Khneifees. Six martyrs from here on the 7th - two adult males, an adult female, three children, the kids named Bakour and the adults not. Another Bakour boy (with a video) is listed as dying the next day. All killed by "shelling" explained: "Several civilians martyred in a massacre caused by the missile shelling of the regime army stationed in Buhooth checkpoint in Jidreen village." --Caustic Logic (talk) 14:29, 11 November 2013 (UTC)
There is a Jidrin 4 km west of Harbinafsah, on the road to Aqrab. -- Petri Krohn (talk) 20:51, 12 November 2013 (UTC)

Good call. I meant to look that up but forgot. Glad I left something for you. :) --Caustic Logic (talk) 12:37, 13 November 2013 (UTC)
Actually, the total is at least 8, with three men for the same number but different breakdown - three men, 1 woman, and 4 children vs. two men, two women, and four children:
That town "Huribnefseh" is locatable using the Arabic spelling ( حربنفسه ) from a CDV entry rendered in Arabic (by switching the /en/ to /ar/) as Harbinafsah on Wikimapia. It's 34 kilometers due west of Khunayfis, on the other side of Rastan and on the north shore of lake Rastan. That's nowhere near close enough to be the same place, but close enough to be related. And the near-total victim-type match would be rather concidental for the same area and about the same day. Could it be these people were kidnapped from Khunayfis and killed by their captors in Harbinafsah? That's not how the SOHR's original story sounded. If this is just a coincidence, it means yet another massacre of Alawites the CDV heard or said nothing about. --Caustic Logic (talk) 12:38, 12 November 2013 (UTC)
Facebook page: شبكة اخبار بلدة حربنفسه بريف حماه (News Network town Hrbnevsh, Brive Hama) (Hereafter NNH) A number of relevant posts:
November 7 - early victim list, 7 entries (Google translate, uncorrected)
Hrbnevsh 07/11/2013 Martyrs town Hrbnevsh, notaries yet Martyr Ahmed Ali شحود, Martyr Omar Abdel Karim شحود, Martyr girl Rose Mustafa البكور Martyr child Ahmed Mustafa البكور, Martyred child moon Yahya البكور Martyr, God willing starboard Jassim attribution We ask Allah to accept them martyrs
The beginning of what has happened in the town Hrbnevsh , first on 07.11.2013 is one of the most heinous incidents and Ofezaha that occurred in the history of the town and this incident is the third massacre in the town have been able to document 8 - Artqo Martyrs by the indiscriminate shelling that targeted residential neighborhoods
Apparently loyalist sources claim the local National Defense Forces (NDF) killed ten militants and wounded 20 others in Hrbnevsh, who I guess were actually supposed to be these civilians. And I guess the "mercenaries" (NDF) also claimed that one explosion at least put out "heavy white smoke (indicating The presence of chemical weapons in it)," an analysis NNH calls absurd, which it does sound. The report mentions victim specifics:
4 children of البكور family eldest does not exceed ten and couple of family Cahud not have anything to do with neither arms nor terrorism and a woman from the family of attribution was parked in front of her and another man from the nearby village of Kisen.
(Kissin on Wikimapia - 3.5 km due south across the lake.) Report closes with a reminder that children are not "terrorists or insurgents" and then poetic defiance in the face of this repression. --Caustic Logic (talk) 12:38, 12 November 2013 (UTC)
To add: a suggested video CDV doesn't have of "Hama Hrbnevsh martyred child moon bakeware 8 11 2013 Warning very tough video" Moon = Qamar, and Bakeware = Bakour, of course. Age = I don't know, 5-ish. Strangely, like her little brother we've seen, her head is wrapped from the mouth up. Two kids and zero faces seen so far. Is that related to the possibility these identities used aren't their real ones? --Caustic Logic (talk) 13:02, 12 November 2013 (UTC)
To emphasize: This wrapping of a whole face happens rarely in my experience watching lots of videos and photos. These two instances in the same family probably almost doubles the cases I've seen so far (Khaled Abu Saleh presided over the only other I can recall instantly - it was faked). Usually if there's a horrible head injury under there, it won't be under anything except a camera, which they will all but shove into the kid's brain. This time they're hiding something and it ain't any injury. --Caustic Logic (talk) 12:37, 13 November 2013 (UTC)
Also, I have messaged SOHR directly to request more info. Basic request also in comments at the post linked at the top of the page. Any answer I get I will mention it below. --Caustic Logic (talk) 13:50, 13 November 2013 (UTC)
No word from SOHR of course, but I later noticed similar apparent Alawi massacre laundering via Harbinafsah, in the case of the Zanuba massacre. With two points to go on, I assembled this article calling it an apparent laundering center for ISIS massacres of Alawi civilians. Why and how? I don't know. --Caustic Logic (talk) 07:11, 16 October 2015 (UTC)
More on Harbinafsah Videos
I decided to track these or any related videos. First, there are some videos claiming to show actual shelling there on the 7th, including this with blast damage and smoke, a blasted and folded-up dead woman, glowing (WP?) on the street, and lots of agitated takbeering. But it's the possible massacre victims I'm interested in. I searched Youtube for the town's name in Arabic (again, حربنفسه ). The two videos cited so far are the ones re-posted by Shaam News Network (S.N.N.) These are posted by a very few others, including a user mano like who tends to re-post videos, and ابو محمد الحموي (Abu Mohammed al-Hamwi), whom mano seems to copying from. --Caustic Logic (talk) 13:08, 19 November 2013 (UTC)
There are a few accounts named variants of Harbinafsi (person from there) but these have no related videos. (The most recent thing most of them post, besides a rebel fighter dead around Oct. 1 is Sept. 21 - http://www.youtube.com/watch?v=zO1rnJVbdTI لحظة تفجير حاجز كفرنان النصيرية،،رائع لجبهة النصرة] - A massive seeming blast in the distance with a glowing shockwave (FAE?). Title tanslated: The moment of the bombing of the barrier Kfernan Nusayris, wonderful victory Front. Apparently, al-Nusra blew up Alawites at a checkpoint. Same day, this user reposted an Addounia report about it: Google translated: "Kfernan Taste of the same cup .. Stshakon my impure." --Caustic Logic (talk) 13:08, 19 November 2013 (UTC)
A third video posted by Abu Mohammed al-Hamwi is حماه بلدة حربنفسة الشهداء الذين قضو بل المجزة "Hama town Hrbnevsh, the martyrs who Qdo but Almdzh" (seems to mean died but ... deformed?). S.N.N. may not have this one, but mano like's posting حماه بلدة حربنفسة الشهداء الذين قضو في المجزرة (Hama town Hrbnevsh, the martyrs who Qdo in massacre). Massacre can mean shelling. It shows bodies wrapped unseen and covered in ice, packed in portable coffins, apparently brought here this way, floor covered with water. One seems to be yet another wrapped-head victim, apparently also a child. Blood-pink cloth like the girls', but less open at the top, more cinched seeming like the boys'. It could be the girl Qamar after all, or another child with the same issue, structurally sound but ciompletely unpresentable head/face. The placid narrator can be heard speaking the same names VDC reported, Shahoud and Bakour, and he seems to pan most knowingly to this body while saying Wardi Bakour, one of the boys and indeed a third child besides the two (age and details unknown). If so, that's 3 for 3, and it's well beyond coincidence. Something's being hidden in this case with such striking similarities to the other case that I really think it is. --Caustic Logic (talk) 13:08, 19 November 2013 (UTC)
Shelling Khunayfis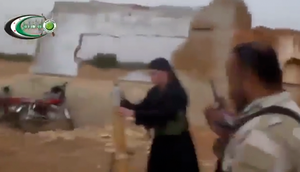 Let's return our attention to the original focus 34 km east, Khunayfis, where the CDV records no martyrs. Perhaps not coincidentally, this same obscure locale did surface in recent days as a place rebels had attacked. In the first mention yet in the war that I can find, it appears in a Google search using the Wikimapia spelling adopted here. Various references to "11 09 13 Homs | FSA, Ahfaad AlRasool, Shell Khunayfis Regime Post" refer to this video of that name. 0:38, it shows black-clad jihadists at a ruined building in a filed. Having arrived on motorcycles, they now fire mortar shells towards some (olive grove?) in the distance. Both posted and dated November 9, this is - as always - a no-later-than time. It could very well be November 7 or even earlier, but presumably not much earlier. And it could be the 9th, with other days of shelling and attacks preceding it. --Caustic Logic (talk) 11:57, 13 November 2013 (UTC)
So ... rebels did attack this same town the eight Alawites were reportedly executed in - the same number of people winds up, visuals-free, in the rebel database as dying from shelling in a different town, that might be the responsible battalion's home base. --Caustic Logic (talk) 11:57, 13 November 2013 (UTC)
The video has a familiar logo, that of the Descendents of the Prophet Brigade, particularly the Ahfad al-Rasul Brigade. They have published quite a number of videos over the past few days, both on the official web page and on their YouTube accounts. -- Petri Krohn (talk) 02:34, 15 November 2013 (UTC)