Ukraine news/Current
From A Closer Look On Syria
20 Feb. The latest ceasefire started at midnight. As of this afternoon, it was observed, according to Basurin. Ukraine resumed shelling in the evening, Yasinovataya- Gorlokvka-Svetdlodarsk.
Withdrawal of heavy weapons is planned for 21 Feb.
19 Feb. Some clashes on Maidan, police and national guard in control, Semen Semchenko (now MP) present and makes some commotion (report, photos, video). Arrests, injuries reported, including 'OUN' battalion commander Kohanovskii.
DPR reports worsening security situation for the past day, shelling count is 2453, with about half from heavy weapons. Donetsk water filtering station lost power, DPR says as a result of intentional shelling. (Russ.)(Engl)
18 Feb. Putin signs an executive order recognizing documents and vehicle registration plates issued by the DPR and LPR. The move was cheered in L/DPR, and criticized by Ukraine and by US Embassy in Kiev.
17 Feb. DPR was shelled 1048 times in the past day. Two DPR soldiers were killed (Russ.)(Engl.)
Two years and a bit after Minsk-2 agreements, Zakharchenko and Plotniskii scheduled a joint press conference in Lugansk, with the topic not revealed in advance.
ДНР и ЛНР готовы освободить подконтрольные Киеву районы Донбасса военным путём (+ВИДЕО), Rusvesna (if peaceful means will not work than ...) - Zakharchenko and Plotniskii
16 Feb. 'Kiev plans bloody provocation involving Finnish journalists'-DPR.
Ukraine shelled Yasinovataya outskirts with Grads.
Energy blockade was started by Ukrainian nats bats (Semchenko et al) at the end of January, 2017, preventing shipments of anthracites coal from L/DPR republics to Ukraine. That blockade led to energy crisis and energy emergency situation in Ukraine, as power stations were designed to use anthracites type of coal. Blockade was criticized by Poroshenko.
15 Feb. Protesters prompt OSCE observers to carry out reinspection in western Donetsk (not commented on OSCE site yet).
14 Feb. One DPR soldier was killed in the past day.
Big explosion at at Donetsk state chemical plant is reported, as a result of Ukrainian shelling (video). Plant is producing explosives for mining and military. Blast is similar to earlier ones (here). There are casualties; 1 civilian is reported killed. Windows in a hospital and 11 houses nearby were shattered. DPR video shows big crater and quick chemical weapons tests (iprit test shown) they decided to run after seeing unusual cloud; they came back negative.
DPR: Failed UAF attacked on Kominternovo, 5 UAF soldiers were killed.
Opolchenie report on continued shelling, including heavy weapons, MLRS. Donetsk water treatment plant containing 4 tonnes of chlorine is in the area of Ukrainian shelling in particular.
13 Feb. 1 DPR soldier was killed in the past day, DPR shelled 509 times (sit-rep).
12 Feb. In the past day, DPR was shelled 1302 times (431 by heavy weapons: mortars + BMP guns) , 2 DPR soldiers were killed, 1 seriously wounded, at least 4 houses damaged (Engl.).
OSCE, Hug: number of ceasefire violations is "unacceptably high" (+earlier in Kiev.)
11 Feb. DPR was shelled 438 times, at least 2 houses damaged, banned weapons used and more spotted, 1 DPR soldier wounded.
OSCE calls for withdrawal of heavy weapons from separation line; DPR already agreed (TASS).
10 Feb. DPR and LPR (finally) are preparing laws requiring operating there 'non-resident' companies, like Akhmetov plants, to pay them taxes. Currently taxes are paid to Ukraine, and as LPR public council chairman Zaporoztsev put it, 'some of that profit returns to us, but in the form of artillery and mortar shells and other means of destruction. Those plants have been built by our fathers and grandfathers, but now not only they do not receive their pensions, but have to suffer from shelling and destruction of their homes'.
9 Feb. Givi funeral photo, video stream report, many thousands, and Zakharchenko attending in central Donetsk.
"DPR offers truce, Ukraine answers with shells and OSCE just don't care" -DoNi (Engl.) report and Engl. -captioned video.
DPR, LPR people's councils chairmen issued joint appeal to world leaders, Russia, USA, Germany, to stop genocide in Donbass. At present the appeal was signed by over 62 thousand people in DPR, 56.6 thousand in LPR (Regular shelling, targeting water supplines, industrial objects with potentially catastrophic consequences described in the appeal).
DPR deputy commander Basurin: DPR was shelled 711 times in the past day, 3 DPR soldiers were killed and 1 wounded.
Poroshenko rejected 'holding elections under presence of foreign troops' , in response to comments by German ambassador. This is despite Minsk agreements to have elections before Ukraine gains border control.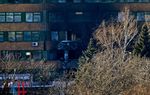 8 Feb. Prominent commander of DPR "Somali" batallion Mikhail "Givi" Tolstykh is assassinated in his office, said to be by a shot from "Shmel' portable thermobaric rocket. DPR blamed Ukraine for the assassination. Givi supported DPR leadership; had ascetic lifestyle.
DPR was shelled by Ukraine 775 times in the past day. DPR accused Ukraine of preparing to mine and prepare to explode Avdeevka coke plant; such explosion can lead to ecological catastrophe.
Report and video from the south, near Mariupol, Shirokino. Regular shelling at night, Ukraine deploying more forces, Ukrainian attack plans rumored.
7 Feb. Basurin sitrep, Eng; video, Russ.. Situation remains to be difficult, little change. 2 DPR soldiers killed and 1 wounded in the past day.
6 Feb. Radical Party leader Oleg Lyashko has his 10-year US visa issued in December 2016 revoked.
4 Feb. President Poroshenko has his first phone call with Trump.
LPR. Chief of the People's Militia Department Oleg Anashenko killed in a car explosion. Ukraine is blamed, an Ukrainian officer later said to be arrested (Russian sources here, quoting LPR ministry of security sources).

3 Feb. DPR ombudsman (press conference video--Russ., on civilian casualties and damage)(text, Russ.).
Lot of destruction after Ukrainian shelling near 'Motel' station, near eastern exit from Donetsk (report and photos). Uragan MLRS said to be used.
2 Feb. DPR was shelled 1617 times in the past day (including 374 times by heavy artillery, 40 by MLRS). 38 houses were damaged. One DPR soldier was killed and one injured. A civilian man in Makeevka had his arm severed (DAN news).
Opposition figure and ex-PM Yulia Tymoshenko meets with Trump.
1 Feb. Ukrainian forces attempted 2 attacks near Kominternovo and 4 near Avdeeevka. Attacks were repelled. High casualty count suggested by Basurin (93 UAF killed and several hundred wounded).
In the past day, Ukraine shelled DPR 3016 times (including heavy artillery, 839 times, and MRLS, 490 times). There are destroyed houses and civilian casualties, it is reported that 2 civilians were killed and 2 wounded (some intersection possible with previous day report, and more casualty reports are coming in).
Water supply to Donetsk and parts of Makeevka is completely interrupted as filtering station lost power.
Tail part of Buk missile fell on Makeevka, according to report with photos. It is said that Ukraine tried to shoot down an OSCE drone with it, firing Buk from a vicinity of Avdeevka.
Ambulance was hit in Donetsk by Ukrainian fire, 3 civilians were wounded (report and photos).
31 Jan. Basurin urgent report (on video) describes 2 Ukrainian attacks near Avdeevka (8 pm on 30 Jan, and 4 am), both repelled. He goes on to describe Ukrainian shelling and damage, including to electric power supply, affecting heating stations; in addition, one heating station was damaged by shelling, affecting 7 multi-storey houses.
Ukrainian forces, 2 platoons strong, launched an attack on Kominternovo, near Mariupol. The attack was repelled (report +map). Report estimates UAF losses at 14 killed and dozens wounded.
Basurin: Kiev forces violate ceasefire 2411 times over 24 hours, including Grad MLRS and artillery; deploy MLRS Uragan near Donetsk.
A woman, 1949 DOB, was killed by Ukrainian shelling in Kievskii district of Donetsk.
Vox Populi Evo publishes a video with Zakharchenko on the frontlines proclaiming that (in Russian audio and English subtitles) "they won't get through".
US State Department: "The United States is deeply concerned with the recent spike in violence in eastern Ukraine around Avdiivka-Yasynuvata".
30 Jan. DPR. A lot of shelling and damage is reported, including Donetsk suburbs, Makeevka. Two civilians, a woman and another person who died in hospital of his wounds, were killed, 2 civilians wounded when hospital number 5 in Makeevka was shelled.
DPR: 1912 ceasefire violations by Ukraine in the past day. 3 DPR soldiers were killed, 4 wounded.
Basurin estimate is over 25 UAF killed, 40 wounded (no explanation how he knows) in the past day, as a result of failed Avdeevka zone attack and 'friendly fire' by Right Sector. Basurin report on 31 Jan. (https://www.youtube.com/watch?v=Q39R5VY2Gos&t=7m43s video])(Eng.) suggests recent high body count in Ukrainian morgues and military medical institutions.
29 Jan. DPR (quoting Khodakovskiy) : 'Powerful fight near Avdeevka industrial zone. The enemy is trying to cut off one of our positions in the open terrain from the main forces. Have not had such brazen attempts to attack for a long time, we should expect activation in other areas. Something is going on at the "top", and they want to attract attention elsewhere, and at the same time take care of their "restless". Our reserves are alerted, reinforcements are deployed. There is information on the wounded, but the site is completely open - evacuation is difficult. "
28 Jan. In the past day, Ukraine shelled DPR 1270 times, a sharp increase. One DPR soldier was killed.
27 Jan. It is reported that Valerii Bolotov, first leader of LPR, and the person who started the resistance in Donbass with his video appeal on 6 Apr. 2014, has died. Circumstances are unclear at this point. RT: by preliminary information, it was heart attack.
Ukraine shelled northern regions of Donetsk from Grads, heavy weapons shelling also reported in Gorlovka and in the south. According to DPR ombudsman, 11 people were wounded in the past week. No deaths were reported this week; since the beginning of the year, 12 people were killed.
In LPR, 2 civilians were killed (one in Kirovsk on 24 Jan, another in 'Niva' car hit by Ukrainian ant-tank missile near Dolgoe on 25 Jan. ) Two more civilians were wounded on 27 Jan. near Bryanka.
In the past week, Ukraine shelled DPR 5956 time, including 1976 times from heavy weapons. 20 ceasefire violations in the past week reported by LPR.
26 Jan. Assistant Secretary of State for European affairs Victoria Nuland, known for her leading role in Ukrainian affairs, is fired and her biography deleted.
25 Jan. Reports are coming that a civilian car (video 1)(video 2) with a family of 3 inside is hit by Ukrainian anti-tank missile, near a village of Dolgoe, Slavianoserbsk region, LPR. According to war correspondent Anna Dolgareva, a man, 1950 DOB, was killed, 2 others -his wife and daughter-were in shock but not injured. DoNi News report (Eng.) here.
24 Jan. Civilian is killed in Kirovsk, LPR (report and photo). A hospital and residential houses nearby were damaged.
23 Jan. Graham Phillips attends British-Ukrainian Society anniversary meeting in Westminster (video), repeatedly shouts the question 'why the UK supports shelling and killing civilians in Donbass' at the start of the meeting, asked to leave by security. Linked are reactions in Russian media (Rusvesna), and by the Ukrainian ambassador to the UK (+user comments).
22 Jan. DPR was shelled 1428 times in the past day, almost a 3 fold increase. A civilian house was hit by a 122 mm shell, but it did not explode and was removed safely.
21 Jan. Yasinovataya city center was shelled, one unexploded 122 mm artillery shell landed in a children's playground (report and video, residents interviewed).
20 Jan. DPR reported some reduction in shelling due to expected OSCE visit to Donetsk . However despite that, Ukrainian shelling hit a bus near Yelenovka, a civilian woman was injured.
In the past week, DPR was shelled 4,348 times in the past week, including 1,031 times by heavy weapons (artillery, tank fire, mortars).
DPR ombudsman: 6 DPR soldiers were killed by Ukrainian shelling in the past week; 4 people (2 soldiers and 2 civilians) were wounded.
SMM considers additional video cameras; seems like a good idea; but has to be approved by all OSCE member states.
19 Jan. Victor Pinchuk proposes to make painful compromises to achieve peace with Russia; but the official Ukrainian response and media tells why not to; more here.
17 Jan. One DPR soldier was killed by Ukrainian mortar shelling.
16 Jan. DPR: Ukrainian shelling intensified, 1076 ceasefire violations reported in the past day, including heavy weapons.
According to Ukrainian data, in the past week 3 soldiers were killed in action, 3 by landmine explosion, and 17 soldiers were wounded in action.
15 Jan. Three years old child was wounded in Ukrainian mortar shelling of the settlement Dolomitnoe (map), near Svetlodarsk and Gorlovka. (While Ukraine reports heavy clashes in the Svetlodarsk arc area).
Basurin: one DPR soldier was killed when Ukrainian RSG attempted to capture prisoners. The soldier body was taken by Ukrainian side. DPR was shelled 796 times in the past day.
14 Jan. Repair teams restored power to Donetsk water treatment plant; JCCC coordinated ceasefire during repairs.
13 Jan. According to DPR ombudsman, from 24 Dec. 2016 to 13 Jan 2017, 21 DPR soldiers and 7 Ukrainian soldiers were killed, 32 people were wounded (28 of them are DPR soldiers; apparently a typo in the civilian number) .
DPR was shelled 4,988 times by Ukraine in the past week. One soldier and an 11 years old girl were wounded. Ukrainian heavy weapons were observed near Gorlovka and Mariupol-DAN news (Russ.)(Engl.)
DPR hands over bodies of 3 Ukrainian soldiers, said to be killed by landmine explosion, back to Ukraine. Soldiers were missing since 8 Jan, and found 500 m. from DPR defense positions.
11 Jan. DPR: increased number of ceasefire violations by Ukraine, 911 in the past day, one DPR soldier wounded. LPR: 8 ceasefire violations by Ukraine.
Plotnitskiy: LPR and Ukraine have essentially settled the issue of water supply. (Yet no water supply via Petrovskiy pipe line despite the agreements).
10 Jan. LPR: Ukrainian RSG on a BMP vehicle attempted reconnaissance-in-force near Debaltsevo. But their BMP broke down and so LPR militia did not have to respond and violate ceasefire.
UAF made another break-through attempt near Spartak settlement on the outskirts of Donetsk (map). There are several wounded and killed -DAN news.
POW lists prepared by Nadezhda Savchenko are "strange" - timer-Odessa. Out of 50 allegedly requested by L/DPR odessians, only 31 are under arrest, and not all of them agree to be exchanged. In her list of 'Russians', Timer identified 11 citizens of Ukraine. Nefёdorov and Nikolenko in her list are apparently Russian citizens Mefёdov and Mikolenko accused on charges of plotting assassination of a Euromaidan activist. Some other names submitted officially are not in her list.
9 Jan. DPR was shelled 521 times in the past day. An 11-year-old girl sustained shrapnel wounds as Bezymennoye village (map) came under Ukrainian fire (DAN news).
8 Jan. DPR 'ensured evacuation of a body' of a 14 years old girl killed on Jan.5 in a buffer zone between Krasnogorovka and Staromikhailovka (map). "UAF refused to evacuate the body, and DPR command had to appeal to Ukrainian volunteers'. 'By preliminary information, the girl died from the loss of blood' resulting from her wounds. According to DPR, on that day fire was coming from the Ukrainian side only. (DAN news).
DPR accused UAF, SBU of moving handcuffed civilians to the front line in the area of Marinka city, to blame DPR for their death. The report quotes intelligence intercepts. It does not offer proofs but could be released to try to prevent this from happening.
7 Jan. LPR: Kiev forces shell the village of Smeloye (map) after humanitarian aid delivered there.
6 Jan. DPR: In the past week, Ukraine violated ceasefire 3,365 times, including 804 times from heavy weapons, artillery, tank and mortar fire. Six households were damaged in Zaitsevo, Trudovskiye and Sakhanka. (Engl.) (Rus. + map).
LPR: in the past day, Kiev forces shelled LPR People's Militia positions 5 times ; 7 times the day before.
4 Jan. DPR: 1233 ceasefire violations by Ukraine in the past day, back again to pre-holiday levels.
3 Jan. DPR envoy Denis Pushilin blamed non-constructive position taken by Ukraine for the stalled Minsk talks. The Contact Group's first consultations in 2017 are scheduled for 16 Jan.
1 Jan 2017. DPR: 357 ceasefire violations by Ukraine in the past day. In the south, shelling by Ukraine increased after US senators McCain, Graham and delegation visit. (Also, TV Zvezda: "Senator rubs his hands in the Donbass: Video")
Videos
DPR Sakhanka: life goes on under shelling, 11 Oct. 2016
'Suburbia of life', about the effect of the war on life in small villages and towns. Shelling, destruction, economic hardship. Slow running, in Russian. Sept. 29, 2016.
More videos on talk page
Photos
Aftermaths of Ukrainian shelling of the village Zheltoe (Yellow), LPR, 29 Nov. 2016 lug-info.
Sources
Note on sources. At present, pro -Ukrainian and pro-Russian sources more often than not offer opposing claims on events, and a choice needs to be made. Currently factual part of reporting by pro-Russian sources appear more accurate, complete, and closer to truth, out of the two available alternatives. It is also less known, as the other side has greater support by the Western mass media. For that reason, a lot of reporting here is based on Russian sources. It is not done for the sake of supporting any pre-determined narrative. If and when Ukrainian sources appear more accurate, they will be used without a reservation.
Some Ukrainian source reporting is very good, for example Tatyana Montyan numerous videos, some of them translated, are spot-on and at times appear closer to reality than any pro-this or that narratives. However the bulk of Ukrainian media is unreliable, and often just unbelievable, not passing cross checks (e.g. as was illustrated numerous times by well-read on both sides Ukrainian journalist Anatoly Sharii); or else, is filled with hate and may cheer more people harmed or killed (any of such sort, from any side, is totally unsupported here).
OSCE
Official Ukrainian sources
Ukrainian media
DPR and LPR
Minsk Agreements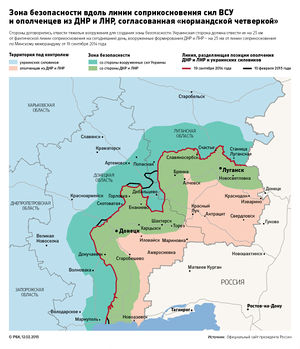 Agreements