Ukraine news/Archive/2020-10
Jump to navigation
Jump to search
25 Oct. Renewed reports of Ukrainian shelling. Opolchenie and Khodakovsky are reporting Ukrainian heavy weapons and personnel moves to Donbass, and doubt this is just troop rotation.
"Turkey will produce Bayraktar assault UAVs in Ukraine". (Those caused major problems in Armenia before getting downed).
16 Oct. Ukrainian forces for several days are shelling Yakovlevka, mortars, large caliber guns, small fireamrs are used. Lenisnskoe was alse fired on. Drone use by Ukrainian forces is noted. 192 Ukrainian violations since the start of the additional ceasefire measures are recorded.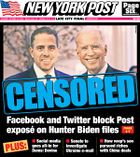 14 Oct. US social media censored after New York Post receives 40,000 emails from Hunter Biden's laptop exposing the Biden's family's corrupt dealings in Ukraine (following Biden's well-established and admitted by himself role in overthrowing Yanukovich, and the heavy share of responsibility for the susequent unfolding of the Ukrainian catastrophy) .