Ukraine news/Archive/2019-09
Jump to navigation
Jump to search
29 Sep. As a result of Ukrainian shelling, a DPR soldier is killed near Ozerianovka settlement, and a LPR soldier is killed near Logvinovo.
Yuriy Meshkov, the first and only president of Crimea (1994) who always stood for unification with Russia has died, aged 73. (Wikipedia; Putnik1).
28 Sep. US envoy to Ukraine Kurt Volker resigns (Arizona State University, TASS). He is mentioned in the "whistleblower report", in particular that "starting in mid-May", Volker and others "spoke to Guliani in an attempt to contain damage to US national security". He also spoke to Ukrainian officials to "navigate them" through messages from the White House. Presumably that means that he was guarding his hardline approach which in practice implied keeping Ukraine and Russia in conflict and providing Ukraine with weapons, aid, and encouragement for this to continue. His contribution towards peace was either negligible or negative. No regrets on his departure here.
Volker: As is well documented, I had long supported lifting the ban on lethal defensive assistance to Ukraine, advocated for the supply of javelin anti-tank systems, advocated for an increase in U.S. assistance, and urged other nations to provide more assistance as well.
26 Sep. Former Ukrainian prosecutor Victor Shokhin fired by Poroshenko (the "very good prosecutor" in Trump-Zelesnkii) filed a lawsuit against his dismissal.
The "whistleblower complaint" that led to the Trump-Zelenski phone call controversy is released to the public.
25 Sep. LPR soldier is killed by Ukrainian shelling of Donetskii settlement, LPR.
Ukraine shelled Donetsk outskirts: over fifty 152 and 122 mm shells were fired on Lozovoe, several hours of shelling and a big fire on civilian infrastructure objects (unclear whether caused by shelling or otherwise) is reported in Kuibyshev district of Donetsk (photos).
Chernukhino village, on the border of LPR and DPR, was shelled by Ukrainian heavy artillery, said to be using 152 mm Soviet "Hyacinth-B" towed guns.
The White House unclassified and published transcript of Trump phone call with Zelenskii, July 25, 2019, following the "whistleblower"/impeachment controversy. Later Trump meets with the Ukrainian president in NYC and gives a 17 or so minutes joint press conference - CBS; FOX. (Zelenskii keeps talking about return of Crimea, earning him 'Poroshenko-2' title in Russia).
23 Sep. A civilian woman is wounded by Ukrainian shelling of Kominternovo
Ukrainian State Bureau of Investigation (ДБР- Ukr.) opened "criminal proceedings" against Andrey Parubiy for "the fact of creation and coordination by Parubiy of public armed groups for the purpose of committing mass riots on May 2, 2014 in the territory of Odessa". Parubiy twitter message: "ДБР opened criminal proceedings against me for organizing Odessa defense which ДБР calls mass violations [of the law]". Partial translation into Russian of a page from the official document which Parubiu published is here. It is noted that "criminal proceedings" is short of either criminal charges or declaring him a suspect. Oleg Tsarev relates Boris Filatov's displeasure with the developments, repeats his long standing accusations against the "Dnepropetrovsk team", in addition to Parubiy in Kiev.
18 Sep. It is reported that Ukrainian military is preparing for the withdrawal of forces and equipment along the entire contact line in the Donbass. This task is set by the Ukrainian chief of the General Staff, the Minister and the head of state. (If that really happens, it will be a major step towards pe ace. This is long overdue, with so far no signs of progress on the ground. It will require will and ability to carry out those plans).
15 Sep. Former opolchenie member Roman Dzhumaev was shot and killed in his flat in Mariupol. He was a programmer from Mariupol who joined opolchenie in 2014, and then left and was in Russia and Belarus for a while. He was arrested when he crossed to Ukraine to visit relatives, then released under house arrest. Ukrainian mainstream censor.net published an opinion praising Dzumaev killers as "the system did not work".... Dzhumaev's mother tells a story of intimidation and threats by nationalist activists preceding the murder.
13 Sep. DPR PMH: DPR soldier is killed by Ukrainian shellling right after OSCE SMM patrol has left...
Gorlovka: Direct hits of 82 millimeter mortar shells in the morning, 6.15 am, at Chelyuskin Lane, 23. Fortunately two infants were not in the house.
Ushakov: Russia ready for Normandy Four summit under several conditions (disengagement of forces in 3 areas, Steinmeier Formula, preliminary summit agreement agreed). Proceeds to talk about possibility of "Istanbul format meeting attended by Russia, Germany, Turkey and France" on Syria -TASS Eng , Russ.
12 Sep. Mayor of Gorlovka started an English -language telegram channel, hoping to reach Western audience and asking for repost...
Tsemakh daughter is quoted saying that Tsemakh returned to DPR, and that he gave his testimony to "all the sides" and that he has "nothing to hide".
11 Sep. LPR soldier is killed by second Ukrainian mortar strike near Frunze.
Zaitsevo, near Gorlovka, shelled once again, a home is set on fire (report and video).
Some developments regarding separation of forces in Petrovskoe and Zolotoe, attempted many times in the past. DPR and Russian media reports obstacles created by the Ukrainian side. Strelkov says that DPR forces left positions in Petrovskoe held for 5 years. Full situation is unclear.
10 Sep. Two civilians, a man and a woman, are wounded by Ukrainian shelling of western Donetsk.
9 Sep. Opolchenie: Message from military correspondents. "Just yesterday, Ukraine and Russia held an exchange, and today at the checkpoints of Donbass 9 people were arrested, whom Kiev suspects of working for L/DPR. Replenishing the exchange fund, so to speak."
8 Sep. Report and video from Donetskii settlement, LPR. A home is damaged; a man who lives there says that shelling increased, despite 'ceasefire'.
Russia's Commissioner for Human Rights proposed to conclude an interstate agreement on terminating criminal prosecutions on an equal footing. Her Ukrainian counterpart says it will be considered, but there is no proposal via the official channels.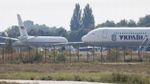 7 Sep. Planes with exchanged by Ukraine and Russia detainees (including those from Donbass) landed in Vnukovo and Borispol airports -report and livestreams.
Russia released 24 sailors and 11 other persons, Ukraine published the full list of those returned to Ukraine.
Russia explicitly stated that Ukraine released Kirill Vyshinskii, ed-chief, RIA news-Ukraine. Ukraine published a list of 34 they released, which includes Tsemakh, Mefedov (news- 27 May '16, 14 June '16) but apparently Ruslan Gadzhiev remains in Ukraine.
Trump tweets: "Russia and Ukraine just swapped large numbers of prisoners. Very good news, perhaps a first giant step to peace. Congratulations to both countries!"
6 Sep. DPR soldier is killed by Ukrainian shelling.
Ukrainian shel1ing in the south using 152 mm artillery and mortars is reported. Two civilian women are wounded and hospitalized as a result of shelling of Kachkarskoe, Kazatskoe and Roza settlements, Novoazovsk region; 4 homes are set on fire (report and video). Another detailed video from the scene shows no buildings left standing in Roza settlement; a school nearby has many windows broken. A wounded woman and a school director are interviewed
5 Sep. DPR PMH reports that Ukraine shelled multiple DPR locations, using mortars, grenade launchers, BMP guns, machine guns. An armed Ukrainian drone heading towards OSCE observers is shot down. A group of about 10 people from 35 brigade UAF attempt to penetrate DPR territory. It is said that 3 of them are killed, at least two wounded, and the others dispersed; one DPR soldier is killed and another wounded. While opolchenie sources report 2 killed and (unconfirmed) 3 wounded. It is said that SBU started an investigation into weapons smuggling by 35 brigade UAF, since weapons cache was found in Kharkov and traced to weapons storage of 35 brigade. Those weapons were listed as destroyed by shelling, and ammunition as spent in firefights.
Ukraine has released Tsemakh (see 1 Jul. news), under "personal guarantees".
Putin: Russia and Ukraine "approach finalization" on detainees exchange.
4 Sep. On the day of contact group meeting in Minsk, and despite the ceasefire, Ukraine shelled Zaitsevo, Golmovskii, and Gagarin minepit area. Two DPR soldiers are killed.
3 Sep. LPR PM reports Ukrainain mortar shelling, warns about Ukrainian special operations group planning to shell Ukrainian positions, to justify their shelling of LPR and to discredit LPR internationally
Some progress in Normandy format advisors negotiations is reported on (long overdue) pilot projects on separation of forces and implementation of Steinmeier formula (Rus, Eng), according to Alexey Chesnakov (known for earlier impactful commentary). Date of the announced Normandy summit was not set.
2 Sep. Opolchenie lists their 35 fighters killed in August, 2019 in Donbass; at least 8 are killed on 29 August.
Ukraine fired 120 mm mortars on Kominternovo, 122 mm artillery shells on Gorlovka.
1 Sep. DPR: "From 16.45 for an hour, militants from the 30th brigade UAF and the Nazis from "Azov" fired seven 122-mm artillery shells on the Gagarin mine-pit settlement, fifteen 120 mm mortar shells on Golmovskiy and eighteen mortar shells of various caliber on Dolomitnoe settlements".
DPR accused Ukraine of shelling OSCE and JCCC patrol arriving to inspect aftermath of Ukrainian mortar and artillery shelling a day earlier near Kominternovo.