Ukraine news/Archive/2019-01
Jump to navigation
Jump to search
31 Jan. Vladimir Zelenskiy is leading in Ukrainian presidential election polls conducted by Ukraine's Rating Group on Jan. 16-24 and by the Kyiv International Institute of Sociology on Jan. 31.
28 Jan. OSCE special representative Martin Sajdik floats a new peace plan, where some things (specifically, the local elections) are run by UN and OSCE on the ground, including 'police and military components'. DPR FM states that it is 'categorically opposed' to the plan, as it does not follow Minsk agreements and does not give DPR enough say in the process.
Arrival of CBRN commission of the HQ of the Ukrainian armed forces grouping "North" to positions of 58 and 30 brigades deployed near Gorlovka causes renewed fears of a chemical provocation or attack
CONIFA announces draw results for 2019 European Football Cup of unrecognized states, including Donetsk, Lugansk, Abhazia, South Osettia, Nagornyi Karabach (12 teams in total).
21 Jan. British instructors started a training course for Ukrainian Navy in Odessa region as part of a British program "Orbital". That program, supposed to deliver 'defensive training' was 'expanded' in 2018 to include anti-armour, counter-sniping and mortar planning.
19 Jan. On the day of the (Christian Orthodox) celebration of Epiphany, Ukrainian forces fired 20 BMP-1 shells and 29 AGS grenades on the village of Zhabichevo, north of Donetsk, and Donetsk airport area. 19 ceasefire violations in the past day in total, 532 munitions fired by Ukraine, including mortars, grenade launchers, tank/BMP guns and large caliber firearms
18 Jan. DPR Ombudsman: in the past week, 2 soldiers were wounded. From the start of the year, 3 soldiers and 3 civilian men were wounded. In 2018, 162 people were killed, including 5 children, 310 were wounded. From the start of the conflict, 4729 people (4114 men, 615 women) were killed, including 81 children.
17 Jan. First contact group meeting of the year in Minsk.
Ukrainian forces fired mortars on Krutaya Balka village, 2 civilian cars were damaged. JCCC representatives showed a photo of one of the cars.
13 Jan. DPR MoD: Ukrainian forces fired small firearms on Zaitsevo, near Gorlovka. Also reporteadly there was a firefight between two Ukrainian brigades, 79 and 80, caused by alcoholic intoxication; one soldier said to be killed.
It is said that an Orthodox church of UOC-Moscow Patriarchate in the village of Krasnovolia, Manevichsky district, Volyn region, Ukraine was seized by supporters of the new Ukrainian Orthodox church (subordinate to Constantinople patriarchate).
12 Jan. Archimandrite Michael (Anischenko) is appointed head of the Stavropigiya in Kiev by the Synod of the Ecumenical Patriarchate chaired by Patriarch Bartholomew (romfea.gr), (fakty.ua).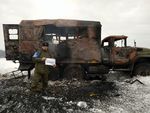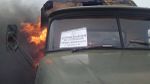 10 Jan. Donetsk News Agency reports shelling from Ukrainians at Northern Golovka and Yasinovataya with 3 'Water of Donbass' workers arriving to clean snow injured, their vehicle burned.
5 Jan. Patriarch Bartholomew signed Tomos (full text) on establishing autocephalous Orthodox Church of Ukraine (ПЦУ), subordinate to the Ecumenical Patriarch (lit. 'recognizes as its head the Holy Apostolic and Patriarchal Ecumenical Sea". Declares rights of the Ecumenical Throne to the "Exarchate in Ukraine and sacred Stavropygia").
DPR MoD reports on two failed Ukrainian RSG attempts which resulted in Ukrainian casualties (Rus.)(robo-Eng.).
2 Jan. It is reported that Ukraine is secretly preparing civil lawsuits on ending leases at the two main sites, Kiev-Pechersk Lavra and Kremenets-Pochayevsk Reserve, to Ukrainian Orthodox Church of Moscow Patriarchate.
Victor Kovalskii, 81, one of designers of 'Mria' aircraft, is beaten up in Kiev in a mistaken identity incident.
1 Jan. Attempted sabotage of a railway bridge in Donetsk reported, a pile was damaged but the bridge is still standing. Repair crews installed temporary supports.