Ukraine news/Archive/2017-12
Jump to navigation
Jump to search
29 Dec. Kurt Volker interview on Echo Mosckvy. (Approval of US weapons to Ukraine is discussed both in the past and future tenses, approved/will be approved). Volker is doing his thing as an unpaid volunteer replacement of Victoria Nuland, intended to be temporary, from Trump assuming office to elections in Russia in March 2018. (But he remains the executive director at McCain Inst, and the U.S. Special Representative for Ukraine, Ambassador Volker). Dicey. Next date with Surkov, not yet confirmed. In yet another unforced error of his, we learn from Volker that: "the Russian leadership is very stable, to put it mildly".
28 Dec. McCain Institute vs Cato Institute? Started on talk, with a McCain Inst. entry.
Ukraine violated holidays ceasefire, firing 11 mortar shells on Trudovskie settlement (Petrovsky district of Donetsk).
Ukrainian military MI-24 chopper is spotted near separation line, in violation of Minsk agremments; DPR warns that it will be shot down if it crosses.
27 Dec. LPR-Ukraine prisoners exchange is completed, 73 prisoners crossed to LPR, 2 decided to stay in Ukraine (earlier, a case with 2 journalists charged with separatism was described where they declined amnesty+exchange option). DPR -Ukraine exchange is expected to follow. Over 300 prisoners in total expected to return to L/DPR. Photos and videos-Cassad.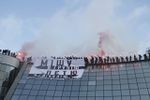 24 Dec. Several competing marches in Kiev. One of Maidan interactions (summary), (video) titled 'How Azov gave a slap to Poroshenko advisor'.
23 Dec. Despite the supposed start of holiday ceasefire, Ukraine fired on Gorlovka, Gol'movsky, Yasinovataya with small firearms, automatic grenade launchers, and mortars -Rusvesna.
US State Department and media pronouncements on the former approving lethal weapons for Ukraine make little clear, in addition to making little sense.
Russian Deputy Minister of Foreign Affairs Sergey Ryabkov Commentary on the Supply of US Arms to Ukraine (Rus.)(robo-translation; official translation to appear).
...crossing the line...
"Donald Trump Prepares to Escalate Confrontation with Russia over Ukraine", by Doug Bandow of Cato Institute, published by the National Interest
22 Dec. DPR ombudsman: in the past week, 4 DPR soldiers were killed, and a civilian man killed in Yasinovatya shelling. 11 people (4 soldiers, 3 civilian men, 4 civilian women) were wounded.
DPR: in the morning, from 9:00 to 10:00, UAF shelled with MLRS "Grad" the outskirts of Donetsk ("Volvo Center" and 'First Square'/Admin-village) with more than 30 rockets. No injuries were so far reported. According to the operational command, the fire was from the direction of the village Netailovo, Yasinovatsky district. Power transmission lines were damaged, craters were discovered near residential homes. Some missiles hit the Ukrainian-controlled Peski nearby.
20 Dec. 21:30 to 22:15, UAF shelled with heavy artillery center of Yasinovataya. At least one civilian was killed (a man, Saponov Yu.G, 1967 DOB), another man wounded (Mairir A.C, 1953 DOB). There are more wounded and trapped civilians . ANNA news video of shelling aftermath (shelling lasted 40 minutes; no DPR positions nearby) (Russell "Texas" Bentley aftermath video from the scene)
UAF shelled with 'Grad's residential area of Gol'movsky settlement near Gorlovka and DPR positions in the area -report and video. A hospital was hit (video)
WaPo: Trump administration approves lethal arms sales to Ukraine. Administration officials confirmed that the State Department this month approved a commercial license authorizing the export of Model M107A1 Sniper Systems, ammunition, and associated parts and accessories to Ukraine, a sale valued at $41.5 million. TASS: The State Department issued a license for commercial exports to Ukraine of a limited number of small arms and light weapons of American manufacturers. RIA quotes Deputy Defense Secretary Patrick M. Shanahan statement to the press that Pentagon is ready to support the State Department decision once it is formalized (direct link not found)
18 Dec. Russia's representatives in JCCC will leave on 19 Dec, complaining of constant harassment by Kiev side. Following this, Kiev's representatives in JCCC (4 officers located in DPR, one group in the south, another in Donetsk) will leave too. DPR representative in JCCC Ruslan Yakubov stated that there is no dangers/threats for Kiev's reps in DPR and their concerns are artifical and groundless -RIA
17 Dec. Another Saakashvili-led pro-impeachment march in Kiev -videos 12.
15 Dec. Alexandr Khodakovsky: UAF deployed seven 'Grad's MLRS on the territory of Advdeevka coke plant (storing toxic liquids), trying to create a massive provocation.
Saakashvili op-ed in NY Times: I am the best anti-Putin and anti-oligarchs-who-manipulate-elections stateless president
14 Dec. Putin's response on Donbass to a Ukrainian journo Tsymbalyuk (full transcript, Eng.), in essence redirects the issue of peacekeepers to L/DPR, so far excluded from direct negotiations.
OSCE: the Ukrainian Armed Forces representative to the Joint Centre for Control and Co-ordination (JCCC) in the JCCC headquarters in government-controlled Soledar (79km north of Donetsk) shared with the SMM a letter from the Ministry of Defence of the Russian Federation informing Ukraine that the Russian Federation would withdraw its Armed Forces officers from the JCCC. Rusvesna: the reason is that the Russian officers were constantly harassed by the Ukrainian side.
13 Dec. DPR representatives at JCCC stated that OSCE patrol refused to record Ukrainian shelling of Donetsk water filtering station area with phosphorous munitions, on the grounds that their shift is over in 10 minutes (RIA). DPR recorded 13 phosphorous mortar shells explosions fired from Avdeevka (ANNA news). Water filtering station is a key infrastructure which provides water supply to the area, and stores chlorine for purification; damaging chlorine tanks will lead to a disaster. Meanwhile, State Department accused Russian-led forces in shelling water filtering station (ie themselves) and a coke plant nearby (map); both are known to store toxic chemicals.
Canada allowed automatic weapons sales to Ukraine (p. 40/363, SOR/DORS/2017-248 p. 3307); (Izvestia).
MP Rabinovich statement and Italian documentary on Maidan snipers from Georgia were introduced at a court hearing in Kiev on Yanukovich case (RIA).
12 Dec. UN Report on the human rights situation in Ukraine, 16 August to 15 November 2017. (Noted: reported civilian casualties from shelling and small firearms are mostly in the L/DPR area). (Tatiana Montan comment--irony/black humor. It does not matter for the Ukrainian leadership, it only matters what their Western curators are telling them, and not in public).
11 Dec. Saakashvili set free by the court. (Tsarev offers an opinion on behind-the scene US pressure).
Saakashvili in court , Timoshenko present, text+video feed by News One
10 Dec. In a recording from approx. 5 Dec. (see below), Yulia Timoshenko on Newsone, to punch the line against private ownership and sale of land to the 'West', and for developing farming instead, to make Ukraine a strong agrarian country. Says that president impeachment according to present constitution and laws in practice is 'an utopia'. Proceeds to discuss the State Department and Bloomberg news (4 Dec, below).
Kiev: march 'for the impeachment' (law) was streamed by NewsOne, zik.ua. Visually thousands on the streets. MP V. Parasyuk claims that around 20 thousand people gathered around the scene on Maidan; organizers claim about 50 thousands. Videos: drone; from Maidan to Saak's detention.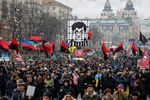 9 Dec. DPR reprentative office opened in Helsinki (TASS)(Johan Bäckman).
ATO press center: 4 Ukrainian soldiers were killed and 2 wounded in the past day. (DPR reports note increased shelling and unchanged situation with the settlements captured by Ukraine in the grey zone).
8 Dec. DPR ombudsman: in the past week, 6 DPR soldiers were killed, 3 soldiers and 2 civilian men were wounded.
Saakashvili was arrested by SBU. Report was confirmed by Gerashenko (24tv.ua). A feed from his detention place here, another by NewsOne here. Saakashvili announced a hunger strike; a protest march is planned on Sunday.
7 Dec. On the sidelines of an OSCE event in Vienna, FM's Klimkin and Lavrov hold their first personal meeting ever.
IMF's Lagarde 'deeply concerned' about anti-corruption setbacks in Ukraine
Rada approved the budget for 2018. Increased military spending, deficit of 2.4% GDP, minimal wages stay low, 3% growth projected. (Bloomberg estimate, 2%).
6 Dec. DPR soldier was killed
Tent city on Maidan was attacked by a mob armed with metal pipes, there were injuries; videos 1, 2. Saakashvilli did not come to prosecutor office, invited to his tent instead, remains at large so far.
5 Dec. Petrovskiy district of Donetsk shelled, municipal truck driver wounded, evacuated by DPR military as shelling continued
Law Enforcement breaks into the Kiev appartment of Saakashvili, who manages to escape to the roof of the building where he threatens to jump off of it and tells the gathering crowd that he is about to get kidnapped. In the end he is detained by security forces. But then the van he is held in is attacked by crowds in the street and Saakashvili escapes to a church where he holds a speech calling for regime overthrow. Latest reports have him leading a march of several hundred people to the parliament. General Prosecutor Lutsenko gave him 24 hours to turn himself in (seeking to place him under house arrest); Saakashvilli at a meeting near Rada called for Lutsnko and SBU chief Gritsak to step down. Earlier, Lutsenko & SBU accused Saakashvilli of being sponsored by Russia (from a certain Russian Sergey Kurchenko, via Saakashvilli supporter Dangadze); while Saakashvilli claimed (NewsOne live channel) that accusations are facilitated by 'Putin and Ivanashvili'.
Videos: rooftop speech; van escape;morning after speech
Alleged prancers call to Poroshenko, playing PM of Georgia, for more entertainment (unverified, with a rude ending).
Lutsenko threatened to close some (unpatriotic) Ukrainian mass media channels (concern at NewsOne).
4 Dec. DPR. Rusvesna update. In the past day, 1 DPR soldier was killed by UAF shelling. Situation with recently captured by Ukraine Gladosovo and Travnevo remains essentially unchanged. One additional Ukrainian soldier said to die from his wounds.Ukraine is said to distribute UN aid, presented as own; trying to get a ceasefire, said to be to repair electric power supply.
US State Department sided with Ukrainian anti-corruption committee in its standoff with the rest of the government. A story-line by Bershidky at Bloomberg: 'The West Backed the Wrong Man in Ukraine'. (Bloombergwise, 2% GDP growth is projected, following, according to 1, 2, a 16% decline since the start of the conflict. World Bank GDP data, according to Google, is 183.3 bln USD in 2013, 93.3 bln USD in 2016, an almost 50% drop. Big drop in hryvna is a factor here too.)
3 Dec. Kiev. Access to NewsOne TV building was blocked, barricaded by a group of masked activists, said to be because the channel owner Muraev called Maidan, 2014 events 'a state coup' (MP Rabinovich, who recently accused Saakashvilli of bringing snipers to Maidan is the channel founder). It is noted that calls to block the channel because of its positions were made earlier, e.g. by Ilya Kiva.
Saakashvilli is leading a column of about protesters, under slogans of 'people's impeachment' of the current administration, since their demand to adopt a law on impeachment by Dec. 3 was not met. Long video shows quite large crowd, with the front of the column under Right Sector banners, decreasing further down with more Ukrainian national flags and less of the Right Sector
Saakashvilli announced that he is going to NewsOne channel, despite not liking the owners, stating that NewsOne was the only channel covering his march.
2 Dec. DPR MOD now reports based on own sources (Eng.)(Rus.) heavy UAF losses under recently captured by UAF Gladosovo and Travnevoye, and that because of that an Aidar detachment withdrew for replenishment of losses, while small number of fighters still remain. They also say that ATO initially confirmed losses, then withdrew the announcement (while ATO denied that announcement was legit, more on talk). UAF still controls access to those villages; in the meantime DPR offers humanitarian aid in a nearby village-Rusvesna.
1 Dec. DPR ombudsman: in the past week, 1 DPR soldier was killed, 4 soldiers were wounded.