Ukraine news/Archive/2016-11
Jump to navigation
Jump to search
29 Nov. DPR: Ukraine violated ceasefire 1882 times in the past day; 2059 the day earlier (big increase on both days). One DPR soldier was killed.
Normandy-4 FM meeting ended. 'Roadmap' was on agenda, but there were reduced expectations before the meeting and no breakthrough was reported after it.
28 Nov. DPR: 3 UAF soldiers were killed and 2 wounded when they tried to attack near Kominternovo in the south.
Yanukovich now testifies in Ukrainian court by video conference (112.ua, video in Ukrainian). (text broadcast in English here). He reads prepared remarks, blaming Right Sector, Svoboda, and Maidan Defense for violence. The judge tries to change format so that he answers questions and sends prepared remarks for them to read later. He continued his reading for a while; followed by questions, first about Euro Integration.
16:09 Yanukovych: I did not order to open fire on anybody
Rusvesna text report, in Russian; and Ukrainian with Russian translation, Russia 24 (shaky translation though)
14:56 Yanukovych: Shooting on the Maidan was a planned special operation aimed at overthrowing the government in the country (I think he said false pseudo-operation, which was rationally (?) planned and executed; up to terminology it's possibly the same).

Ukrainian 112.ua has the same transcription as Rusvesna above, planned special operation; repeated in English version

14:51 Yanukovych: Ultra-right organisations sponsored by oligarchs were involved in the murder of "Maidan" activists and law enforcement officials, with the purpose to overthrow the government.
14:49: Yanukovich: I have collected three volumes of evidence about the events on the Maidan, is preparing the fourth
In view of the recent scheduled testimony by Yanukovich, former Ukrainian MP Oleg Tsarev makes several significant comments about Maidan 2014 events, saying that (1) the judge--current authorities--is to blame; the witness (Yanukovich) could have stopped the violence but have not done so; while those accused (Berkut) are not guilty, and have been following the laws (2) proofs are well documented by now, despite attempts of authorities to hide the truth (he does not explain how and by whom), and (3) that one of sniper groups had a Western connection (again, without explaining the factual basis of his claims). All that really should be said as part of investigation, not as statements to media; --but the investigation is essentially stuck.
27 Nov. Mikhail Saakashvilli organised protest meeting on Maidan, Grushevskaya Street in Kiev, and made an agitated rambling speech about high level of corruption, where a small group captured all financial streams and power. He demanded urgent anti-corruption reforms (as he has done in Georgia) and early parliamentary elections (video). Crowd was not large; but Saakashvilli told them more and more will be coming for future meetings, "we are many who fear loosing their country, against few who fear loosing their financial streams." Crowd cheered, shouted банду геть! (down with the gang), sang Ukrainian anthem (twice). His earlier interview here (Engl).
Journalist trying to make video recording of a group of people maintaining/updating pro-Saakashvili participants list was attacked (video). Such list could be maintained for payments to participants, but circumstances unclear.
In an answer to reporter, DPR head Alexander Zakharchenko makes a case for the 'Russian world': "We do not need two-faced and deceitful European civilization - Alexander Zakharchenko" text (Russ/Engl), video . (Critique of liberal values +WW2 victory - themed).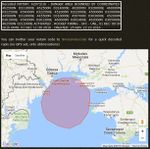 26 Nov. Ukrainian forces launched an attack today near Sakhanka, Vodianoe villages in the south (map), up to three UAF and volunteer 'natsbat' platoons, with the support of armored vehicles, and under the cover of fire from mortars of 82 mm caliber and 122 artillery. DPR forces repelled the attack, at least 5 attackers were killed and 8 wounded, and Ukrainian BTR was hit -Rusvesna. Ukraine: nobody killed and 5 wounded in the past day.
Noted: Ukrainian official ATO press releases are linked at the bottom of the page; we take a look at sources and discuss our approach on Discussion page.
25 Nov. DPR was fired on 6049 times by Ukraine in the past week. According to DPR ombudsman, in the past week 5 people were killed (4 soldiers and 1 civilian), 8 were wounded (6 soldiers and 2 civilian).
Ukraine announced plans to conduct missile launches in an area of Black Sea to the West of Crimea. According to Russia this violates Russian sea border; Russian MOD issued a formal protest.
Yanukovich was scheduled to testify via videoconferencing from Rostov as a witness in Kiev court considering a case against 5 "Berkut" officers accused of crimes on Maidan in 2014. Hearing was delayed by request of Kiev court (it is said that not all the accused were delivered to court to hear the testimony; -as that was blocked by Right Sector). Live feed here.
DPR reports 960 ceasefire violations by Ukraine. OSCE report gives 500 violations 'in Donetsk region', without specifics who fired on whom or who fired first.
24 Nov. DPR: number of ceasefire violations in the past day was 1161, a 2-fold increase. A civilian in Krutaya Balka, near Yasinovataya (map), was wounded.
According to DPR ombudsman (here and here), Kiev again tries to achieve only selective release of their prisoners, despite Minsk agreement to exchange 'all for all'. (Ukraine keeps many L/DPR prisoners; while large number of Ukrainians were released unilaterally, and more on few-at-a-time basis. Ukraine now has to release large numbers, official count is about 900 POWs, with another nearly 500 missing).
An officer of the Russian Black sea fleet was arrested by FSB in Sevastopol, accused of spying for Ukraine.
23 Nov. DPR: 5 Ukrainian soldiers were killed, 7 wounded when they attempted to break through DPR defenses in the buffer zone near a village of Vodyanoe in the south (map). 3 DPR soldiers were wounded. (Ukraine report clashes but not casualties).
22 Nov. DPR was fired on 519 times by Ukraine in the past day; 500 in the day before.
21 Nov. Russia says that two servicemen, Maksim Odintsov and Aleksander Baranov, were kidnapped by Ukraine in Crimea. It is said that they were lured to border crossing point "Dzhankoy" by a promise to give them certificates on higher education. Russian MPs demanded their release. Video of kidnapping emerged showing that they were kidnapped at the crossing point, on the Russian side. It is said that they were serving in UAF in Ukrainian-controlled Crimea, and later changed sides to serve in RAF (under contract). On the video, Baranov said that after 2014 he signed a contract and pledged allegiance to Russia.
Masterclass from Ukrainian pilot (comment heard on video: there is no such maneuver as joint landing, only joint take-off).
20 Nov. Graham Phillips interviews on video (in Russ.) a woman in Styla, DPR. House built by her parents (now deceased) was damaged by Ukrainian Grad shelling. She is saying that things are not improving, they have to live in cellars, and OSCE visits do not help. She blames Ukraine for the situation. Graham then interviews OSCE guys on whether they are actually blind (in Engl.)
18 Nov. DPR: there were 6467 ceasefire violations by Ukraine in the past week. According to DPR ombudsman, in the past week 5 people were killed (4 soldiers and 1 young civilian, born 2000), and 5 people were wounded (also 4 soldiers and 1 civilian, a man) (DAN).
IMF concludes a visit to Ukraine without a new loan promise, issues a statement indicating that Ukraine needs more time to implement reforms, including fighting corruption.
17 Nov. DPR: 894 ceasefire violations (Engl.) by Ukraine in the past day, including heavy weapons. 2 mortar shells landed in the area of hospital number 21 in Donetsk (map), facade and windows damage was reported. Villages in the south were shelled by Ukraine for over two hours.
Mikhail Saakashvili claims to have information that Poroshenko seeks to deprive him of Ukrainian citizenship. As the former Georgian president has no other citizenship anymore, he says this would be illegal under international law.
16 Nov. The conservative US-Think Tank Heritage Foundation publishes a long interview with Mikhail Saakashvili about the political situation in Ukraine and his new party "Wave". (From this and other interviews, it is clear that he understands that moneys will not be given to Ukraine as such, however he consistently makes the case for getting funded to fight off Russia. That means that if he is supported, the war in the East is quit likely to continue--unless it is demanded not to).
15 Nov. DPR officials and opolchenie report that recently (from right before the US elections and after Trump win) shelling by Ukraine increased multiple times compared to few weeks ago. DPR was shelled 876 times in the past day, all over the separation line, including heavy weapons, artillery and mortars.
Some protesters on Maidan in Kiev, photos and videos. Ukrainian sources estimate the number of protesters at 2-3 thousand people; and about 5 thousand law enforcement.
Maidan protesters on Nov. 15 included people who lost their savings as a result of fraudulent banking schemes. Poroshenko and Rada quickly adopted a law changing banking regulations and extending deposit guarantees to moneys given to banks as loans or deposits to non-banking third parties with bank serving as an intermediate (apparently scheme used such a loophole to avoid paying back certain deposits of their clients after bank bankruptcy).
14 Nov. Timosheno on video calls for public protests starting tomorrow against corruption, drastic fall in hryvna exchange rate, high utility costs. Timoshenko on video: this is not a hand of the Kremlin.
Ukraine makes preparations for the 3rd Maidan? Rusvesna, the head of the General Staff Viktor Muzhenko, representatives of the Security Service and intelligence, and MP Sergey Pashinsky. Interfax: Avakov demanded that police and national guard make sure that any protests are peaceful, and security is maintained. According to Ukrainian media reports (korrespondent.net), Georgian-born police chief of Ukrainian national police Hatiya Dekanoydze resigned. Earlier it was reported (Rusvesna) that some nationalistic groups called to gather on Maidan on 21 Nov. Apart from Daknoydze announcement, Maidan news and graphics tend to be hosted by pro-Russian sources.
12 Nov. Rusvesna (translation): according to DPR ministry of security, "six neo-Nazis from the 'Misanthropic Division' were arrested". Leaders of that group earlier claimed responsibility in Motorola assassination case (with some skepticism expressed towards their claim at the time). It is said that those arrested "admitted to their terrorist and extremist crimes" and gave evidence on the circumstances; it is said that they maintained connections with SBU. Misanthropic division denied that those arrested are their members (after earlier denying responsibility for the assassination). This follows Zakharchenko announcing names of some alleged organizers of Motorola assassination (10 Nov.); and an arrest of "three Ukrainian saboteurs" in Sevastopol (also 10 Nov.) Details provided on all those developments appear quite sketchy.
Two detained in Crimea Ukrainian 'diversants' (saboteurs) video testimonies emerged, where they both say that they work for Ukrainian intelligence (GUR, MOD Ukraine) in the rank of colonel. (In Ukrainian media it is noted that reading glasses seen on the first video change position after a jump cut on the video.)
11 Nov. Weekly update. According to DPR, there were 5118 ceasefire violations by Ukraine; including 3244 using heavy weapons. According to DPR ombudsman, 2 soldiers were killed, and 3 civilians wounded; updated number of people detained by Ukraine is 901.
8 Nov. DPR was shelled 1072 times in the past day. In the evening, Ukraine started shelling residential areas of Petrovskii district of Donetsk and Zaitsevo near Gorlovka.
7 Nov. 3 houses were damaged by Ukrainian shelling on Gorlovka, one house was set on fire
Saakashvili resigns as governor of Odessa, accusing Poroshenko of "personally supporting two clans" against attempts to fight corruption. On his resignation video, Saakashvili flanked by Yuia Marushevskaya and young people winning competition to work in Odessa customs, tells that port repairs scheduled for the beginning of the year were not finished, money stolen, and those young people still not at work. Poroshenko promised support in April, but have not moved a finger to support the project. Odessa customs was part of pilot anti-corruption project supported and funded by USAID and European Union. (Odessa is difficult to govern, for outsiders especially ...).
Another Georgian beauty, Khatia Dekanoidze Ukrainian national police chief, had a TV press conference on results of her work shorty after, with no groundbreaking announcements.
5 Nov. Civilian is wounded in Petrovskii district of Donetsk`.
4 Nov. DPR was shelled 3810 times in the past week by Ukraine, 53 houses were damaged.
According to DPR ombudsman, in the past week 5 people were killed (4 soldiers and 1 civilian), and 9 wounded (6 civilians and 3 soldiers). 900 people are held by Ukraine (despite Minsk agreements to exchange all for all); another 488 people are missing. Detentions of Kiev regime opponent Egor Logvinov from Kharkov, and of Russian volunteer Andrey Sokolov (released by court, but than taken to unknown destination) are discussed in the report.
1 Nov. DPR was shelled 755 times in the past day, a woman was wounded, 3 houses damaged. According to LPR MoD representative Andrey Marochko, Ukraine attempts to occupy buffer zone and conducts provocative shelling of 'people's militia'.