Ukraine news/Archive/2016-10
Jump to navigation
Jump to search
28 Oct. DPR MoD: DPR was shelled 2578 times in the past week. 7 people (3 civilians, 4 soldiers) were killed, 27 (18 civilians and 9 soldiers) were wounded. See also ombudsman report (lower numbers there).
Civilian was killed in Petrovskii district of Donetsk by Ukrainian shelling.
27 Oct. At least 7 houses, including multi-flat, were damaged by Ukrainian shelling of Makeevka. 3 civilians were killed and 10 wounded, including 2 children. OSCE, JCCC, contact group were notified. Two DPR soldiers were killed by shelling elsewhere.
26 Oct. Elections in DPR and LPR were postponed. This has to do with lack of progress in implementing Minsk agreements.
As a result of continued Ukrainian shelling, a civilian, a woman, was wounded in Alexandrovka, Petroskii region of Donetsk.
25 Oct. Artillery and mortar shelling by UAF continues. One DPR soldier was killed, another wounded. A civilian was wounded in Trudovskoe, western Donetsk
24 Oct. Despite the recent Normandy format meeting, there is no progress on prisoners exchange, and Ukraine is backtracking on 'all-for-all' agreements reached already. Contact group meeting is delayed till 9 Nov.
Big problem is that crimes such as intentional shelling of residential areas and systematic violations of Minsk agreements are done with impunity for those who order the crimes. They are not concerned that their soldiers or 'separ' civilians are killed. There is no solution (apart from breaking Minsk and starting war). As a a midway and most likely futile step, DPR prosecutor office started a criminal case against UAF officers accused of shelling Donetsk.
Givi categorically denied Ukrainian rumors that he plans to leave DPR (all details of his presumed 'leave' are fake too).
23 Oct. DPR was shelled 446 times in the past day. Two civilians, a mother and son (1985 d.b.), were wounded in western Donetsk.
22 Oct. SBU forced Belorussian plane to return to Ukrainian airport, with threats to call for fighter jets if order not followed (transcript here and here) , to detain an Armenian anti-Maydan activist. He was charged with 'organizing mass disturbances'; according to his attorney he was trying to calm things down instead.
Several dozens pensioners protest on Maidan, Kiev, against unafordable utilities costs. One complaint it now costs 5 times more than ever before, another that in her case heating costs more than her pension. Earlier a pensioner jumped the bridge in Kiev, survived; it is speculated that living costs may be a factor.
21 Oct. In the past week, DPR was shelled 3161 times by Ukraine; 12 DPR soldiers were killed, 5 civilians and 9 soldiers wounded. 898 people are in Ukrainian detention, 488 missing - DPR ombudsman; MoD, map.
19 Oct. Putin: Statement for the press following visit to Berlin- Eng. Russ. Merkel-more details, Tass.
Poroshenko claimed that Russia agreed to an 'armed police mission by OSCE' in Donbas. (Not agreed with LDPR, not in Putin comments. Peskov confirmed, but needs further work.)
Motorola was buried in Donetsk with military honors. Many people came to pay respects [1], [2][3][4]. His bodyguard, Goga (Zhenia) was buried yesterday.
4 DPR soldiers killed and 3 wounded in the past day-Basurin
18 Oct. DPR was shelled 253 times in the past day. Two DPR soldiers were killed by Ukrainian shelling in the south. Opolchenie woman fighter Tatyana "Viva" was killed by Ukrainian sniper; survived by 12 years old daughter.
Poroshenko: Germany France, Ukraine agreed to a meeting in Normandy format "to induce Russia to fulfill the security part of the Minsk agreements." Russia agreed too. Peskov: Kiev does not intend to fulfill Minsk, and tries to shift the blame on Russia.
17 Oct. Ukraine shelled Leninskoe and Sakhanovka from 8 a.m., and started an attack, with forces up to a company. Firefight and casualties reported.
Igor Kolomoisky was presented a medal for his personal contribution to the Dnipropetrovsk region and Ukraine.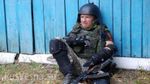 16 Oct. Motorola was killed in explosion in an elevator of a multi-flat house where he lived with his family. One opolchenie bodyguard was killed too. His wife and children were not hurt. More on separate page
After several days of clashes in the area, OSCE finally arrived to Kominternevo (video), to record violations. Basurin: we did not occupy Vodianoe (nearby, in buffer zone), and it even does not make sense military as it is in fire line from higher ground. He complained that OSCE did not make photographs of craters, determining direction by an eye, and that they lowered down the caliber of shells in his opinion; but he is grateful they arrived at all.
15 Oct. Ukraine shelled DPR 608 times in the past day. 3 DPR soldiers were killed and 3 wounded.
14 Oct. After artillery strikes from 152 mm artillery, Ukraine attacked DPR positions near Leninskoe village in the south-incoming reports. Opolchenie member 'Sklon': situation is close to critical, Ukraine stopped observing ceasefire, there are clashes in many places. (Repeats that DPR damaged an Ukrainian helicopter).
DPR Basurin shows unexploded Ukrainian 'NATO-made thermobaric munition adapted for Soviet RPG-7 grenade launcher' -'John Connor' report and photographs. Bulgaria (a NATO member) make those GTB-7S for example. Lethal NATO weapons are not supposed to be there.
Today is Ukrainian day of 'defender of the fatherland', moved by Poroshenko from the Soviet date in February. This day is also traditional day of formation of UPA (Ukrainian Insurgent Army), which fought against Soviets and Poles and collaborated with Nazi Germany in WW2.
DPR ombudsman: 5 soldiers and one civilian, a woman, were killed in the past week; 5 civilians and 5 soldiers were wounded.
13 Oct. Briefly on Zakharchenko press conference: security situation deteriorated, and not just near Novoazovsk and Kominternovo. Also Debaltsevo, Peski, Yasinovataya, very difficult situation near Dokuchaevsk. We see attempts of UAF to conduct reconnaissance-in-force. Further separation of forces in 9 more places is just not on right now, it did not even occur in Luganskoe yet. Their insolence has no limits, UAF takes our desire for peace as weakness. Their losses yesterday and a recent failed attempt to attack us from a helicopter near Krasnogorovka (it was shot down but landed on Ukrainian territory) prove the opposite- Press conference text (in Rus.); English extract; video fragment. (Ukraine denied helicopter downing).
Russia ends oil pipeline service agreement with Ukraine
12 Oct. Ukrainian military opened fire at Kominternovo village in the south of the DPR and attempted seizure of the nearby territory -DAN news, DoNi news (Eng). UAF attack was not successful. According to Basurin, who called this attack 'a madness', 2 DPR soldiers were killed, 5 wounded, and (according to him) over 15 UAF soldiers were killed and 25 wounded.
Highlights from Ukrainian oligarch Firtash interview:
The war is no longer popular in Ukraine. If USA will continue present policies, in about 5 years from now Ukrainians will fiercely hate America and Americans...In their mind, they will link all their troubles, rising prices, unemployment, failed reforms, and everything else with USA. There will be no nation which hates the US more. This is just a matter of time.
We, together with Ukrainian Academy of Sciences, leading European experts, have developed a modernization program for Ukraine, up to the year 2025. 300 billion $ of investments is required for the economy to start working again.
11 Oct. Ukraine shelled DPR 462 times. One civilian, a woman, was killed,another wounded, in continued shelling of southern villages Sahanka/Segreevka and Leninskoe.
10 Oct. DPR situation report DoNi news, Engl). DPR was shelled 314 times in the past day, back to pre-ceasefire level. Opolchenie and locals report overnight shelling in numerous locations along the separation line.
LPR 'takes control & lands' Ukraine's USA military RQ-11B light drone.
9 Oct. Two DPR soldiers were killed and one captured by an Ukrainian RSG in the south, near villages Sahanka and Leninskoe. That was preceded by Ukrainian shelling; it is reported that OSCE failed to attend or intervene. Video from the scene in Sahanka shows mortar shelling; 2 women were wounded as a result (Basurin).
Ukraine cancelled planned separation of forces at Stanitsa Luganskaya, LPR. No new date was provided.
8 Oct. Ukraine opened fire on the village of Stahanka in the south. One civilian, a woman, was wounded.
7 Oct. DPR was shelled 1352 times by Ukraine in the past week-DAN news. DPR Human Rights Ombudsman detailed weekly situation report. 6 DPR soldiers were killed, 6 soldiers and 1 civilian were wounded. Total number of killed in DPR since the start of the conflict is 4120, according to their information. As of 6 Oct. , there were 10,666 objects of infrastructure destroyed, including 5721 residential houses.
Separation of forces in Petrovskoe reported, on the third attempt (see also 1 Oct.) OSCE and JCCC were present.
SBU detained the former opolchenie member from Brazil Rafael Lusvarghi in Borispol airport, Kiev. According to 'a well known journalist Alexander Vasiliev', quoted by Rusvesna, he was on a Western airline flight to Moscow, and the plane landed to make an arrest. Apart from another pro-opolcheie source, there appears to be no independent reports with this particular detail, however the arrest itself is shown on SBU video.
6 Oct. In the past day, DPR was shelled 130 times by Ukraine, according to Basurin (video). Names of Ukrainian +commanders responsible were provided, again. One DPR soldier was killed.
5 Oct. School number 77 in Makeevka was damaged by an explosion, according to residents reports. According to Basurin, it was caused by an explosion of fuel tanker truck, which hit a mine. One DPR soldier was killed, and another wounded in the explosion. According to Basurin, the mine was located on the road itself, and installed by Ukrainian reconnaissance and sabotage group. As a result of powerful explosion, windows in several schools in the city were blown off. Electric power station was damaged and the pit mine "Sheglovskaya-Glubokaya" lost power. Workers of the pit mine were rescued.
4 Oct. Documentary Welcome to Donbass! -interview with Zakharchenko , video (English captions), directed by Di Matteo & Benignetti. Some direct talk here. (Does this sort of talk once upon a time; a bit of show off; no real change, still waits for Minsk to work out; but also frustration that it is not working and prospects dim).
Russian MoD gave a warning that a provocation is planned by SBU against Russian officers in peacekeeping role at JCCC; this also appeared on RU MoD Facebook page.
Victoria Nuland is visiting Moscow to discuss Ukraine with Vladislav Surkov, in the background of breakdown of US-Russian cooperation in Syria and heightened tensions overall.
DPR was shelled 126 times in the past day-Basurin (report), (video). Still no progress on separation at Petrovskoe.
Ukrainian public opinion poll, by political parties. Poroshenko block is behind Timoshenko/Batkovshina and not too far ahead from the Opposition Block, former Party of Regions (ex. Yanukovich).
3 Oct. DPR was shelled 90 times by Ukraine; at least 9 houses in Yasinovataya were damaged. A 122 mm shell launched by Ukraine had a direct hit on an apartment in Yasinovataya; the shell fragments were shown by Basurin at the press conference (video). The residents survived as they were on a different side of the building at the time.
2 Oct. Primaries elections took place in DPR, in 514 local districts, and 1098 total candidates. International observers, including Johan Bäckman (wiki), were present. No agreement with Ukraine presently on the actual elections. 370.5 thousand people participated. Current mayor of Donetsk was (preliminary) re-elected with some 83% of the vote.
Two DPR soldiers were killed, 1 wounded, due to Ukrainian shelling.
1 Oct. Separation of sides is attempted in Petrovskoe, so far hitting a snag. JCCC: order for Ukrainian troops to withdraw was not issued. Video (1 Oct., OSCE present); Ukraine does not confirm readiness to withdraw on the video. Out of 3 agreed separation zones, it only happened in one, in Zolotoe (LPR).
Another separation of sides attempt at Petrovskoe was made on 3 Oct., but Ukraine did not follow through, and DPR forces than returned back. After that, shelling in that area by Ukraine was reported. Video (OSCE present) shows that DPR withdrawal occurred, than reversed, as Ukraine did not do it on their side.
The famous Italian journalist Giulietto Chiesa visited Donetsk and was interviewed about "Donbass, Democracy and the order of things".
Interesting, calm interview, agree or not...
Two Ukrainian members of the crew survived when their US -made UAE Navy vessel HSV Swift was hit by Yemen's Houthi fighters, reportedly with a Chinese-made anti-ship missile.