Ukraine news/Archive/2016-07
Jump to navigation
Jump to search
July, 2016
31.7 Heavy shelling of Donetsk, Yasinovataya reported in the evening and the next morning hours -report and photos. Video of Yasinovataya residential area hit (DPR controlled )

Weekly DPR ombudsman update, 12 killed, 15 wounded in DPR -translated in Doni News. Russian version contains yearly and all-time figures too (4147 killed in DPR from the start of the conflict).
It is reported that Ukrainian nationalistic battalion Sever (North), about 300 people, arrived to Luhansk front from Chernigov (Ukraine). Somehow consists of members of nationalistic movement 'Russians for Maidan'. Both entities have FB presence; Sever battalion seems to be involved with drone operations/ reconnaissance (and likely not just that)
29.7 OSCE drone video records violations by both sides on a number of nights in 20's of July (everything we see are Minsk violations). Starts ( 0:15 video time stamp) with Ukrainian mortar and artillery strikes on DPR controlled Avdeevka, on 18 of July at 17:59 UTC. Followed by (0:32) mortar hits in government controlled Avdeevka, on 18 of July at 18:38 UTC (after DPR was hit). Anti-aircraft fire on the contact line is seen on 21 July, 19:26 UTC. SA-8 surface to air system drives through government -controlled Tonenkoe on 22 July, 8 km from separation line. Mortar impacts in government controlled Avdeevka on 22 July at 19:39 UTC. Outgoing mortar round from DPR controlled Spartak, 22 July at 19:55 UTC. Artillery strike targeting railway in DPR controlled Avdeevka (3:15), 22 July at 21:27:(20-38) UTC. Artillery strike targeting motorway bridge in DPR controlled Avdeevka (3:33), 22 July at 21:27:47-21:28:31 UTC.
28.7 A reshuffle in Russia, with Ambassador to Ukraine Zurabov relieved of his duty, after some 7 years in service. Officially it is said that he asked for this himself. Commentators note that he developed quite cozy relations with Poroshenko and co, and now it may be somebody less accommodating. For now, only temporary replacement. Also, Crimea and Southern district of Russia are joined together, to manage them more easily perhaps. Kiev protested the change.
According to Tsarev interview on 29 Aug., 2016, Zurabov predicted that Poroshenko will become President, and believed it will be good for Russia, saying that there are 3 red flags which he will not cross: NATO, Sevastopol, and (christian orthodox) church
26.7 Increased shelling, DPR was shelled 812 times, including 87 artillery shells. 2 DPR soldiers were killed, another 2 wounded. One civilian was wounded. Ukraine is bringing artillery closer to separation line, in violation of Minsk agreements. Despite Ukrainian shelling in the previous day, Ukrainian reports blame DPR -Rusvesna.
25.7 Rusvesna report: DPR was shelled 570 times, including 69 by banned artillery. Other violations listed, names of Ukrainian commanders provided. DPR reconnaissance accuse UAF in staging shelling of their territory, to present to OSCE as violations by DPR, and reports that according to their information, in the village of Желанное (Zhelannoe) 'as a result of negligent handling' UAF artillery ammo detonated resulting in (claimed) 11 UAF killed, 18 wounded. Artillery was used to shell DPR in violation of Minsk agreement.
One of the peace processions was again attacked by Right Sektor, but the police intervened in time. This happened 30 km south of Kiev. The processions are scheduled to arrive in the capital on Wednesday.
24.7 Military maneuvers, wishful-thinkfully called "Southern wind" throughout Ukraine , with US ships visiting Odessa port - Rusvesna. Called command-post exercises. (командно-штабные учения).
UAF official losses in the past week: 6 killed, 13 wounded. Another 8 soldiers had contusions-Rusvesna, quoting 24 July press briefing by the speaker of the presidential administration of Ukraine on "ATO" Alexander Motuzyanik.
23.7 Donetsk and Gorlovka came under Ukrainian shelling in the evening.
On a short notice, DPR local elections date is moved to 6 November, 2016, from the previously announced date, from 24 July 2014. At some point that was called preliminary elections or primaries. There was a group of observers lined up which included Johan Bäckman from Finland and Miodrag Zarkovich from Serbia.
A group of international observers visited Gorlovka, made photos of destruction, and talked to locals -DAN news.
22.7 Fourteen people were wounded in DPR in the past week, 10 of them are civilians (including 3 children), and 4 are soldiers.
Ivan Prihodko appointed head of Gorlovka. Opolchenie veteran, currently head of Kuibyshev district of Donetsk (nearly as heavily shelled as Gorlovka).
21.7 Fighting reported at Yasinovataya checkpoint, UAF shells Donetsk suburbs.
According to DPR, separation of sides in some of the hotspots was discussed in Minsk, apparently with little progress to report.
20.7 Ukrainian journalist Pavel Sheremet (hailing from Belarus') was killed when a car he was driving exploded in Kiev. His murder was condemned and called a provocation in Russia and Ukraine. According to reports, he was not a radical, yet overall had taken quite moderately anti-Lukashenko, anti-Russian, and pro-US positions, supported Azov battalion (while noting its pro-fascist leanings), etc. Poroshenko ordered his best experts to conduct investigation and involve FBI. It is said that installing IED under his car was recorded on a security camera, and that the device was targeting the driver.
Ukrainian documentary investigation, 10 July, 2017, and description (Rusvesna); claiming that an SBU man was seen near his home on the night of the murder; SBU spokeswoman Elena Gitlianskaya after movie release stated that this person was fired or left SBU (уволен --lit. approx. 'let free', also used for 'fired') on 29 Apr. 2014
18.7 DPR was shelled 692 times in the past day. One DPR soldier was killed, another wounded in shelling by Ukraine. Nine houses were damaged in Gorlovka and Kominternovo.
16.7 A child was wounded due to Ukrainian shelling.
15.7 Zakharchenko and his group came under Ukrainian artillery fire in Avdeevka ('inspecting how Minsk agreements are fulfilled' according to his press service- Rusvesna). Nobody was hurt.
DPR ombudsman: In the past week, 8 people were killed in DPR (one civil servant and 7 soldiers); 7 were wounded (6 of them are civilians). According to ombudsman data, 4126 people were killed in DPR from the beginning of the conflict.
Under provocations of Right Sector, the three orthodox processions are picking up steam and people on the way, counting tens of thousands each. Plan is to reach Kiev from three sides on July 27, a day before the Baptism of Kievan Rus' will be commemorated. (German language report with videos)
12.7 Up to 12 UAF soldiers could be killed after failed UAF reconnaissance-in-force in Novotroitskoe (SW of Donetsk) and industrial area of Avdeevka.
Two pro-peace Christian Orthodox religious processions, one from Western Ukraine, another from Donbas, started moving towards each other with plans to meet in Kiev by the walls of the Kiev-Pechersk Lavra (report with photos). Odessa joined too.
10.7 DPR. Shelling by UAF continues, 4 civilians were wounded in Donetsk and Gorlovka. According to Ukrainian reports, 3 UAF soldiers were killed, 16 wounded (Rusvesna, quoting Andrey Lysenko) . At present only previous day Lysenko report is posted, reporting that 1 UAF soldiers was killed and claiming that '6 militants were killed' (the latter not confirmed by the other side; Ukrainian claims on their own and opponent losses are known to be inaccurate in the past).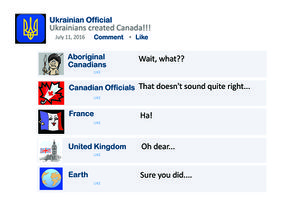 9.7 Poroshenko was at NATO summit and trying to gain more Western support. This resulted in "comprehensive aid package for Ukraine" , and Joint Statement of the Ukraine-NATO Commission (with blaming Russia continued). WSJ give some brief details of informal meetings
NATO offered a new package of assistance on counter so-called hybrid threats, which include covert attacks aimed at undermining government legitimacy, as well as assistance on improvised explosive devices, or roadside bombs.
8.7 As a result of Ukrainian shelling, three DPR soldiers were killed in the past week, 2 were wounded. 7 civilians were wounded. 2 houses were destroyed and 77 damaged.
In a phone conference between Putin, Hollande and Merkel, the situation in Donbass is discussed.
6.7 Two DPR soldiers were wounded
In a meeting of Deputy Minister of Foreign Affairs of the Russian Federation, Grigory Kasarin, with the ambassadors to Russia of Germany and France, and in a phone call between Presidents Putin and Obama, concerns about the escalation of violence in Donbass, and apparent preparations for more by the Ukrainian army, are expressed by the Russian sides.
White House: On Ukraine, President Obama urged President Putin to take steps to end the significant uptick in fighting in eastern Ukraine and stressed the urgent importance of moving forward with full implementation of the Minsk agreements.
Kremlin: During the discussion of Ukraine, the President of Russia again pointed to the importance of Kiev strictly observing the Minsk agreements of February 12, 2015, including the start of a real direct dialogue with Donetsk and Lugansk, amnesty, special status for the DPR and the LPR and the joint elaboration of a law on local elections. He emphasised that there is no alternative to a political settlement and stressed the need to step up efforts to address ceasefire violations and the importance of full compliance with the agreement on the withdrawal of heavy weapons and the separation of the sides to the conflict, in which the OSCE Special Monitoring Mission has a major role to play.
4.7 UAF shells Donetsk; a passenger bus and a cafe in Donetsk were hit, two civilians were wounded. 3 more civilians wounded in shelling of Kuibyshevskii district of Donetsk.
3.7 Commander of 7 DPR brigade, call name 'Zaria', was killed in what is described as terrorist attack in Makeevka, near Donetsk. THere was an explosion at railway crossing and his car was hit. Two people were killed and a driver wounded. 'Zaria' defended Debaltsevo against recent UAF attack (June 2016).
2.7 Kiev received the American counterbattery radars -ukropnews
1.7 It is said that DPR anti-aircraft defense missiles struck two Ukrainian drones over Donetsk -report.
12 people killed in DPR in the past week, including 8 soldiers, 2 civilians, and 2 children killed by power line downed in shelling. 9 people were wounded (DAN news).