Ukraine news/Archive/2015-10
Jump to navigation
Jump to search
October, 2015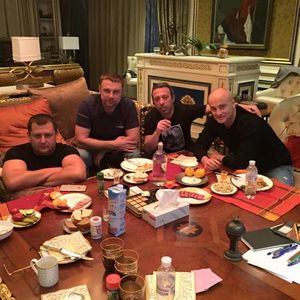 31.10 Gennadiy Korban, Kolomoiskii ally, an energetic ex-deputy governor of Dnepropetrovsk under Kolomoiskii, and subsequently leader of a new 'Ukrop' party, was arrested (video )and taken to undisclosed location, as another party man Filatov is battling in local elections in Dnepropetrovsk against Vikul. Korban re-emerged (as reported by rusvesna ) to say that he is held in Kiev and will be prosecuted in Chernigov (a Poroshenko stronghold), on charges of embezzlement from ATO fund which he created, and kidnapping. Korban denies charges, claims numerous law violations in his arrest, and that charges are politically motivated.
3.11 Ukrop party organised an opposition meeting in Kiev, several hundred people at the time of report. Some tents were brought in, --said to be provided by Liashko party. Speakers at the meeting sharply criticized Poroshenko government for the overall state of affairs in the country.
Korban was released by Kiev court after 72 hours, as the law requires. He was than detained by security services who took him to an unknown destination -112.ua.
6.11 Korban released and placed under house arrest, till Dec. 31, 2015. Anthem of Ukraine is sang in court prior to that. (Photo from his apartment appears to show floor covered by US dollars, guarded by SBU)-rusvesna.
30.10. In Odessa mayor elections, Saakashvili protege lost to current mayor Trukhanov, ex party of regions man. Saakashvilli team launched a challenge claiming election violations, but that was denied in Odessa court.
25.10 Local elections in Ukraine proper. Voting in Mariupol was cancelled, apparently since ballot violations were discovered
Despite many violations reports, based on preliminary results, Opposition block (approximately former Party of regions) claims victory in 7 Eastern regions. Dark blue on the map means first place, blue is second, highlighted area means over 5% . In Slaviansk and Lisichansk, opposition won in the first round. In Dnepropetrovsk, Vikul and Filatov (of Kolomoiskii) advance to the second round. Kernes wins mayoral elections in Kharkov.
10.10 Kiev district of Donetsk was shelled by UAF, a multi-storey building was on fire, one polochenie member reported killed and 2 wounded. OSCE and JCCC representatives attended the scene.
Zakharchenko issued a decree moving election date to 20 April 2016, following Contact group meetings. According to Pushilin, the date is still preliminary and will depend on the progress.
2.10 Normandy format meeting ended in Paris. Under-100 mm weapons withdrawal is set to begin on October 3. Other matters were discussed, such as elections in Donbas, amnesty, air traffic restrictions imposed by Ukraine, Savchenko case, all with some progress but no clear-cut announcements to make. Talks to continue with FM meeting in November- TASS report.
Poroshenko-Putin handshake video, - from Instagram post by François Hollande.