US role in Yemen
Jump to navigation
Jump to search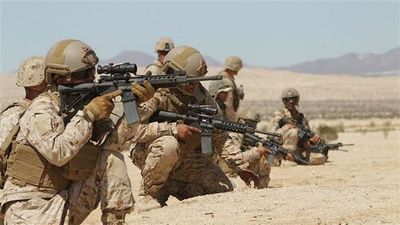 Reports, Analysis
See also the articles Yemen, Blockade of Yemen, and UAE military presence on island of Socotra
late last year, a team of about a dozen Green Berets arrived on Saudi Arabia's border with Yemen, in a continuing escalation of America's secret wars. With virtually no public discussion or debate, the Army commandos are helping locate and destroy caches of ballistic missiles and launch sites that Houthi rebels in Yemen are using to attack Riyadh and other Saudi cities.
Prior reports on Al-Ghaydha airbase, Al Mahrah
US Senate Bills on military aid for Saudi Coalition
"are no United States military personnel in Yemen commanding, participating in, or accompanying military forces of the Saudi‑led coalition against the Houthis in hostilities in or affecting Yemen," Trump wrote in his veto message.
Biden Presidency
..the U.S. military is still focused on helping Riyadh protect its territory from attacks and on building the American military's ability to fight Iran.
It did not extend to operations against al-Qaeda in the Arabian Peninsula
..Washington will be playing a "more active and engaged" role in diplomacy "to bring an end to the conflict in Yemen." ...It is not clear whether the decision will affect weapon sales or Washington's role in the blockade that has been a catalyst for shortages and suffering.
I've asked my Middle East team to ensure our support for the United nations led initiative to impose a cease fire, open humanitarian challenges and restore long dormant peace talks. This morning, secretary Blinken appointed Tim Lenderking, a career foreign policy officer as our special envoy to the Yemen conflict...we're ending all American support for offensive operations in the war in Yemen, including relevant arm sales. At the same time, Saudi Arabia faces missile attacks, UAV strikes, and other threats from Iranian supplied forces in multiple countries. We're going to continue to support and help Saudi Arabia defend its sovereignty, and it's territorial integrity and its people.