US bases in Syria
Jump to navigation
Jump to search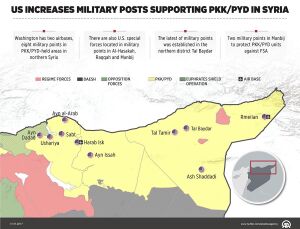 Based on information obtained by FNA from media outlets and field sources, the 7 bases in which the US forces are deployed are:
The US forces are seeking to turn Rmeilan airfield in Syria's Northern province of Hasakah into their new operations room and build helipads in there.
Mabrouka village in the Western parts of Qamishli where at least 45 US special army forces have been deployed.
The French Lafarge cement factory, which is located between Kobane and the town of Ain Issa in Jalabiya in Northeastern Syria. Informed sources have reported that the US has increased the number of forces deployed in the region, adding that another base is being built for training the militants and helicopter landing.
Ain Issa base near a town in Northern Syria, which is hosting over 100 US forces.
Kobane base in Northern Syria in which more than 300 US special forces have been deployed.
Tel Byder base in Hasaka province and in the Western parts of Qamishli which is equipped with helipad for military helicopters. The US trains militants in this base. Expanded with an airstrip between 15 September and 17 October 2017.
Tal Abyadh base which has been the scene of most US forces' moves in Syria. At least 200 US special forces, equipped with armored vehicles, have been deployed in the region and the US flags have been hoisted above certain government buildings in the area.
— US Deploying Forces in 7 Bases in Northern Syria - Fars News, September 24, 2016
Qarah Qawzaq on the east bank of the Euphrates south of Kobane, according to Elijah Magnier in July 2017.
Sources
French bases