Talk:UN chemical weapons investigations
Jump to navigation
Jump to search
UN Investigation Battle of March-April, 2013
This issue will not be covered right here in any detail; it's already been covered, first in much detail here, then worked into the long article Was the Syria Chemical Weapons Probe "Torpedoed" by the West? at Global Research. In super-summary, however, this is the story: Syria loudly claimed its soldiers and people were gassed by rebels, with a chlorine-loaded rocket, on the outskirts of Aleppo on March 19, 2013. They asked for a U.N. investigation of that incident, which was agreed, but then manipulated (especially by Britain and France) to become, or appear, an invasive inspections regime aimed, in the vein of Iraq, at undermining the government further. Therefore, Syria closed its doors to the apparent attack, and the crime remains unsolved. Suspicions hover over the party who closed that door (hiding something!), as more chemical attacks, generally blamed on the government, continue on about a weekly basis. --Caustic Logic (talk) 09:36, 30 May 2013 (UTC)
Lavrov's comments: -- Petri Krohn (talk) 09:40, 31 May 2013 (UTC)
Agreements and Complications
(section should be moved when possible) --Caustic Logic (talk) 22:55, 31 July 2013 (UTC) In July Russian scientists decided sarin was used in Khan al-Assal - UN agreed to investigate that site alone, it seems-scheduled discussion on July 24 with Ake Sellstrom and Angela Kane in Damascus. This did happen, but two days before that rebels launched a full takeover of the district, famously committing a massacre of soldiers and civilians, and complicating the UN probe in at least two ways: making investigator access difficult and dangerous, and perhaps by killing the witnesses before they could talk to investigators. --Caustic Logic (talk) 22:53, 31 July 2013 (UTC)
As Reuters reported on July 31 there was apparently an agreement to try for Khan al-Assal anyway when possible, and to investigate two further sites as well.
"On the basis of the information evaluated by the Mission to date and further to the understanding reached with the Government of Syria, the Mission will travel to Syria as soon as possible to contemporaneously investigate three of the reported incidents, including Khan al-Assal," U.N. Secretary-General Ban Ki-moon's press office said in a statement.
We shall see if Syria agrees that there was such an understanding. Previously they were opposed to that. The other sites aren't specified (13 allegations are under consideration), but the article says Ban's previous sticking point was Homs, for the December 23 attack. Importantly, remember, "The U.N. investigation will only try to establish if chemical weapons were used, not who used them." This will not likely change. It might be: "rebels built the rocket fired, and produced the rudimentary sarin put into it. It killed soldiers and Shi'ites in an area they just lost, rebel-supporting countries frustrated the investigation, and rebels killed off the witnesses before they could talk to us. We found sarin. Who knows who used it, we're waaaay too responsible to get political naming names like that. But Syria is known to have lots of the stuff" And then the U.S position with its supposed red line attached, will probably stay the same, as they have: whatever the actual evidence, it's a simple probability thing. "We do believe that any use of chemical weapons in Syria would very likely have originated with the Assad regime," so "odds are" they wouldn't be evil to reward the rebels. --Caustic Logic (talk) 22:53, 31 July 2013 (UTC)
UN CW Team Arrives in Syria
On August 18, it was reported the UN's team headed by Sellstrom had arrived in Damascus. --Caustic Logic (talk) 06:54, 19 August 2013 (UTC) Reuters: U.N. chemical weapons inspectors to start work in Syria on Monday
The U.N. team, including weapons experts from the Organization for the Prohibition of Chemical Weapons, will try to establish only whether chemical weapons including sarin and other toxic nerve agents were used, not who used them. The 20-member team declined to comment to reporters as they checked into a hotel in central Damascus on Sunday. A U.N statement in New York said they would start work on Monday.
Led by Swedish scientist Ake Sellstrom, the team had been on standby since early April to visit Syria but the mission was held up for months by negotiations over the access Damascus would grant them. Syrian officials originally insisted they should only investigate allegations of chemical weapons use in Khan al-Assal, near the northern city of Aleppo, but the team has been urged to look into at least a dozen other incidents, mainly around Damascus, Homs and the northern town of Saraqeb.

The team was also urged, or so it was made to seem at least, to inspect Syrian CW storage sites, go anywhere it wanted and interview whoever it wanted to help make Syria's CWs "more secure." That was another part of the dispute people fail to mention. --Caustic Logic (talk) 06:54, 19 August 2013 (UTC)

The experts now plan to visit Khan al-Assal and two other sites, which they have not yet specified.
UN inspectors tasked with investigating the alleged use of chemical weapons in Syria arrived Sunday in Damascus ... A team of more than 10 inspectors arrived at the Four Seasons hotel in the Syrian capital to begin their hard-won mission which UN officials have said will last two weeks. ... On Thursday Damascus said it has "nothing to hide." ... Two other sites -- Ataybeh near Damascus and Homs in central Syria -- are also expected to be inspected for attacks that reportedly took place in March and December respectively.

First statement I've seen of which other two sites were planned--Caustic Logic (talk) 06:54, 19 August 2013 (UTC)
UN investigation from Geneva: Rebels used Sarin!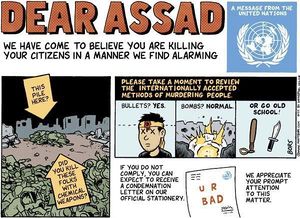 Note: The following refers to the ongoing investigation by the UNHRC's Commission of Inquiry on Syria, a separate investigation from the CW-centered "inspection" team, mentioned above, that has been barred from Syria as a deadly weapon. --Caustic Logic (talk) 09:36, 30 May 2013 (UTC)
U.N. human rights investigators have gathered testimony from casualties of Syria's civil war and medical staff indicating that rebel forces have used the nerve agent sarin, one of the lead investigators said on Sunday.
The United Nations independent commission of inquiry on Syria has not yet seen evidence of government forces having used chemical weapons, which are banned under international law, said commission member Carla Del Ponte.
This investigation is not related to Ban Ki-moon's Gas House Gang.
The Geneva-based inquiry into war crimes and other human rights violations is separate from an investigation of the alleged use of chemical weapons in Syria instigated by U.N. Secretary-General Ban Ki-moon, which has since stalled.
-- Petri Krohn (talk) 01:34, 6 May 2013 (UTC)
Thanks for this. I know I'm not the only one who wondered if this was a SEA hack or a real statement. It sounds so bizarre. But it's being repeated pretty widely so far and no correction yet.
Will be looking at/commenting more on this. Will be considering the less obvious reasons for this turn, if it is a turn. --Caustic Logic (talk) 09:41, 6 May 2013 (UTC)
Al-Nusra members with 2kg Sarin detained in Turkey
Newspapers claimed on Thursday that two kilograms of sarin gas, which is usually used for making bombs and was banned by the UN in 1991, had been found in the homes of suspects detained in the southern provinces of Adana and Mersin. Twelve suspects were caught by the police on Monday. The reports claimed that the al-Nusra members had been planning a bomb attack for Thursday in Adana but that the attack was averted when the police caught the suspects. Along with the sarin gas, the police seized a number of handguns, grenades, bullets and documents during their search. Five of the suspects were released later on Thursday.
In another incident in Adana, the police received intelligence that a bomb-laden vehicle had entered Adana, the bombs being of the same type used in a recent attack in Hatay's Reyhanlı town, the Taraf daily reported on Thursday.
There you go. --CE (talk) 16:33, 30 May 2013 (UTC)
Wow! I don't suppose this will pan out to the standards of "accepted " but ... Zaman is considered closer to the AKP, huh? (says Wikipedia). Is this pretty confirmed already? Others picking it up: Daily Star, Reuters, Naharrnet, RT, Global Research, etc. --Caustic Logic (talk) 22:35, 30 May 2013 (UTC)
I got it over a German forum quoting Russian media and found the Zaman article independent of that via Google searching for a "reputable" source. Here are some Turkish language sources listed, among them big players like Hürriyet. Zaman is Gülen movement and traditionally pro-AKP but the movement seems to be pissed at Erdogan lately. See the article I linked at the forum thread. --CE (talk) 22:44, 30 May 2013 (UTC)

Yeah, this must be the SEA hacking into Erdogan's newspaper. -- Petri Krohn (talk) 23:22, 30 May 2013 (UTC)
Okay, how this is panning out so far: neither a baseless hoax nor clearly confirmed. 12 terrorist-linked apparent al-Nusrah-types were arrested in a few locales, six released, six in custody, with some kind of chemical, awaiting assessment. I did wonder how it was decided and announced so early that it was sarin. Now they're saying it's not, but really they mean officially it's unknown, and only could be. Should be cleared up soon, more likely a political than a scientific decision.
Adana provincial governor Huseyin Avni Cos… Six of the men were later released and six were still in detention, Mr Cos said. He denied earlier Turkish media reports that quantities of the deadly nerve agent sarin had been found in the raids. … Mr Cos did however say that unknown chemicals had been found and were being investigated.
Police in Turkey have arrested 12 suspected terrorists in possession of "chemical materials", authorities said yesterday. Experts are testing the substances seized in raids on Wednesday in the cities of Adana, Istanbul, and Mersin, but Turkish officials denied media reports that the nerve agent sarin had been found.
Whatever it is, whatever the Turks decide to say it is, it could be the same "sarin" the West is so sure has been used against scattered rebel units and civilian areas, that Del Ponte might have mis-identified, but which people saw rebels exposing them to, which perhaps comes out of the plastic grenades Jabhat al-Nusra alone have been seen with. --Caustic Logic (talk) 11:23, 31 May 2013 (UTC)
Lavrov is obviously very much interested in what it exactly is the Turks have to say about this. Money quote: It seems like the ones who speak about chemical weapons continue to play interesting games. --CE (talk) 20:59, 31 May 2013 (UTC)
Carla Del Ponte
Carla Del Ponte, a leading member of a UN commission of inquiry says, it was rebels, not Assad that used sarin.
"Our investigators have been in neighboring countries interviewing victims, doctors and field hospitals.
According to their report of last week, which I have seen, there are strong, concrete suspicions but not yet incontrovertible proof of the use of sarin gas, from the way the victims were treated."
Why did she come out with the information at the time she did? Evidently to avert WWIII, or what ever would develop from a NATO attack on Syria. It is my belief that your / our / Adam's attack on the Sellström team and the way it was prominently published by Global Research played an important part in encouraging her – and shielding her from the counterattack. -- Petri Krohn (talk) 10:33, 8 May 2013 (UTC)
Ha! Good clarifier there. There definitely are other readers. The thought crossed my mind. And maybe she did see that, or something else, to embolden her. But then, that was published now because of the urgency of the info coming in just now, and she too is ... now. So, most reasonably, little or no effect, but it's cool to be able to say it's a possibility. :) --Caustic Logic (talk) 12:41, 8 May 2013 (UTC)
Looking for the original interview in Italian, but it doesn't seem to be on Youtube, only the follow-up BBC/Euronews whoever one in English about "nerving gas." --Caustic Logic (talk) 08:38, 9 May 2013 (UTC)
Reaction
It is interesting to follow the warmongers in panic after Carla Del Ponte made the announcement. See #DelPonte and #CarlaDelPonte on Twitter. Sharmine Narwani explains: All hell breaking loose behind scene re Carla Del Ponte's statement that #Syria rebels have used sarin. UN starting to troubleshoot now... Here are some of the highlights:
Maybe they can make the public un-believe Del Ponte's claim, that the rebels used sarin, but no one will ever again believe NATO's claims that Assad did. -- Petri Krohn (talk) 10:33, 8 May 2013 (UTC)
Justin Raimondo has a good piece about the reactions: Carla Del Ponte's Faux Pas --CE (talk) 09:53, 9 May 2013 (UTC)

Great article, lots of good links. --Caustic Logic (talk) 08:02, 11 May 2013 (UTC)

Came here to add the link, but see that you have done it already. Anyway, here is a timeless quote:

Every once in a while, the curtain is drawn back and the real nature and meaning of the drama being enacted on the world stage stands revealed: the actors, caught unaware, are surprised: they are half-made up, their costumes are askew, and they aren't quite ready for prime time. We must savor these moments, like a fine and very expensive wine, because they contain that rare ingredient: truth.

-- Petri Krohn (talk) 15:45, 9 May 2013 (UTC)
This is related to my maxim on deep state and national security.

Nuclear weapons and truth cannot coexist.

The basis is that under Cold War national security concerns override all other concerns. It is the primary and only objective of the state to guarantee that nuclear arms are never used. -- Petri Krohn (talk) 11:30, 10 May 2013 (UTC)
Del Ponte's Brand of "Irresponsible"
Okay, I know nothing about Mrs. Del Ponte. I read Now's piece, thanks Petri: "Irresonsible Statements." First, she's made to sound like maybe she is as independent and odd as they say here, and it's a good thing she's in there. If there was to be a whistle-blower it would be someone like that. Helps a little with the "independent" problem you get when the thing is headed by Karen Koning AbuZayd of the Washington MEPC , cherry picking which "evidence" is true. Next, even the UN is not saying there is no such testimony, just no total proof, no firm conclusion, no further comment. Sounds like she's right. And as for these irresponsible statements in the past, they may have a case in one case, I think the only case cited:
In terms of media statements, del Ponte has always liked to shock, despite the fact that many of her interviews to the press have proved damaging to her cases. ... In her memoirs published in 2008 she accused Kosovo's separatist militia leaders of trafficking organs collected from kidnapped Serbs. Her investigation into the matter had proved inconclusive and the accused had been acquitted. And many journalists who covered Kosovo say that one of the reasons evidence was never found was because del Ponte revealed information to the press. Several witnesses who claimed they knew about the organ trafficking network were shot dead.
So, in other words, she irresponsibly reveals horrible bits of truth. Did she publicize identifying details of the witnesses who were killed, or is that sloppy correlation? Is the problem here that rebels will kill the whistle-blowers if anyone hears their sarin whistle? Or is it, as so may are arguing, that she's just making it up this time? Luca's warning: "Her statement on Syria made headlines, but also perhaps led to more victims." By harming the responsibly-managed image of Syria's rebels as people fit to send weapons to, you harm the people of Syria they fight to liberate from the regime they blamed for every gas attack. IE it screws up the trick. --Caustic Logic (talk) 11:53, 8 May 2013 (UTC)
Left a comment to similar effect there. --Caustic Logic (talk) 12:08, 8 May 2013 (UTC)
More news and spin
UN teams battle it out
I have difficulty understanding this. (Or the conspiracy behind this.)
It seems like Rolf Ekeus was working for some kind of "Inspection Regime". Ahmet Uzumcu was against it. -- Petri Krohn (talk) 11:16, 7 May 2013 (UTC)
Had a look. ""There is very little knowledge about what they [the Syrians] really have because the organization does not want to touch governments, which are not parties to the treaties," he said. "My proposal was that they should try to build some skills, but now it's too late. Now, Sellstrom has to start from scratch."" Maybe the suspicion is there are no CWs, while they wanted to use the suspicion there are as a lever for regime change someday. Syria (+Russia, China?) complied until now to appear tough. Now, worried about invasion even more, they still won't come clean. That's one line of thought, anyway. I don't know. --Caustic Logic (talk) 08:26, 8 May 2013 (UTC)

Now, you truly are a conspiracy theorists :-) Petri Krohn (talk) 09:46, 8 May 2013 (UTC)
-- Petri Krohn (talk) 01:35, 8 May 2013 (UTC)
Progress? -- Petri Krohn (talk) 12:53, 10 May 2013 (UTC)
August 2013
For a dedicated, detailed page, see: Talk:Alleged Chemical Attack, August 21, 2013/U.N. Investigator Response
An effort by the Obama administration to reinforce the powers of U.N. chemical weapons inspectors in Syria Wednesday evening foundered in the face of Russian and Chinese opposition in the U.N. Security Council, according to council diplomats.
Post-Aug. 21 CW Attacks
While investigators set about investigating the opposition claims in the towns of Ghouta, Syria asked for investigation of three rebel chemical attacks there and in the Damascus, in the days after the big event.
Syrian U.N. Ambassador Bashar Ja'afari said he has written to U.N. Secretary-General Ban Ki-moon to ask that Sellstrom's team also "investigate three heinous incidents that took place in the countryside of Damascus on (August) 22nd, 24th and 25th where members of the Syrian army inhaled poisonous gas

The 24th must be the incident in Jobar, where a rebel chemical factory was busted and soldiers got somehow exposed, not apparently attacked. The other two, I don't know. --Caustic Logic (talk) 11:25, 17 September 2013 (UTC)

The U.N. investigators are due to leave Syria this weekend and U.N. spokesman Farhan Haq told reporters that the world body had not asked the Syrian government for an extension to the 14-day visit.
"The team has the ability to investigate other incidents as needed," Haq said, adding that the initial three incidents they were due to examine when they arrived in Syria would be investigated "in due course."

Of course, they can just pop back in any time, no problem, no rush ... They did get a start to the requested probe,however: --Caustic Logic (talk) 11:25, 17 September 2013 (UTC)
U.N. experts have visited a government military hospital in Damascus in response to the Syrian government's allegations of a chemical weapons attack against soldiers.
U.N. spokesman Martin Nesirky said the inspectors interviewed patients Friday (the 30th) to assess the merits of Syria's allegations and determine whether to launch an investigation. ... Any U.N. investigation into Syria's claim is unlikely to happen soon.
They left the following day, presumably without collecting any time-sensitive samples. Again, presumably, they'll be right back, and hopefully it won't spark a new round of unsolved gas attacks. --Caustic Logic (talk) 11:25, 17 September 2013 (UTC)
"Inspection regime" finally established?
Interesting. It won't hold up in the ways that matter. Something else (like Obama with no support in the world) might continue averting an air crusade, and even bring peace, but not disarmament-for-peace I suspect. Good thing is this time it's supposed to be inspections for disarmament, all sides understand that. Last time, it was being snuck in beneath a supposed investigation of specific incidents. So this news makes me not frown, but I await the next sabotage of optimism. --Caustic Logic (talk) 13:06, 16 September 2013 (UTC)
...or turned into Chapter 7?
Obama administration seeks to lay basis for UN-sanctioned assault
21. Decides, in the event of non-compliance with this resolution, including unauthorized transfer of chemical weapons, or any use of chemical weapons by anyone in the Syrian Arab Republic, to impose measures under Chapter VII of the United Nations Charter;
The leaked copy of the draft is discussed on Moon of Alabama in this thread somewhere after comment 57 -- Petri Krohn (talk) 00:06, 28 September 2013 (UTC)
Syrian Coalition letter to UNSC
On 3 September, 2014, National Coalition of Syrian Revolution and Opposition Forces (Syrian Coalition) wrote a letter addressed to UN Security Council (addressed to Ms. Samantha Power, US Ambassador to the UN), alleging use of chemical weapons (chlorine) by the Syrian government forces in the last 5 months. Allegation is that "On April 11, 12, 16, 18, 21 and 29, the cities of Kafr Zeita, Al-Tamana'a and Tal Minnis were subject to eight chemical weapons attacks deployed via barrel bombs sent from regime helicopters. Victims reported symptoms including vomiting, eye and skin irritation and choking, all of which are consistent with exposure to chemical agents. Since the release of the report, the Syrian regime has further deployed toxic gas on residential areas in Syria on August 19, 20, 23 and 28."
This letter follows the 8th report of the Independent International Commission of Inquiry on the Syrian Arab Republic. In the report, severe humanitarian situation is noted, as well as blame placed on various sides in the conflict. Information on government use of chlorine is contained in the report. --Resup (talk) 18:03, 27 September 2014 (UTC)
Our own research on these, partial and with slightly different dates, can be found here (and as usual even more on the talk pages): Alleged Chemical Attack, April 11, 2014 (actually all on that page - we have 4 April attack pages but I forgot three were in 2013 and we never made multi-pages for the next year's multiple April attacks) I recall I think the first had two fatalities - both due to head injuries, and they were "displaced people" (read hostages) from Morek (or maybe near there, like Maan, where 80 people had earlier been abducted). Don't know why they included an old 2011 report, except maybe that was the last one that didn't feature rebel crimes ... except as you say even this one places blame on various sides (haven't read this one). --Caustic Logic (talk) 22:44, 27 September 2014 (UTC)
"Friends of Syria"
At 16:18 of RT report, the UK Prime Minister David Cameron mentions a chemical lab (not confident in transcribing the name, nor the automatic captioning can do it, but likely Porton_Down. This military lab in UK is said to 'persuaded the West not to bomb Syria,' according to RT presenter.
Whose sarin? (Seymour M. Hersh) "UN report on 16 September confirming that sarin was used on 21 August 2013." But: "intelligence reports: al-Nusra had the ability to acquire and use sarin"
Porton Down investigation
The Guardian reports on Porton Down Lab investigation. --Resup (talk) 19:04, 5 November 2014 (UTC)
See also