Turkish arms smuggling to Europe
Jump to navigation
Jump to search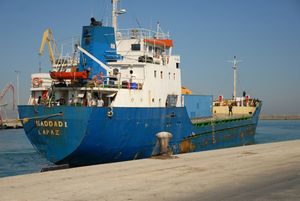 Winchester SXP shotguns
SXP -- Winchester Repeating Arms -- Product Family - Winchester Repeating Arms, 2015

Pick up the new Winchester® SXP shotgun and experience the light weight, centered balance and instant pointability firsthand. The Super X design provides you with the fastest follow-up shots. No other pump offers the feeling of an inertia-assisted slide-action that can deliver three shots in a half second.
Greece September 2015
Greece: Seized cargo ship Haddad 1 concealed 5,000 shotguns 'for Libya Islamists' - Umberto Bacchi, September 3, 2015

Greek authorities have discovered a gargantuan cache of weapons aboard a cargo ship headed to an Islamist controlled area of Libya. The coastguard said a search of only the first two of the 14 containers carried by the Bolivian vessel Haddad 1 had revealed almost 500,000 rounds of ammunition and 5,000 shotguns, of a type similar to that used by police, with no accompanying documentation. They were found at the bottom of the containers, concealed by a load of furniture, including drawers, cupboards, and a layer of gymnastic mats.
The Haddad 1, a rusty 65-metre vessel built in 1976 and registered in the port of La Paz, was intercepted off Ierapetra, southeast of Crete, earlier this week, as it was heading to the Libyan city of Misrata. It had left the southern Turkish port of Iskenderun, about 50km from the Syrian border a few days earlier.
The port of arrival, Misrata, is controlled by Libya Dawn, an Islamist umbrella group that took over the capital, Tripoli, last year, ousting the internationally recognised government and installing a rival administration. Greek media however suggested the Islamic State (Isis) local offshoot, a rival of Libya Dawn, based in nearby Sirte was to be the final recipient.

Photos: Φωτογραφίες από το φορτίο του πλωτού οπλοστασίου - 02/09/2015
Italy November 2015
Italian police find 800 rifles in a Dutch lorry - DutchNews, November 26, 2015

Italian police have seized more than 800 pump-action rifles from a lorry with Dutch number plates as it crossed over the border at Trieste, Italian news agency Ansa says on Thursday.
The driver was a Turkish national who was planning to head for Germany, the Netherlands and finally Belgium, Ansa says.

Italian police seize 800 shotguns bound for Belgium - The Daily Star (Lebanon), November 26, 2015

Italian police seized almost 800 shotguns bound for Belgium from Turkey from a truck that arrived in the northeastern port of Trieste, a statement said Thursday. The finance police, who are often in charge of port security, said that while customs rules had not been violated, the Turkish truck driver did not have the licences needed to transport the 781 Winchester SXP shotguns.
Similar weapons arriving from Turkey were confiscated in Greece September.
Rockets and explosives?
A strange labor dispute in a Swedish port. But the interesting stuff is in a comment:
Sweden blocks suspect Turkish freighter in port - The Local, Jan 26, 2016

According to Larsson the ship's final destination was the Middle East.
"I get so worried, first they load the boat with rockets and explosives and then they are not allowed to leave. It's fortunate we were able to help these people because otherwise you don't know what would have happened. Perhaps they would have exploded in the middle of the sea," he said.