Tula Toli Massacre
Jump to navigation
Jump to search
The Tula Toli Massacre is, by reports, the largest massacre of Rohingya civilians during the Myanmar government's crackdown of August-September, 2017. Dozens of alleged witnesses and survivors have reported how On August 30, military forces surrounded the village, herded everyone to the river, and commenced a massacre. By most accounts, at least 500 and perhaps well over 1,000 or even around 2,000 strictly civilian people were killed. Besides the alleged scale, this massacre stands out for a range of cruelty claimed, and the general consistency of reports on these points:
Men were killed first, after some were made to dig the pits their bodies were burned in.
Women were made to stand in the water with their children, perhaps after being shot-up while told to run. Small groups were taken to huts, where the children were beaten to death. The women were then beaten and raped, then killed, and the huts were set on fire.
One baby was said to be ripped from her mother's arms and tossed alive into a burning fire. A group of hiding children were murdered and thrown in the river.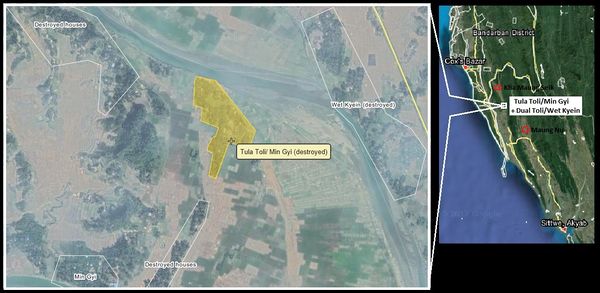 Location: Formally known as Min Gyi, Tula Toli is the local name used by speakers of the Rohingya dialect. It lies at a bend in the (??) river, here on Wikimapia. Frontier Myanmar reports "one villager in Bangladesh told Frontier that (Tula Toli) had been home to about 300 families, of which 60 had been Rakhine and the rest Muslim." [1]
Interestingly, it's halfway between Kha Maung Seik and Maung Nu, the two massacres especially that might be the same thing. This one, 16 km south of Kha Maung Seik (app. 90 Hindus killed, buried nearby), 30 km nw of Maung Nu (app. 90+ Rohingya killed, bodies driven off), is a separate story and allegedly far bigger than both of them combined.
Death Toll
The Guardian on September 7 described "scores" killed. [2] A September 22 report from Human Rights Watch is well-formed, but with only "dozens" killed to start, and unclear from there. [3] Dhaka Tribune, September 9: "Eyewitnesses have claimed that over a period of three days beginning Wednesday 30th August, virtually all the villagers of Min Gyi were put to death." "There is no Rohingya left in Tulatoli" said an elderly refugee who says he lost 3 children and "Five other daughters of mine remain missing." [4] The population was About 240 Rohingya families, [1] at say 8 people per family, would be around 2,000 people, almost all of them killed.
An alleged woman survivor named Shofika told Dhaka Tribune "With my own eyes, I saw the dead bodies of not less than 300 small kids and about 200 women of my age". So that's not even counting the men. [4] Presuming she managed to look all over and see all the bodies, that would be at least 300 (300-400) small children + maybe 100-300 bigger ones, ~200 (150-250) (younger?) women + maybe 1-300 other women + maybe 100-800 men would be proportional, depending massacre type. The total would be 750-2,050, perhaps. If there were a significant portion of bodies she didn't see with her own eyes, it could be much larger.
In their December report, Human Rights Watch said:
Establishing the precise death toll at Tula Toli is difficult. Witnesses and survivors interviewed by Human Rights Watch estimated that between 1,000 and 2,000 villagers had gathered at the beach when the attack began. While some swam across the river to safety or managed to survive the attack, witnesses said they believe most others had been killed. ... Human Rights Watch estimates that Burmese security forces killed several hundred Rohingya villagers in Tula Toli on August 30. [5]
A majority of 1,000-2,000 would be a broad range of 500-1,000+, possibly 1,500 or higher, but should no higher than around 2,000.
tweet by Rohingya HR Int'l @IslamRohingya 17 Dec 2017: "The statement on Massacre of Tulatuli. According to eyewitness 1800 hundreds of Rohingyas were massacred by..." (links to a Facebook video)
Visual Record
So far only three videos have been located claiming to show aspects of the Tula Toli massacre. An analysis of these at Monitor on Massacre Marketing finds they all seem to be filmed from the opposite shore. One shows the village across the way on fire but no bodies, and another shows bodies of 3 children washing up from the river, but no burning across the way. None shows any of the horror scenes widely claimed by witnesses to be openly observable right on the shore. Many people claim to have seen women standing in the river waiting to be raped and killed, bodies piled in pits and burned, those children being killed and thrown in the river, etc. But no one filmed any of those moments. Therefore it seems possible these things never happened. [6]
Alleged Witnesses
Out of an initial group said to be between 1,000 and 2,000 people, everyone agrees a majority died and only a "handful" made it out. But was it 20, 100, or 1,000 who were lucky enough? About 20, and exactly 18, are specified numbers of survivors. Maybe the people saying that were unaware of other groups. Here's a list of perhaps 80 survivors/witnesses, just from those that have spoken to the media and lodged stories, and a few others they speak for.
Government Account
Oliver Slow of Frontier Myanmar actually called and asked for the government's story.
...spokesperson U Zaw Htay told Frontier that a total of eight clashes had broken out in the area close to Min Gyi village on August 30. Citing military reports, he said that a military unit had been staying in the area, when it had come under attack by an unspecified group, leading to the fighting to break out.
They say they engaged in clashes, but never attacked civilians or did anything illegal here, or anywhere in their clearing operation up to September 5. [1] If there was any arson, robbery, mass rape or mass murder there, they would say ARSA "Bengali" terrorists did it, but they don't say if there was or wasn't.
Preceding that, Coconuts Yangon reports, "According to government accounts, members of ARSA laid a landmine in the vicinity of Tula Toli that injured two soldiers on Aug. 25 and set fire to 30 homes in the area on Aug. 28." [7]
From Aug 26:
Extremist Bengali terrorists destroyed the deserted Wetkyein police outpost at 7:16 pm.
From Aug 28:
At 9.25 am today, extremist Bengali terrorists set 30 houses from Upper Pyuma (Na Ta La) Village and 30 more houses from Wetkyein (Mro) Village on fire. Moreover, one home-made mine caused explosion on the central road in Kyaukhlayka Village. As extremist Bengali terrorists set fire to one Bengali house in Myoma Kanyintan Village of Maungtaw at 10 am, security troops and local people put out the fire.
...At noon, around 50 extremist Bengali terrorists from Kyetkyein Village went to the south of Wetkyein Pagoda, and around 100 extremist Bengali terrorists from Padeka Village to Myingyimyauk Village.
The location of Wet Kyein is disputed. "Wet Kyein, an ethnic Rakhine village with a population estimated at 350 people, abuts (Tula Toli) to the south." Others, including Amnesty International, place Wet Kyein across the river to the northeast, where HRW has the Rohingya village of Dual Toli. Everyone agrees the village across the river was burned, by accounts a day or two prior to Tula Toli. But the place name, who lived there, who attacked them, and the significance remain unclear. An analysis at ACLOS-related Monitor on Massacre Marketing explains the conflicting details and lays out the possibilities. [8]
ARSA Account
https://coconuts.co/yangon/news/arsa-breaks-2-month-silence-statement-tula-toli-massacre/ The Arakan Rohingya Salvation Army (ARSA) says all stories of clashes are false. On December 21, they issued their first statement in 2 months, as Coconuts Yangon reports, to say:
"ARSA's members have not been present at all in Tula Toli village, Maungdaw Township, Arakan State, since Aug. 2017 until now." ... According to ARSA, security forces had no reason to be in the village. "It is unreasonable and illogical for the Burmese terrorist government and the terrorist army to claim blatantly that they were conducting clearance operations in an area where none of the members of ARSA was present," says the group's statement." [7]
The accusations of August 25 and 28 (see above) seemed to be at issue, but there was also a massacre there to avoid possible blame for.
References
↑ 1.0 1.1 1.2 The destruction of Tula Toli By Oliver Slow, Frontier Myanmar, Thursday, November 30, 2017
↑ https://www.theguardian.com/world/2017/sep/07/massacre-at-tula-toli-rohingya-villagers-recall-horror-of-myanmar-army-attack The Guardian, September 7, 2017
↑ https://www.hrw.org/news/2017/09/22/witness-carnage-burmas-rakhine-state Human Rights Watch, September 22, 2017
↑ 4.0 4.1 'There is no Rohingya left in Tulatoli' By Shafiur Rahman, Dkaha Tribune, 12:24 AM September 09, 2017
↑ Massacre by the River Burmese Army Crimes against Humanity in Tula Toli. Human Rights Watch, December 19, 2017
↑ 7.0 7.1 ARSA breaks 2-month silence with statement on Tula Toli massacre By Coconuts Yangon Dec. 21, 2017
↑ Tula Toli Massacre: Where is Wet Kyein? Adam Larson (Caustic Logic), Monitor on Massacre Marketing, January 1, 2018