Train and Equip Program
Jump to navigation
Jump to search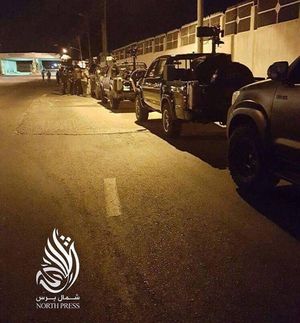 Sources
July, 2015 Debut in Combat
September, Second Try
End
Obama Administration Ends Pentagon Program to Train Syrian Rebels - Helene Cooper, The New York Times, October 9, 2015

The move served as an acknowledgement that the beleaguered program had failed to produce any kind of ground combat forces capable of taking on the Islamic State.

Obama Administration Ends Program To Train And Equip Syrian Rebels - Buzzfeed, October 9, 2015
What really happened to the U.S. train-and-equip program in Syria? - McClatchy, December 21, 2015

The program's demise has been ascribed to a number of factors, including the participants, the Turkish intelligence agency MIT and a Syrian militia, the Kurdish People's Protection Units, better known as the YPG.
But a McClatchy investigation shows that the primary factor may well have been the United States itself, which conceived of a program that didn't have the support of the people it was intended to train and was viewed with deep skepticism by its key training partner, Turkey.
Weapons
Meet The Obscure Company Behind America's Syria Fiasco - Aram Roston, BuzzFeed, Sept. 17, 2015

The United States government is one of the biggest buyers of AK-47s and other Russian-designed weapons, pouring them into Iraq, Afghanistan, and other war-torn countries. The U.S. provides foreign weapons to groups it trains because fighters sometimes prefer them, because they can conceal U.S. links to an operation, and because they are inexpensive.

The Death Of A US Contractor Has Exposed America's Failures In Syria - Aram Roston, BuzzFeed News, March 29, 2017

Despite that ruling, SOCOM has refused any responsibility, maintaining that it had not commissioned training on the type of weapon that exploded. SOCOM spokesperson McGraw said in an email to BuzzFeed News that "neither the weapon that killed Mr. Norwillo nor training for that weapon were part of the USSOCOM contract. When Mr. Norwillo was unfortunately killed, the activities in which he was involved were not part of or related to a USSOCOM contract."