Talk:Turkish-Syrian border
Reactions to Russian claim that Turkey receives IS oil
Speaking at a university in the Qatari capital, Doha, on Wednesday, Erdogan once again claimed that he would resign if such accusations were proven to be true and stressed that he did not want Turkey's relations with Russia to deteriorate further.

Following Russian accusations, the US has again defended Turkey, denying any ties between Ankara and Islamic State.

"We flatly reject any notion that the Turks are somehow working with ISIL. Preposterous. And really very, kind of ridiculous," Steve Warren, Pentagon spokesman, said. He called Turkey "a great partner" to Washington in fighting against IS terrorists in Syrian and Iraq.

"They're hosting our aircraft. They're conducting strikes. They're supporting the moderate Syrian opposition," Warren explained.

Iraq will immediately file a protest in the UN Security Council if claims that Turkey is illegally purchasing oil from Islamic State terrorists are confirmed, the Iraqi Defense Ministry said.

"If the Iraqi government receives enough evidence and details, without any hesitation it will file a protest at the UN Security Council and all other relevant international bodies," Naseer Nuri, ministry's spokesman, told Sputnik.

According to Nuri, certain "general information about the smuggling of Iraqi oil by trucks to certain countries, including Turkey" is already available.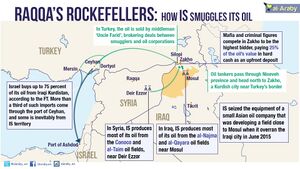 Unfamiliar with the source (published in Istanbul?), unsure how reliable. Wikipedia: The Kurdistan Regional Government (KRG) is the official ruling body of the predominantly Kurdish region of Northern Iraq referred to as Iraqi Kurdistan or Southern Kurdistan. Well, the footage is said to be in Syria, what this has to do with Iraqi kurds? Why they are publishing this in Turkey? --Resup (talk) 23:45, 3 December 2015 (UTC)
The picture illustrating the article shows the press conference while at the last picture of the presentation. They are talking about three smuggling routes, the biggest one through KRG, mirroring the information of Nafeez Ahmed and Al Araby which is linked on the front page. Petri just uploaded the schematic illustration of the Al Araby (based in Qatar, interestingly) article. That one ---> --CE (talk) 01:18, 4 December 2015 (UTC)
AWD News?
Turkey attitude is clearly stated in comments by MIT chief Hakan Fidan, to Anadolu news agency, at least as awdnews.com reported on 18 October, 2015:
Mr. Hakan Fidan, Turkish President's staunchest ally, condemned Russian military intervention in Syria, accusing Moscow of trying to 'smother' Syria's Islamist revolution and serious breach of United Nations law.
"ISIS is a reality and we have to accept that we cannot eradicate a well-organized and popular establishment such as the Islamic State; therefore I urge my western colleagues to revise their mindset about Islamic political currents, put aside their cynical mentalité and thwart Vladimir Putin's plans to crush Syrian Islamist revolutionaries," Anadolu News Agency quoted Mr. Fidan as saying on Sunday.
Fidan further added that in order to deal with the vast number of foreign Jihadists craving to travel to Syria, it is imperative that ISIS must set up a consulate or at least a political office in Istanbul. He underlined that it is Turkey's firm belief to provide medical care for all injured people fleeing Russian ruthless airstrikes regardless of their political or religious affiliation.
Taking a closer look for the original Anadolu article on these rather incendiary comments ... Fidan search ... if it ever existed, they pulled it and replaced it with this announcement of October 20. They never ran that, the MIT doesn't give such interviews, "These fabricated stories by foreign sources are regarded as part of an international psychological campaign against Turkey," and "Necessary steps have been taken to have such fabricated stories removed, with legal rights being reserved." -- Caustic Logic, 03:52, 16 November 2015‎
Previously (1.10.15) media sources reported that ISIS announced "hopes" to open a "consulate in Istanbul" annahar.com , alalam.ir. Turkey denied ISIS presence. -- Resup, 08:21, 16 November 2015‎
AWD News is a disinformation source. It claims to cite reliable MSM sources that are in fact nonexistent. Previous hoaxes from the same sources include "Putin telling Erdogan to go to hell and take his ISIS with him" claimed to originate from the Moscow Times. -- Petri Krohn (talk) 13:48, 16 November 2015 (UTC)
Turkish troops in Iraq
Turkish troops deployed in northern Iraq to provide training – reports, RT, Dec 4, 2015. Also discussed on twitter --Resup (talk) 21:41, 4 December 2015 (UTC)
Iraq Prime Minister Haider Al-Abadi:The unauthorized presence of Turkish troops in Mosul province is a serious breach of Iraqi sovereignty -twitter. Asks to withdraw immediately from the Iraqi territory
Turkey -Syria border
The border between ‪‎Turkey‬ and ‪‎Syria‬ is almost as impregnable as the Inner German border between ‪#DDR‬ and West Germany (front page). Not really, depends how it is guarded. In the Eastern block, there were border guards on patrols, watchtowers, dogs, strip of soft land preserving footprints (plowed), + walls sometime (to control civilians). Just mining border is not sufficient to stop militants. A narrow path through minefield can be made quite quickly by sappers; e.g. rebels in Chechnya did it, although they were not professional military. In Middle Eastern insurgencies, tunnels are often made, e.g. many tunnels into Gaza, and 'tunnel bombing' was used by Aleppo rebels. They are good at it, like drug cartels are, and 250 meters tunnel is not a big hurdle. There is also road traffic between Turkey and Syria, and that can be used for smuggling. --Resup (talk) 10:36, 18 August 2016 (UTC)
See the satellite images. Or better yet, travel the whole path of the border from east to west on Google Earth. Yes, there are "strip of soft land preserving footprints". -- Petri Krohn (talk) 11:18, 18 August 2016 (UTC)