Talk:Syria peace talks
Jump to navigation
Jump to search
Talks?
US special representative Daniel Rubinstein will visit Moscow to discuss Syria. Media note: As part of our ongoing efforts to bring about a political solution to the Syrian conflict, U.S. Special Envoy to Syria Daniel Rubinstein will travel May 15-27 to Geneva, Moscow, Ankara, Istanbul, and Riyadh to participate in UN-led consultations on Syria with UN Envoy Staffan de Mistura, discuss with officials of several governments the need for a sustainable political transition based on the Geneva principles, and continue his engagement with the leadership of Syria's moderate political opposition. This trip reaffirms the United States' strong commitment to working with the international community and the moderate Syrian opposition to create conditions for a negotiated political transition as the only means to end the ongoing conflict, and to help Syrians lay the foundation for a free, democratic, and pluralistic future. The United States remains firmly of the belief that Bashar al-Assad has no role in Syria's political future. --Resup (talk) 02:37, 15 May 2015 (UTC)
Russia calls for Geneva-3 format meeting -discussed by special representatives of Russia Mikhail Bogdanov and UN, Staffan de Mistura.--Resup (talk) 02:37, 15 May 2015 (UTC)
Kerry ready to negotiate with Assad, Assad: needs 'actions not words'--Resup (talk) 14:57, 16 March 2015 (UTC)
'Moscow Platform'
10.4.15 'Moscow Platform': Syria's government, opposition adopt joint document but differences remain, news.yahoo , TASS, Reuters, presstv.ir
Head of Syrian government delegation confirms adoption of joint document with opposition. The document includes provisions on resolving the Syrian crisis based on the principles of the June 30, 2012 Geneva Communique and the UN Security Council resolution on the fight against terrorism. --Resup (talk) 14:41, 11 April 2015 (UTC)
19.11.2015 It is said that opposition and government tried to reach an agreement on a 15 day ceasefire in Eastern Ghouta. This was to be concluded around November, 20. There are conflicting reports on what happened. Some say that there was a success, while Western sources and SOHR report on talks failure and renewed attacks.
On 19.11, Jaish al-Islam group said it is studying the proposal -alarabiya.net
19.11.2015 A meeting has been scheduled in Saudi Arabia to bring together moderate Syrian opposition groups, in an attempt to present them as a united front in future negotiations -alarabiya.net. Separate meeting in Jordan to decide which are terrorist groups, apart from the two explicitly listed already--Resup (talk) 15:29, 21 November 2015 (UTC)
Prague?
Assad supported Prague as peace deal venue (but not e.g. France), in an interview to Czech TV. Daily mail, 30.11.2015:
And as you mention Prague, it would be generally accepted because of the balanced position of your country
Peace Negotiations
30.10.15 Progress reported on issues of starting political process: transitional government, elections, constitutional reform, with an oversight by a special body and UN. No progress on Assad future and foreign military presence. Some document will be circulated soon. (Based on several reports in TASS quoting several delegation participants). List of which are terrorist organizations and which are not were discussed as well. Another meeting in a couple of weeks--Resup (talk) 17:45, 30 October 2015 (UTC)
14.11.15 Statement of the International Syria Support Group, Vienna, Austria, 14 November 2015, posted by UN Secretary General Office. Ceasefire, starting political process, refugees, stopping illegal trade, terror groups designation, transitional government, constitution, elections. 18 months time frame, -but apparently no rigid goalposts. Terror attack in Paris occurred on the eve of the meeting on 13.11.15 --Resup (talk) 18:02, 14 November 2015 (UTC)
9.12.2015 Russia, US, UN to hold trilateral Syria talks in Geneva, Reliefweb/AFP

The talks mark the latest step in the so-called Vienna process that began in late October when 17 countries, including the UN and EU representatives, met to discuss a political solution to end the fighting between President Bashar al-Assad and the opposition. The next meeting between top diplomats in the Vienna process is expected to take place this month in New York.
New York meeting
Dec 5, 2015. Next meeting in New York announced. According to TASS-Russian, Kerry said (translating back) that "If Russia and Iran will be acting to (as a) block and allow Assad to fail the process, and there is no transition (of political power), then our range of options will be reduced and we will have to make some tough decisions
Dec. 15, 2015. After Meetings in Moscow, Russia, U.S. Clear Way for Syria Peace Talks, Newsweek/Reuters

MOSCOW (Reuters) - Russia and the United States see enough common ground on Syria for world powers to meet on the troubled country's peace process in New York on Friday, but views on the future of President Bashar-al Assad still diverge. Secretary of State John Kerry went into meetings with Russian President Vladimir Putin and Foreign Minister Sergei Lavrov on Tuesday not knowing whether Moscow would veto a third round of international talks on Syria on Friday after the Kremlin spoke of preconditions needing to be met. But speaking afterwards, he said the talks would definitely take place after the two countries agreed to try to accelerate the peace process and a potential political transition. "We will meet this Friday, Dec. 18, in New York with the International Syrian Support Group and then ... we will pass a U.N. resolution regarding ... the next steps with respect to negotiations and hopefully a ceasefire," said Kerry. Lavrov confirmed Russia now backed the meeting. "Despite our countries' differences, we have demonstrated that when the United States and Russia pull together in the same direction, progress can be made," Lavrov told a news conference.
Russia FM to fly to New York December 17 for meeting on Syria — foreign ministry, TASS. Russia supports the idea of convening another International Syria Support Group meeting on the foreign minister level in New York on December 18.
World powers meet in New York for Syria talks Foreign ministers meet in an attempt to arrange direct negotiations between Syrian government and opposition rebels, Aljazeera, 18 Dec 2015.
Jordan Presents List of Possible Terrorist Organizations (Sputnik News) . Jordan has prepared a list of 160 organizations possibly tied to terrorist groups that will be reviewed during the ministerial meeting on Syria on December 18 in New York, a source in the Russian Foreign Ministry said Thursday. Jordan FM Nasser Judeh at UNSC meeting: We presented the results of our work of the International Support Group Syria and explained that on some terrorist groups there is consensus, and on other there is not, so that the negotiations could continue (TASS, Rus.)
Commenting on the news carried by the Russian media outlet, the government source in Amman, who requested anonymity, downplayed the importance of the news, saying that the figure mentioned in the statement must be exaggerated. "Are there really 160 terror groups in Syria?" he asked. In previous remarks to The Jordan Times, a government official said that Jordan would classify groups in Syria into several categories depending on whether they are considered terrorists, not terrorists, or subject to debate. "One list will specify groups that are classified as terrorist by consensus; another will comprise the ones that are labelled as moderate and not involved in terrorism; and a third will include groups that are still unclassified due to differences," the official has said Jordan Times, Dec 17, 2015
Syria terrorists list compiled by Jordan is contradictory — Lavrov, TASS (Eng.), 18 Dec 2015. Lavrov: "We agreed on criteria, so that clearly terrorist groups could be added to the Islamic State and Jabhat al-Nusra ....For us, for example, such criteria are regular shelling of residential quarters and regular shelling of Russia's embassy in Damascus "--Resup (talk) 07:02, 19 December 2015 (UTC)
Moscow
Kerry says to go to Moscow next week for Syria, Ukraine talks, Reuters, Dec. 9, 2015.
Комментарий Департамента информации и печати МИД России в связи с заявлениями американских представителей по визиту Госсекретаря США Дж.Керри в Москву - Russian FM press office commentary on Kerry visit (in Russian), English (TASS)--Resup (talk) 15:30, 14 December 2015 (UTC)
Meeting with US Secretary of State John Kerry and Russian Foreign Minister Sergei Lavrov: "Results of the talks of Sergei Lavrov and John Kerry, held in Moscow today, were discussed". 15 December 2015 18:30 The Kremlin, Moscow. (full quote translated).
Press Availability With Russian Foreign Minister Sergey Lavrov, US State Department transcript, Dec. 15, 2015.
...we would pass a UN resolution regarding the Vienna communiques and the next steps with respect to negotiations and hopefully a ceasefire...
Putin Sees a Chance for Assad to Stay in Power in Syria, Bloomberg, Dec 29, 2015.

President Vladimir Putin told U.S. Secretary of State John Kerry at a meeting in Moscow on Dec. 14 that Assad can't be barred as a presidential candidate, and he would win if he runs, two people familiar with the matter said, speaking on condition of anonymity to discuss diplomatic matters. While Kerry didn't agree, the U.S. is already pushing to set the terms of the 2017 ballot in ways that would reduce Assad's chances of victory -- contradicting the Obama administration's repeated calls for the Syrian leader to leave office.The U.S. position remains that "Assad must go" because he's lost the moral credibility to govern his country, said State Department spokesman Eddie Vasquez, when asked if the Obama administration could envisage the Syrian leader competing in an election. "That said, we're under no illusions about the obstacles that exist. The decisions for how that takes place must be decided in the context of political negotiations."
UN
UN unanimously adopted a resolution on a peaceful settlement of the situation in Syria, TASS (Russian), Dec. 18, 2015. --Resup (talk) 22:25, 18 December 2015 (UTC)
"The theater of the absurd": the UN Security Council devoted its 7777 meeting to the situation in Aleppo- TASS, Sept 26, 2016.--Resup (talk) 02:44, 26 September 2016 (UTC)
Geneva
Intra-Syrian Talks to Begin in Geneva on Jan. 25, Sputnik International, Dec 26, 2015.

The UN special envoy urged all sides to the conflict to "show leadership and vision to overcome differences for the sake of Syria" and stressed that "continuing developments" on the ground should not derail the talks.

U.S., Russia Said to Near Compromise to Unlock Syria Peace Talks, Bloomberg, Jan. 23, 2016.

Russia has objected to the inclusion of a radical Islamist militia -- Army of Islam -- in the Saudi-sponsored opposition delegation endorsed by the U.S. It has demanded that Moscow-friendly figures join the negotiations, including Qadri Jamil, a former Syrian deputy prime minister, as well as Saleh Muslim, co-head of the Syrian Kurdish group PYD, Kommersant newspaper reported on Saturday. Under a compromise solution, Russia won't block the inclusion of Army of Islam at the talks in return for a separate delegation being invited with the opposition figures it has proposed, a Western diplomat in Moscow said.
To stop a war in half a year: Syrian peace process is to start for the third time in Geneva, TASS (Rus.), Jan. 29, 2016
Syria opposition stands firm on demands for peace talks. Negotiators say they will only go to Geneva if conditions, including end to air strikes and lifting of sieges, are met, Aljazeera, Jan. 28, 2016
31.1.16 Syrian opposition (HNC-Saudi) arrives in Geneva for talks, Telegrapf, Jan.31, 2016. Leader, former Sunni Prime Minister Riyad Farid Hijab did not come; delegation is led by a defected to the rebels Sunni general Asaad al-Zoubi.
1.2.16 Syria rivals trade blame over stalled talks, Aljazeera
Patrushev: in creating united front against terrorism, preconditions are unacceptable, TASS.
'De Mistura live', Feb.1, 2016
Negotiations returned to the initial zero position, TASS, Feb.2, 2016
TASS review of opposition groups, Jan. 6, 2015. Qadri Jamil, Popular Front for Change and Liberation at the top of the list. Followed by National Coordination Committee for Democratic Change. Both groups visited Moscow for talks. Syrian National Council, National Coalition for Syrian Revolutionary and Opposition Forces in the "external opposition" list.
De Mistura: talks suspended due to difficulties in negotiating procedural issues; next inter-Syrian meeting is on 25 of February-TASS
US State Department blames Russia -video, transcript. --Resup (talk) 08:48, 4 February 2016 (UTC)
De Mistura: no side is willing to compromise even by a little, discussion of substance have not started-procedural issues only; if talks fail, it is not excluded that Syria will cease to exist -as quoted by TASS (Rus). --Resup (talk) 08:54, 5 February 2016 (UTC)
Syrian FM Valid Muallem: 'if (Saudi based) delegation will not arrive, we will continue without them ' (that is, presumably, with the other friendlier opposition delegation). 'They (Saudi-based delegation) came not to have a dialogue, but because of the pressure by Russia and USA'. 'They do not have any authority and do not represent anybody, except themselves' - TASS, quoting Al Mayadeen, Feb. 7, 2016 --Resup (talk) 20:04, 7 February 2016 (UTC)
Saudi-backed HNC placed conditions to return to talks-Daily Mail. Earlier Kerry and Lavrov said to agree that UNSC resolution 2254 does not allow pre-conditions-TASS. Russia denies targeting civilians, as alleged by HNC. --Resup (talk) 17:39, 10 February 2016 (UTC)
11 March, 2016 It is said that HNC will participate in talks in Geneva on 14 of March, without preconditions-BBC --Resup (talk) 12:17, 12 March 2016 (UTC)
15 March, 2016, de Mistura press conference after meeting with HNC. Separate meetings with delegations, at least for now. Russian announced withdrawal is said to be 'significant'. Government and opposition produced papers on their views on ways forward. UN will analyse and try to find common ground, possibly have its own paper. Less divided security council noted. - But few concrete details on anything provided. --Resup (talk) 19:16, 15 March 2016 (UTC)
18 March, 2016 de Mistura press conference . Calmer situation on the ground noted. Indirect format is credited for having no walkouts and no excessive rhetoric. Yet positions remain wide apart. de Mistura received a paper on transition from HNC. Government did not produce such a paper but instead wants to focus on a list of principles. Next week will be the last in this round, with the next round in April. Separately, a women group has some good suggestions and is trying to mediate between sides. --Resup (talk) 06:38, 19 March 2016 (UTC)
21 April. It is said (English) that HNC is leaving Geneva talks by tomorrow, after taking a pause on April 18. Russian FM issued a statement criticizing for 'spoiled child' behavior. Renewed fighting, and uncompromising positions on whether Assad should leave, appear to be the reasons --Resup (talk) 13:23, 21 April 2016 (UTC)
26 Aug. 2016. Lavrov -Kerry press conference, live here and here--Resup (talk) 20:54, 26 August 2016 (UTC)
Kerry remarks

On Kurds: "We do not support an independent Kurd initiative. There has been some limited engagement, as everybody knows, with a component of Kurd fighters on a limited basis, and we cooperated very closely with – with Turkey specifically to make sure that there was a clearer understanding of the rules by which that engagement would take place. They understand that. Now that Manbij city has been liberated, I think there are other expectations of what will take place, but we understand the sensitivities of our friends in Turkey with respect to this. Vice President Biden just visited and had lengthy conversations about it, and we will continue to work together for inclusivity within Syria as we seek a political solution".
After breakdown of US-Russian contacts, Sept 2016
Russia says Lausanne talks confirm commitment to Syria's integrity-"TASS", October 16, 2016

(after making a reference to past US-Russian agreement): The meeting in Lausanne was attended by top diplomats of Russia, the US and seven countries of the Middle East region - Iran, Turkey, Egypt, Jordan, Iraq, Saudi Arabia and Qatar, and also UN Special Envoy for Syria Staffan de Mistura. The participants failed to reach any specific agreements or achieve results in the area of reinstating truce and launching political settlement in Syria.
Ceasefire?
February 2016
Russia-US agreement, initiated in a phone call from Putin to Obama, to start ceasefire on February 27, to be confirmed by opposing combatants by 26 February -Putin statement ;White House Readout.
negotiated on the eve of the Red Army holiday
So far, warring parties accept US-Russia truce plan- BBC, Feb. 23, 1016
Followed by phone conversations of Putin with: Assad; king if Saudi Arabia; president of Iran; president of Azerbaijan; PM of Israel; and a Russian security council meeting on ceasefire in Syria.--Resup (talk) 11:18, 25 February 2016 (UTC)
As many note, prospects are uncertain. There is no underlying political agreement, so everybody will keep pursuing their own political fortunes. There is no solid 'technical' framework either: as Ukraine conflict shows, parties keep accusing each other (like in the end of Aljazeera article above), and outside players take sides, without ever getting to the bottom of what happened and who is really to blame (although, with modern radars, drones, etc, it may be possible to determine). OSCE reports make essentially no distinction between provoking side (and I mean UAF), and responding side, so it remained all blurred up and continue in two parallel truths worlds. JCCC does not seem to have much impact, either (and is it even in place still)? There is also no punishment for provocateurs--everybody knows that Right Sector in Ukraine often tries to cause clashes between regular UAF and NAF--and so what? It all just continues, seemingly forever.
It seems that enforcement was given a thought (but if it can be done in Syria, why it is not seen in Ukraine?) --Resup (talk) 11:56, 26 February 2016 (UTC)
UNSC resolution, introduced by USA and Russia, was unanimously adopted -TASS (Rus)(Eng). It is reported, quoting Lebanese Daily Star, and HNC representative Naasan Agha, that Saudi-backed High Negotiations Committee and allied fighters from 97 different groups agreed to cease fire from 27 of February. It is hoped that inter-Syrian negotiations will resume on March 7.
USA and Russia exchanged maps showing areas where there should be no strikes as those groups joined ceasefire. --Resup (talk) 09:59, 27 February 2016 (UTC)
Russian MOD briefing Russian google translate
First accusations of broken ceasefire already, by First Coast Division representative, apparently regarding a neighboring unit, Second Coast Division. Incident happened near Turkish border. SAA version of events is that they came under attack by al Nusra, and returned fire. FSA says they were attacked. Russian-leaning media coverage from Alepo and Damask highlighted that al Nusra fighters are intermixed with other groups and, according to the coverage, uses other groups, or their symbols, for cover.
Lizzie Phelan report for RT on the eve of ceasefire below (al Nusra 'everywhere' at 2:21 time mark) --Resup (talk) 13:06, 27 February 2016 (UTC)
Violations
Damascus comes under shelling on Saturday - Russian ceasefire center TASS (Eng), 27 Feb. 2016. Similar US center informed.
Russia has requested clarification from the US-run counterpart of the center based in Amman, citing its influence on Turkey, a member of the US-led coalition fighting the Islamic State terrorist group
Russian Military Buildup Near Aleppo, Syria, Threatens Truce, Kerry Warns, NY Times, APRIL 22, 2016 --Resup (talk) 12:52, 25 April 2016 (UTC)
Kerry said that to try to head off renewed fighting they have agreed with the Russians to a new 24-hour monitoring system. "We've even proposed drawing a line, an absolute line, and saying, 'You don't go over there, we don't go over here, and anything in between is fair game.' And they are considering that, and I think we will get there in the next week or so."
September 2016
Under the plan, the Syrian government will end combat missions in specified areas held by the opposition. Russia and the US will establish a joint centre to combat so-called Islamic State and al-Nusra fighters (...) Seven days after the start of the cessation of hostilities, Russia and the US will establish a "joint implementation centre" to fight the Islamic State group and al-Qaeda-allied Nusra fighters (...) Lavrov said there would be co-ordinated strikes against the terrorists by the Russian and US air forces, and that in some areas, that excluded action by the Syrian air force. "We have agreed on the areas where such co-ordinated strikes would be taking place, and in those areas, on neutral agreement shared by the Syrian government as well, only the Russian and US air force will be functional," he said. But Mr Lavrov added that "the Syrian air force will be functional in other areas, outside those that we have singled out for Russian-American military co-operation."

Russia, US coordinate 5 documents on Syria — Lavrov, TASS (Eng), TASS (Rus.), September 10, 2016.

Five agreed documents will not be published...The meeting was uncertain till the last minute...14 hours of talks included 9 hour pause taken by Kerry to consult Washington...

During the 9 hour wait, Lavrov feeds journalists with pizza (sent to him earlier by Kerry, according to Zakharova), adding bottles of vodka 'from the Russian delegation'.

Agreement includes humanitarian relief in Aleppo, and comes after encirclement in the south was re-sealed by pro-government forces. (Other military/security arrangements in Aleppo are not clear from the announcement)
Press conference transcript, as per US Department of State.
Sept. 12, 2016. Eid al-Adha days, and the ceasefire is supposed to start, most-place. Almasdarnews on the issue. --Resup (talk) 19:42, 12 September 2016 (UTC)
Some details emerged:--Resup (talk) 12:32, 16 September 2016 (UTC)
Officials outline new details of Syria cease-fire deal. AP, Sept. 14, 2016
Judging Kerry's 'Secret' Syria Agreement with Russia, Washington Institute, Sept. 15, 2016
Ceasefire over?--Resup (talk) 16:00, 19 September 2016 (UTC)
"The United States and the groups of the so-called healthy opposition controlled by it have not met any of the commitments undertaken as part of the Geneva agreements. No separation of the moderate opposition and Jabhat al-Nusra has taken place," said Rudskoy ..."Taking into account the fact that militants are not observing the regime of cessation of hostilities, we believe its unilateral observance by Syrian government forces is senseless" ...
The ceasefire is officially set to expire at 7:00 P.M. (Damascus Time)
noted: meetings in Geneva mentioned in the article are said to be held daily, according to Russian media
It is reported that video camera and transmission equipment located on the territory of Assad Academy were damaged by rebel shelling from MLRS at about 20:00 and the video feed stopped. No Aleppo feed at this time on MoD site.
'On a pause' or over by now, but here is full text of three USA-Russia documents kindly posted by the RU FM. --Resup (talk) 18:00, 27 September 2016 (UTC)
Syrian opposition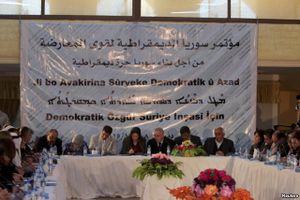 Saudi Arabia says it will host Syria opposition meet, Reuters, Dec 6, 2015. "The Kingdom of Saudi Arabia sent an invitation to all the moderate portions of the Syrian opposition of different types and trends, and from its ethnic, sectarian and political spectrum inside and outside Syria," SPA reported, citing an official source at the foreign ministry... Saudi rival Iran has criticized the opposition conference, saying it would cause the failure of international talks. Tehran said on Sunday Assad's fate should only be decided by the Syrian people. Russian sources highlight part of the announcement saying that the invitation was discussed 'with majority of international partners', and UN special representative -RIA --Resup (talk) 21:52, 6 December 2015 (UTC)
The congress was held on 8-9 December in Rojava's Derîk city with the slogan "Towards the building of a free and democratic Syria." 103 delegates representing Syrian political, military and societal opposition organisations attended the event.

Following the decision to establish a Democratic Syrian Assembly to serve as the political representative in Syria of the Syrian Democratic Forces (QSD), participants have determined that the Assembly will be comprised of 42 people. [...]

The congress was organised as an alternative to the Riyadh conference in Saudi Arabia, which the Kurdish organisations and Syrian Democratic Forces were not invited to. Jihadist groups like Ahrar Al-Sham attended the Riyadh conference, which is being spearheaded by the Saudis, Turkey and international forces.
--CE (talk) 08:11, 11 December 2015 (UTC)
'The results of the conference of the Syrian opposition in Riyadh "certainly doomed to failure regarding resolution of the crisis." This opinion was expressed in an interview to television channel "Al-Mayadin" by the leader of the opposition movement "Kamah" Haytham Manali ' Beirut, Dec. 11 December, Dmitry Zelenin-TASS-google translated. (Seems to be little information available about this group or its leader). --Resup (talk) 06:29, 11 December 2015 (UTC)
Syria rebels agree to regime talks but without Assad, Aljazeera, Dec.11. 2015

...the meeting agreed to set up a 25-strong leadership group, including six coalition members, six from rebel factions, five from the NCB (National Coalition opposition bloc) and eight independent figures.. Ahrar al-Sham quit the meeting ...but is reported to have returned and signed the statement.
Apparently another Western coalition foreign ministers meeting on December 14 in Paris, "friends of Syria group", supporting National Coalition block ('Istanbul based', as TASS article comments). This meeting is said to be similar to the earlier one in Paris; Russia is not invited and not participating in this format.
... National Coalition mission:"... unity with the goal of overthrowing the Assad regime, ending the suffering of the Syrian people, and to make the transition towards a free and democratic country." ...Media office is temporarily based in Istanbul and communicates with those inside Syria through various revolutionary groups and activists on the ground... --Resup (talk) 23:55, 11 December 2015 (UTC)
'Moderate Opposition' (Moscow backed)
"Islamic anti-terror coalition"
Is an agreement possible?
Yes, there is a narrow path, 'between Scylla and Charybdis' According to Kerry "...all parties have stated that they support — a unified Syria, a nonsectarian Syria, a Syria which will choose its own leadership in the future by an election that they have all agreed will be supervised by the United Nations under the highest standards of international law". There is no guarantee though, as there is no agreement on the future of Assad, and the issue has developed into entrenched positions for the parties. 'Moderate opposition' and its sponsors are fearful, apparently, that if elections are held, Assad may well win, as a well-known major quantity against fractured and nameless opposition with yet unknown common agenda, seemingly requiring foreign sponsorship to emerge. An outcome of Assad winning is yet postulated as unacceptable. Meanwhile, Russia has stated that it supports Syrian statehood but not Assad personally. So if a change of leader comes naturally as a result of processes run ('owned') by the Syrian state, it may be acceptable--and even more so if there are some meaningful incentives (which may include respect/equal treatment) for Russia. But foreign-ordered regime change is almost surely not OK for Russia; which in practice means that it has to be decided by elections. Luckily, both USA and Russia are highly skilled in elections art, each in their own way; and so it is possible that some magic words of agreement which would suit all can be found. --With so many parties and conflicting interests involved, there is not much else we can do but to see how all this will develop. --Resup (talk) 21:43, 7 December 2015 (UTC)
Plot to arm rebels?
Why is John Kerry shaking hands with Putin and suddenly calling for peace talks?
I believe the peace talks push is yet another plot to "level the playing field" and help the rebels.
All other plans have failed to produce a no-fly-zone or bring arms to the rebels. The Houla Massacre hoax failed, the Aqrab Massacre hoax failed, the chemical weapons hoax failed. Something new must be tried this time.
Talks cost nothing. Even if the rebels show up they have not given up anything. At best the talks may force the Syrian army to ease off on the anti-terror operations.
The rebels will refuse to show up, unless they are given weapons by the West. In fact, this plan of action has been agreed on beforehand between the rebels and their Western masters. The plan is to use the prospect of the peace talks to push through the political decision to arm the rebels against an ever more critical European public.
This is the line that will be force-fed to the Western public. The rebels are now peace-loving, so we need to support them. The arms will not kill anyone, they are only needed to give the rebels "a better bargaining position."
Reading today's headlines shows that this narrative is already taking shape. -- Petri Krohn (talk) 20:48, 16 May 2013 (UTC)
Mistura, "Freeze" Peace Plan
moved from Talk:Sectarianism in the Syrian Conflict
Lavrov and UN envoy Saffan de Mistura will meet in Moscow
White House web page on Syria, as it stands, now one year old... --Resup (talk) 20:10, 4 November 2014 (UTC)

Damascus, Syria, 11 November 2014 by Staffan de Mistura, the UN Special Envoy for Syria "...UN came up with a proposal of a UN initiative which is a freeze, which in Arabic is "Tajmeed". This is a new way to see and achieve what we hope to bring a de-escalation of violence. It is different from previous ceasefires. It is a new way for approaching the de-escalation of violence, in particular in one place to start with-Aleppo. That means stop fighting, stop fighting, no one moves from where they are, that means facilitating the implementation in that location of (Security Council) resolutions 2178, 2170 and the resolutions for humanitarian aid. Through that, a hope, to bring a sign of hope and bring some form of stability and therefore a process towards stability. This means, if that freeze works in one place, we can replicate it elsewhere. If that "freeze" works, and we hope it will, then this could be a building block for a political process and certainly this is not a substitute to what is a political solution but it certainly is an incentive in that direction. Meanwhile, we continue regionally, nationally and internationally to push for a political solution." (by Staffan de Mistura, UN envoy, Syria) --Resup (talk) 21:20, 11 November 2014 (UTC)
All good material, but what does any of that have to do with "sectarianism?" (that is, fighting between / abuse of / threats against different religious groups / different sects of Islam?) --Caustic Logic (talk) 23:06, 11 November 2014 (UTC)

Not sure where it belongs. This is not exactly "peace," sectarianism may be closest fit of an existing page with actual situation, but please feel free to move it wherever it belongs (if anywhere at all). --Resup (talk) 23:39, 11 November 2014 (UTC)

No big rush. But on this "freeze" idea, sounded unrealistic to me. Now Edward Dark tweets "nothing "freezing" in Aleppo except maybe for the coming winter. sounds of explosions and gunfire all over the place tonight #Syria"
Aleppo rebels reject UN plan for temporary truce-aljazeera. Insufficien t according to Syrian Free Army, but UN keeps trying- according to TASS--Resup (talk) 21:29, 2 March 2015 (UTC)
Faith Dialogues?(inner/inter)
Evacuation Swaps
(or better section name)
Reuters, December 28, 2015 Hundreds of fighters... In a deal sponsored by regional powers and brokered by the UN, over 100 militants flown out of Zabadani on Lebanon border to Hatay, Turkey (home base) while over 300 civilians from two Shia villages in Idlib near the Turkish border were allowed to leave on a plane to Lebanon, where they were met with Hezbollah supporters and fireworks. This leaves each area free to be reclaimed by the power dominant in the area: Syrian government and Hezbollah in Zabadani, Turkish-backed rebels in Idlib. It's hoped this will be a template for peace (and solidfying the division of Syria) --Caustic Logic (talk) 00:41, 29 December 2015 (UTC)
Munich ceasefire?
... but the peace talks were scheduled to resume on February 25....
The cessation of hostilities will commence in one week, after confirmation by the Syrian government and opposition, following appropriate consultations in Syria. During that week, the ISSG task force will develop modalities for the cessation of hostilities.
Analysis