Talk:Siege of Aleppo
Jump to navigation
Jump to search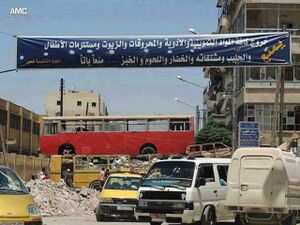 The siege of Aleppo is, I guess, all the different rebel sieges to try and gain control of Aleppo and its environs. This is how their peoples' uprising works there. This is perhaps too big a subject to need a front page summary anytime soon. --Caustic Logic (talk) 23:23, 9 July 2013 (UTC)
Ramadan Starvation Campaign
Starvation Orders Publicized
On about July 9, 2013, it became public knowledge that rebel forces in Aleppo, enjoying massive international support in doing so, have ordered a total life blockade on some two million residents in parts of Aleppo they don't yet control. They're to be punished for that with the ultimatum of inviting in rebel control, or dying for lack of all necessities. Food is forbidden, as are medicine and fuel.
Fliers shown on Facebook, as tweeted by Edward Dark. Images hosted on Facebook, in Arabic. Asked for translation, he said "basically: rebels ban food & fuel from entry into regime controlled parts of Aleppo (2 million people)." --Caustic Logic (talk) 23:23, 9 July 2013 (UTC)
I think I saw a photo too of a big banner across the street saying in Arabic you're not allowed to take food or anything past that point. --Caustic Logic (talk) 23:23, 9 July 2013 (UTC)
I don't think this is where I saw it, but a "Syrianboy" posted this photo at the Prison Planet forum. I'm uploading it here (inset above).
FSA new STRATEGY in Aleppo Given translation: "NO FOOD OR GASOLINE OR OIL OR CHILDREN NEEDS OR MILK OR MEAT OR VIGs CAN ENTER."
T.B. Hinchey, Pravda: http://english.pravda.ru/opinion/columnists/09-07-2013/125063-syrian_opposition-0/
Of course, the forced starvation of some two million people, the decree that distributing food and medicines to areas supporting the Syrian Government is punishable with a death sentence means nothing to the pro-terrorist west and its bought media lackeys. Surprise, surprise, in a world in which morals and ethics are meaningless.
To be fair, they're not necessarily starving Aleppo. Just TRYING to, for their part, from the areas they control, which are substantial. So yeah, it's a problem. And that death is the penalty for violating the order doesn't seem to be clear just yet. Punished "by law," it's said to say. --Caustic Logic (talk) 11:37, 10 July 2013 (UTC)
But citizens report that the shortage is starting to pinch in the last few days. Food really is getting scarce. The SOHR reports Food shortage in the regime held parts of Aleppo:
The regime held neighbourhoods of al-Siryan, al-Meridian, Halab al-Jadida (both north and south), al-Aziziya, Jam'iyat al-Sakaniya, Jam'iyat al-Zahra', al-Neel street, Aleppo University and the other parts of Aleppo city that are under regime control are facing an intense food shortage crisis. Many food supplies are not available in the stores and markets, non-food necessities are also in short supply. this is twinned with the skyrocketing prices of whatever supplies can be found.

Not to mention the rocketing, on top of the skyrocketing. --Caustic Logic (talk) 11:37, 10 July 2013 (UTC)

This is largely due to the rebel siege on the area, in an attempt to take over the city. the regime has been unable to break the blockade, despite several attempts through the Salamiya-Aleppo highway.
In other words, this is due to the government's inability so far to kick the rebels out of Aleppo. Human need recognized, more clearly than usual.--Caustic Logic (talk) 11:37, 10 July 2013 (UTC)
Syrian Girl Partisan video interview with an Aleppo resident. 0:54 we cann see the documents translated to English on-screen. --Caustic Logic (talk) 11:37, 10 July 2013 (UTC)
I've been a little slow on this. But to add, some (Prison Planet, good article) are saying there's been a mainstream media blackout on this subject. Probably true to som extent, but doing a Google news search for Aleppo shows there are articles I haven't read yet. A few links:
Protests
After the protests, modifications followed. Edward Dark noted for Al Monitor
The rebels manning the checkpoint met those protesters with violence, firing at them and attacking them with knives, killing at least one and injuring several. This caused a backlash, and most rebel battalions as well as the Islamic courts quickly distanced themselves from those rebels and eased the ban to allow people to carry across limited amounts of vegetables but no meat, milk or eggs.
Siege broken?
Breakingnews reports that vegetables have reached the areas, delivered over "secure roads" and distributed directly by the Army. Word on twitter is four truckloads. If those roads exist, why wait ten days? Make sure all hearts and minds are lost for the "rebels" before making their own move? --CE (talk) 16:22, 12 July 2013 (UTC)
The Washington Post article cited Rami Abdulrahman, SOHR, who "said that the checkpoint was reopened Thursday based on an order from the Sharia Council of Aleppo, the Islamic court governing rebel-held parts of the city." If true, the possible reason - Islamists are supposed to do what the sharia council says. Now there's fighting over it, but not necessarily to open it. Reading that Breaking News.sy piece, it could almost just describe the influx through that sharia-opened gate. Except for that last part you cite about secured roads the army couldn't name for security reasons. I'm sure those do exist, and the added length can only be so many days. I hope they have a couple back-up routes behind that one just in case. Even when it's not allowed and called illegitimate, the Syrian Arab Republic takes care of its people, as rebels fight (see below) perhaps just over the choke-hold points over those people. --Caustic Logic (talk) 12:36, 13 July 2013 (UTC)

@edwardedark an hour ago:

siege of West Aleppo partially lifted today as some trucks carrying food, flour, milk, fruit and vegetables were allowed to enter. #Syria
Clearly Breaking News was wrong to say the blockade was smashed. That would almost require a total victory driving rebels out of at least central Aleppo. Not that easy to do, I suspect. "Circumvented" sounds like the better word there -it wasn't a total blockade (too hard for the rebels to achieve). Then the part that holds was partly lifted (sharia council order?). Likely to be re-closed (rejecting religious orders?). Still needs smashed. --Caustic Logic (talk) 00:48, 15 July 2013 (UTC)
Blaming Others
As noted, there were early opposition efforts to claim that it was the Syrian government imposing this blockade on areas it held, apparently to starve anyone they still could. This must have looked silly pretty quickly, and doesn't seem to have spread very widely. Direct quotes, sources, etc. in time. --Caustic Logic (talk) 02:35, 21 July 2013 (UTC)
This article from an Aleppan tries to blame both sides: the danger people face to ease the rebel starvation order is administered by the government's snipers, in an grim and unexplained symbiosis:
The Bustan al-Qasr crossing is aptly named the "death crossing," as several people making the dangerous trip get picked out, seemingly at random, every day by regime snipers positioned on higher ground. ... A neighbor who braved the crossing to buy some vegetables told me of how, as they were running across the 100 meters or so of no-man's-land beyond the crossing, a regime sniper shot an elderly woman in her neck. The people hit the ground and remained pinned down for half an hour. As her husband tried to reach her, he was shot, too. Truly, making a salad in Aleppo could cost you your life.
It also mentions government trucks bringing food and filming that, but failing to then deliver it, and taking bread from a bakery, perhaps to feed others but leaving those in line hungry. --Caustic Logic (talk) 02:35, 21 July 2013 (UTC)
A comment beneath Dark's article sets the tone of blaming the victim, acknowledging that Aleppo's people failed to embrace the revolution and so...:
In 2011, the people of Allepo had the chance to make history. Instead they sat on the fence until it was burned from underneath them. If nothing else, I hope Aleppans take a valuable moral lesson from what they bought on themselves.
Question for haters like this: Who did this fence-burning? Both sides to some extent, but starting when? --Caustic Logic (talk) 02:35, 21 July 2013 (UTC)
August 3 Starvation Orders
All it takes to die of privations like these is time. I'm not sure how consistent the blockades have been, but the efforts to cut off much of what's needed for life continue. Life embargo. Issued in accordance with Sharia, Islamic law. Is the religion really this fucked up, as some say? How do they get these experts who'll keep saying so? Can they be shot? --Caustic Logic (talk) 13:33, 8 August 2013 (UTC)
Aleppo province: The Shari'a Council of Aleppo has issued a 10 point statement yesterday in relation to the al-Hajz Garage crossing in the Bustan al-Qasr neighbourhood -the only crossing between rebel and regime held parts of Aleppo. The statement fully prohibits the following:
1- Armed groups in the checkpoint are to never fire their weapons under any circumstances.
That must have an interesting back-story. --Caustic Logic (talk) 13:33, 8 August 2013 (UTC)

"never ...under any circumstances" cause a loophole: You can shoot the people who stop you from bringing in the following, and hey can't shoot back. Will not hold. See the lst.--Caustic Logic (talk) 13:48, 8 August 2013 (UTC)
2 - No amount of flour is to cross into regime held areas.
3- No amount of medicine or medical equipment is to cross.
Children even are to die of anything that can possibly kill you. And to suffer however they do along that slippery slope. --Caustic Logic (talk) 13:33, 8 August 2013 (UTC)
4- No type of fuels is to cross.
Except what's in the tank? Loophole! Full tank embargo next. --Caustic Logic (talk) 13:33, 8 August 2013 (UTC)
5- No cigarettes or tobaccos is to cross, with the exception of what people carry in their pockets.
Compared to flour or medicine, this is really liberal. A single pocketful of smokes could leave a schoolroom full of young boys puking their guts out, if smoked by them in an afternoon. Wonder what's with the smoking allowance? --Caustic Logic (talk) 13:33, 8 August 2013 (UTC)
6- No children's diapers are to cross, except what can be carried in personal bags.
Cloth scraps embargo next.--Caustic Logic (talk) 13:33, 8 August 2013 (UTC)
7- No building materials (cement, steel) can be transported.
Heavy rocket bombardment planned. --Caustic Logic (talk) 13:33, 8 August 2013 (UTC)
8- No food materials can be transported, except what can be carried by hand.
What's with this "by hand" shit? You can carry the tomato and watermellon you apparently intend to eat as you drive by all the starving people? Why even let people in at all if life is blockaded? --Caustic Logic (talk) 13:33, 8 August 2013 (UTC)
9- No amount of bread can be transported.
No hand part, for this, flour, and for medicine. --Caustic Logic (talk) 13:33, 8 August 2013 (UTC)
10- No chicken or meat can be taken except what can be carried by hand.
Comment I left there: When they have people besieged in a house, they'll impose an air embargo too. Escapees on their own from Aqrab report burning tires to suffocate them (plus no medicine, water, or food). Survivors in rebel custody mentioned none of that, and blamed Shabiha, but did so covered in smoke stains. Sad. Those last 150 Alawites never did turn up.--Caustic Logic (talk) 13:33, 8 August 2013 (UTC)
Full of comments tonight. It should be noted that new weapons coming in from the USA, Gulf Arab states, Turkey, Libya, Croatia, etc. can and will be used by the multinational insurgent forces to enforce this blockade. They will be fired when the people holding them decide it's necessary. So know that they mean it - these people are to starve until that gets the rebels in charge, however that happens, and that's that. --Caustic Logic (talk) 13:48, 8 August 2013 (UTC)
Months Later
Late November: I haven't been following as closely as I should, but I haven't hard of mass starvation in Aleppo yet. Surely not from the rebel outlets, but not anywhere else either. It seems mainly people are able to manage, day-to-day, unless I missed much. But the food embargo still seems to be in place; I just stumbled across a fairly recent video at the Syrian Center for Documentation (not CDV):
Video: Members of Sharia Court, which is affiliated with one of the anti-government battalions confiscates food from a child under the pretext that he was delivering it to "regime-held" areas near Karaj al-Hajz crossing in Aleppo. 29/10/2013 --Caustic Logic (talk) 14:11, 26 November 2013 (UTC)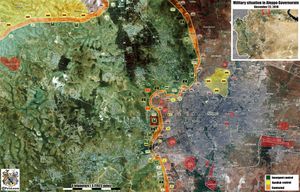 It seems like the siege is broken since they opened the road to the south again. Lately they were advancing on the east side to the north and if they go on like this, it will be the "rebels" in the center under siege. See latest version of "frontline" map. They also advanced into the old city (terrible destruction there). There could be "micro-sieges" of all kind of course, difficult to tell. --CE (talk) 15:19, 26 November 2013 (UTC)

I've been seeing these map updates, and thanks. Definitely looking better. Too bad about the old city but hey, it was old. It seems the starvation siege is fizzling out or already has. Good news. --Caustic Logic (talk) 23:47, 26 November 2013 (UTC)
News Searches
August 18 Google News search
Time, August 2: Syrian Rebels Ban Croissants in Aleppo. This one is widely reported, based on the sharia court's opinion that the croissant is anti-Silamic. Little apparent relevance, distracting comic relief, possible factor why flour can be banned. Check the timing re: the Aug. 3 starvation order. "That flour could be used to make un-Islamic pastries!" Hmmm... probably not much, as far as an explanation.--Caustic Logic (talk) 11:15, 18 August 2013 (UTC)
Hannah Lucinda Smith, BBC Magazine, August 17, 2013:[ http://www.bbc.co.uk/news/magazine-23696829 Aleppo: A city where snipers shoot children] (see Snipers below for details)
Videos
Protest (with voiceover).Angry Islamists near the end, possible gunshot in the air at last moment. --Caustic Logic (talk) 11:09, 15 July 2013 (UTC)
"Unification Brigade" Burning Food Trucks?
Of course the food probably wasn't for them. The article says nothing further, just shows this video of two blazing cargo trucks, citing an earlier posting date July 15, similar to this one: لواء التوحيد يصادر شاحنتين ويحرقهما امام اصحابها لنقلهم مؤنه الى قرى الشبيحه (Unification Brigade confiscated two trucks and burn them in front of their owners (for taking?) subsistence to shabeeha villages). Shabiha have entire villages now? Villages usually have women and children and old people. But they're all "Shabiha," those vicious killers of women and children and elderly, who aren't even Muslim/human, the haters often note. So they aren't to eat. Is this okay? --Caustic Logic (talk) 14:42, 20 July 2013 (UTC)
This "Unification Foundation for Relief and Development," as another video gives it, seem to be the Islamist food distribution people in Aleppo, bearded and armed. They have many videos of consumables delivered to them or stacked neatly in warehouses or delivered in trucks with stickers clarifying who's running the food show now. The money comes from Qatar, I guess. Yes, they presumably feed certain people, and that's partly good (the rest, evil). Another video: Institution uniformity for Relief and Development :: food aid for students of a school in Aleppo. The bitter-looking men running this delivery are extremely impressed with having a group with a name, and to be deliviring food, not blows from a sword. It's all so new and exciting. A man the rebels are no longer torturing (did they burn the skin below his eye?) expresses careful gratitude for their camera. He did well, as he had better to feed the kids. --Caustic Logic (talk) 14:42, 20 July 2013 (UTC)
FSA-Nusra Clashes
Possibly genuine, possibly part of the set-up. Especially if the FSA wins, with suspicious totality, making people think they could fight the terrorists and the "regime" and allow those who back them be the friggin heroes after all. --Caustic Logic (talk) 12:36, 13 July 2013 (UTC) AP: Al-Qaida linked gunmen kill Syrian rebel commander - in Lattakia province, late Thursday, over a dispute about check points, at an al-Qaeda checkpoint. SOHR names him as Kamal Hamami, and the killers as with "the Islamic State of Iraq and the Levant — a reportedly merged group made up of al-Qaida's branches in Iraq and Syria." Curiouslyconsistent with the zeitgeist of a broader clash over control of checkpoints, related to the siege in Aleppo. AP: Syrian rebels, al-Qaida fighters battle in Aleppo
Activists say Syrian rebels and fighters from an al-Qaida-linked group have turned their guns on each other and are fighting for control of a key checkpoint in the northern city of Aleppo. The Britain-based Syrian Observatory for Human Rights says Saturday's clashes are focused on the strategic checkpoint in Aleppo's Bustan al-Qasr district. The checkpoint is the only gateway between rebel-held eastern districts and the city's western areas, controlled by President Bashar Assad's troops.
Earlier this week, al-Qaida-linked militants seized the checkpoint and closed it for several days, cutting the flow of food supplies to the city and triggering the confrontation. Residents angry over the blockade have staged protests against the anti-Assad forces as food prices soar in Aleppo at the start of the Muslim Holy month of Ramadan.
That's the entire article there. --Caustic Logic (talk) 12:36, 13 July 2013 (UTC)
NYT: Syrian Rebel Infighting Undermines Anti-Assad Effort
Competing rebel factions in Syria are increasingly attacking each other in a series of killings, kidnappings and beheadings, undermining the already struggling effort to topple President Bashar al-Assad.

Message: bad things underly broader bad things. Complicating efforts? Cue the doom and gloom music and ominous clouds rolling in B-roll footage. --Caustic Logic (talk) 12:36, 13 July 2013 (UTC)

The open hostilities could no longer be contained Friday, when a Western-aligned group, the Free Syrian Army, demanded that a Qaeda-linked rebel faction, the Islamic State of Iraq and Al Sham, turn over the suspected killers of a prominent commander who was shot dead on Thursday.
Other straws alleged leading up to the rift cited here: two FSA fighters beheaded in Idlib, a demonstration there against the Islamic State that turned to clashes, killing 13, and the alleged rape of a local boy. Combined, could be plausible enough reason to risk a rift, when the attempt to starve 2 million was the next step.
Aleppo Central Prison
SOHR, June 20: Urgent call: ICRC should head to the Aleppo Central Prison
The SOHR reports that the humanitarian conditions in the Aleppo Central Prison have plummeted to a catastrophic level due to the severe lack of medicine and food. 3 prisoners died of Tuberculosis in the besieged prison yesterday for lack of medicine, other deaths have been reported. There is an outbreak of Scabies amongst the prisoners and the guards. Food is very scarce, and only reaches the prison by helicopter drops.
More than 100 prisoners died in the prison since April 2013, killed by the rebel bombardment, malnourishment, lack of medicine and execution by the regime forces.
The rebel factions began the move to siege on the prison on the beginning of April 2013, in operation "freeing the prisoners". It began with taking control of the Jandoul roundabout, Riuhbet Shqeif, the Shqeif neighbourhood and the Henderat camp and mainly the road that lead to the prison. This cut off the main supply line to the prison. The battles and siege began on 27/4/2013 with the taking over of the Kaziya checkpoint, which is by the prison. Buildings by the prison were taken over on 2/5/2013, that was the beginning of the full siege on the Aleppo Central Prison.
The battle over the prison began when 2 men detonated car bombs by the main gate checkpoint of the prison on 15/5/2013
June 23, SARC heeded the call, and sent in a team "after coordination with all parties on the ground" to deliver immediate supplies and assess further needs Then someone broke their oath and attacked the unarmed convoy, killing no one but badly injuring a judge, a driver, and a volunteer. Both sides blame each other. But it works towards the same end of freeing/starving the prisoners as the overall rebel campaign up to that point. --Caustic Logic (talk) 11:37, 10 July 2013 (UTC)
July 14, SOHR reports the seige was partially lifted, but still not broken. They heard that the Red Crescent was allowed to deliver 5000 meals to the prison.
An SOHR activist was in the perimeter of the prison at the time the Red Crescent delivered the food supplies and reported that rebel fighters only allowed food supplies to enter on the condition that they do not exceed daily needs and are not storage supplies.

("Daily needs" for how many days not specified. Banning "storage" suggests it might be one token day's needs. The siege intended to continue, perhaps with daily Red Crescent deliveries, as rebel moods allow.) --Caustic Logic (talk) 08:29, 15 July 2013 (UTC)

The Red Crescent also got out 10 prisoners who have finished their sentence at earlier times, one of the prisoners spoke to an SOHR activist abou the severe conditions inside the prison and the lack of essential life necessities and concerning the many prisoners who died inside the prison by bombardment, illness and clashes. He reported that clashes took place between members of the criminal branch and prisoners after 10 prisoners were able to seize their weapons, the 10 prisoners and 7 others were killed by the clashes.

(perhaps not being truthful) --Caustic Logic (talk) 08:29, 15 July 2013 (UTC)

It is also worth noting that several rebel battalions started the operation in the beginning of April 2013, and took hold of the al-Jandoul sqaure, Rahbat al-Shqeif, al-Shqeif neighbourhood, the Handrat camp and the road leading to the prison inorder to prevent any supplies from reaching the prison. The blockade started on 27/4/2013 when rebel fighters took hold of the al-Kaziya checkpoint near the prison and later started getting closer to the prison, taking hold of buildings in the perimeter of the prison on 2/5/2013, the day the prison was under full blockade. Rebel fighters started attempting to storm the prison started with 2 suicide bombers detonating a car in the central checkpoint and siege of the prison on the 15th of May. Rebel fighters also took hold of the police department in the al-Msalmiya area next to the prison. A suicide bomber detonated a car in the central gate of the prison on 23/05/2013, which led regular forces to retreat to inside the prison and rebel fighters taking hold of buildings under construction inside the prison gates.
Zahra and Nubol
(will be organized soon) In the late-June sectarian Hatlah Massacre next to Deir Ezzor, at least 15 civilians, mostly related to a Shi'ite cleric, were killed in revenge for others in their religion kicking the rebels out of Qusair, Afterwards, a foreign Sunni cleric who had sponsored the operation bragged of this slaughter ("with knives") of a religious leader and his son ("bad people"). Luridly referencing the battle of Karballah and Hussein and Ali, Skeikh al-Ajmi threatened the same in these two heavily besieged and blockaded Shi'ite towns near Aleppo. "As for tomorrow, we have a date with Nubl and Zahraa."
Rebels had been heavily shelling the towns for some time and by then imposed a blockade of all life essentials. The Syrian Observatory for Human Rights reported on July 1:
Aleppo province: Rebel factions taking part in the campaign labelled 'Echo of al-Quseir', who are besieging the towns of Nubul and al-Zahra', released a statement (statement number 3) saying that they intend to liberate the towns of Nebel and al-Zahra', which are inhabited mostly by Muslim Shi'a civilians, from regime forces, pro-regime gunmen, Hizbullah forces and Iranian elements.

Shi'ite Hatlah had just been overrun and vacated, with massacres and burning homes and destruction of shrines, in a clear echo of Quseir. Here, they didn't clearly promised to be reasonable in victory, but did offer "an alternative peaceful solution with 6 demands," SOHR reported. Shia defenders could prevent the battle by surrendering and defecting on video, "Handing over all regime and pro-regime forces who are responsible for acts of murder and "tashbih"," agreeing to prisoner exchanges and "joint checkpoints by both sides to protect the inhabitants." In return, rebels offered this:

- After [the other terms are met] the siege on the towns by the rebels will cease and they will allow food, medical aid, and basic human necessities into Nubul and Zahra'
Clearly, therefore, at the time they were not letting these things through. This is a life embargo, saying -to every man, woman, and child in there - accept our solution, make it happen somehow, or die. --Caustic Logic (talk) 11:37, 10 July 2013 (UTC)
A helicopter was shot down for breaking the blockade. Members of the education department were on-board and died.
Another source says they were carrying examination papers. For example, this video:
Press TV, Syria: Behind the Lines
--Caustic Logic (talk) 13:05, 23 July 2013 (UTC)
The video is no longer there. It's not clear to me what happened.Press TV doesn't seem to have it re-posted at another url, under the same name. It was really good. I didn't think I'd have to save a copy. --Caustic Logic (talk) 13:02, 15 August 2013 (UTC)

PressTV's channel was suspended for unstated reasons by the freedom-loving people at YouTube. It seems to be completely unavailable by now. They have a new channel which also seems to be dead since three weeks (but the videos are still reachable). It's fascinating to see how afraid the Empire of Lies is of information outside their propaganda bubble. I think I found the video on their website (fourth item in the list). --CE (talk) 13:43, 15 August 2013 (UTC)

Hypocritical cowards, censoring truth just because it comes from ebull Iran. direct link for the video pulled up. Same show, thanks. --Caustic Logic (talk) 09:38, 16 August 2013 (UTC)
Oops they did it again. --CE (talk) 13:57, 20 August 2013 (UTC)
This says the siege here continues: electricity has been cut for months, water is supposed to be exhausted, food not allowed in, general access and daily abuses continue. Didn't watch the video. Text (very poor English) says in part:
In May, a group of a thousand people tried to break the siege, but they were faced with terrorists who attacked the group brutally and killed and arrested many of them.
They beheaded 10 men and hung their heads at the entrance of the area so that no one else would run.
More than 50 thousand people live in these two towns while after the crisis broke out some 15000 people also migrated and set camp in there. There are daily reports of abduction and killing of citizens in the area by terrorist groups who often film their crimes and post them on the internet. It is estimated that at least 10 thousand terrorist are currently occupying the towns. --Caustic Logic (talk) 15:10, 29 November 2013 (UTC)
Nubol Boys Executed
The ISIS (Islamic State of Iraq and al-Sham) summarily executed 2 Muslim Shi'i teenage children (aged below 18) from the al-Sharbo family of the Nubbul town after they kidnapped them days earlier. The ISIS stated that the execution came as a response to the lack of commitment in an exchange of abductees from both sides.

Teenage captives executed for someone else's alleged lack of "commitment." They have a video, saved here. My notes: They are shot several time, the rough way, from a distance. Both could probably have survived this, in fact, depending where they were hit. But also the one on the right especially could have died from it. Neither one quickly - it's cruel, if execution. A lot of shots fired, but mostly the dirt and the wall is hit. The idiot Islamist can barely read the condemnation through his ski-mask, probably can't shoot much better. Can we send them KKK hoods, by the way? Somehow that would look more appropriate to me. --Caustic Logic (talk) 12:28, 15 August 2013 (UTC)
SOHR's posting, (account ALMRSDS), was then pulledtoo, for being "shocking and disgusting." Hm. There are at least two other postings deemed less shocking, still there for the moment: --Caustic Logic (talk) 09:38, 16 August 2013 (UTC)
jihad461: عاجل اعدام طفلين من الشيعة من قبل (جبهة النصرة)+18 (Urgent execution of two children from Shi'ites by (victory Front) +18) Desc: Disclaimer _ two children who (it's) claim are terrorist gangs Shabiha They have not reached fourteen years, and they of the Cherbo ... Urgent: Execution of two children from the city of nobility and Zahra on charges that they (are) Shabiha ... God damn you Iaarhabiyan Aamjerman ( هابيين يامجرمين ))
Brigade Abou El Fadl Abbas ( لـــواء ابــو الفــضــل الـعبــاس ) عاجل اعدام طفلين شيعة من قبل دولة العراق والشام الاسلامية (Urgent execution of two Shiite children by the State of Iraq and Syria Muslim] Desc: fsa and jabhat al nusra kills 2 shia teenagers because they are shia muslims
Follow my comments, if you like, at the SOHR's Facebook page on this video. Note the above embed is also dead now. The first one just linked, however still works for now. Possibly related: it's the only one that has the warning you have to sign in to override. Hm, maybe not overt censorship after all? Or maybe that's an illusion and this one too will soon be gone. We'll see. --Caustic Logic (talk) 12:07, 17 August 2013 (UTC)
another posting up ATM, age-restricted per community guidelines, not banned altogether based on content. Action taken, still there, fair 'nuff. --Caustic Logic (talk) 12:10, 17 August 2013 (UTC)
Snipers
Nothing like prevalent rooftop snipers targeting the populace to enforce a siege mentality. Rebels have made all their gains in Aleppo by laying siege, and all this time, they've been helped by what they describe as government-supplied snipers who shoot only civilians, especially children.
Hannah Lucinda Smith, BBC Magazine, August 17, 2013: Aleppo: A city where snipers shoot children Reporting from rebel-infested Bustan al-Qasr: "Bustan al-Qasr is the last remaining crossing point between the rebel and regime-held sides of Aleppo. Snipers are rife and the atmosphere tense, yet hundreds are forced to use it every day to get to work, to study and buy food." The famous bus barricade with the no food banner cropped off, is shown with the caption "Buses and sandbags are used to try to protect people from snipers." She speaks to "Sam," "the only doctor on hand to treat those targeted by the snipers" (at whose insistence?) Of all people, he's 25, attractive, Canadian, with "an urbane North American drawl and has humorous eyes twinkling above his surgical mask."
""Today, at about midday, I treated someone who had been shot in the arm," Sam tells me. "He was a child, they usually are. I think that the snipers are aiming for kids, just kids." ... "On average I treat about 10 people a day, every single day, but Fridays are always the worst," he says. "Yesterday about 30 people were shot here."

I imagine he loses a large number of those targeted, due to a lack of supplies, making silenced martyrs of them. --Caustic Logic (talk) 11:22, 18 August 2013 (UTC)
Many people are so afraid of the snipers they've been demonstrating to have the crossing closed altogether, something Smith says risks "starvation for the families on the regime-held side. Because however chaotic, however deadly, Bustan al-Qasr is a lifeline." Sosome will want it closed, the same people enforcing starvation orders. Checkpoints, rebel-controlled:
Until recently, the checkpoint was controlled by a group of rogue rebel soldiers who tried to extort money from the already desperate people using it.
The last time I came to Bustan al-Qasr they tried to arrest me and confiscate my camera. But then a sniper opened fire. In the confusion, I escaped.
Now it has been taken over by Ahrar Sureya, one of the city's largest rebel brigades. It is progress for the people who use the crossing point...
Sam's clinic that's alloed to operate there, likely rebel-controlled too. The lack of others ... their plan too, I would guess. As for who the snipers are, regime of course.
Abu Yassin, a senior official ... points to the buildings where the snipers are stationed, in a government-owned tower block, in an apartment building, in a minaret. "There are 72 snipers aiming towards us," he says. "And they only ever shoot at civilians."

They never shoot at the rebels enforcing their control of the check-point? That means tacit acceptance, doesn't it? They can shoot random people, children, passing through, but never shoot the criminal extorting people or FSA enforcing starvation orders? And do it so often people have half a reason to cut off the loyalist area's last lifeline? Either these "regime snipers" are both evil and insane, or they aren't that at all... --Caustic Logic (talk) 11:22, 18 August 2013 (UTC)
Other
Electricity, internet, and water shut-offs
Snipers! Who else would be sniping people in rebel-conquered areas but the regime, to punish them all for embracing their rebel masters so enthusiastically? --Caustic Logic (talk) 14:48, 20 July 2013 (UTC)
Heavy bombardment (mortars, rockets)
- Aleppo University Attack - [[Alleged chemical attack, March 19, 2013|
From the outset, some (not enough) have wondered about the reports starting last year of the Syrian military shelling bakeries, especially in Aleppo, with artillery, fighter jets, and especially mortars. That was supposed to be since the city had essentially defected and joined the rebel side, and the regime wanted to starve them into submission. In the months since, rebels have smashed a little more of the city into their pockets, with the utmost effort, but lament that a solid majority of Aleppans still don't want their revolution and have to be compelled. Now we can see rebels hoping to starve people in the government-held areas to submission. In this al-Mayadeen video (2:27), a man explains how the lack of functioning bakeries helps in that. The one still running simply can't keep up and people are going home empty-handed after waiting all day. So, is it still the "regime" shelling the bakeries to make life intolerable for the people? --Caustic Logic (talk) 11:41, 15 July 2013 (UTC)