Talk:Putin's speech, April 21, 2021
Jump to navigation
Jump to search
What will Putin say?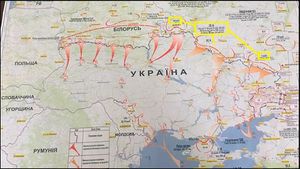 Russian President Vladimir Putin will deliver his annual address to Russia's Federal Assembly on April 21. In the speech he is expected to make legislative proposals that will require approval in an extra session of the Duma to be held on April 22nd 23rd. This is my speculation on what Putin may propose:
Ukraine has unilaterally withdrawn from the Minsk Agreements. Russia is therefore free to act on its own.
Putin asks the Duma to recognize the independence of the Donetsk and Lugansk People's Republics.
Putin asks the Duma for approval to the use of Russian armed forces outside Russia.
Putin may ask that the Donetsk and Lugansk People's Republics be allowed to join the Russian Federation, or possibly the Union State along with Belarus. If this happens, it would be pending referendums, that would likely take place on Republic Day, on May 10th and May 11th in Lugansk and Donetsk respectively.
Putin may also announce changes to the structure of the Union State with Belarus.
After parliamentary approval Russian troops will march into Donetsk and Lugansk People's Republics. Ceremonies will take place at the border posts, with military bands and foreign news crews present. The earliest time for the ceremony is noon on April 22nd. All of the above will happen without single shot fired.
What Putin fails to mention is that the claimed territory of the Donetsk and Lugansk People's Republics extends to the total territory of the former Donetsk and Lugansk Oblasts. Russia will demand that Ukrainian troops immediately leave the occupied areas. If Ukrainians comply, Russian influence may be limited to Donetsk and Lugansk. If Ukraine attacks, then Russia may extend military operations to western Ukraine.
-- Petri Krohn (talk) 16:05, 20 April 2021 (UTC)
Surprises do happen---but it would be surprising. Russia does not really have full independence, with its economy still built a lot around being resources supplier, financial system heavily dependent on the West, income kept if foreign banks and currencies, management imitating western methods, not enough cadre to sail bravely into uncharted waters and take people at large with them, etc. It was Crimea surprise, then back to things as usual, and many things done out of showmanship, and traditional norms, not on commitment and dedication, or clear-cut model or direction. Use of troops abroad needs authorization, but it was authorized before, and stepped back, maybe because of banksters ("Mr. Biustgalter") or similar. But, there may be a step in realizing that trying to integrate into the West at present state of affairs may be deemed a failure, and realization dawned on elites that Russia should make it stand on its own, on level of beliefs and attitudes, not on the level of moving into any cities. And better, if its more about science, culture, healthcare, justice, and less about better bombs....(Aren't they pretty good already)? --Resup (talk) 18:27, 20 April 2021 (UTC)
Stronger union with Belarus', maybe, Lukashenko is seeking to make some serious moves, saying its in case he is taken out, but without hinting how. His style is often compared with firmly standing farm/sovhoz/kolhoz director, solid but, like, maneuvering, not a hard ideology nut (despite his roots in Soviet ways). They both may be concerned what is to happen if for some reason its not them at the helm. --Resup (talk) 18:38, 20 April 2021 (UTC)
Moskovskij Komsomolets explains the context:
Zyuganov before an emergency meeting of the Federation Council allowed the introduction of troops into Donbass - MK.RU, April 20, 2021 (17:02 UTC)

Earlier, the head of the Federation Council, Valentina Matvienko, announced a meeting of the upper house of parliament for April 23, explaining that the instructions given by Russian President Vladimir Putin on April 21 during the announcement of the message would require "quick implementation."
As reported by Rosbalt, the deputy of the St. Petersburg Legislative Assembly, Boris Vishnevsky, commenting on this information, noted that the Federation Council does not adopt laws, including those implementing presidential orders. He also ruled out that immediately after the message, they would promptly change the Prosecutor General or judges of higher courts, or the Accounts Chamber, which would require the approval of the Federation Council. Vishnevsky explained that the Federation Council has only three operational powers - approval of a presidential decree on the introduction of martial law; approval of the presidential decree on the introduction of a state of emergency; resolving the issue of the possibility of using the Armed Forces outside the territory of the Russian Federation.
Note, that Zyuganov demands that the Federation Council does exactly what I suggested Putin will ask it to do; officially recognize the DPR and LPR and send in troops.
-- Petri Krohn (talk) 20:45, 20 April 2021 (UTC)
In the end, it was about corona-v, domestic matters, some amounts of moneys in rubles. On international front, there is a quite subtle change in posture, but still the-leg-forward is "We really do not want to burn bridges"; while warning on (unspecific) red lines. --Resup (talk) 16:47, 21 April 2021 (UTC)